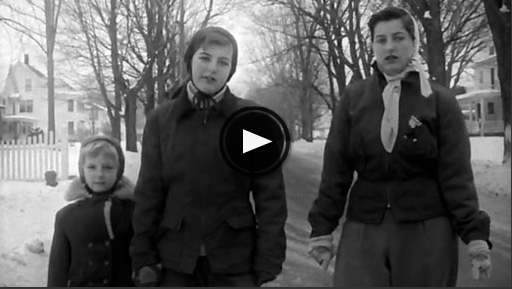 With our ongoing How to Forget the Border Completely research project in mind, I'm just about to sit down and watch Two, Countries, One Street on the National Film Board of Canada website.
Filmed in 1955, this short documentary visits the 3 Québec border towns of Rock Island, Stanstead and Beebe, and the Vermont town of Derby Line to see how residents and officials cope with a civic life that is cut down the middle by an international boundary.
It will be good to think about how residents and officials living in Windsor and Detroit might begin to cope with the reality of the border today and in the future, in relation to a similar situation in Québec circa 1955. Mind you, the wide river is what visually distances Windsor and Detroit from each other, and it seems that the communities of Rock Island, Stanstead, Beebe and Derby Line are not separated by a body of water.
It's only 22 minutes, so check it out!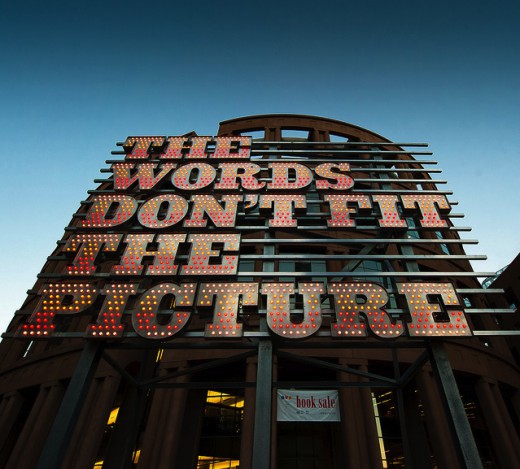 The Words Don't Fit the Picture is Ron Terada's new text-based installation made in response to and sitting in front of the Vancouver Central Library. This illuminated sign stands on metal beams in front of the library's front doors and can be seen from very far away. It is also a great example of how to securely mount large text in a public space, something we have been researching lately as a group.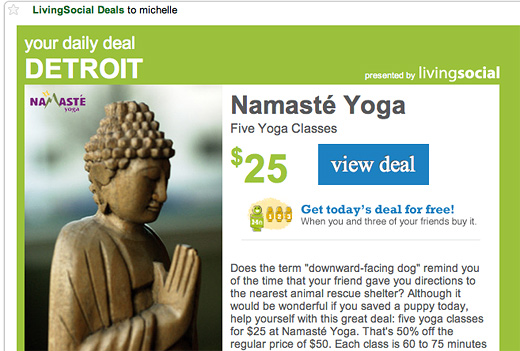 I've been thinking about Windsor – Detroit tourism lately for our How to Forget the Border Completely project and since LivingSocial did such a good job advertising to me on facebook, I signed up for weekly Detroit deals and coupons to be e-mailed to me. I'm on week 3 or 4 and so far I've considered doing a few of these things…
I also picked up a local tourism magazine from the Windsor Airport. I'll bring it to show you on Friday, there is an interesting article on things to do in Detroit.
Let's get over to Detroit soon.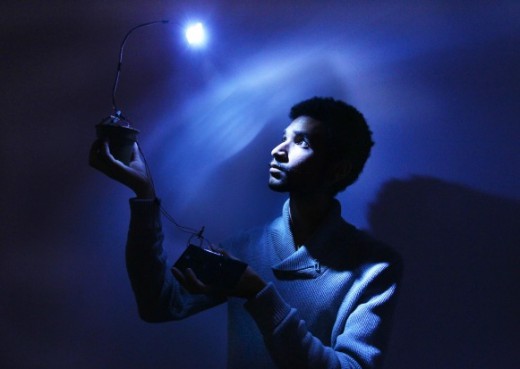 Stephen Surlin, a Windsor-based artist and musician (also known as DJ Furs), recently took some time aside from his busy life as a University of Windsor Fine Arts student to discuss his current exhibition Artist as Activist and how the works within it came to be. Surlin has worked with Broken City Lab on various projects and his solo work can be seen at the SoVA Projects Gallery at the University of Windsor this week until January 28. His closing reception is at 7pm on Friday, January 28 at the SoVA Projects Gallery.
The interview can be read after the page break.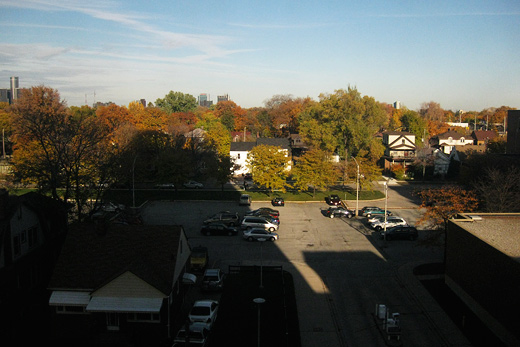 Timing is everything. There's been so many conversations had, links passed, and emails exchanged in the last few weeks are we embark on our How to Forget the Border Completely project that I'm still sorting through it all.
What's missing, in all of this, is more time to make a visit to our neighbours to the north. But in the meantime, I thought I'd share some quick links that are well worth perusing…
First off, from our friend, Eric Boucher, a thoughtful critique of the idea of ruin porn and its many forms over at Guernica by John Patrick Leary.
Next, a quick read by the always insightful Diana Lind calling for plans for urban redevelopment to extend beyond the physicality of the process, in her first column in the New York Times, The Bright Side of Blight.
And then, some recent news on the revival of a new border crossing, the DRIC plan, while we imagine inventing our own.
As well, pointed out by Danielle, an extensive interview over on Juxtapoz with Mitch Cope and Gina Reichert (of PowerHouse fame) … still making my way through it, but some great contextualizing stuff so far.
Anyways, hoping this continues to build our research archive … if you have a chance to read over any of this stuff, would love to hear your thoughts in the comments.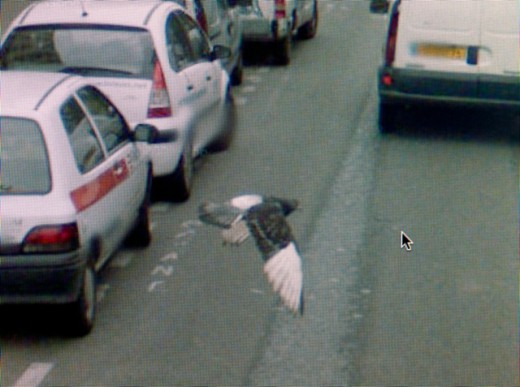 We've posted about the emerging Google Street View found photography sub-genre before. Michael Wolf is another artist using found GSV images to capture the absurd, banal, and occasionally poetic existence of modern street life. When compared with candid photography, Google Street View images present an infinitely larger database of frozen moments which were never intended to be seen as anything but instructional. Wolf has sifted through these images and presented to us an account of Paris at one moment in time.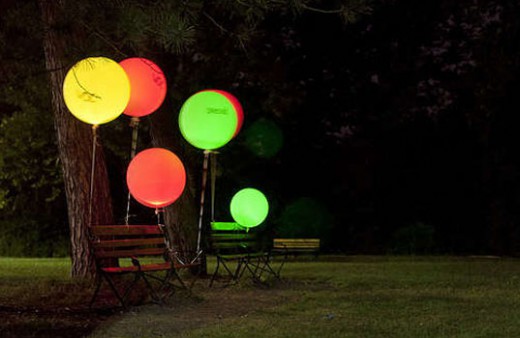 I found this post not too long ago and have been wanting to make one of these ever since. What's making these balloons glow is the pollutants in the air around them, with colours ranging from green (signifying excellent air quality) to red (poor air quality).
Gorgeous 'making of' short for Hector Zamora's Errante — a large-scale urban hanging garden. The rest of his work is well worth some exploration too.
via The Pop-Up City
As I think about where I live, in a subdivision off of dominion road near the Holy Name of Mary Highschool, I immediately think of the current hollowing and cutting into the forest and brush that's going on to make room for more houses, and more roads. The illumination of this by me is quite ironic however, considering my family and I live in one of these very suburban houses.
It's obvious this has negative impacts on the wildlife that exists. I see coyotes almost every night trotting just outside the back of the house. During the winter months (such as it is now), we tend to leave dry corn in a wooden box with some apples in the backyard. Some nights I've counted 12 dear hanging out just behind my house.
It's interesting to think of how the literal physical border of this city, via the road and the backs of houses, keep cutting further and further into this small forest landlocked in the middle of the city of Windsor.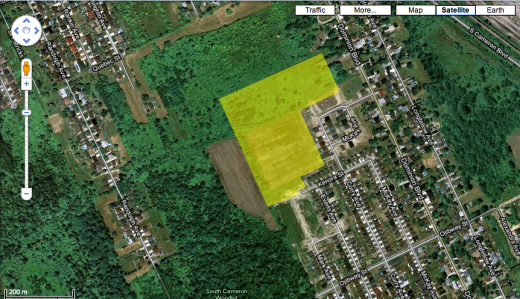 This is an older image taken from Google Earth, but I have highlighted one of the sections where they have clear cut the forest and brush. (There's another large area they have cut on the other side of the bush that I couldn't fit into the image). The area in yellow today is full of empty streets, and empty  lots with pipes sticking out of the ground.
I guess where I am getting may be partly an environmental awareness and a defense for this landlocked micro-environment, but also an awareness of the suburbanism that has occurred in a city where its downtown core has not been kept up infrastructurally speaking, and has been 'hollowed out', so to speak.
Suburban housing development has not only contributed to the hollowing out of the downtown core, but also has been a result of various things such as dependency on economic sectors (auto industry, higher paying jobs, etc…), which has allowed those fortunate enough to buy a house away from the deteriorating core of Windsor itself. The core isn't getting the economic, social, and infrastructural attention it needs to function in a more cohesive and economically and culturally integrated way (especially considering how the Windsor/Detroit area has had so much potential of economic integration in the past with the integration of the auto industry. But as we know, Detroit is also suffering from neighbourhood deterioration).
I think these conversations also imply other things such as generalizations of classes of people in both cities being a large contributer to the attention (or lack of) payed to certain neighbourhoods, and implies many other cases to think about, like the shallow analysis political leaders of our municipalities provide as a way to talk positively about improving infrastructure of older neighborhoods in city planning.
The irony is, I have only provided a shallow analysis of the problems discussed, which started with me thinking about the geography and situation of my immediate neighbourhood.
This is a 'before' picture of the field and forest, which has now been paved with new streets. (I should really provide an 'after' picture for effectiveness)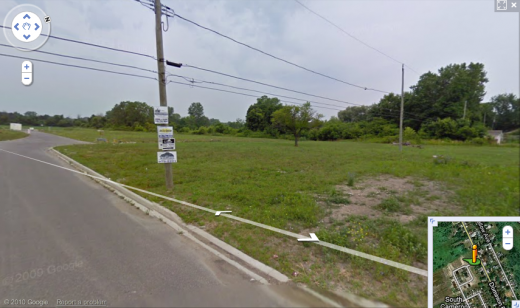 Maybe the 'make this better' would be placed in a deteriorating neighborhood, possibly housing or buildings? Although I havn't chosen a direct area to do this, I hope at the least that it can generate at least one good conversation. I'm still thinking about it!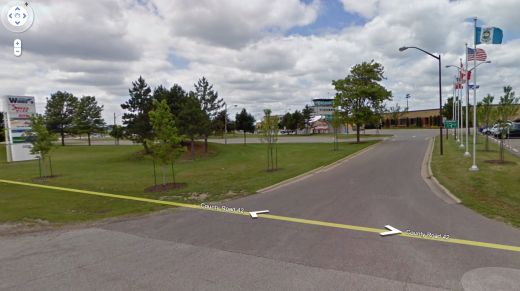 While researching different spaces for our Make This Better project, I've become more and more drawn to the Windsor Airport. This space has been so neglected that major talk for shutting it down is now on the table.
As of 2007, Serco Aviation Services Inc. terminated its contract regarding airport management from the City of Windsor because they've been losing money by being there. Now the City of Windsor operates the airport at an alarming deficit. I found all this information by simply typing "Windsor Airport" into Google for a brief history on it. Everything that came up was so negative and discouraging.
It seems, however, that the issue is more heavily connected with our next door neighbours.
With the Detroit Airport as a more internationally known landing area, Windsor Airport's airspace is controlled from Detroit. This makes me wonder if having an airport in Windsor is even necessary? With the few that I've had the chance to discuss this with, their responses have been quite interesting, with the majority of them asking: "Where is the Windsor Airport?".
Everything that I have been learning and researching about the airport in Windsor makes me feel like it would be a perfect site for Make This Better.
What do you guys think?