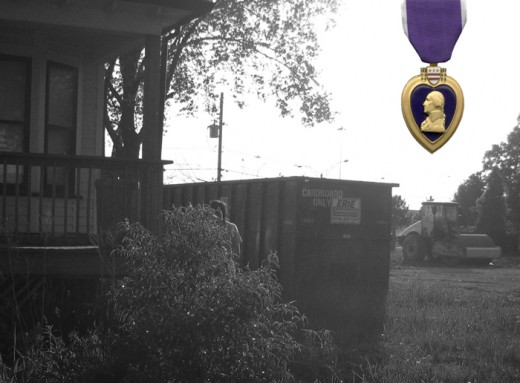 I had the idea of creating a photo series which would include areas in Windsor that have been injured or left to die due to our economic fluctuations. It would most likely resemble our Sites of Apology/Sites of Hope project.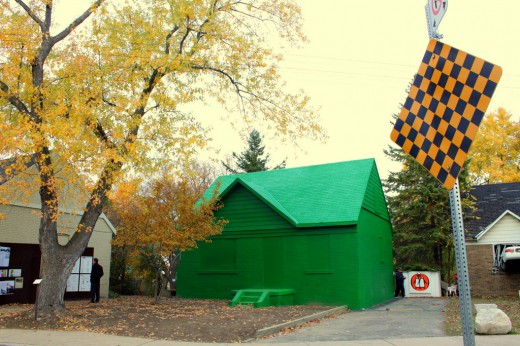 Photo by wyliepoon.
A couple months ago I attended a talk hosted by Janine Marchessault on the Leona Drive project, which is a collaboration between The Public Access Collective and L.O.T. : Experiments in Urban Research (Collective).
Justin mentioned the Leona Drive Project back in 2009, but for a refresher: The Leona Drive project commissioned artist projects for a site specific exhibition in a series of six vacant bungalows slated for demolition by HYATT HOMES, a developer in Willowdale, Ontario (in the Yonge and Finch area of the GTA). The artists worked with a variety of media: audio, cell phones with GPS, architectural installation, projection, photography, sculpture and performance for a period of two weeks in the fall of 2009.
Lovely text-based work. It'd be great to randomly run into this!!
As Nicole puts it:
This piece was an experiment in context, engagement and language. Uh, actually, what I mean is: I wanted people to see these phrases in interesting contexts and engage on an emotional level with the words I had chosen. This piece was also about my grandmother dying.

Materials: xerox, colored paper, thumbtacks, paper coffee cups, xerox transfer, manilla envelopes, cellophane bags, staples.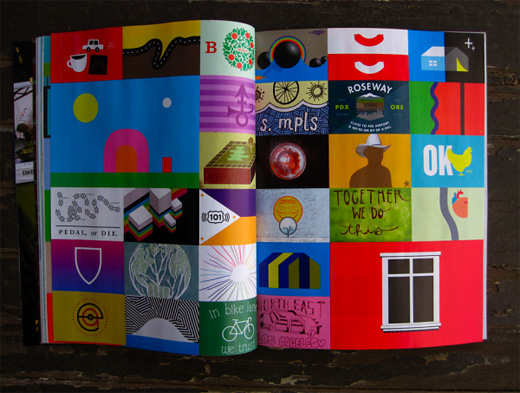 Nicole was also commissioned by GOOD to design a neighbourhood flag — great idea, right?!
Gorgeous work all-around. She's also designing materials for Open Engagement 2011!!!
Spend some time checking out all her work — book design, typography, you know, making stuff and doing things. Very specific aesthetic choices, but fun reference for our (imaginary) future publications.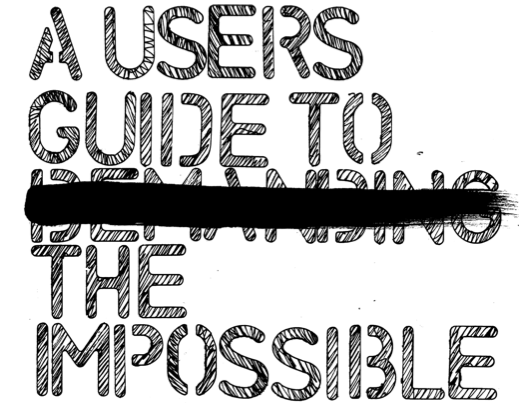 A great downloaded book/PDF is available over at Half Letter Press. A Users Guide to Demanding the Impossible by the Laboratory of Insurrectionary Imagination presents a very accessible and readable overview and introduction to the history of art+activism based practices.
Well worth the half-hour or so that it will take to read through it.
The ending, which will particularly resonate with Danielle, I'm sure:
Creative resistance is not simply about designing glitzy visual stunts that the media will pick up on, it's a lot more than that, it's about making things that work, fashioning situations that both disrupt the mechanisms of power and show us our own power, our own potential to connect and create. The beauty is in its efficient use, and nothing is more beautiful than winning.
Likely very helpful for some aspects of HFBC… wonder if there's an equivalent to the Windsor Star for this kind of access.
Detroit Free Press, 1831-1922
The Detroit Free Press published its first edition before Michigan entered statehood and when wild animals outnumbered the people living in the city. Its editor assigned a writer to walk the waterfront and record the shipping news each day, creating the first news "beat." The Free Press also was the first U.S. newspaper to print a regular Sunday edition and the first to publish court testimony.
via Daily News.
This is Traumgedanken, or Thoughts on Dreams, by German artist Maria Fischer. Fischer compiled 76 pages of various articles on dream theories and connected all similar ideas and key points together using coloured string, which continues to the end of the book. It's a great way to visualize the information. I'd love a Psych textbook like this, please.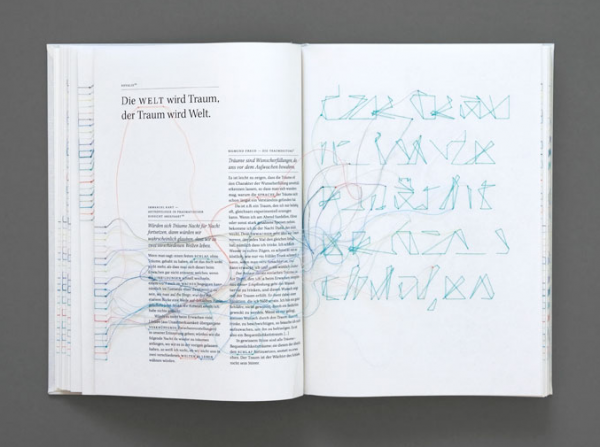 I found this on Colossal.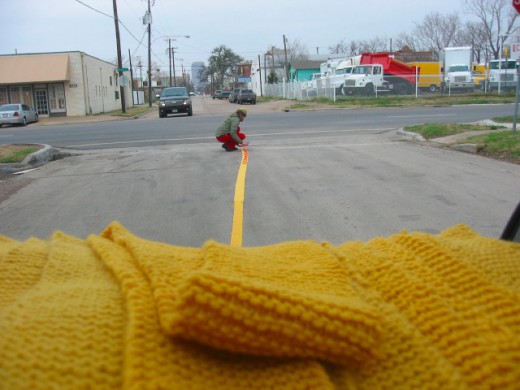 The Knitted Mile by Robyn Mile. Something interesting about the idea of deliberate and slow labour and what it means as a process. Long-term projects always make me wish for more time.
The Knitted Mile was commissioned as part of an exhibition titled Gestures of Resistance: Craft and The Politics of Slowness (curated by Shannon Stratton and Judith Leeman) that happened in conjunction with the College Art Association 2008 conference in Dallas, TX.

Ninety knitters from around North America contributed pieces of TKM. Photographs of each knitter working on their section were included as part of the piece when it was removed from the road and installed in the gallery, Grey Matter.

TKM also was exhibited at PS.122 as part of the exhibition Yarn Theory, curated by Martha Lewis.
You should also check out some of Robyn's other huge works.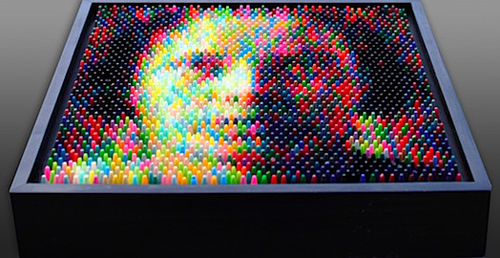 I know nothing about who created this or where it originated from, but I find it spectacular. It would be fun to do something like this with a prominent Windsor figure of the past or present.
Choose your words carefully. Street Artist vs Graffiti Writer by Lush.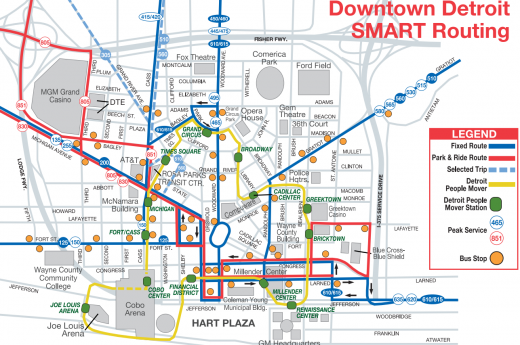 A note from Stephen Hargreaves after our conversation last night about the bus system in Detroit and possibilities for cross-border transportation… the image above is of a different Detroit map just to give some reference. On the map Stephen mentions, the routes go far beyond Detroit's city limits.
Check out the "System Map", where the stylized "s" appears is the Rosa Parks
Terminal. The Transit Windsor bus delivers you to that terminal and from
there… Detroit is your oyster.