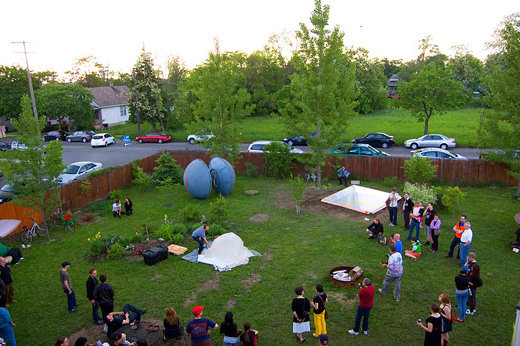 Back in 2009, Kathy Leisen, an artist living in Corktown, Detroit, started using a vacant lot next to her house as a public art venue. She called it The Lot. And there are big letters to demarcate the space. The Lot is now less a particular vacant lot than an idea for using many vacant lots. From The Lot's website:
The Lot is an open space. A venue for art, creative thinking and performance, the lot is a curatorial project […] the lot is a transient artspace partnering with friends, strangers, and organizations.

The lot uses empty city lots. Typically, this means hard clay earth, crab grass and other weeds, and unexpected debris. Manipulating the land is ok. Landscaping is ok. Bringing in outside materials is ok. For example, proposals so far have included: creating a cemetery, hut sounds (sounds emitted from a hut), arranging an archeological dig (ancient cheetos wrappers), making a gallery of inflatables, and holding african dance classes.
There's a range of projects detailed on The Lot's website, but maybe the best part of it is just the idea of coming together in a new place and doing something. Local artists are paired with out of town artists for each exhibition. Leisen prepared the original lot by picking up chunks of concrete in her downtime. She got to know her neighbours, brings together friends and strangers, and she frames this activity around the following idea: "We live here for a reason."
As of late, The Lot has become a traveling public art exhibition, a pop-up exhibition of sorts, taking on an increasingly helpful and critical approach to using space temporarily. Often this temporary use by artists allows for the venue to be left in better condition than when it was found. We know — after SRSI, those storefronts were in a lot better shape than when we first moved in.
And that seems like a pretty fair trade-off. Temporary use of space for free, as long as we somehow improve the space before we leave.
Maybe we should draft some sort of agreement to arm folks in this city with something formal looking so they can start approaching landlords. Free space for a limited time, we'll repaint, clean, landscape, etc. And, I've suggested it before, but the lot next to the AGW would be an amazing community space, why don't we activate it?