Below is a selective list of research, projects, workshops, installations, and interventions conducted by Broken City Lab with the most recent initiatives being at the top. This is just an overview, if you need more information, please see the blog archives or email us.
---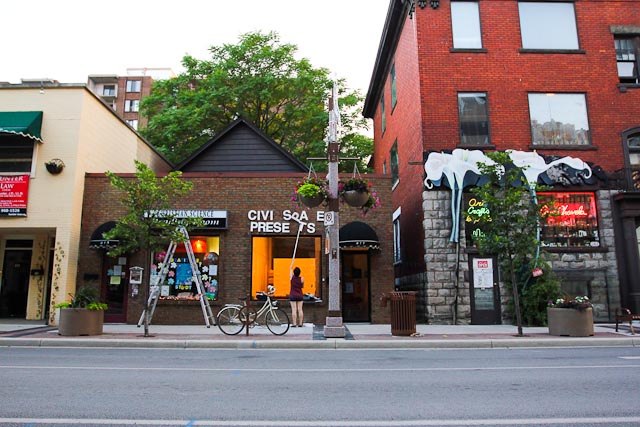 CIVIC SPACE (Community Innovation through Vital Interactions & Collaboration) serves as a hub for a range of events, public activities, and research around locality, infrastructure, education, and creative practice as a driver for civic change. This storefront space hosts community projects, artist residencies, DIY workshops, public lectures and a range of other initiatives rooted in arts, community, collaboration, and problem solving. CIVIC SPACE closed in May 2014.
CIVIC SPACE would not be possible without the incredibly generous support from the Ontario Trillium Foundation.
---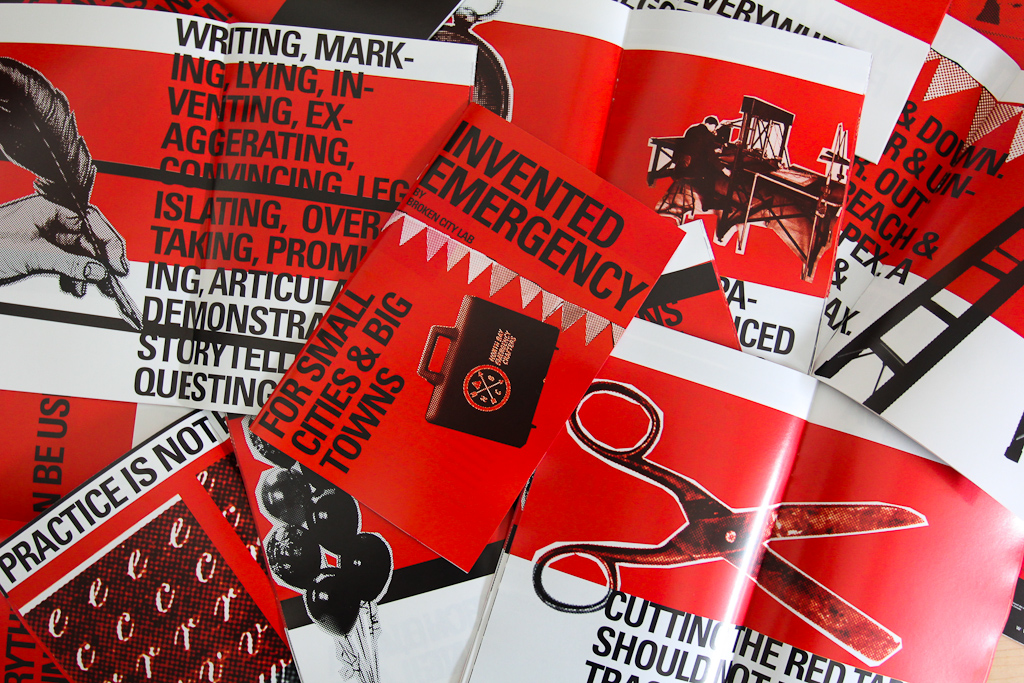 INVENTED EMERGENCY (For Small Cities & Big Towns) is built on the research developed for Surviving North Bay, a residency and exhibition by Broken City Lab, hosted by White Water Gallery in the summer and fall of 2012. Surviving North Bay developed as a series of exploratory public interventions, micro-gestures, and tactical responses to North Bay. Pick up your copy of INVENTED EMERGENCY at CIVIC SPACE, or let us know if you want one, and we can mail it out to you. (see more)
---

With Portland-based artist-in-residence, Jason Sturgill, we reframed his previous project, Art is Forever, as Windsor is Forever — a community-driven art and tattoo project that gave Windsor residents an opportunity to make a permanent commitment to the city. Participants chose from a flash tattoo set created in collaboration with local artists and illustrators to receive as their free tattoos, which were offered free of charge by Dave Kant of Advanced Tattoo, and Jon Jimenez and Steve Jones of Flying Dagger Tattoo. (see more)
---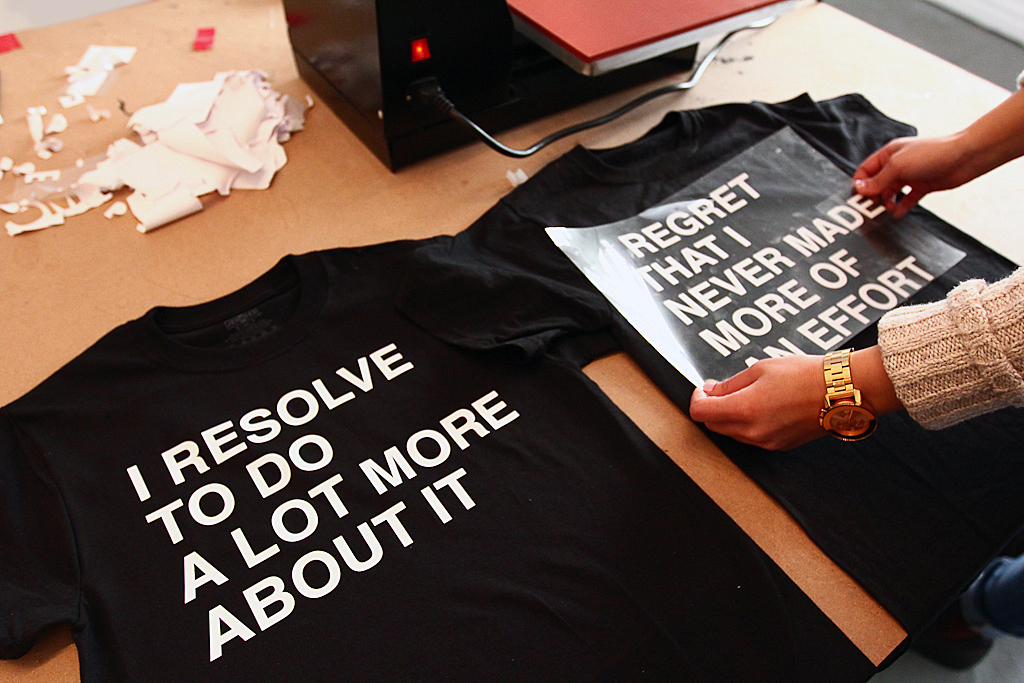 Regret & Resolve asked the community to express their regrets and resolutions for the city as a way to open up a conversation about the things gone wrong and the ways in which we might commit to righting them. Pulling from a set of online submissions, we created a limited edition series of 50 shirts meant to capture a sense of tension or hope about the city and frame a series of positions that we might take at the beginning of a new year, while offering a way to publicly about what we'll do next. (see more)
---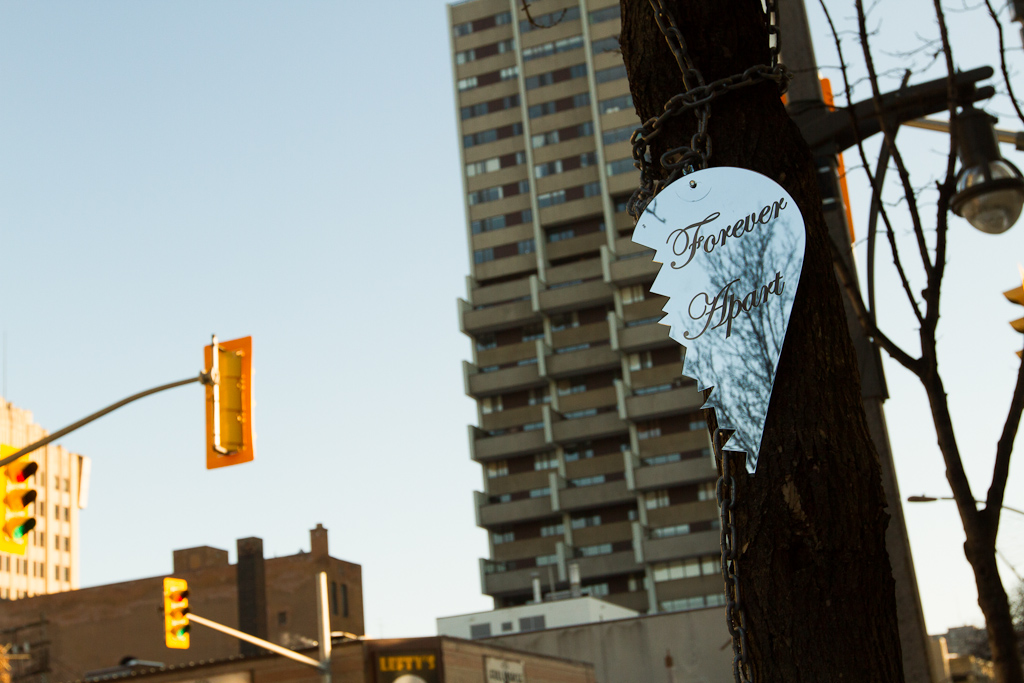 Together Forever / Never Apart uses the icon of childhood friendship lockets to comment on the complex and often disconnected relationship Windsor and Detroit have with one another. Laser cut and etched in mirrored acrylic, one half of the broken locket was installed on Pelissier Street in Windsor, Ontario, while the second half was installed on Gratiot Avenue in Detroit, Michigan. The work was also included in the Art Gallery of Windsor's exhibition Border Cultures: Part One (homes, land). (see more)
---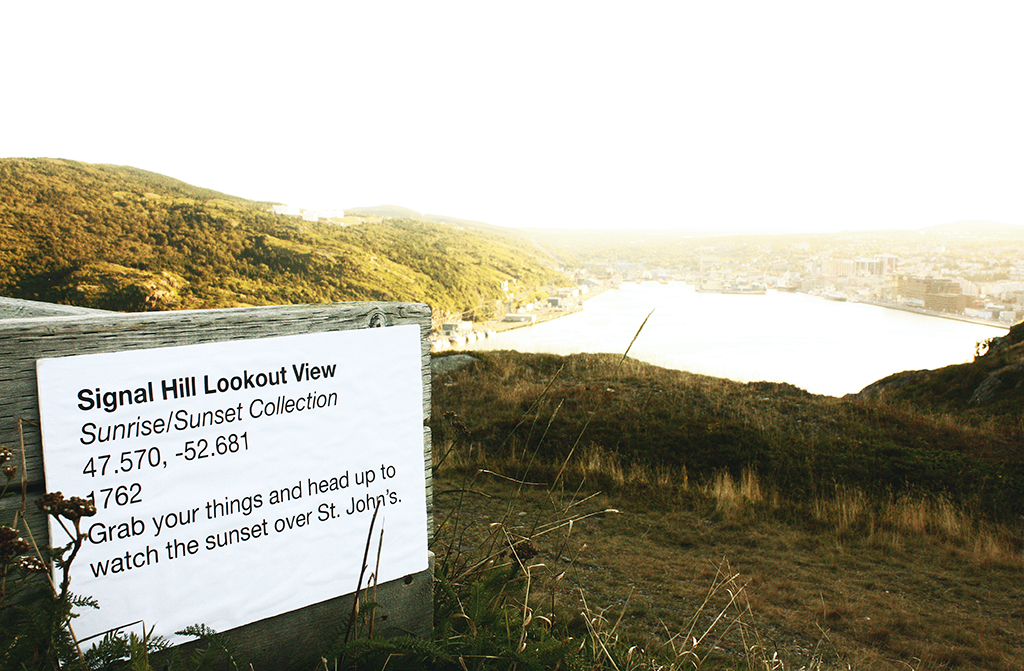 As part of Eastern Edge Gallery's Art Marathon Festival, Public Space Gallery pulled from the spatial cues of a gallery exhibition and overlayed them in public spaces. Through conversations and explorations, the work to the form of title cards and framed specific places, things, and structures found throughout the city of St. John's, Newfoundland. These cards included the name of the location, a brief description, the coordinates, and served to demarcate the space and the works. (see more)
---

Photo by Julie René de Cotret
Two Tales of a City examined a range of social, economic, cultural, and political dualities tracked throughout Hamilton's past, present, and future. Gathered from archival research, interviews, and pop-up surveys and timelines, Two Tales of a City presented competing, intertwining, and parallel narratives of Hamilton through a large-scale fabric banner and oversized bunting installed at Hamilton Artists Inc., a workshop, and a corresponding publication. (see more)
---
Drift helps you get lost in familiar places by guiding you on a walk using randomly assembled instructions. Each instruction will ask you to move in a specific direction and, using the compass, look for something normally hidden or unnoticed in our everyday experiences. Drift was developed by Justin Langlois in collaboration with Broken City Lab. This project was generously supported by the Ontario Arts Council Media Arts Grant for Emerging Artists.
---
The Letter Library (A Collection of Alphabetic Interventions) is an open community project that invites anyone and everyone to come borrow from our letterset to caption the city around them. With Windsor at the edge of so many transitions, how might we collectively reclaim and create our own public narratives about the future of our city through this playful intervention? Anyone participating will be issued a Letter Library Card and will able to sign out 12″ 3D letters from our collection to create their own temporary installation, document it with one of our single-use cameras, and ultimately help to build an archive of new captions for the city's build environment.
---
As part of our research for an exhibition at White Water Gallery, we created a weeklong residency where we engaged in a series of exploratory public interventions, micro-gestures, and tactical DIY responses to North Bay. Each event called on public participation to engage with North Bay, its infrastructures and its communities. Throughout the residency, we collected research on North Bay in support of an exhibition in the fall that aimed to not only examine the practice and production of a northern locality, but also present a range of resistive tactics that can help the community survive, or help one survive the community.
---
The show, Unrest Everywhere (tools for playing with Halifax) at Eyelevel Gallery, featured a number of multiples and interactive works, all of which are yours for the taking and borrowing. The premise for the exhibition was to create a series of works that could directly or indirectly suggest access points for re-encountering the city and your role within it. We created works that aimed to be highly distributable, playful, and allowed a bit of critical commentary on the ways in which a sense of place comes to be planned, articulated, and established.
---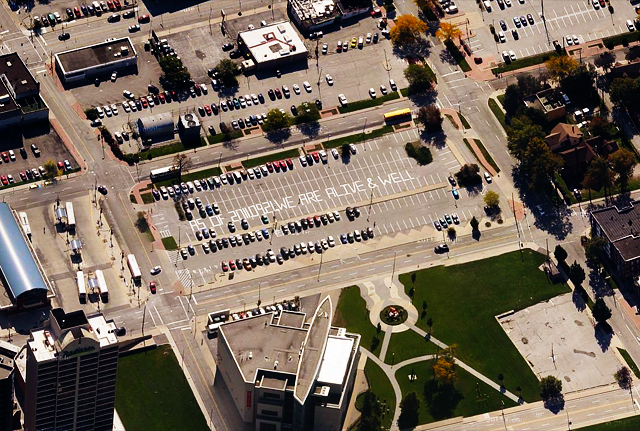 This year marks an interesting point in Windsor, Ontario's history. The city appears to have survived the lowest lows of the economic crisis and the social, cultural, and political realities in front of us seem to offer some sense of hope and possibility. Back in September, we painted a 350 foot message that reads, "AS OF 2011.09.21, WE ARE ALIVE & WELL", which is now viewable from around the world on Google Maps. The text is meant to be a caption of sorts for the city and references the start of the 2011 Windsor Biennial along with Iain Baxter&'s curatorial role — two incredible examples of creativity in the city, which we hope are indicative of the changes coming to Windsor. This project was made possible by the Art Gallery of Windsor, the City of Windsor, and MacDonald & White Paint. (see more)
---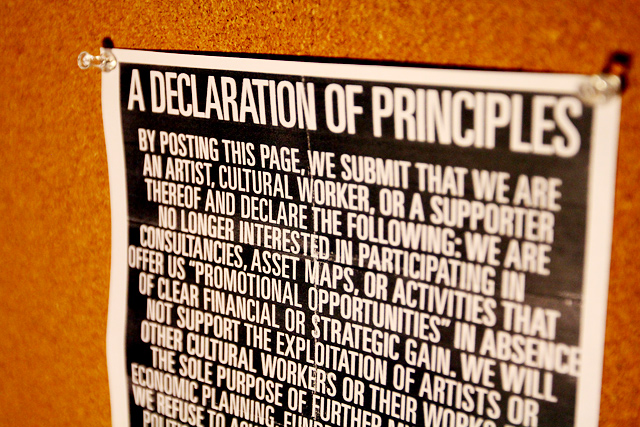 A highly-shareable one-page statement on the ways in which we intend to work with institutions across civic and cultural spaces, available as PDF or we'll mail you one if you'd like. (see more)
---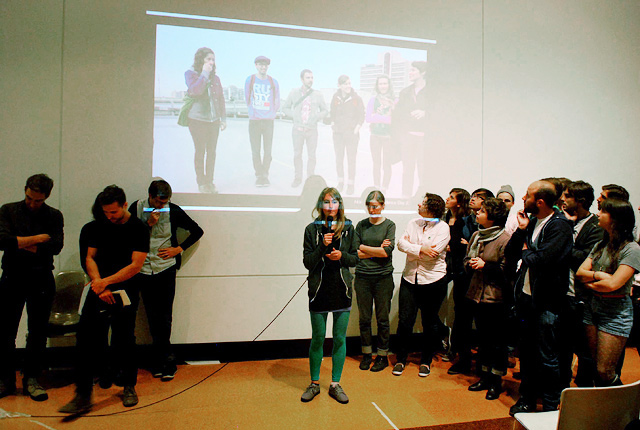 Homework: Infrastructures & Collaboration in Social Practices was a four-day residency, two-day conference, and forthcoming collaboratively-written publication featuring 19 artists in residence and keynote presentations from Gregory Sholette, Marisa Jahn, and Temporary Services. Supported by the Ontario Arts Council, the University of Windsor's School of Visual Arts, and the Art Gallery of Windsor. (see more)
---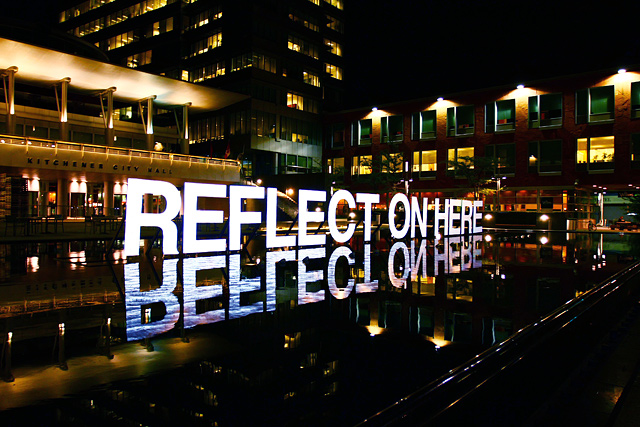 As part of CAFKA.11, Survive/Resist, we installed this large-scaled retroreflective text intervention in front of Kitchener, Ontario's city hall to create a moment of pause and reflection on architectural authority and public space. This project was supported by the Ontario Arts Council. (see more)
---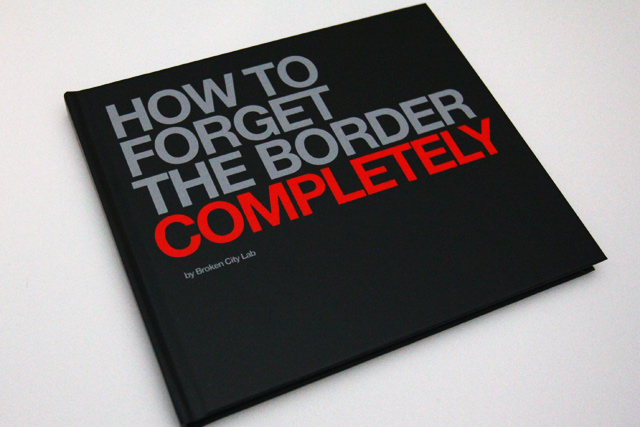 The result of a six-month research project on the realities of living at the edge of a country, we published a 150-page book with a series of texts, proposals, and projects for forgetting about the border completely, available as hardcover or softcover. Supported by the Ontario Arts Council. To get your copy of How to Forget the Border Completely, please click here. (see more)
---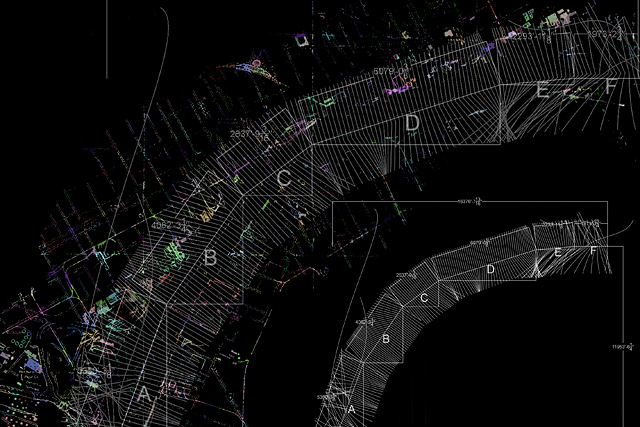 As part of our How to Forget the Border Completely research project and in response to the lack of pedestrian accessibility, we imagined a new set of infrastructure for pedestrians across the Windsor-Detroit border involving 1000 wooden footbridge crossings between the two cities, designed with Tom Provost. Supported by the Ontario Arts Council. (see more)
---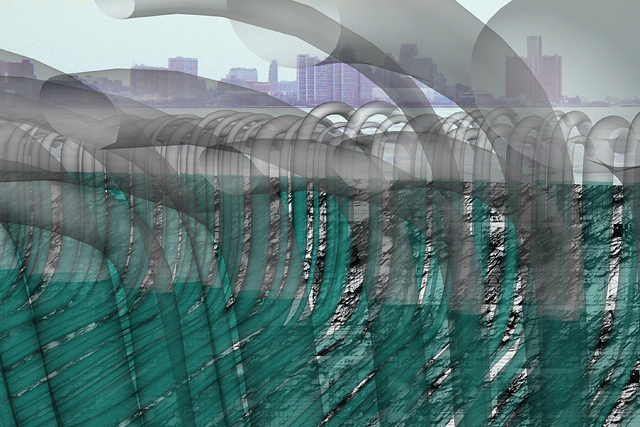 As part of our How to Forget the Border Completely research project, we developed a proposal for a new system of portals to transport border-city residents across the border, forgoing the border itself by transporting people from deep within one city to another, with Tom Provost. Supported by the Ontario Arts Council. (see more)
---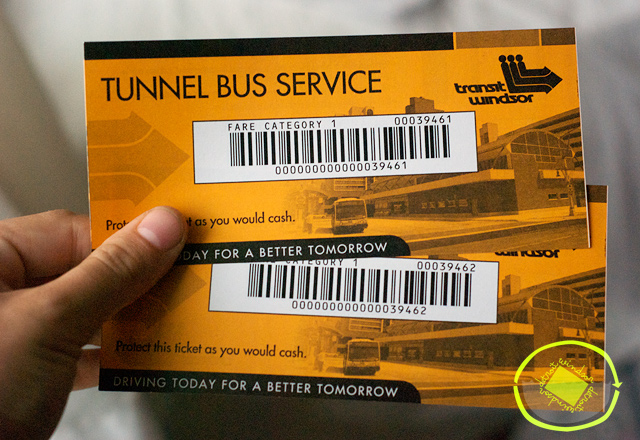 As part of our How to Forget the Border Completely research project, we initiated a micro-grant project offering free cross-border bus tickets for anyone needing or wanting to cross the border in exchange for their stories. Supported by the Ontario Arts Council. (see more)
---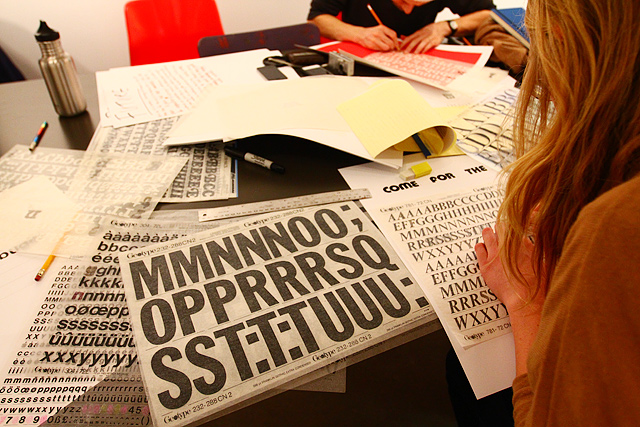 Hosted by Martha Street Studio, we facilitated a series of crash course workshops and conversations around the stories that aren't told about Winnipeg, resulting in a exhibition of DIY Letraset and silkscreened posters featuring headlines for the city and a collectively written (un)official story for Winnipeg. Support by the Canada Council for the Arts. (see more)
---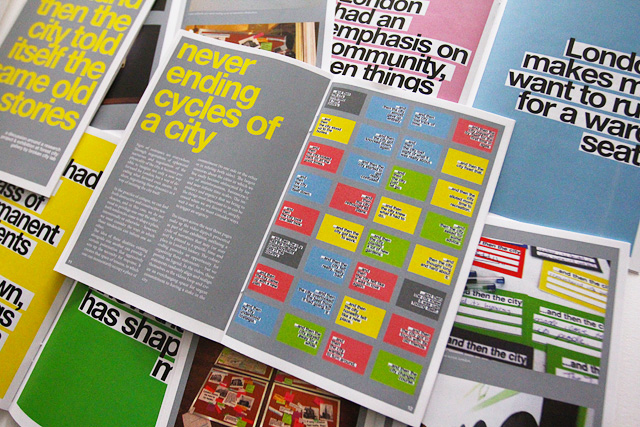 Hosted by Forest City Gallery, through a gallery exhibition and corresponding publication, we aimed to explore the narratives around London, Ontario. Based on a research project we initially developed in Windsor, Ontario, our exhibition revolved around a curiosity about locality and the ways in which it becomes shaped through shared experience and interwoven narratives. Supported by the Ontario Arts Council. (see more)
---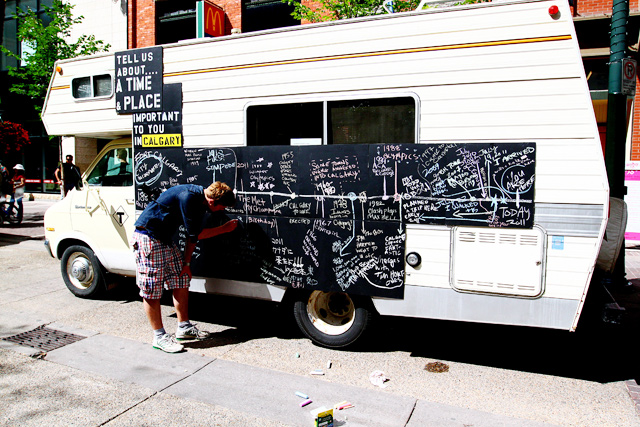 Hosted by TRUCK Gallery's CAMPER initiative, we participated in a 10-day residency exploring the city of Calgary by creating a series of data collection interventions, a projection series, billboards, and a publication exploring the notion of shortcuts as tactical civic participation. (see more)
---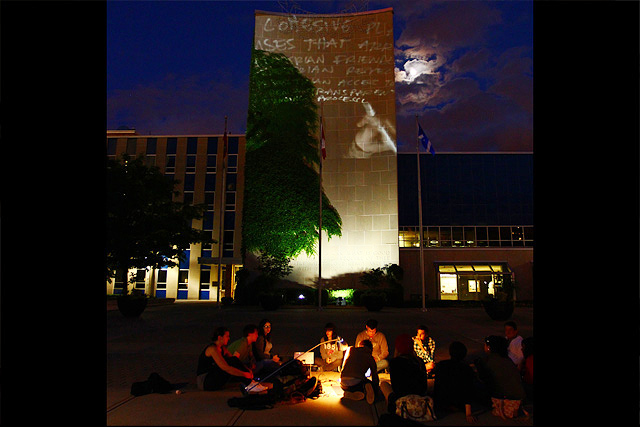 In response to a series of failed community consultation sessions organized by the city to present information on an upcoming infrastructure project, we hosted an open discussion about the future of Windsor's infrastructure and projected our hand-written notes onto City Hall in real-time. (see more)
---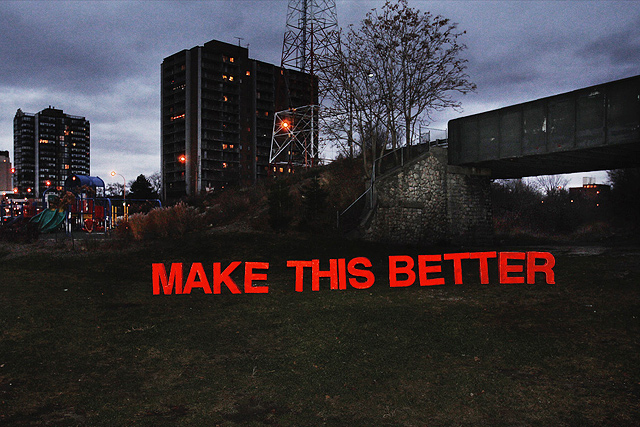 An ongoing series of temporary installations using retroreflective hand-made cardboard letters across the city of Windsor to generate some conversation and creative thinking around how we can indeed make this (place) better. (see more)
---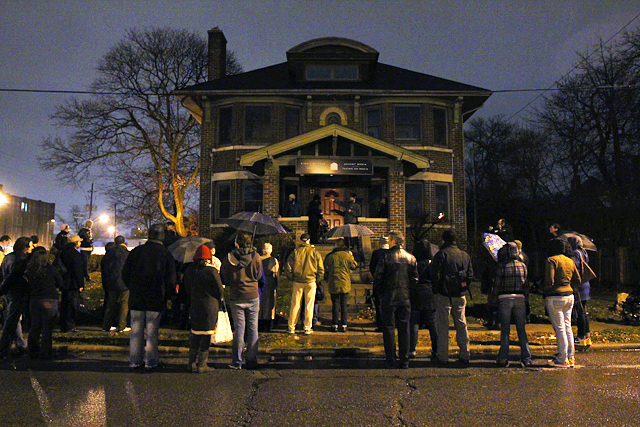 A walk around downtown Windsor with 100 close friends, gaining access to a variety of closed / vacant / underused spaces to re-imagine what's possible. One day, we'll be neighbours in these spaces, and we'll look back and say, "remember that walk we took with all those people on that really cold and rainy night…" (see more)
---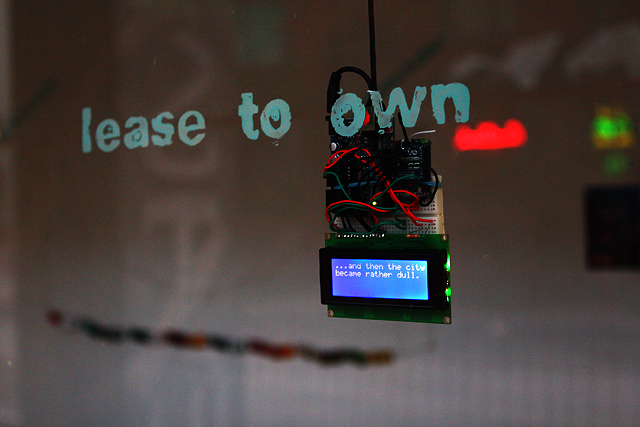 A series of Arduino-powered and XBee networked LCDs were distributed throughout a given location displaying a series of descriptions of the space from a prepared list and via Twitter; above, installed as part of the Storefront Residencies for Social Innovation. (see more)
---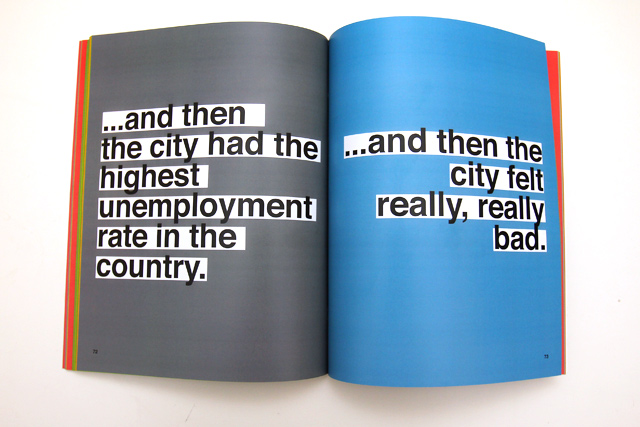 This 102-page book came out of the Save the City project. Each page creates a landing point in what seems to be the cyclical nature of cities — hope, failure, bad decisions, nostalgia, construction, sprawl, gentrification, isolation, devotion, etc. There isn't particularly a reference point in time for each page (that is, within Windsor or really even generally in terms of a history of the idea of the North American city). To get your copy of …and then the city, please click here. (see more)
---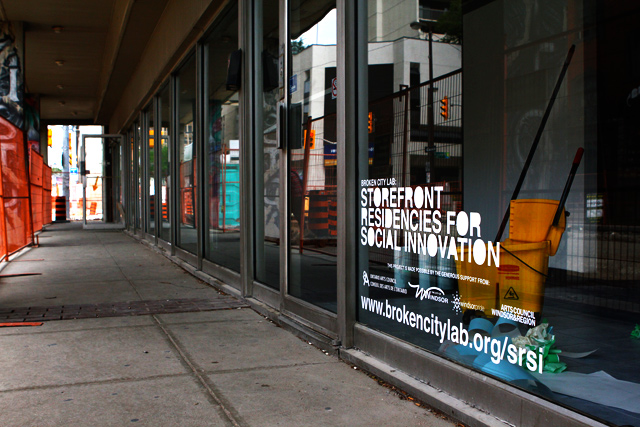 For 30 days, this project called on over 25 different artists, writers, designers, restauranteurs, musicians, architects, archivists, and other interested parties to occupy a space in downtown Windsor for up to one month in June and July 2010 to attempt to intervene with the everyday realities of skyrocketing vacancy rates, failing economic strategies, and a place in need of new imagination. This project was made possible by the generous support from the Ontario Arts Council, the City of Windsor: Cultural Affairs Office, the Arts Council Windsor and Region, and Windsor Pride. (see more)
---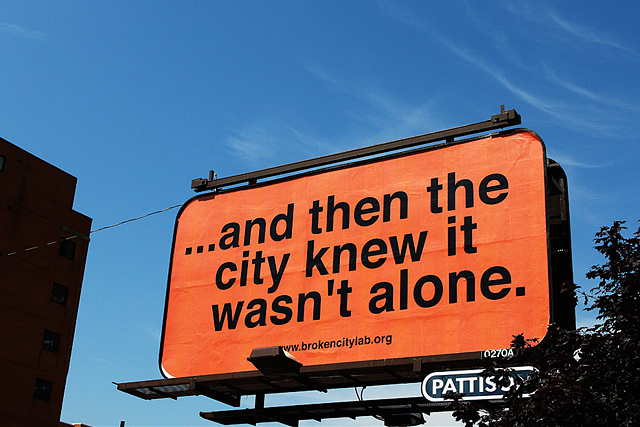 As a kind of summation of our Save the City project, we wanted to suggest the end of one part of a conversation and the beginning of another, and a way of looking at problems and solutions as a kind of continuum of ideas, rather than points from which to react. As part of Save the City, this project was generously supported by the Ontario Arts Council. (see more)
---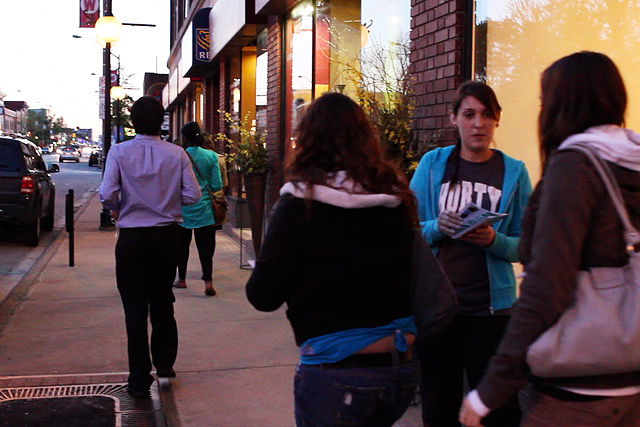 In April 2010, we asked community members to take five photographs of something worth saving in Windsor, which we collected and turned into 150 postcards. We invited those same community members to write hand-written letters on the backs of these postcards, telling a different story about Windsor, which were then addressed to 150 other cities and mailed out all at once. As part of Save the City, this project was generously supported by the Ontario Arts Council. (see more)
---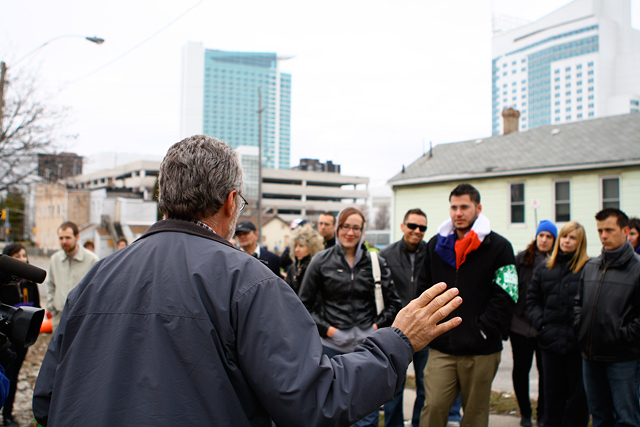 In March 2010, we organized a community parade and collaborative musical performance around the streets of Windsor to celebrate and uncover folkloric Francophone history led by Dr Marcel Beneteau, a professor in the Department of Folklore and Ethnology at the University of Sudbury. As part of Save the City, this project was generously supported by the Ontario Arts Council. (see more)
---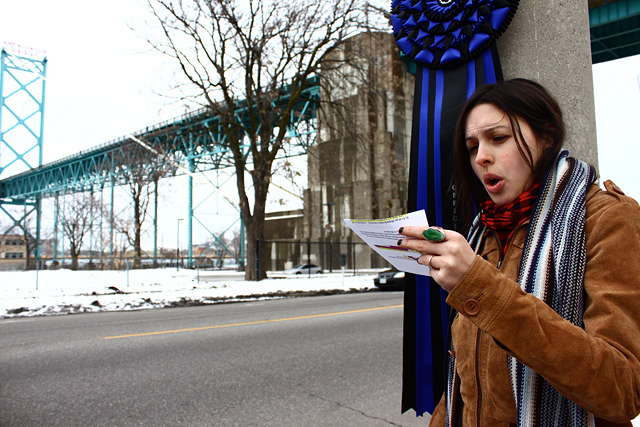 For one afternoon in February 2010, we gathered together with a group of community members to create two distinct lists: Sites of Apology and Sites of Hope, places for which we, as a community, might need to apologize to future generations, or places for which we might hold some particular hope of their role in creating a better city for future generations. We made a map and unofficially demarcated each site with a blue (apology) or green (hope) ribbon. As part of Save the City, this project was generously supported by the Ontario Arts Council. (see more)
---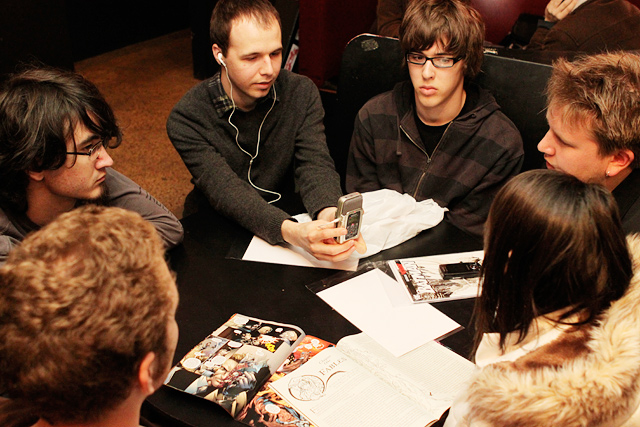 In January, 2010, we asked 40 people two questions: Why did you first come to Windsor? and Why are you still here? The answers we got over the hour and a half we spent recording in downtown Windsor presented not just answers to those two questions, but sprawling conversations about what it means to live in Windsor, how we've shaped this city, and how it's shaped us. A 5-minute excerpt of the conversations and the raw audio files were donated to the Windsor Archives. As part of Save the City, this project was generously supported by the Ontario Arts Council. (see more)
---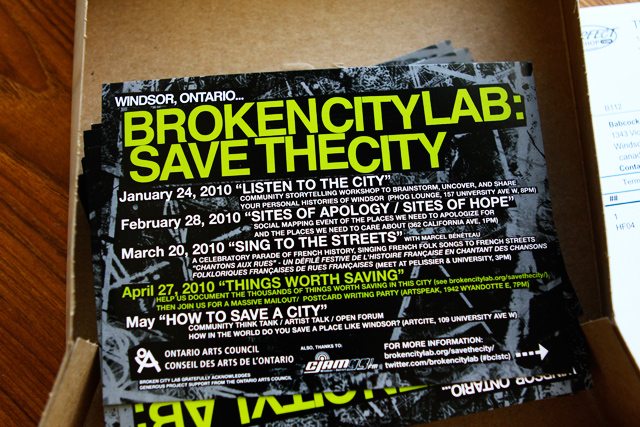 Over five months, the Save the City project will bring together emerging artists and city residents to imagine and prompt creative social engagements and civic activation. Within the project's series of five activities, the content of each activity will be based on a creative interaction with a part of Windsor's current and historical social, economic, and regional culture. This project was generously supported by the Ontario Arts Council. (see more)
---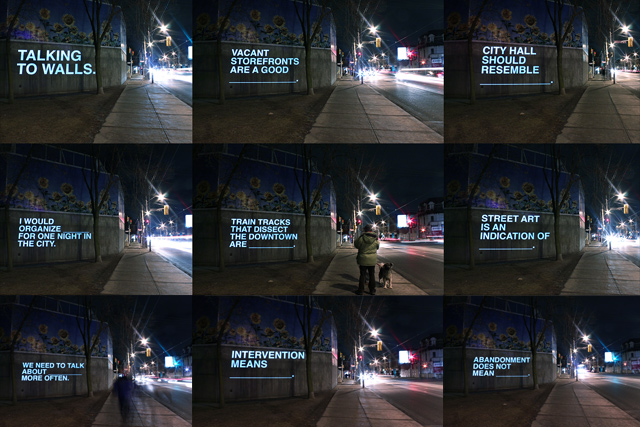 As part of the Public Realm exhibition, curated by Christopher Hume at the Propeller Centre for the Visual Arts in Toronto, we projected a series of fill-in-the-blank statements that examine the language and ideas surrounding public space, intervention, urban surfaces, and city infrastructures. (see more)
---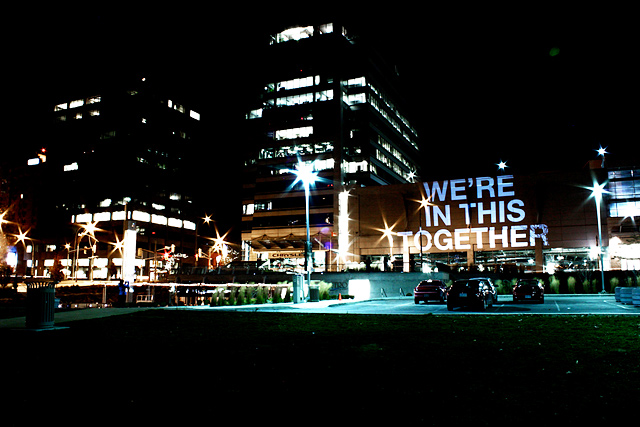 For three nights in November, we projected a series of messages from Windsor that were visible across the border in Detroit, as an interventionist performance series based on the desperate need to communicate between these two cities. This project was made possible by the University of Windsor Faculty of Arts, Humanities and Social Sciences Research Leadership Chair and Spectrodata, and was designed with the Vincent Massey Secondary School Junior Physics Club. (see more)
---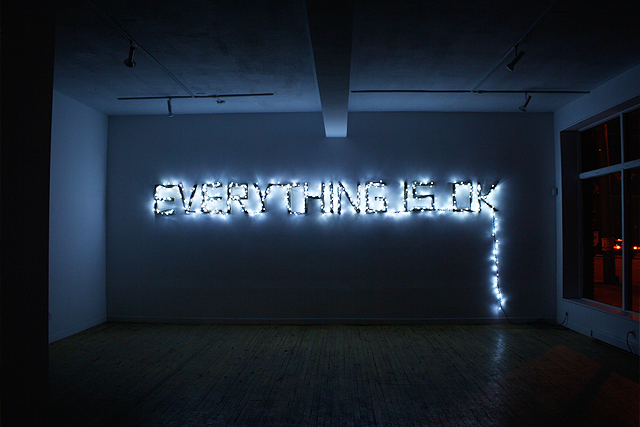 For one week in October 2009, Broken City Lab researchers travelled to Artspace in Peterborough, Ontario to understand the city and its community. Through surveys, townhall meetings, informal discussions, photography, and video, we concluded that "Everything is OK" in Peterborough as of October 15, 2009. (see more)
---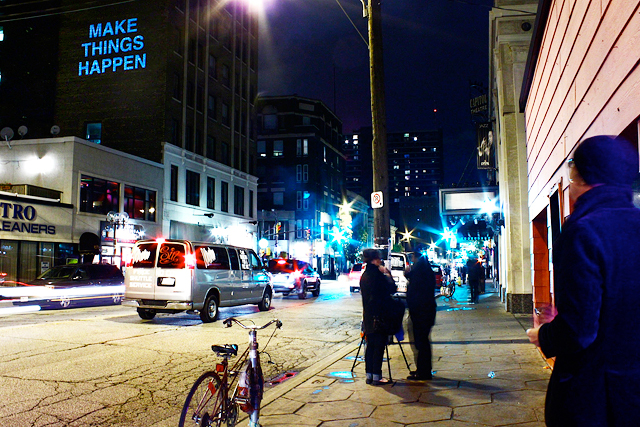 A projection performance that listed 100 Ways to Save the City—ranging from the obvious to the impossible. Situated on the roof of a local business and projecting onto the wall of an apartment building, we presented a list of our ideas for saving the city, followed by an open-submission of ideas from the street, our phones, and Twitter. (see more)
---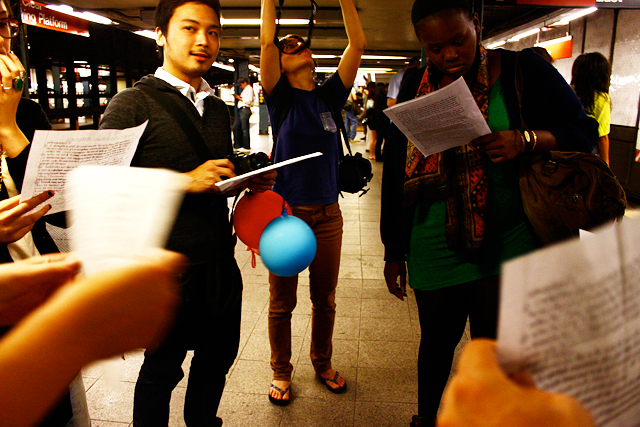 As part of Conflux City 2009, we led an algorithmic adventure on New York City's subways to generate psychogeographical urban research on the experiences and interactions in everyday life on public transit. This project was made possible by the University of Windsor Arts Society. (see more)
---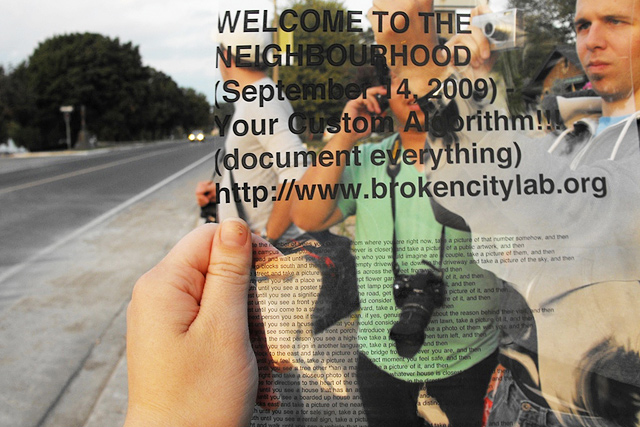 Welcome to the Neighbourhood took almost 30 brave explorers on an algorithmic / psychogeographic adventure around West Windsor on a Monday night in order to highlight the potential to pay particular attention to the many things that usually go unnoticed in the normally highly transient neighbourhood. (see more)
---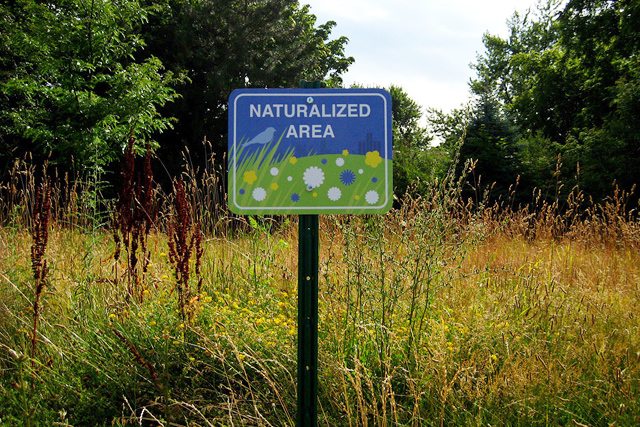 These signs designed and installed near the end of the 101 day city worker strike in Windsor highlight one of the many wonderful accidental meadows, created by the ongoing city workers strike. These naturalized areas allow for a moment in which one might be able to mistakenly believe that Windsor is a progressive city, a place where this type of naturalization is encouraged for its beauty, for its potential to attract wildlife, and for the stories our landscape is capable of telling. (see more)
---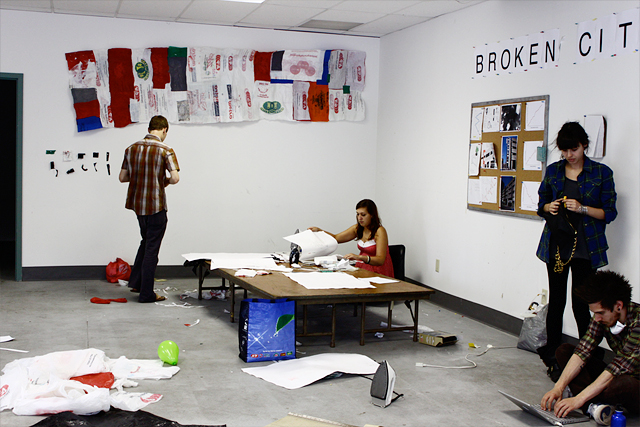 Windsor is infamous for hiring consultants and creating feasibility reports that remain unused years after their release, so with an opportunity to utilize an old retail space in the core of the downtown, we generated an informal report on the potential uses for the numerous other vacant storefronts below a city-owned parking garage. (see more)
---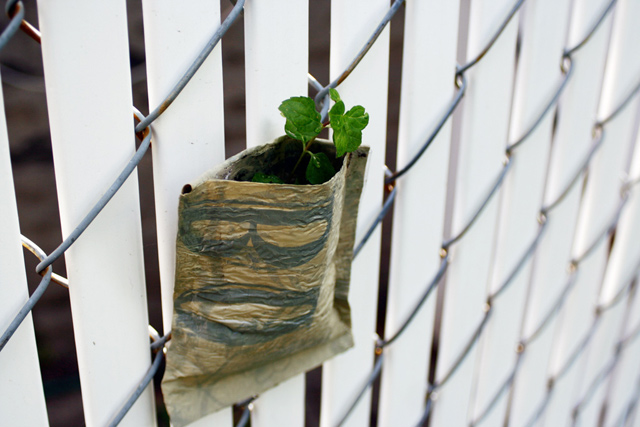 Through a series of research initiatives, we created a magnetic planter—a simple interventionist tool to insert micro-gardens into new parts of the city created with fused plastic bags and rare-earth magnets. (see more)
---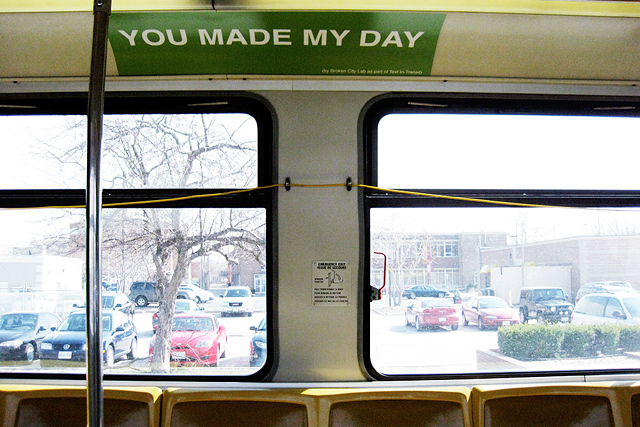 A collaborative project with Transit Windsor (the city's public transit system) and the community at large, Text In-Transit involved the negotiation of space on buses normally reserved for advertising to become an exhibition of 100 short statements, poems, and stories generated from the community, meant to help change the conversation around Windsor. This project was funded by the University of Windsor's Ontario Public Research Group, the University of Windsor's Arts Society, and the Mayor's Youth Advisory Committee. (see more)
---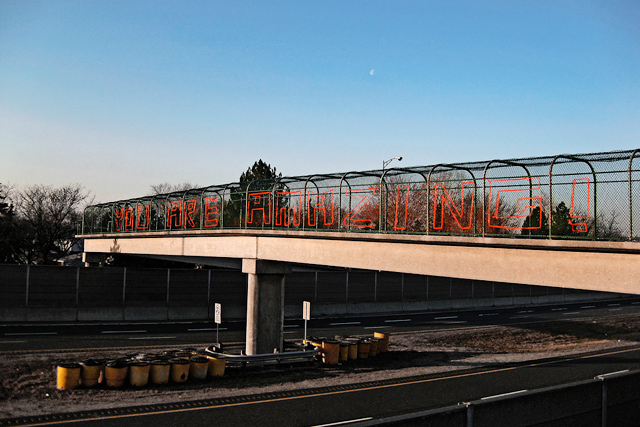 Installed above the EC Row, Windsor's major expressway, using cheap orange flagging tape to weave into the fence of the pedestrian overpass, You Are Amazing stayed up for 24 hours, communicating to thousands of drivers, before being taken down by an unknown source. (see more)
---
An Algorithmic Walk, created to encourage an active interaction with Windsor's downtown core, utilized a PHP script to generate a custom algorithm that guided participants through a series of activities, including the one pictured above, a race at night. (see more)
---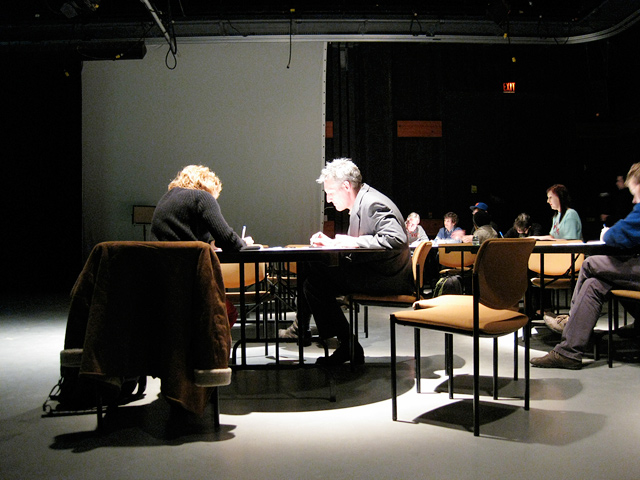 As part of a community-based activity, Rewriting Windsor, a group of community members gathered to redraw, remap, rewrite, and re-imagine Windsor's history—the first of a series of activities that will eventually be published with each participant as a collective author. (see more)
---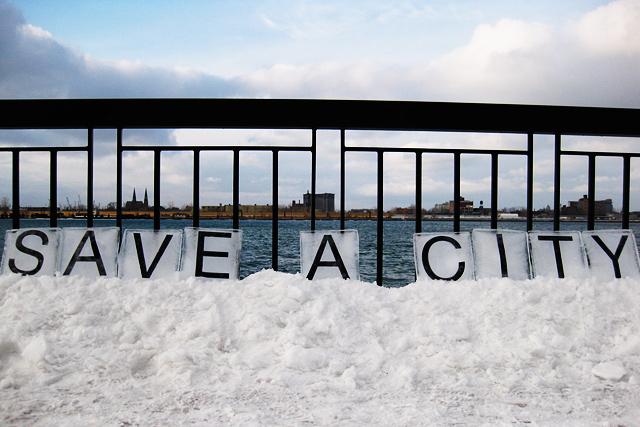 Research on the potential for temporary messaging in the city led to the use of silicon bakeware and card stock to create a series of messages embedded in blocks of ice and mounted on and against fences throughout the city—above, the message "Save a City" is read while facing Detroit from Windsor's riverfront. (see more)
---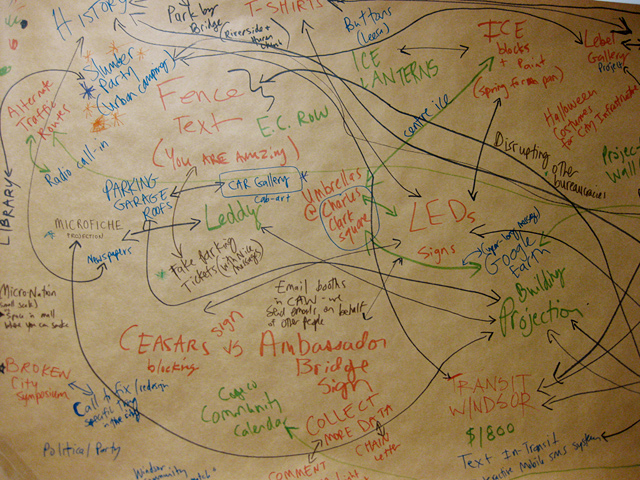 To understand the city and our activity within it, we created a 48 square foot mind map of potential tactics to engage for the year 2009; many of the tactics led to a large idea of sending a message to Detroit, or more generally, furthering our investigation of the specifics that make Windsor the city it is. (see more)
---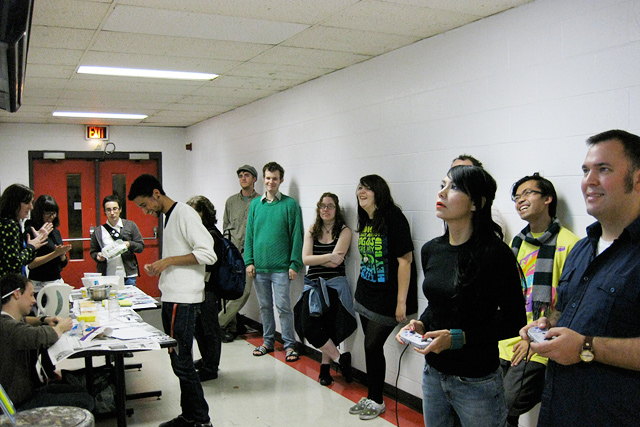 There was a 40″ LCD television in the hallways of the School of Visual Arts at the University of Windsor, placed in the location to run advertisements in exchange for free photocopying, but the ads never ran—instead, we hijacked the screen to have a Tetris tournament and screen a series of videos until it was taken down months later. (see more)
---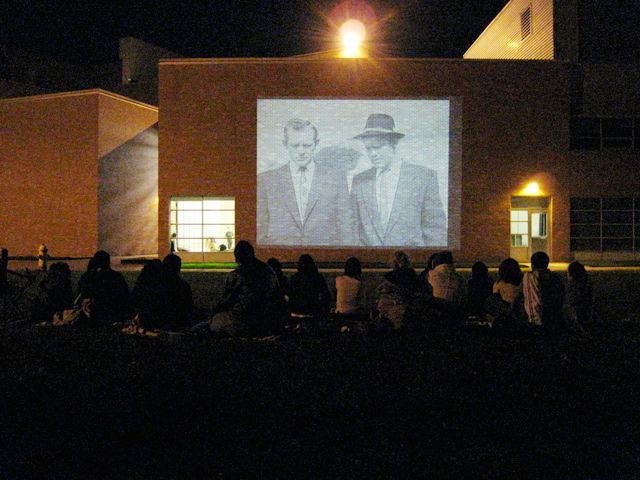 In an effort to rethink the wasted use of public space on the University of Windsor campus, we borrowed power from the nearby Dramatic Arts building to engage in guerilla projection, screening Teenagers From Outer Space, a b-movie now in the public domain, and invited passersby to watch it with us. (see more)
---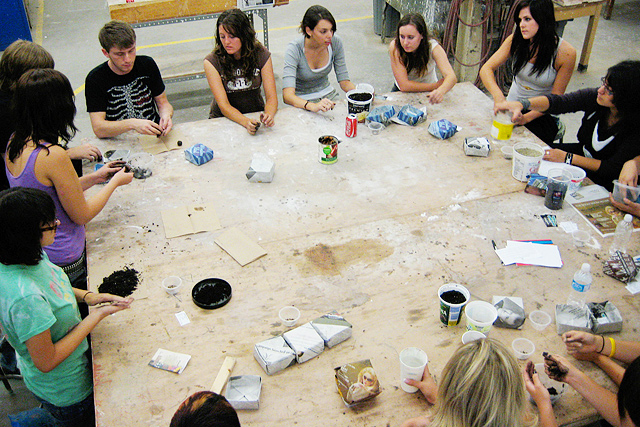 On the first day of school, we offered a simple workshop with first-year undergraduate students on making seed bombs, a basic guerilla gardening technique that utilizes soil, clay, coffee grounds, and wildflower seeds to propagate barren urban wastelands. (see more)