BROKEN CITY LAB
Broken City Lab is an interdisciplinary creative research group based in Windsor, Ontario that tactically disrupts and engages the city, its communities, and its infrastructures to reimagine the potential for action in a collapsing post-industrial city.
---
PROJECT DESCRIPTION
Cross-Border Communication is an interventionist performance series based on the desperate need to communicate with Detroit, Michigan from Windsor, Ontario.
Using a 6000 lumens projector, Broken City Lab will transmit a message to Detroit once a week for 45 minutes from September to November 2009. Each week will feature a different message that we write and project onto the CIBC building, located at Ouellette Avenue & Riverside Drive in Windsor and clearly visible from downtown Detroit.
(See a mockup from Detroit)
Windsor, as the southern-most city in Canada, is geographically distributed along the Detroit River, and its proximity to the Motor City has, to say the least, left a considerable mark on the city's economy, culture, and politics. Windsor has been forever in the shadow of Detroit, and now as Detroit crumbles with the fall of the Big 3, Windsor is not far behind—the cities are intricately connected.
Today, the view of Windsor from Detroit is dominated by Caesars Windsor's glowing red sign and large-scale video display, broadcasting an ad campaign that claims, "This is the life you were meant to live," filled with images of idealized and impossible lifestyles given the current economic realities. However, we think there is something more to be said. We want to communicate the reality of the relationship that exists between Windsor and Detroit, and more importantly, between Canada and the US.
Cross-Border Communication will attempt to hijack and transform communicative efforts between Windsor and Detroit, which has historically been based solely on economic exchange.
We will start the project with the message, "WE'RE IN THIS TOGETHER" and then generate the remaining 11 messages as the project unfolds, likely in response to any current political and social climates shared between these border cities.
Technical Notes:
Working with the Vincent Massey Secondary School Physics Club has allowed us to do the calculations to ensure the projector we've budgeted for will work for this project. As the CIBC building is 100 feet wide and 150 feet high, and the projector's throw ratio is 60 inches @ 6.56 feet, the projected text could be approximately 90 feet wide by 67.5 feet high. The projector would have to be positioned at approximately 52 degrees to the face of the building at least 70 feet away from it.
---
TIMELINE
February – April 2009: Work with Vincent Massey Secondary School Physics Club to understand the requirements and limitations of visibility from across the Detroit River
August 2009: Purchase Projector, run tests at night under different lighting conditions
September – November 2009: Weekly 45 minute screenings of one statement to communicate with Detroit
---
BUDGET
BenQ SP920 DLP Projector – 6000 ANSI lumens $3159.57 (USD)
NOMA Back-up Power System – 1800W $355.44 (USD)
TOTAL BUDGET $3514.20 (USD)
---
CURRICULUM VITAE
See attached file for the CV for Broken City Lab director, Justin A. Langlois (PDF).
---
WORK SAMPLES
Text In-Transit (2009)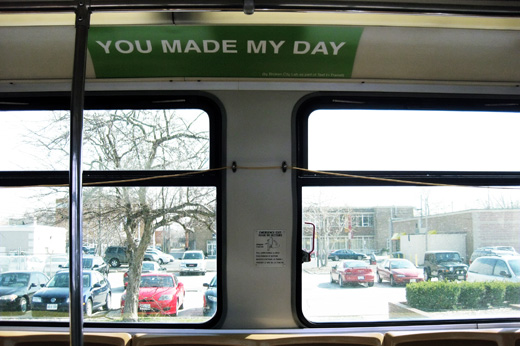 A collaborative project with Transit Windsor (the city's public transit system) and the community at large, Text In-Transit involved the negotiation of space on buses normally reserved for advertising to become an exhibition of 100 short statements, poems, and stories generated from the community, meant to help change the conversation around Windsor. This project was funded by the University of Windsor's Ontario Public Research Group, the University of Windsor's Arts Society, and the Mayor's Youth Advisory Committee.
---
You Are Amazing (2009)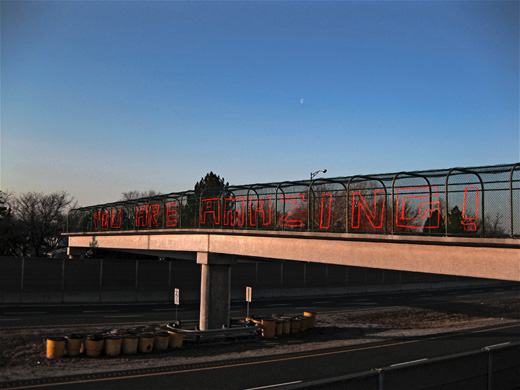 Installed above the EC Row, Windsor's major expressway, using cheap orange flagging tape to weave into the fence of the pedestrian overpass, You Are Amazing stayed up for 24 hours, communicating to thousands of drivers, before being taken down by an unknown source.
---
Night of the Living Broken City (2008)
In an effort to rethink the wasted use of public space on the University of Windsor campus, we borrowed power from the nearby Dramatic Arts building to engage in guerilla projection, screening Teenagers From Outer Space, a b-movie now in the public domain, and invited passersby to watch it with us.
---