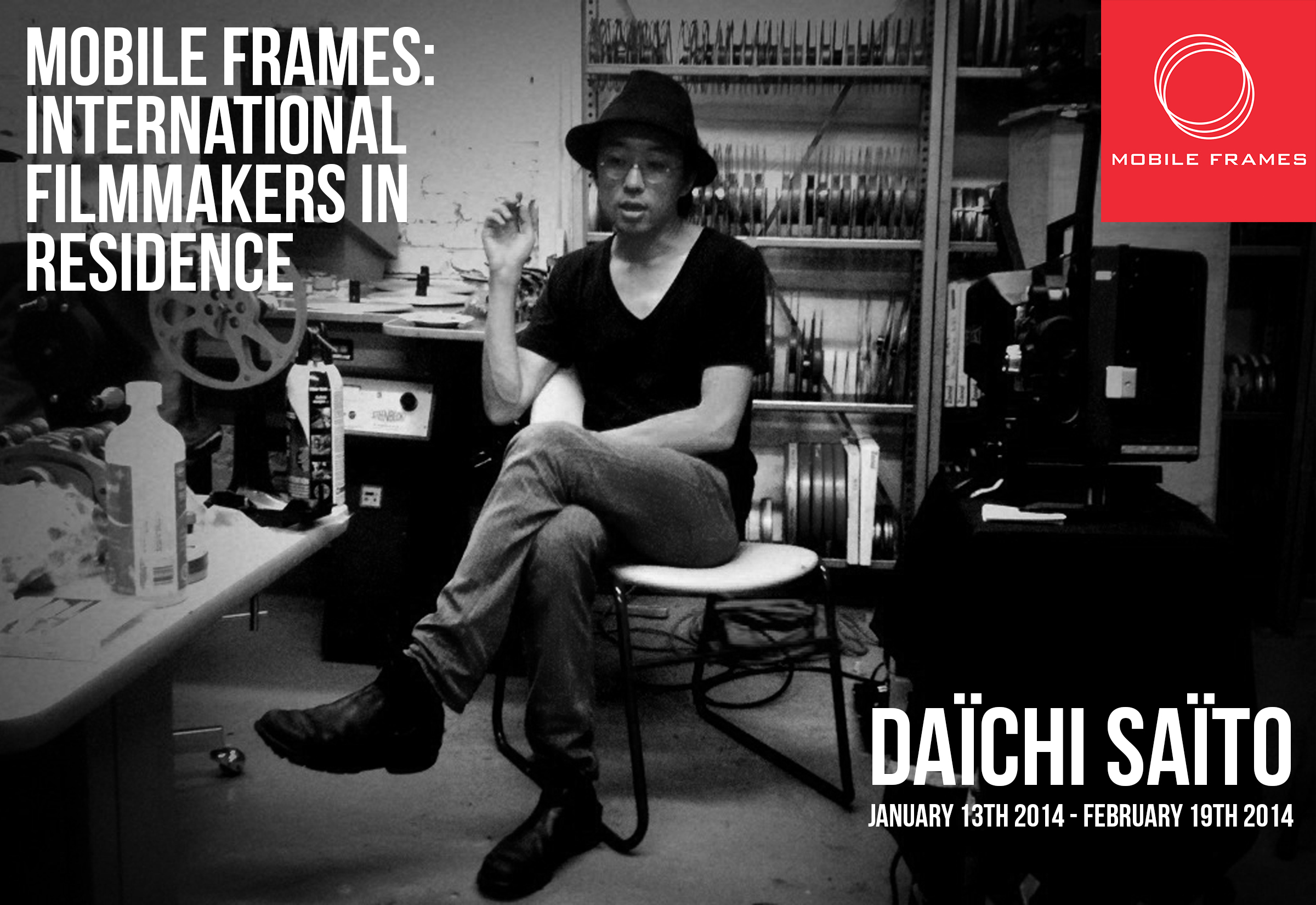 Mobile Frames is pleased to announce our first series of FREE 16mm workshops, conducted by Montréal-based filmmaker in residence Daïchi Saïto, February 13th, 15th and 16th.
The workshops are completely FREE and open to Windsor / Detroit residents. Spaces are limited! Registration is required.
To register, contact: mobileframes@live.com
For more information visit: http://mobileframes.org/
"Introduction to 16mm Filmmaking"
Combining lecture and hands on practice, this workshop surveys the fundamentals of do-it-yourself filmmaking. Aspects of cinematography including light, camera, lens and film stocks, as well as the properties of film and processing chemicals, are covered. Participants will learn to shoot in 16mm with a Bolex Camera, make homemade film processing solutions out of raw chemical ingredients and hand process their own footage using various techniques. This workshop will prepare participants for further explorations of celluloid filmmaking and experimentation with film processing. All materials are provided. No previous experience with 16mm filmmaking is required.
http://mobileframes.org/workshops/
Feb. 13th, 2014 – Introduction to 16mm Filmmaking (Part 1), 1pm – 5pm
Feb. 15th, 2014 – Introduction to 16mm Filmmaking (Part 2), 9am – 6pm
Feb. 16th, 2014 – Introduction to 16mm Filmmaking (Part 3), 1pm – 5pm
Daïchi Saïto is a co-founder of Double Negative, an artist's collective in Montreal dedicated to exhibition and production of experimental cinema. His films have screened at festivals, museums and cinematheques worldwide and are in the permanent collections of the Austrian Film Museum and the Slovenian Cinematheque, and are distributed by Light Cone (Paris), Arsenal (Berlin) and the CFMDC (Toronto). Saïto has taught cinema at NSCAD University in Halifax, Concordia University in Montreal and the Escuela Internacional De Cine in Cuba.
---
The series is presented by Media City Film Festival, together with Broken City Lab, Common Ground Art Gallery and Momentum Film & Video Collective and is made possible through the generous support of the Ontario Trillium Foundation. Media City Film Festival acknowledges the support of the Ontario Arts Council and the Canada Council for the Arts.