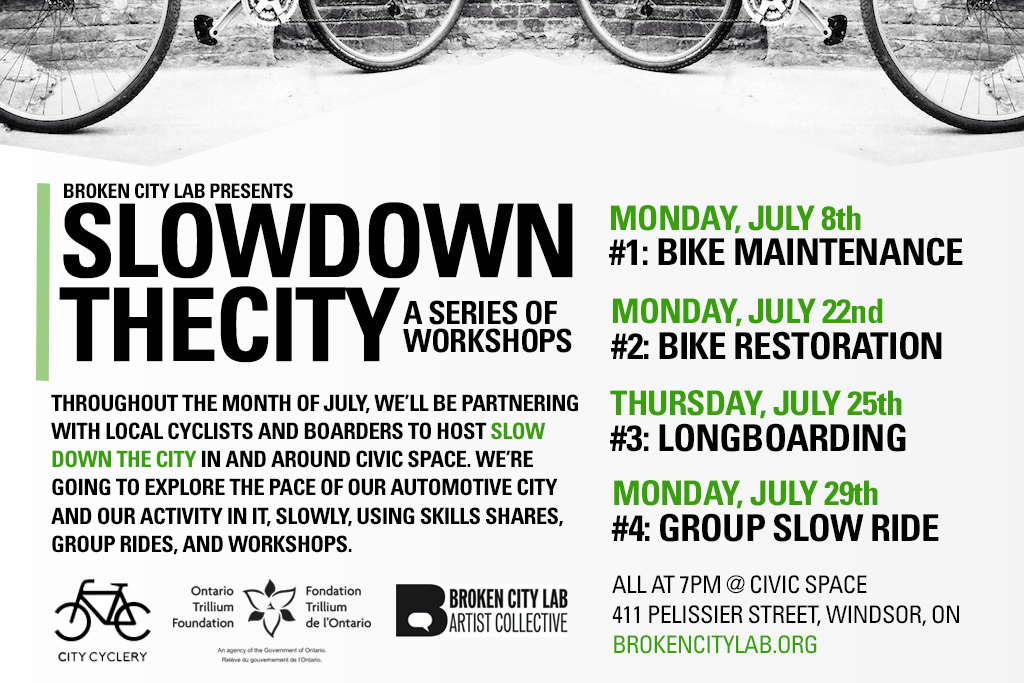 Slow Down the City: A Series of Alternative Transportation Events throughout the Month of July
We're pleased to announce a month-long series of workshops here at CIVIC SPACE that will explore the pace of our automotive city and how we might slow it down with our actions and transportation choices. We'll be teaming with with local bike co-op City Cyclery and local longboarder Troy Linton to host four events throughout the month of July that will use skill sharing and group rides to open a dialog about the pace of Windsor.
All Slow Down the City events are free and open to everyone. Bring your bike, board, or come without. Looking forward to seeing you there!
---
Monday, July 8th (7pm) – Workshop #1: Bike Maintenance with City Cyclery
Monday, July 22nd (7pm) – Workshop #2: Bike Restoration with City Cyclery
Thursday, July 25th (7pm) – Workshop #3: Longboarding with Troy Linton
Monday, July 29th (7pm) – Workshop #4: Group Slow Ride
ALL EVENTS WILL BEGIN AT CIVIC SPACE – 411 PELISSIER STREET, WINDSOR, ONTARIO