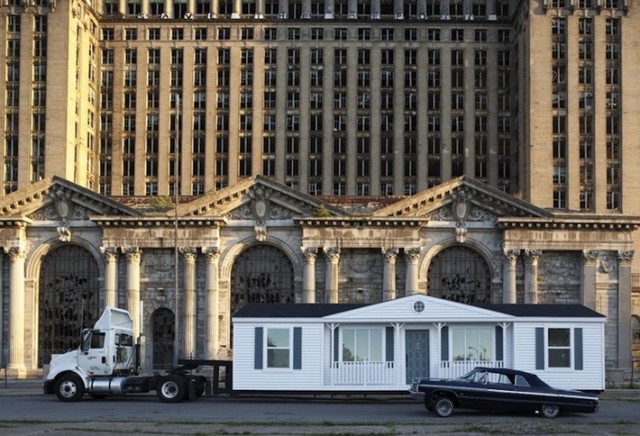 Image via Artlog
Michelle and I visited this project when it first appeared at MOCAD back in 2010, and it's incredible to see the next phase of this, just announced as a massive new addition to the project in Detroit that seems possibly not unlike Project Row Houses, but with a distinct Detroit feel.
From the article on Curbed:
The installation will be a replica of Kelley's childhood home in the suburbs which will be used to provide social services to Detroit residents. Kelley himself oversaw the first stage of the project in 2010, when a mobile-home version of the suburban dwelling made a maiden voyage from downtown Detroit to visit the original Kelley home in the suburbs. The video of this, completed just before he died, is what premiered at the Whitney Biennial yesterday. Kelley's idea was to create a symbolic reversal of the white flight that occurred in Detroit in the 1960s.
From the NYTimes article:
It will function nothing like a traditional museum or gallery and will show none of Mr. Kelley's work, at his own insistence. The mobile-home part will remain detachable and will sometimes take its leave of the rest and journey through Detroit. The home as a whole will operate as an unconventional community service office, providing things like haircuts, social services, meeting space and a place to hold barbecues and perhaps for the homeless to pick up mail. "We're thinking that our education staff will actually move out to the homestead and work from there," said Marsha Miro, the acting director of the contemporary art museum.
It's really curious to think about a long-term project like this being launched by an artist and carried forward (posthumously) by a museum, not to mention the complications of the politics of the architecture itself. I'm not sure what it will mean for the community immediately surrounding MOCAD, but it's an incredible example to point to in terms of how we might rethink a number of institutions that provide social services.