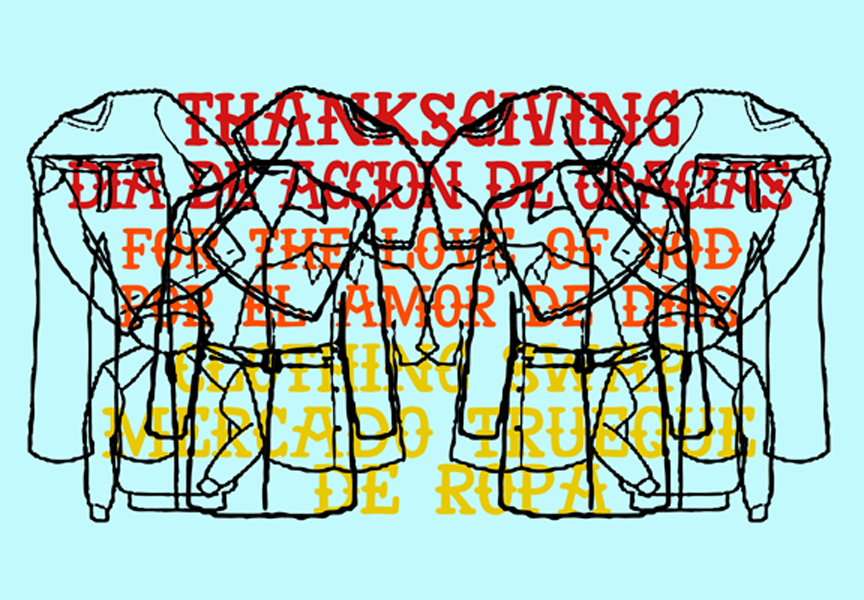 THANKSGIVING * DIA DE ACCION DE GRACIA * FOR THE LOVE OF GOD * POR EL AMOR DE DIOS * CLOTHING SWAP * MERCADO TRUEQUE DE ROPA
Open Monday-Thursday from 12pm-6pm between October 14th and November 2nd, 2013 – CIVIC Space (411 Pelissier Street, Windsor, Ontario) – Closing Reception on November 1st from 6-9pm
For Rodrigo Marti's residency/exhibition at CIVIC Space, the artist is considering the responsibility between Windsorites and the Temporary Foreign Worker population based around nearby Leamington.
The Ghanian-British philosopher Kwame Anthony Appiah see's cosmopolitanism, the way of the global citizen, as a position that will aid in filling the gap between groups and peoples in a globalized world. Our evolutionary specialty is in relating and maintaining a sense of responsibility for others through face-to-face relations (ie – our family, friends, immediate community), the problem Appiah asks us is how can we find and maintain a sense of responsibility for those distant groups and cultures that we now affect and interact with on a daily basis?
Using clothing and fashion as a starting point to consider identity, culture and place, the artist has set up a clothing swap installation open to the public from Monday-Thursday from 12-6 between October 14th and November 2nd, 2013. There will also be a closing reception held at CIVIC Space on Friday, November 1st from 6-9pm.
Please come visit, drop-off, pick-up, or exchange clothing!