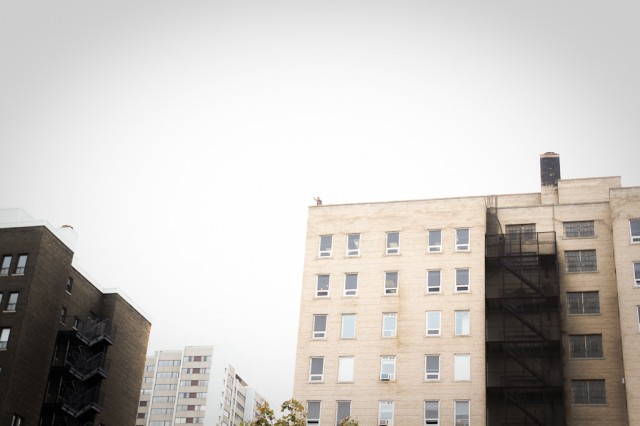 I sat down with a couple of different people over the last few weeks to discuss the possibility to rethink how we collectively address youth retention in Windsor. It's an incredibly pressing (and yet somehow invisible) emergency. As a faculty member and collaborator with many recent graduates, it's a professional and personal challenge to see people move away from Windsor. And yet, it's so rare that recent grads do stick it out that it's impossible to imagine how huge of an impact they could have on the city.
And, of course, it also begs the question — why do people move?
The draw of a bigger city, their experiences here in Windsor, and job prospects are all often cited for packing up at the end of an undergraduate degree, and for good reason. These things can weigh heavily on a decision of staying in Windsor after graduation, as the city itself cannot offer much in lieu of them. However, I have to wonder what 'the thing' is that might help recent graduates decide not to move away. What about this city might be able to draw people to stay and even bring people back?
It started with cheerleaders. Or more specifically, an idea for a guerrilla cheerleading squad. that went something like this: What if we paid unemployed recent graduates to show up to political events — city council, funding announcements, town hall meetings — to advocate for more resources being put towards youth retention? The guerrilla cheerleading squad would show up, make some noise, and hopefully draw attention to the lack of ambition and absence of real work being put towards keeping young and creative talent in this city.
But, that conversation led to an honest assessment of potential impact. A cheerleading squad might make the paper once, it might draw some attention to the issue, but ultimately, we wouldn't be arming ourselves to have a conversation about what should be done, or what could be done with some imagination, to address the issue. The long-term impact would evaporate.
So, that led to another conversation. How could we enact a kind of long-term impact towards addressing the lack of initiative put towards youth retention at the regional level? It's a conversation that I've been having for two years (and probably even longer), and yet it feels like the exact same conversation over that entire time.
There's a reality here in Windsor that always seems to surprise people from away when we tell them about it. First, commercial property taxes are really, really high. But that's not the surprising part. Second, there's a lot of vacant commercial spaces and a lot of need for affordable space. But, that's not surprising either. The third and surprising part is that if you own a commercial property, and it's vacant, you can fill out a two-page form and get a property tax rebate. So, naturally, there's little incentive to reduce the rent to reflect the realities of the market and economy here. And in turn, there are few opportunities for a young start-up of any kind to get into a space and get to work doing whatever great thing they might want to do.
Long-term impact will be driven by some radical short-term changes here in the city. These changes need to be developed specifically for Windsor, they should try to solve a couple of parallel problems (but not attempt to solve every problem), and they should be something that might be able to make national headlines. With that in mind, there's a preliminary plan. It's early, it's naive, but it's going to be further developed and researched. And, it goes something like this:
Instead of a tax rebate just for vacant space, that same rebate should be extended to allow (actually, to encourage) landlords to make their space available free of charge for new businesses, artists, and non-profits operating in their first year and still access the rebate. Businesses, sole proprietors (artists), and non-profits would all register to verify that they were indeed a new startup and they would find the appropriate vacant space and interested landlord — perhaps in collaboration with the area's BIA. The landlord would fill out a very similar to what already exists two-page form, while noting their request for exemption of the necessity for 100% vacancy for supplying space to one of these startups, and ultimately receive the same tax rebate while supplying vital and incredibly necessary space for young creative people. In the second year of such an arrangement, the startup renting the space could pay a graduated fee (perhaps 50% market value in year 2, 75% market value in year three, and full market value in year four if they could stick it out), or perhaps they would just enter into a normal lease agreement. The bottom line is that the vacant space is filled, there is wealth and job creation, and most importantly, a young creative person sticks it out in the city. And, hopefully, we can tell the world that the city is doing this.
As I noted, research on this is really, really preliminary. There might be a huge number of hurdles or there might already be plans underway to do this, there could be a thousand examples of similar programs elsewhere or it might be a truly unique take on municipal action on youth retention and economic development. We'll find out as time goes on.
In the meantime, if you have any links, resources, or research to share, please post it in the comments. More soon.