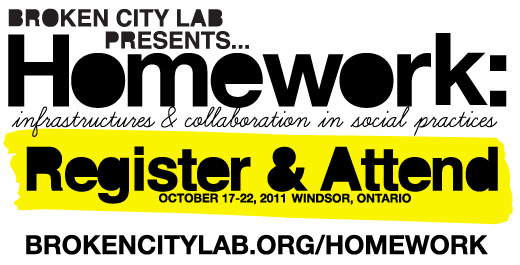 HOMEWORK: Infrastructures & Collaboration in Social Practices is four-day residency, two-day conference, and collaboratively-written publication aimed at generating conversation around the following:
alternative infrastructures,
radical collaboration,
social practice,
art implicated in social change,
neighbourhood-level activities,
city-wide imaginations,
site-specific curiosities,
tactical resistance,
new models for art education and research.
Facilitated by Broken City Lab, HOMEWORK calls on artists, scholars, writers, thinkers, and doers interested in any of the above to join us in Windsor, Ontario for the conference on October 21 and October 22, 2011.
Registration to attend the conference is free and by attending you will be participating in the creation of a collaboratively written publication of the proceedings from the conference.
REGISTER TO ATTEND THE HOMEWORK CONFERENCE BELOW: