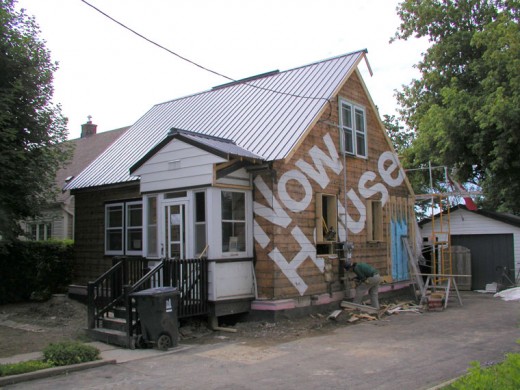 Work Worth Doing is an interdisciplinary design studio working to understand the intersection of design, society, and the environment. They've been working on retrofitting wartime homes with sustainable design and technologies, getting them down to zero energy use through affordable practices. This model would be a no-brainer for any city, but particular Windsor, which has a huge number of neighbourhoods scattered with wartime bungalows. It's also similar to the Green Corridor's Ecohouse initiative, which is still underway.
Oh, and by the way, this is happening in Windsor.
The Windsor Essex Community Housing Corporation has 125 wartime homes in their portfolio of social housing. The Now House Project team is working with Windsor Essex CHC to design the retrofit of five houses in their portfolio to net zero energy use and greatly reduced operating costs. The houses would serve as demonstrations for the possible retrofit of the other wartime homes in the portfolio. Work Worth Doing is the head consultant on this project in Windsor, which will also involve St. Clair College students, and maybe also University of Windsor students.