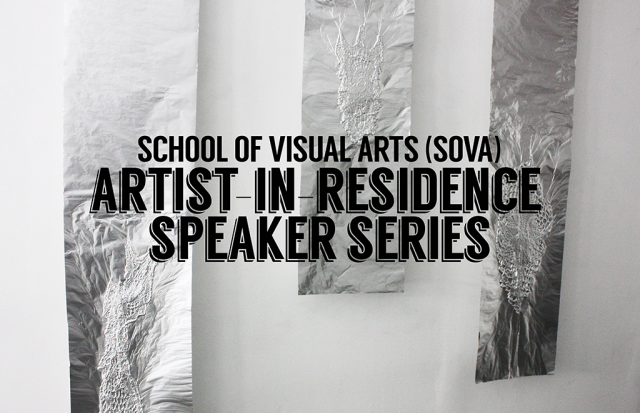 Artist-In-Residence Speaker Series (May 5th – 7th)
CIVIC Space – 411 Pelissier Street, Windsor, Ontario
We're pleased to announce that we have a full week of events next week at CIVIC Space. Not only is The Best of Awards happening next Thursday, May 8th, but University of Windsor's School for Arts and Creative Innovation is holding a series of artist talks to introduce this year's group of artists-in-residence.
From May 1st-31st, five artists will be accessing the school's resources and facilities to cultivate new ideas through research, studio production, and exploration of regional arts and culture. Each resident will present their work in a FREE public lecture at the Artist-In-Residence Speaker Series, running from Monday, May 5th to Wednesday, May 7th.
---
Monday, May 5th – 5PM
Melanie Colosimo (Halifax, NS) Colosimo is an interdisciplinary artist whose work employs drawings, miniatures and stop-motion video to negotiate the space around the construction, creation and themes of transition and dislocation. She holds a BFA from Mount Alison University, and an MFA from the University of Windsor.
Tuesday, May 6th – 6PM
Candice Davies (Montreal, QC) Davies is a sculptor and installation artist whose practice aims to draw attention to layers of meaning within the gallery space, and questions existing assumptions about art objects by engaging the viewer in unexpected encounters. Through the subtle material transformation of everyday objects she investigates issues of interpretation, craft, value and function. Davies has recently completed her MFA at Concordia University.
Tara Lynn MacDougall (Halifax, NS) MacDougall is an interdisciplinary artist who humorously examines what makes a "good painting". By juxtaposing historical and contemporary painting references with automatic marks and gestures, she forms an array of new visual forms. MacDougall holds a BFA from NSCAD University, is a member of the Manual Training Collective, and on the Board at Eyelevel Gallery.
Wednesday, May 7th – 6PM
Aidan Cowling (Toronto, ON) Cowling works in a variety of media including, photo, installation, maps and web based projects. His work explores the intersection of queerness and materiality and attempts to uncover the landscapes and language of sexual liberation. Cowling holds a BA in Visual Studies and Art History from the University of Toronto.
Christy Kunitzky (Toronto, ON) Kunitzky is a multi-disciplinary artist who uses various mediums to investigate obsession, the absurd, affect and gender. By regarding human action through an anthropological lens, she aims to examine the behaviours and ideas we consider to be normal in a different light. Kunitzky holds a BFA from OCAD and a BA in Gender Studies, Semiotic and Linguistic Anthropology from the University of Toronto.
For more information please contact: Lucy Howe, Residency Program Coordinator
School for Arts and Creative Innovation
University of Windsor
lucy@uwindsor.ca
Click here for more information.