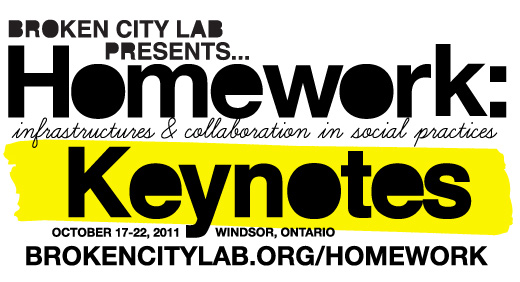 We are very pleased to announce our Keynote Speakers for Homework: Infrastructures & Collaboration in Social Practices!
Gregory Sholette, Marisa Jahn, and Temporary Services (represented by Salem Collo-Julin) will join us on October 21 and 22, 2011 to deliver a keynote panel and round-table discussions.
There's still time to register — and it's free!
HOMEWORK: Infrastructures & Collaboration in Social Practices is four-day residency, two-day conference, and collaboratively-written publication aimed at generating conversation around the following:
alternative infrastructures,
radical collaboration,
social practice,
art implicated in social change,
neighbourhood-level activities,
city-wide imaginations,
site-specific curiosities,
tactical resistance,
new models for art education and research.
Facilitated by Broken City Lab, HOMEWORK calls on artists, scholars, writers, thinkers, and doers interested in any of the above to join us in Windsor, Ontario on October 21 and October 22, 2011.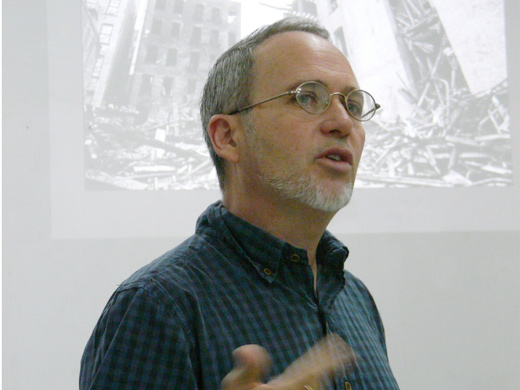 Gregory Sholette is a New York-based artist, writer, and founding member of Political Art Documentation/Distribution (PAD/D: 1980-1988), and REPOhistory (1989-2000). A graduate of The Cooper Union (BFA 1979), The University of California, San Diego (MFA 1995), and the Whitney Independent Studies Program in Critical Theory, his recent publications include Dark Matter: Art and Politics in an Age of Enterprise Culture (Pluto Press, 2011); Collectivism After Modernism: The Art of Social Imagination after 1945 (with Blake Stimson for University of Minnesota, 2007); and The Interventionists: A Users Manual for the Creative Disruption of Everyday Life (with Nato Thompson for MassMoCA/MIT Press, 2004, 2006, 2008), as well as a special issue of the journal Third Text co-edited with theorist Gene Ray on the theme "Whither Tactical Media." Sholette recently completed the installation "Mole Light: God is Truth, Light his Shadow" for Plato's Cave, Brooklyn, New York, and the collaborative project Imaginary Archive at Enjoy Public Art Gallery in Wellington New Zealand, and is currently working on an installation for the Queens Museum of Art, and the Tulca Arts Festival in Galway, Ireland. He is an Assistant Professor of Sculpture at Queens College: City University of New York (CUNY), has taught classes at Harvard, The Cooper Union, and Colgate University, and teaches an annual seminar in theory and social practice for the CCC post-graduate research program at Geneva University of Art and Design.
gregorysholette.com
darkmatterarchives.net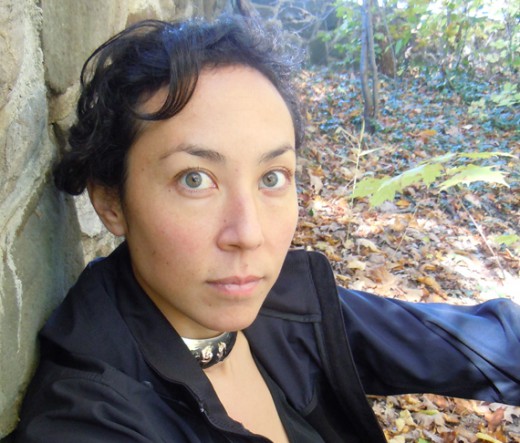 The editor of "Byproduct: On the Excess of Embedded Art Practices,", Marisa Jahn is an artist, writer, and community organizer embedded in various social and economic justice groups since 2008. Her work has been presented at venues such as the MIT Museum, The Power Plant (Toronto), ICA Philadelphia, The National Fine Art Museum of Taiwan, New Museum (NYC), ISEA, the San Francisco Museum of Modern Art, the Boston Museum of Science, and more. A graduate of MIT and an artist in residence at MIT's Media Lab, Jahn has been recognized as a leading educator by UNESCO and has been a CEC Artslink cultural fellow in Tajikistan, Estonia, and Russia. Her work has been written about in media such as The Wall Street Journal, Los Angeles Times, New York Times, Clamor, Punk Planet, Art in America, and Discovery Channel. In 2009, she co-founded REV-, an organization dedicated to socially-engaged art, design, and pedagogy; she is currently the Deputy Director at People's Production House, a journalism training and production institute that works with low-wage workers, immigrants, and teens to produce groundbreaking news that has been seen and heard on BBC, ABC, PBS Newshour, Mother Jones, The Nation Magazine, The New York Times, and more.
marisajahn.com
rev-it.org
peoplesproductionhouse.org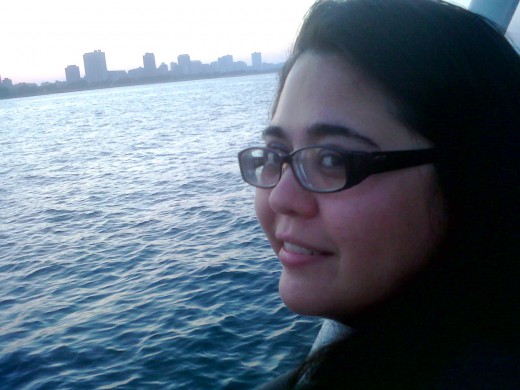 Temporary Services is a group of three people: Brett Bloom (based in Copenhagen), Marc Fischer (based in Chicago), and Salem Collo-Julin (based in Philadelphia). They collaborate on producing projects, publications, events, and exhibitions. Making a distinction between art practice and other creative human endeavors is irrelevant to Temporary Services.
The group started as a storefront arts and events space in a working class neighborhood in Chicago in 1998. Since then, Temporary Services has been responsible for the publication of over 91 books and booklets (including 2003's Prisoners' Inventions and 2008's Public Phenomena), and have created many projects in public and shared spaces, in spaces often dedicated to art and spaces often used for other things, and on the internet. Most recently, they participated in an exhibition on the Lower East Side organized by Creative Time. The members of Temporary Services founded Half Letter Press in 2008 as a experimental web store and publishing imprint in order to help support themselves and champion the work of others.
Salem Collo-Julin is a Chicago native. In addition to her work with Temporary Services, she writes, edits, and performs. She is a co-founder of The Free Store Chicago.
temporaryservices.org
halfletterpress.com
artandwork.us
http://thefreestorechicago.org/
halfletterpress.tumblr.com
publiccollectors.org
messhall.org
http://www.letsremake.info/
about.me/hollo