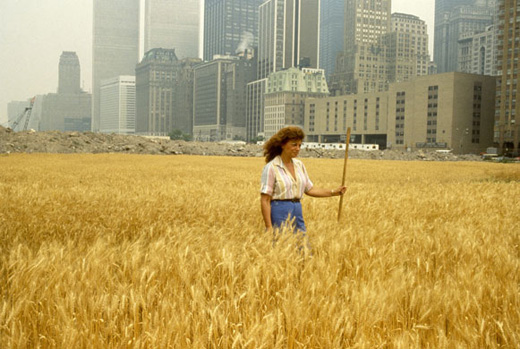 From Green Museum:
One of the early pioneers of both the environmental art movement and Conceptual art, Agnes Denes brings her wide ranging interests in the physical and social sciences, mathematics, philosophy, linguistics, poetry and music to her delicate drawings, books and monumental artworks around the globe.

In 1982, she carried out what has become one of the best-known environmental art projects when she planted a two-acre field of wheat in a vacant lot in downtown Manhattan. Titled,Wheatfield — A Confrontation, the artwork yielded 1,000 lbs. of wheat in the middle of New York City to comment on "human values and misplaced priorities". The harvested grain then traveled to 28 cities worldwide in "The International Art Show for the End of World Hunger" and was symbolically planted around the globe.
Imagine turning some the vast wasteland areas in the city (read any vacant big box store parking lot, Brighton Beach, EC Row Expressway) into a wheat field, or a meadow, or maybe more importantly, imagine having a year to make a project at this scale.
[via we make money not art]