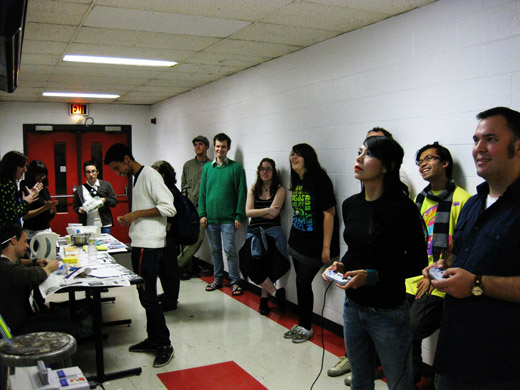 Our Tetris Tournament / Wheatpaste Demo / Sticker-Making Party went amazingly well—we successfully hijacked that big TV in the Lebel hallway, the tournament was filled with high-stakes Tetris 2 action (you can see Susan and Craig battling it out above), we demoed our wheatpaste recipe (hot water + flour until its a smoothie-like consistency) and lots of people made stickers for our commemorative plaque. Thanks to everyone who came out and made this thing happen!
Rod and Khris did some initial testing for us to make sure the SNES was working.
This is how to hijack the big screen TV in Lebel—an RCA cable, the button to switch between inputs is above, labelled "source."
Michelle's SNES with Tetris 2 cartridge.
The grand prize—a custom Broken City Lab universal remote.
First round wins and loses spelled out on the chalkboard.
Immony points out his skills to Adam, while Adam remains unfazed.
Denise and Amber take the second game. At this point in the tournament we were doing best 2 out of 3.
Me and Michelle—it was only during this game that I realized the goal was to clear the bottom line, up to this point, I was just trying to keep below the water line at the top of the screen … excuses, excuses.
Michelle, Danielle, and Josh demo the wheatpaste and our Dollarstore applicators (those sponges connected to the plastic tubes in which would normally be dish soap).
Josh supervises the sticker application.
Danielle works on her sticker.
Danielle gives Taylor some more details on wheatpasting/stickering technique.

>
Our plaque (in progress).
The Tournament continues, with some last minute changes…
Bryan and Steven battle through 3 rounds of Tetris intensity.
Taylor and Stephen take on level 5 Tetris.
Adam and Denise face off.
Susan and Craig—this was an incredible round, Craig cleared nearly his entire screen, only to lose to Susan.
Michelle and Immony push the limits of Tetris.
The final round—Adam vs Michelle.
It was a mighty game… only to end a bit early, so we opted to make the finals best 2 out of 3.
Michelle put up a mad fierce fight, but ultimately Adam won the tournament and proudly took home the BCL custom remote.
Tetris 2 + (Wheatpaste Demo) from brokencitylab on Vimeo.
Again, an amazing night—thank you to everyone who came out! I think we should get a DVD player or something semi-permanently fixed to that TV so it can be put to better use more often.