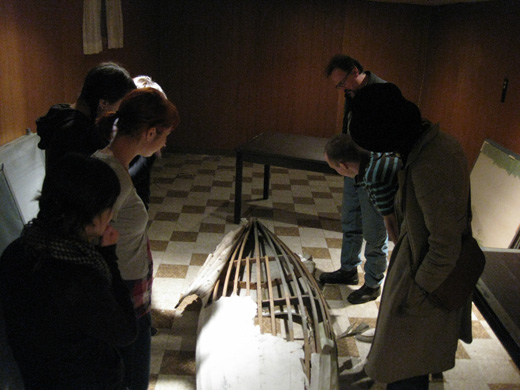 Monday night was another huge brainstorming session with some new and old friends. We spent most of the evening trying to figure out the potentials in doing something like a floating sculpture in the Detroit River. We've discussed this before, and it seems that the space between what we'd really like to do and reality is quite large.
That's part of the fun though, how do you generate some kind of communication across borders without alerting the authorities, or how do you manage the headaches of going through the proper channels?
At some point we headed down to the basement and looked at a kayak Rod made when he was in grade 8 (pictured above). We wondered if it could act as a potential substrate for one part of the project. Though we talked about projects like the Waterpod Project or Andrea Zittel's Pocket Property Floating Island project, it became fairly clear that anything we could do in the short-term would need to involve a kind of very limited-duration kind of exchange between Windsor and Detroit.
We also talked about a kind of guided tours of neighbourhoods in Windsor and Detroit (and while these have already been happening), the difference here would be to exchange with a group of folks from Detroit, so that we give them a list or map to see parts of our city, while we get to head across for a neighbourhood level tour of places in Detroit!