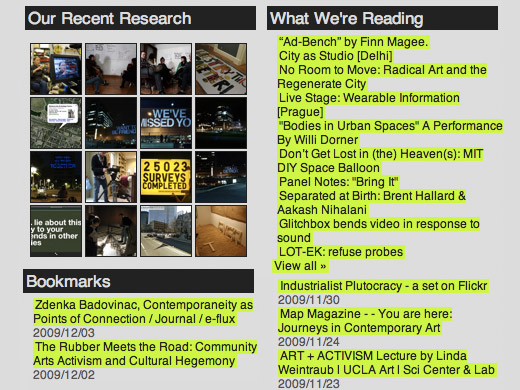 Over the last week or so, we've added a few new things to our little website here. It's funny because there's a lot of research that goes on in the background, in terms of things we come across and don't blog about, ideas that we email to one another, and documenting our process and posting it alongside that of other people's works, which at times just sort of goes into the background archive.
Speaking with Tom Lucier earlier this week made us realize the distance between our blog-based practice and what we do in real space. That is, how we continually try to use the tools available to us online to communicate and network and collect information, and then the at times lo-tech initiatives we work with on an ongoing basis. Certainly there are times when these cross, but it just got me thinking about how important it is (at least from our perspective) to continue to keep the conversation going (at least amongst ourselves) online and continue to share what we're reading and looking at during all that time in the week that we don't get to get together.
So, I thought I'd make a quick post on some of the things I've added to the site as of earlier this week. In the right-most column, just past the contact information, there are now thumbnails of our most-recent posts on our research, there's a series of links to bookmarks from my delicious page, and then there's the links to the starred items from my Google Reader … with those kinks worked out, we're going to try to plug-in feeds from other BCL research fellows when available.
Sometimes it's difficult to find the time to post more than a few times a week, but I know I'm continually trying to make myself notes and links to things that might relate to an idea I had, or a note about something I should revisit when I have more time. For me, seeing all of these things in one place is helpful and to have it alongside all of the other things we're continuing to talk about just seemed to make sense.