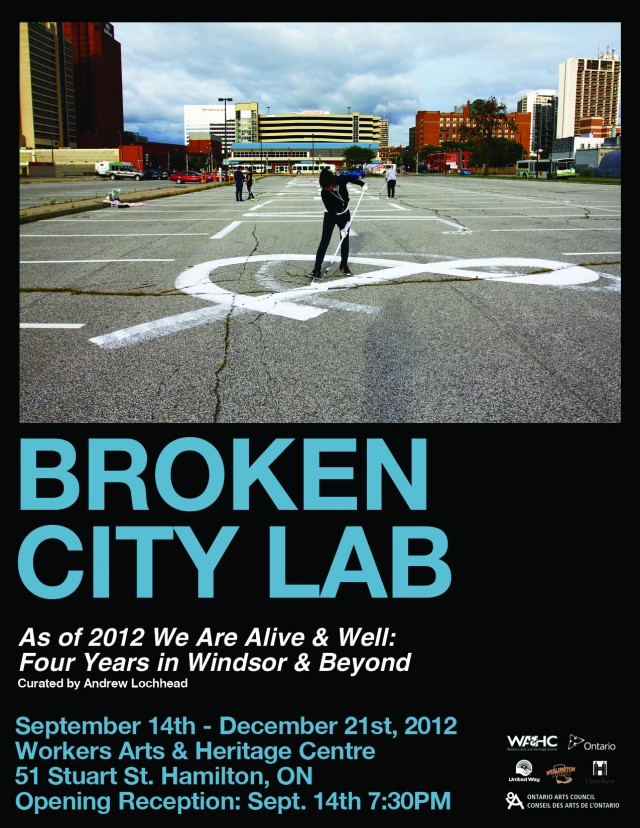 FRIDAY, SEPT.14th, 2012 @ WAHC 7:30PM -10PM
OPENING RECEPTION: BROKEN CITY LAB
AS OF 2012 WE ARE ALIVE & WELL: FOUR YEARS IN WINDSOR & BEYOND
WAHC's year- long exploration of growing up in working class cities or families concludes with the first ever career survey of art and urban research collective Broken City Lab.
Recently long listed for the Sobey Art Award, Broken City Lab's four years of community engaged interventions across Canada have garnered critical praise, invigorated communities and raised fundamental questions regarding people's relationships to public and private space within the urban environment, the institutions that define it, our agency as city dwellers within the contemporary urban milieu and the role of the arts and artists in shaping how we experience or engage with these environments.
Based in the industrial centre of Windsor, Ontario, the collective's work has often deployed their hometown as source of inspiration, testing laboratory and a stand in for the hundreds of other communities across the country seeking to redefine their identities in the wake of the 2008 economic crisis.
This exhibition explores the group's relationship to Windsor through revisiting their earliest works and illustrating how those works have shaped and defined their undertakings in communities across the country.
About the Artists
Broken City Lab is an artist-led interdisciplinary creative research group that tactically disrupts and engages the city, its communities, and its infrastructures to reimagine the potential for action in the collapsing post-industrial city of Windsor, Ontario.
The processes of Broken City Lab remain grounded in the lab's observations and concerns about Windsor, as a city, as a community, and as a network of infrastructure, and aim to do two things: first, Broken City Lab works through interventionist tactics to adjust, critique, annotate, and re-imagine the city that we encounter; secondly, through these interventions, the lab seeks to educate, inspire, and facilitate a new way of viewing the potential for interacting with and in the city.
Broken City Lab's creative activity is rooted in community-based social practice, where the lab attempts to generate a new dialogue surrounding public participation and community engagement in the creative process, with a focus on the city as both a research site and workspace.
This exhibition is supported by the Ontario Arts Council Exhibition Assistance Grant.

---
Also on September 14 & 15 in Hamilton:
Broken City Catalogue Launch – Friday Sept 14 and Sat Sept 15th, 7-11 pm, in the foyer of Hamilton Artists Inc. including distribution of fibre-based works from the installation on the Cannon St Wall.
Curated by Julie Rene de Cotret.