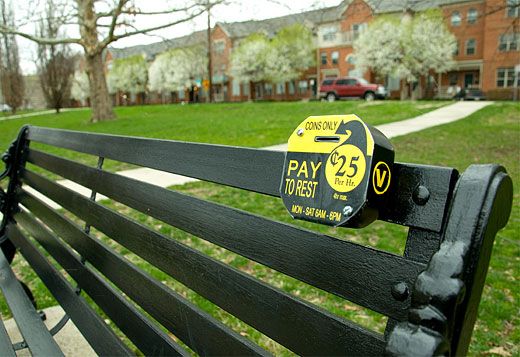 Pay to Rest by Vinchen is a simple-enough intervention, adding a suggestive coin-operated mechanism to a city bench.
It may be a one-liner, but it caught my eye a couple days ago, the photo sat on my desktop, and now this morning upon reading Amherstburg's idea to introduce pay-per-use fees to soccer fields, baseball diamonds, etc., it made me curious about the priorities of a city when such significant money can go into certain forms of maintenance, but then shift other services to another kind of access model.
I'll admit I'm making a bit of a leap here, but if benches were indeed pay-per-use, would it result in better kept parks? If an entire city shifted to a pay-per-use model, would things get any better? What would be the first bit of infrastructure to collapse? If the entire city operated on a subscription service model, would there be any positive change?
[via Wooster Collective]