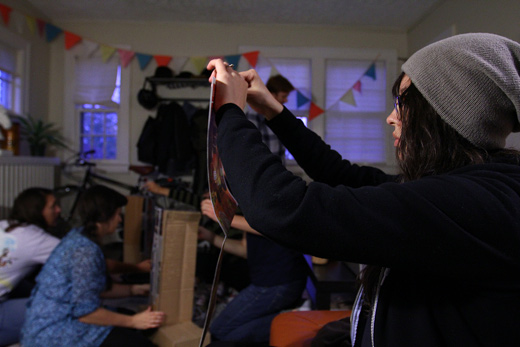 On Friday night we played with some new things that Rosina brought over — retroreflective glass beads to be exact. We also made it through another three letters doing papier maché! And, we selected a colour for the letters, again thanks to Rosina doing some recon on paint chips.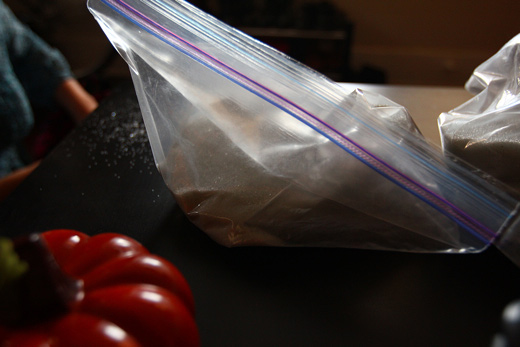 So, we now have two bags of tiny glass beads.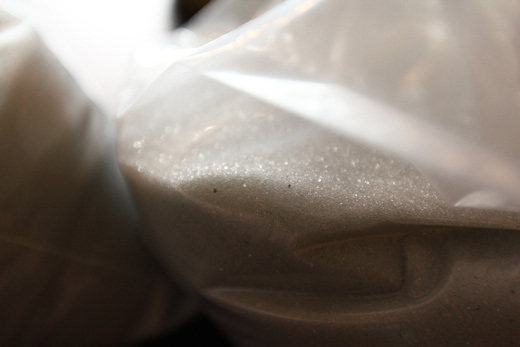 You can see just how small this stuff is — Rosina got it on eBay — if you want to know where specifically, you'll have to ask her.  These beads are what makes surfaces really light up in the dark when things like headlights hit it. Think of the effect of street signs or license plates.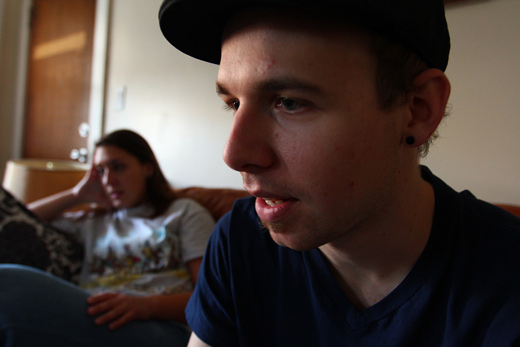 Josh contemplating how to test the glass beads.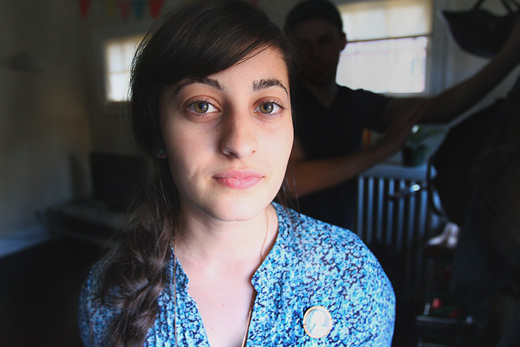 Rosina. Our hero. She assembled the vast majority of these letters, did the research and ordered these retroreflective beads, and found the perfect red paint. This is Rosina's project, we're just along for the ride!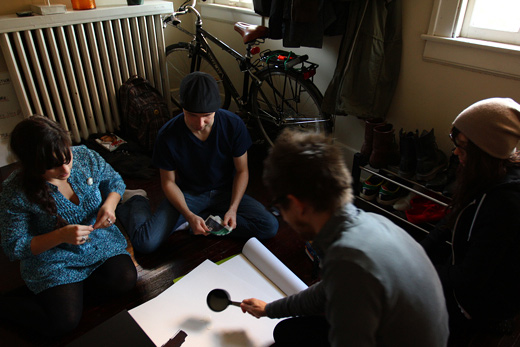 So, we started by using a some really thick ink to try to put some glass beads on. We figured this might give us a sense of how the beads would work on a surface colour other than white.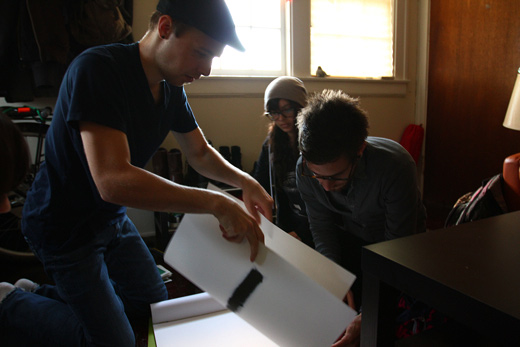 The beads didn't stick, and our application was shoddy at best.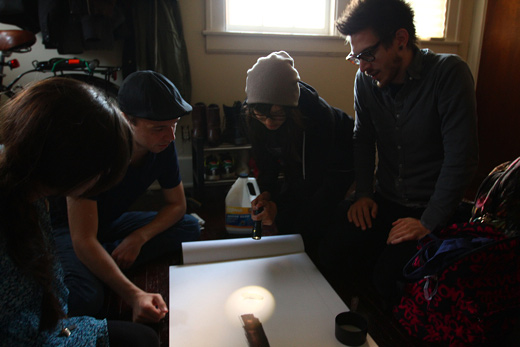 So, we moved on to glue, at first applying way to much glue and way too many beads. Above, Danielle is testing the retroreflectivity.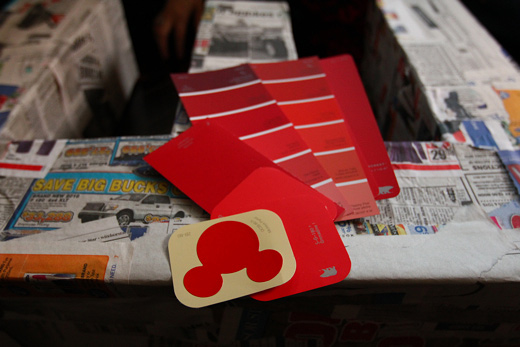 These are Rosina's paint samples, that Behr colour underneath the Disney colour is our choice.
Rosina being able to foresee the experiments we would want to attempt, brought two of the same paint samples, which enabled us to try the beads on one and compare it to the non-beaded sample. Josh put on a thin layer of glue onto one of the samples…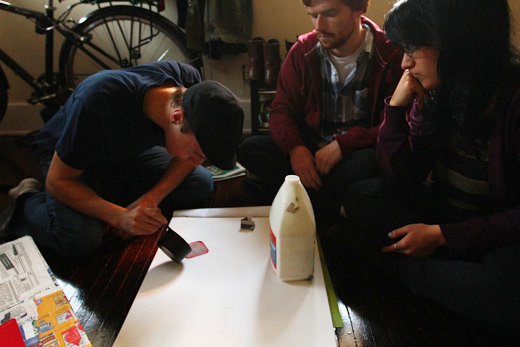 …and then with the precision of a surgeon applied the glass beads. New friends Kevin Echlin and Hiba Abdallah supervised.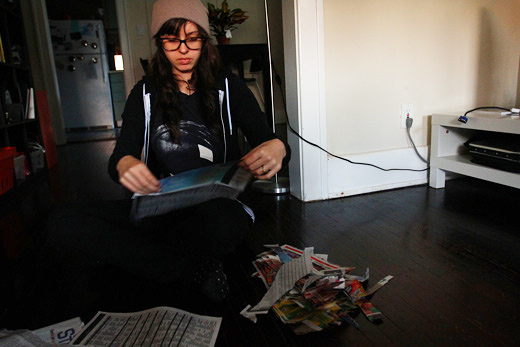 Meanwhile, Danielle was tearing up newspapers to prep for our papier maché party.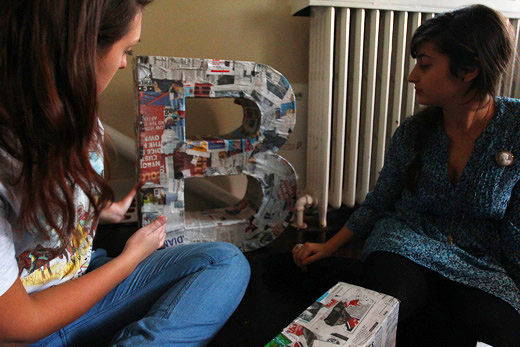 Michelle and Rosina took a look at our papier maché endeavours from last time, discovering there were a few small repairs to be made.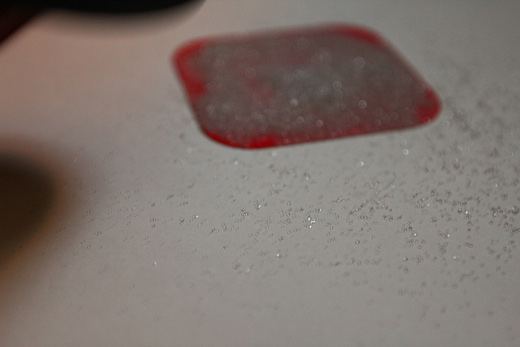 The glass beads drying on the paint sample.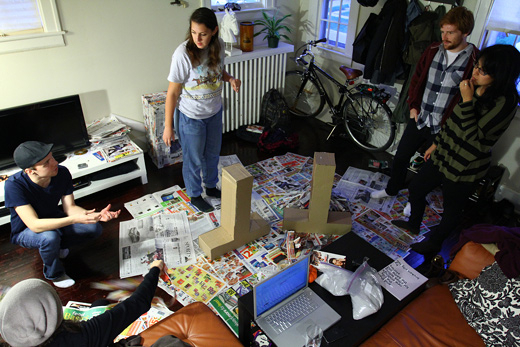 We decided to take on the two letter Ts first!!!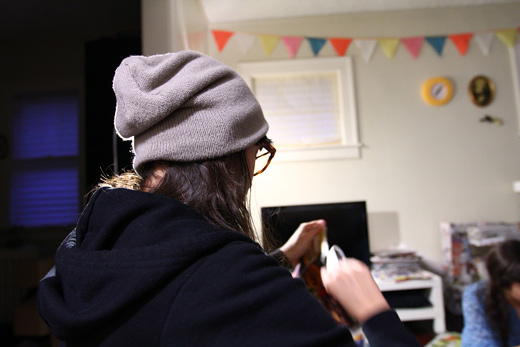 Danielle continues to ready the supply of shredded newspaper.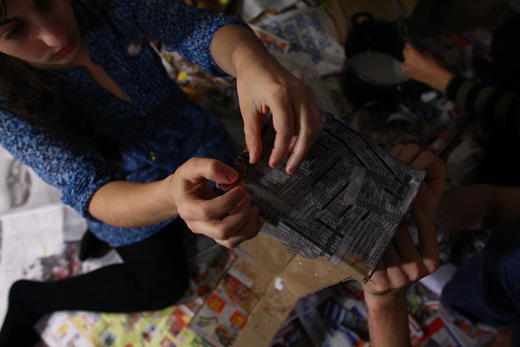 Rosina and Josh start on one letter T.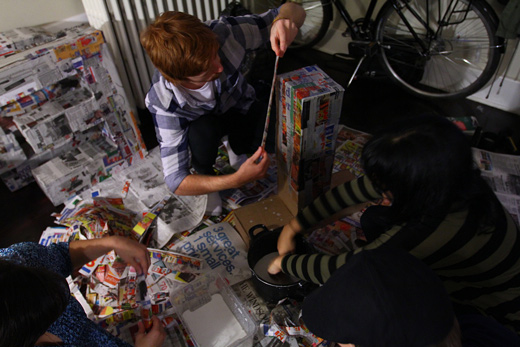 Kevin and Hiba take on the second.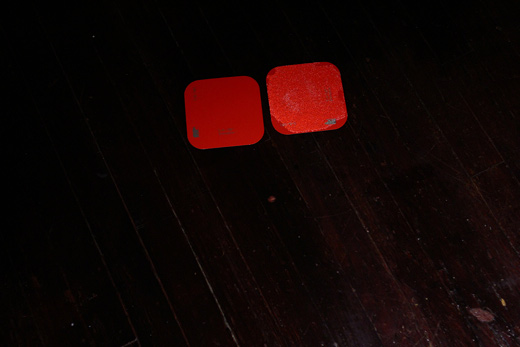 The two paint samples side by side — the one with the retroreflective glass beads is on the right.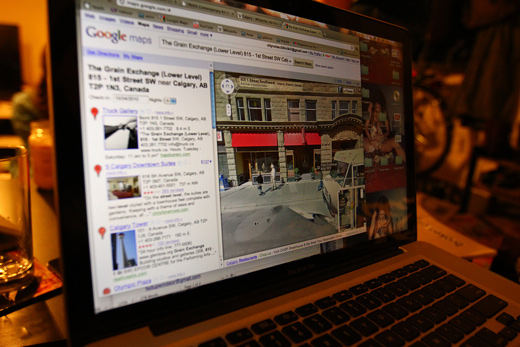 Michelle moved on to looking at some potential project sites for Calgary, as we plan a revised proposal.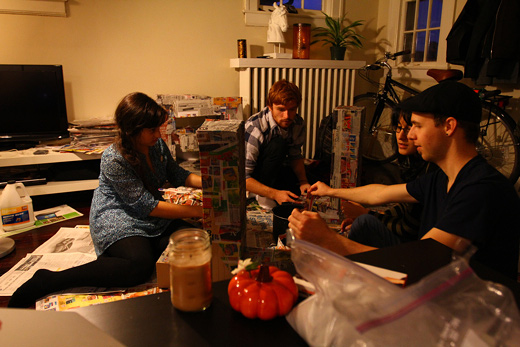 Rosina, Kevin, Hiba and Josh finishing up the Ts.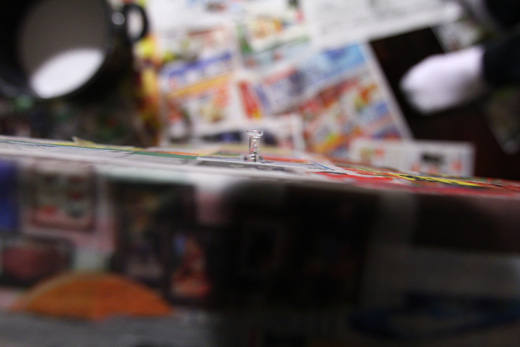 Once the letter Ts were done, to try to better facilitate drying, we stuck them with push pins to allow air to circulate while having them lie on their faces rather than their base, which caused some slight sagging on the last letters we did.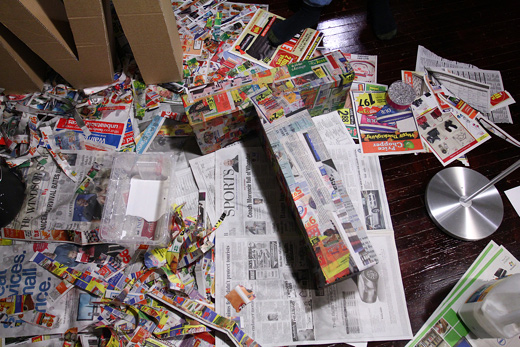 The letter T, raised about a 1/4″ inch off the ground, drying.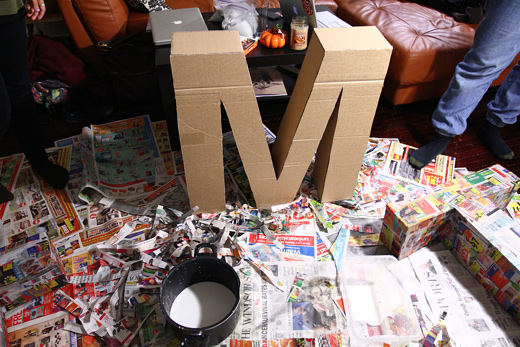 Then, on to the M.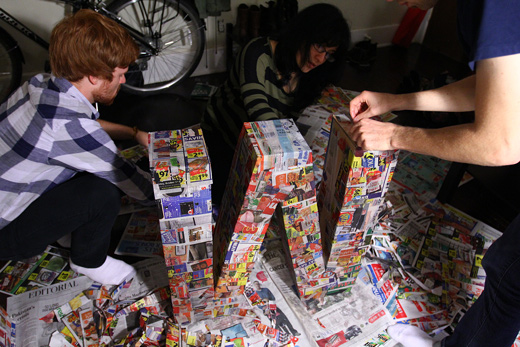 with Kevin, Hiba, and Josh on this, it went pretty fast.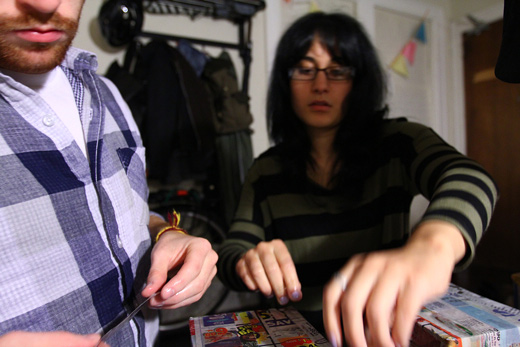 Kevin and Hiba carefully working the many edges.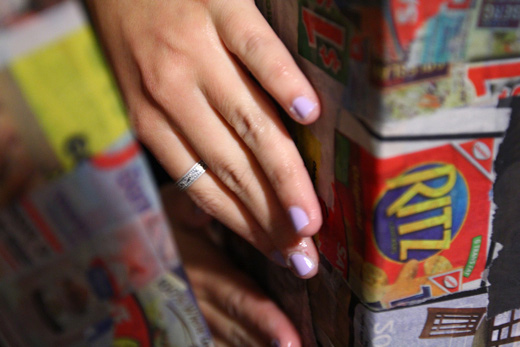 And trying to figure out how best to reach the crevices of the letter M.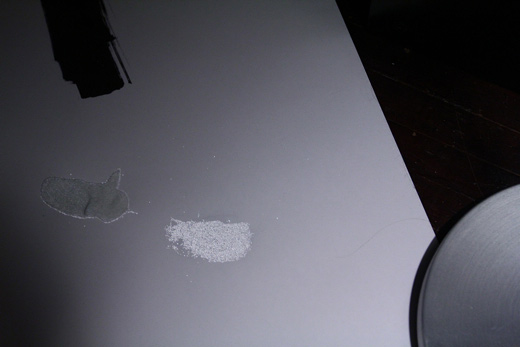 So, another productive Friday night — though still lots of work ahead. If we can get through even 3 or 4 letters a night, we'll still be at the papier maché process for another 3 weeks I think … then painting and applying the retroreflective glass beads. It will be so worth it when it's done though.
Above, you can see another shot of the retroreflective beads at work glued onto paper. Very awesome!!