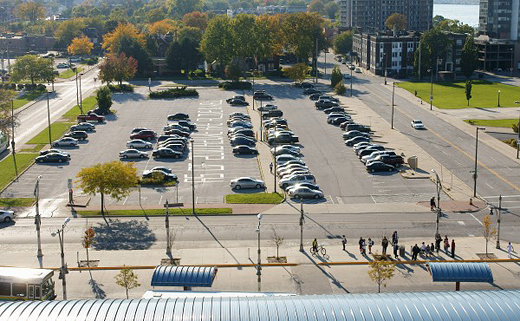 photo courtesy of Windsorite.ca
Thankfully, Owen over at Windsorite.ca grabbed a shot of this (above, our work, AS OF 2011.09.21, WE ARE ALIVE & WELL.), since we still need to schedule a plane ride to get some photos of our own — above, you can see a shot of our work as part of this year's Windsor Biennial at the Art Gallery of Windsor.
Speaking of the Biennial, there's an opening this Friday, and it promises to be a huge party with all of Windsor and Detroit's finest. It starts at 7pm with a curator's talk with food, drinks, and music running until 10pm.
If you're looking for something to do ahead of the Biennial opening, you might consider checking out Interminus' first guest speaker as part of this year's lecture series. Dr. Will Straw will be giving a talk on Culture and the Urban Night at Rino's Kitchen starting at 4:30pm.
And, finally, next week, if you're in Windsor (or just heading here to attend Homework), we can recommend you check out some FREE Grant Information Sessions on Thursday, October 20th from 6:30pm-9pm at the Art Gallery of Windsor hosted by the Ontario Arts Council's own (and our very favourite grant officers), Lisa Wöhrle, Associate Visual Art and Crafts Officer; Loree Lawrence, Community and Multidisciplinary Arts Officer; and Mark Haslam, Media Arts Officer. If you want to attend, RSVP to Martina Roncarelli, Program Assistant, mroncarelli@arts.on.ca, 416-969-7417 or toll-free in Ontario, 1-800-387‑0058, ext. 7417.
Hope to see you around!