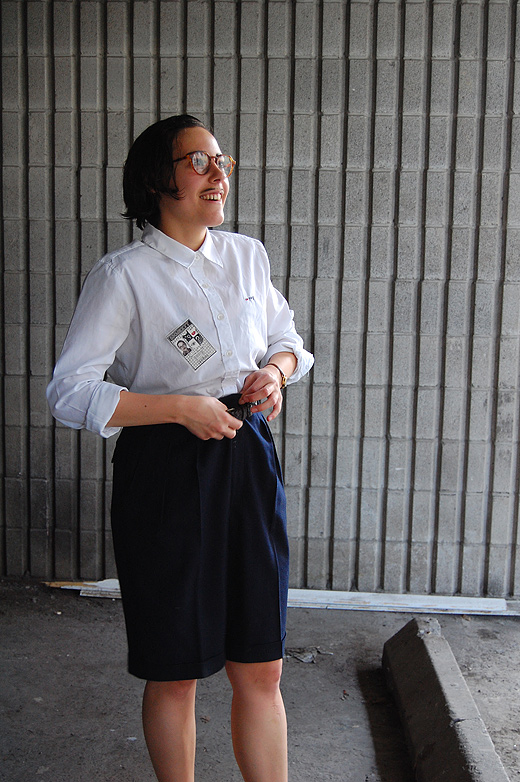 On Monday, Norman Eberstein patrolled the alley, The Department of Unusual Certainties decorated their office and did some brainstorming, Thea Jones and Stephen Surlin moved in.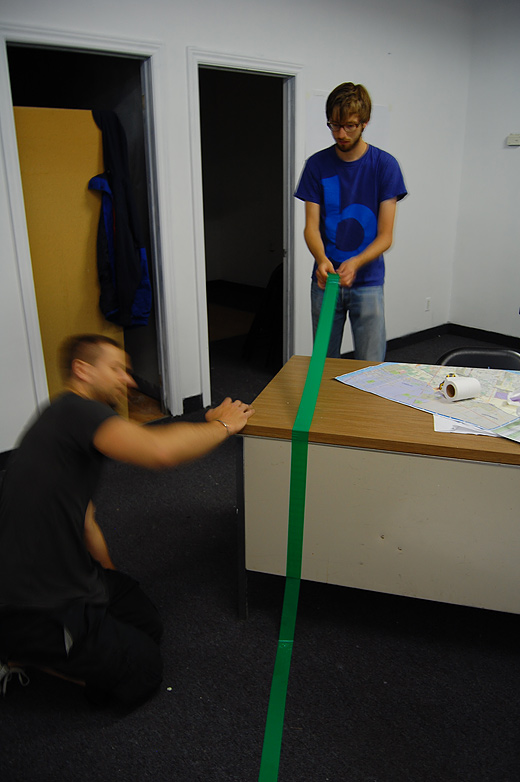 Simon's return to Windsor brought a lot of activity to the back of 410, where Chris had been sitting at his desk for a few days prior. The workspace now doubles as an installation, as the boys set work parameters with green tape through the space.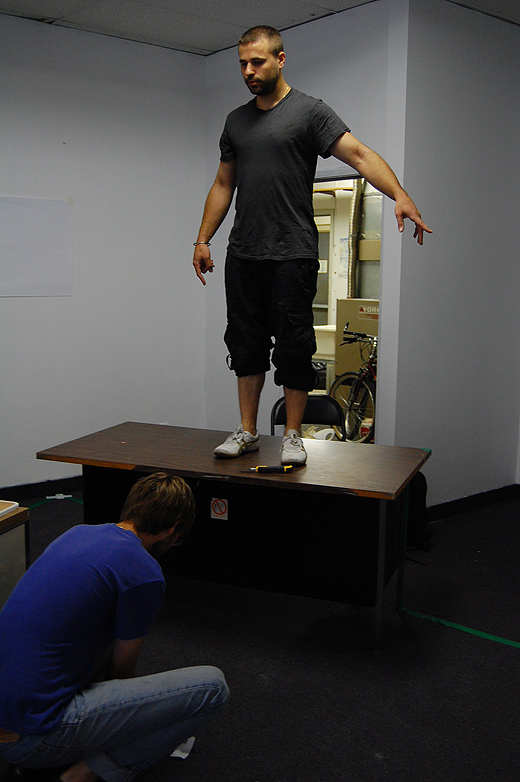 To mark the centre of the triangle they created, I suggested that Chris get up on the desk to better see the entire space.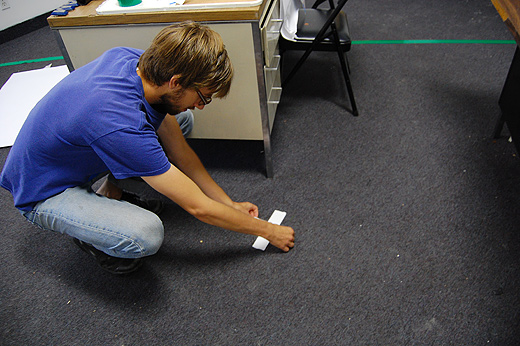 Corners and centre got marked with white Xs.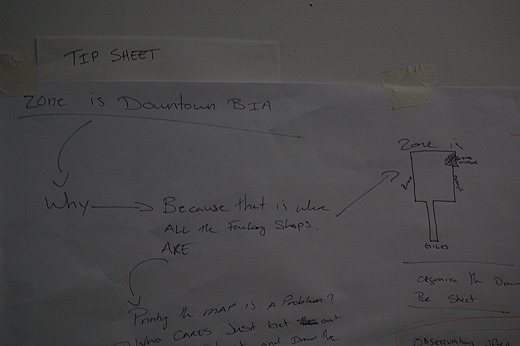 The walls in their workspace have started to get filled up with white bond paper for brainstorming. I like how this group uses similar methods as Broken City Lab does for smoothing out ideas over at our workspace in the University of Windsor Ecohouse.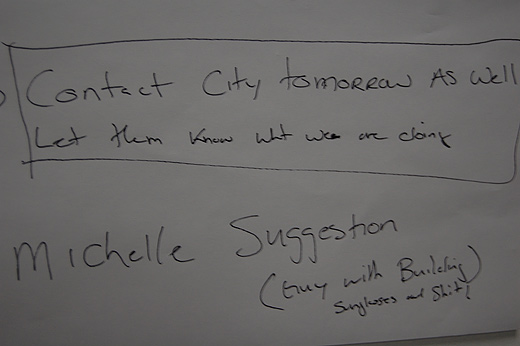 Big plans are underway with The Department of Unusual Certainties. Aside from doing daily field research, they have begun working with Tom Lucier and are setting up special events for Downtown BIA business owners in the following weeks.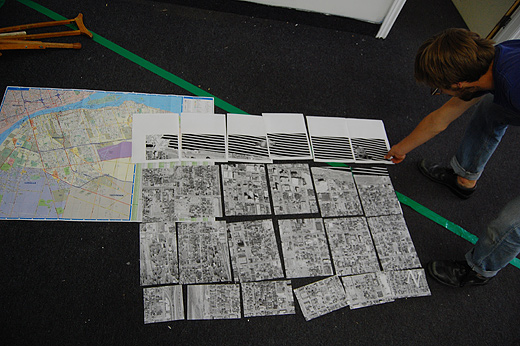 To save on costs and time, Chris and Simon decided to use a home laser printer to print off section of this large map of Windsor, then spent some time trimming, aligning and taping the map together to put up on the wall.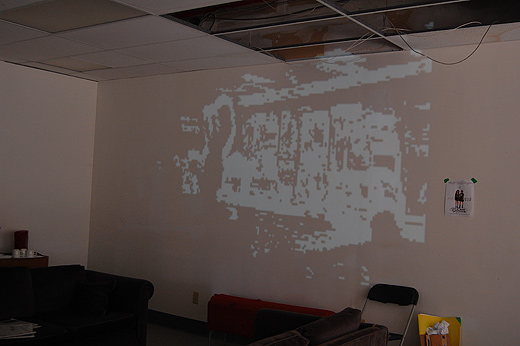 Kero's installation in 406 is still kicking. We have begun to play around with the position of the camera, pointing it at Merry Ellen's pie-making station on Sunday and facing the construction on Pelissier on Monday.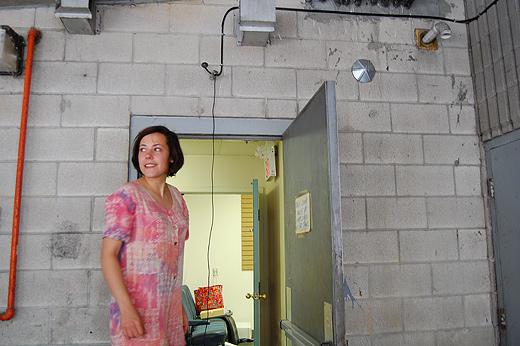 Sara French stopped by in the morning to set up Norman's security camera in the alley for him.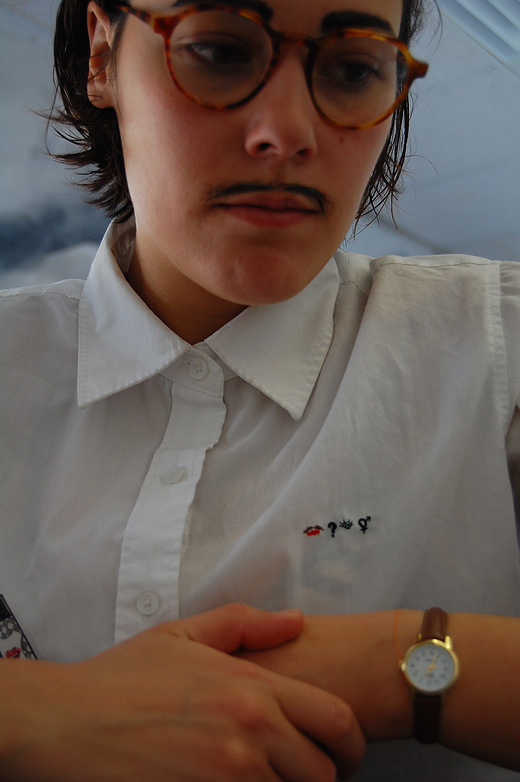 Norman came in a bit later with some nice new embroidery on his work shirt: a moustache, a question mark, an eye and a male/female gender symbol.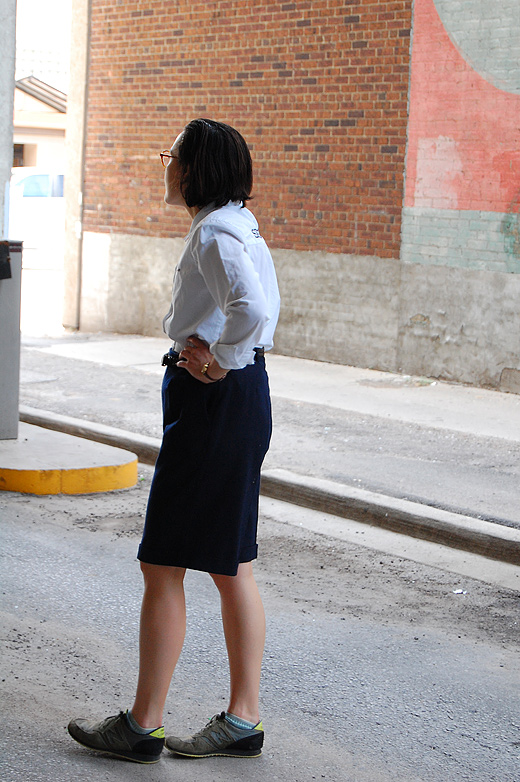 I followed Norman into the alley to take some photos and couldn't help but notice the strong smell of urine coming from the corner. I figure having our security guard patrolling the area will help prevent future urinating on premises.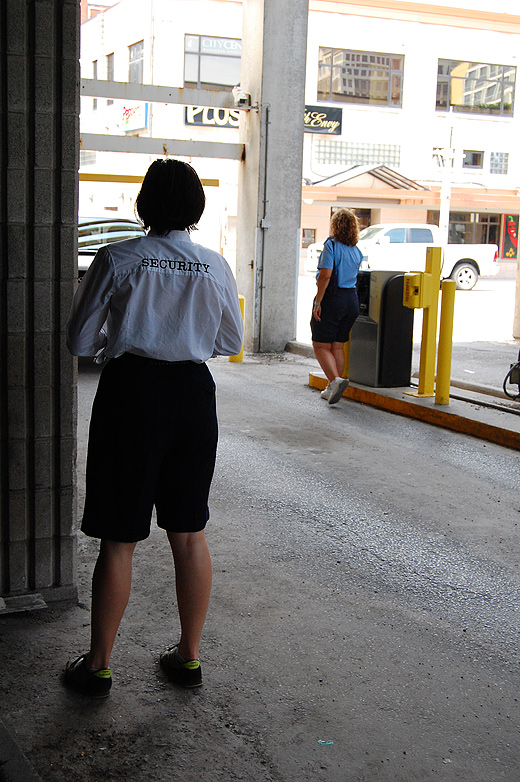 Norman noticed a lady waiting for a ride at the entrance of the parking garage. Thinking maybe she was a fellow security guard, he fell in love instantly.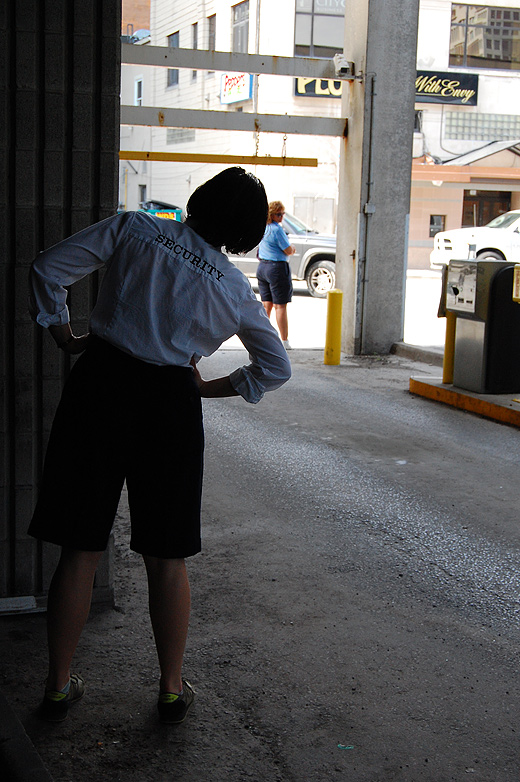 Norman made eye contact and smiled politely, making his presence known.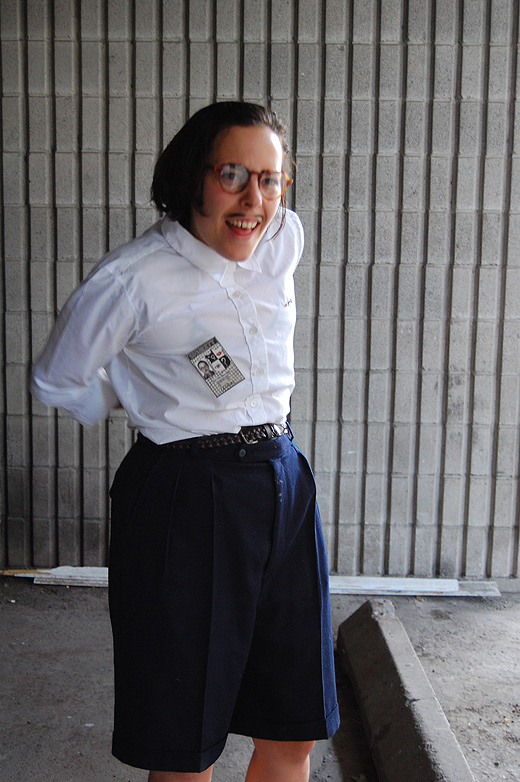 When the woman responded, he quickly retreated into the urine corner to tuck in his shirt and spruce up a little bit.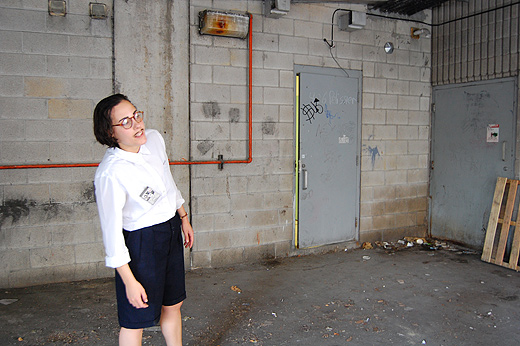 All the while keeping his eye on her "for reasons of surveillance."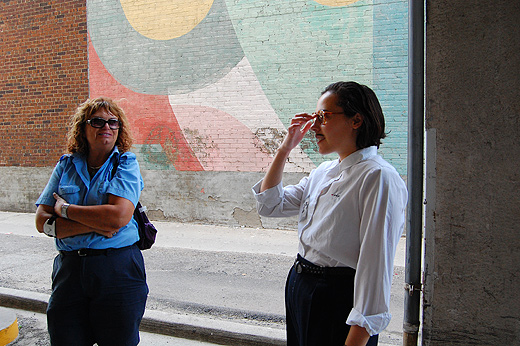 Success! Turns out the lady was in the business of parking meter repairs and could also smell the urine. She and Norman chatted for a good long while. No phone number was exchanged however. I think it's for the best, what would Norman's wife think of this?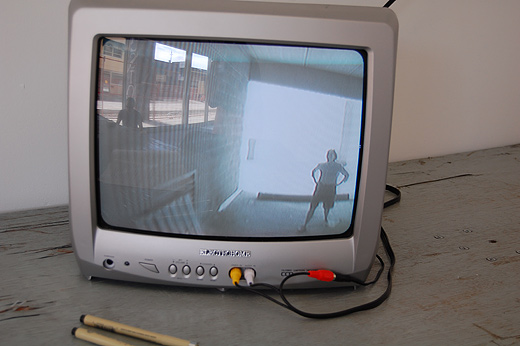 Here's the view from the inside of 410 at Norman's desk. People who come in to the spaces really enjoy following the long wires to find the location of the camera each day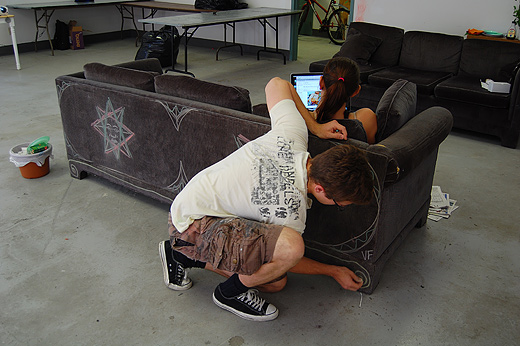 Vincent Franzoi stopped by to transform the back of a couch in 406 into a chalk canvas.
Thea Jones from Montreal has started setting up her installation in the display window that Andrea just left.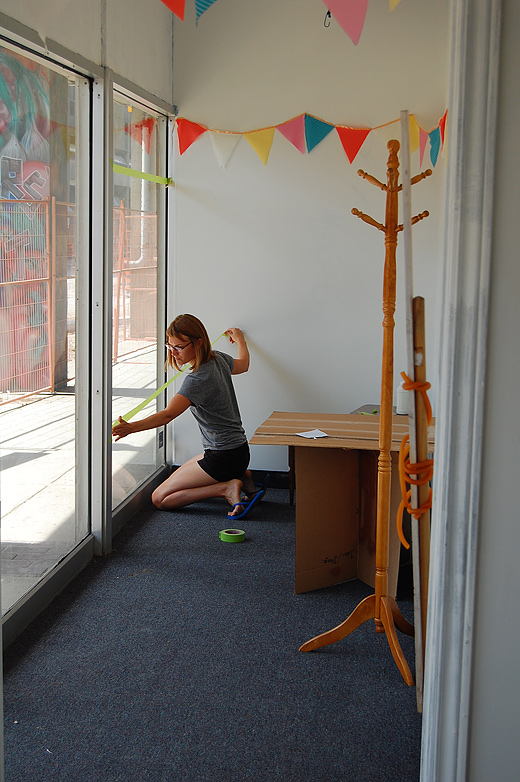 Andrea left a few items behind for Thea to use or not use, including a few drawings and her flag banners.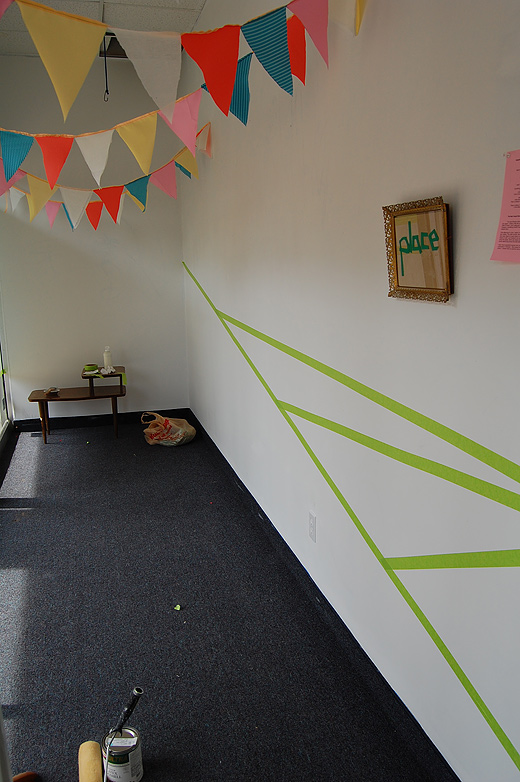 Thea is getting ready to paint the walls and windows of her space.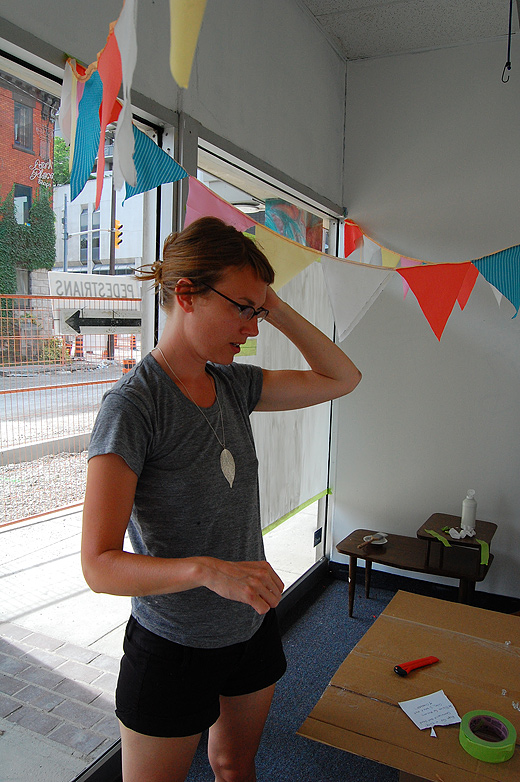 Setting up the space is what takes the longest. Thea's storefront, which will be here until the 26th of June, is evolving further and further every day.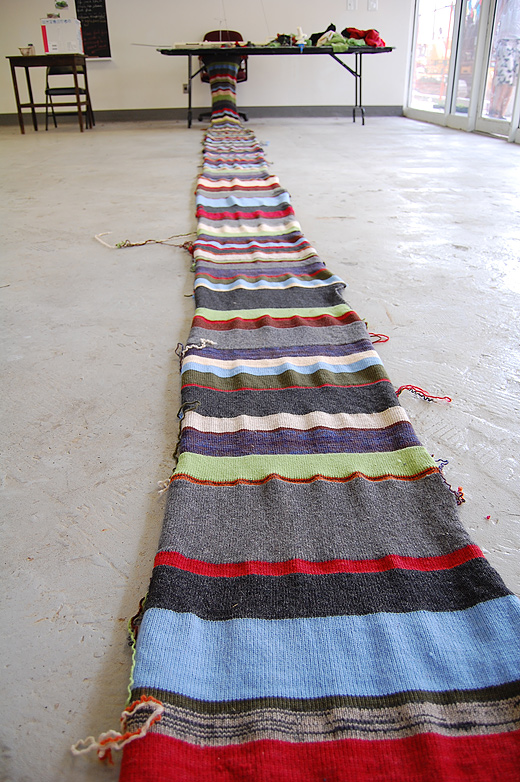 Jodi Green's Sweater Factory is almost coming to an end. She will be working until Thursday. This week, she is done using the automatic knitting machine to knit rows and is now in the process of transforming her long strip of knitted material into sweater vests.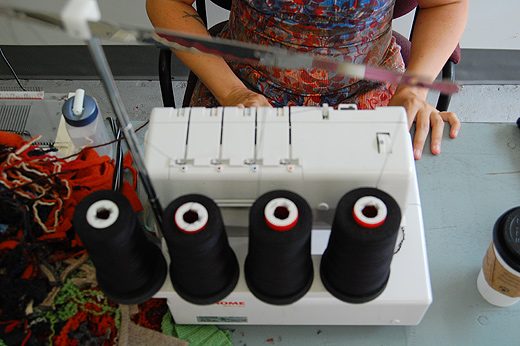 This special sewing machine creates a large seam and is often used in commercial sewing.
Because the knitting is so thick, she kept breaking needles while sewing the sweater vests together. Luckily she brought 5 along with her!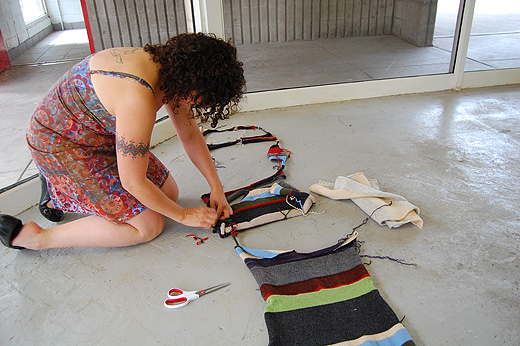 Using an existing sweater as a template Jody cut the basic shape of the garment out from the knitted piece, leaving the remnants on the floor, which looks really neat.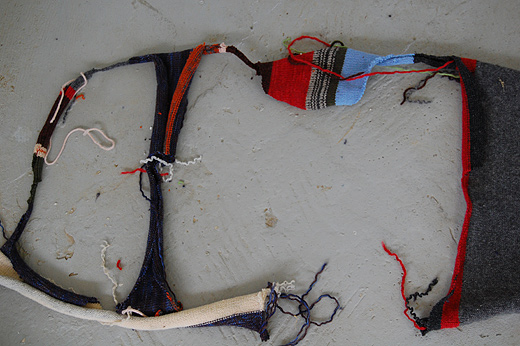 Here is what remains from the long knitted strip she made after the vest has been cut out.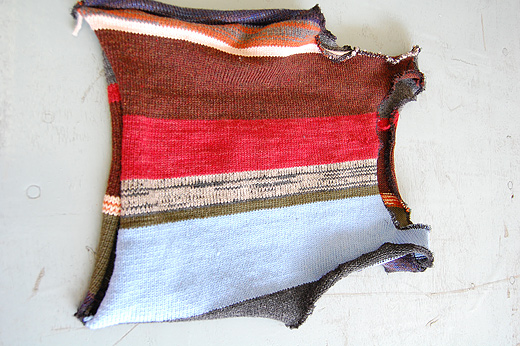 Here is a finished sweater vest! It took a few tries to get the sizing down. This first one was pretty small.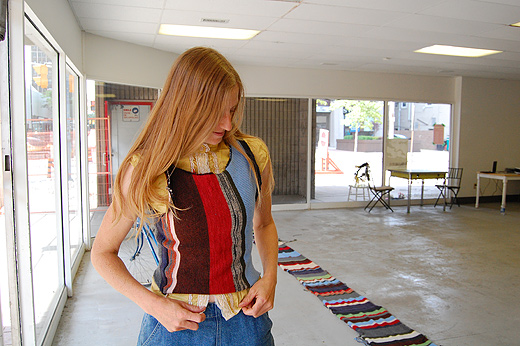 It fit Julie quite nicely though!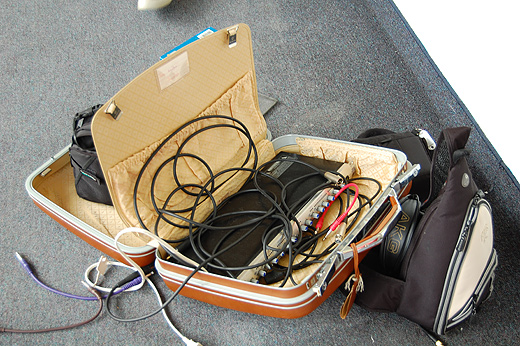 Stephen Surlin came by to install his impromptu contribution to SRSI.
Using a sensor and some wires Stephen transformed a window of 410 into a huge microphone.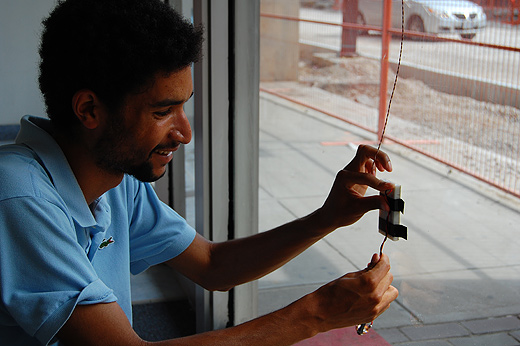 Taping his pieces onto the window, Stephen explained how people can listen to what is happening both inside and out by putting on the headphones set up inside 410.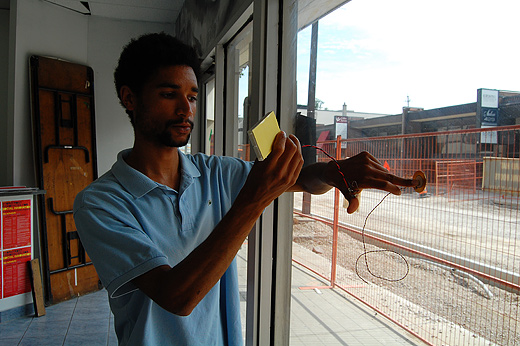 Stephen will be back soon to expand on his project and to try reinstalling it in different locations.
This project is generously supported by the City of Windsor: Cultural Affairs Office, Arts Council Windsor & Region, Windsor Pride, and the Ontario Arts Council.