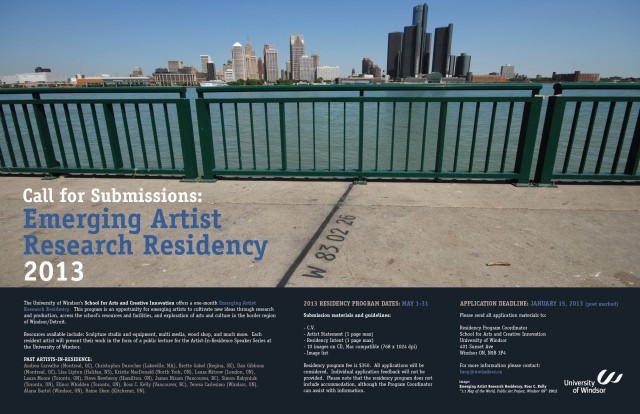 From our friends at the University of Windsor…
The University of Windsor's School for Arts and Creative Innovation offers a one-month Emerging Artist Research Residency. This program is an opportunity for emerging artists to cultivate new ideas through research and production, access the school's resources and facilities, and exploration of arts and culture in the border region of Windsor/ Detroit.
Resources available include; Sculpture Studio and equipment, Multi media, Woodshop, and much more. Each resident artist will present their work in the form of a public lecture for the Artist-In-Residence Speaker Series at the University of Windsor.
Application Deadline: January 15, 2013 (post marked).
2013 residency program dates: May 1- 31.
Submission Materials and Guidelines:
– C.V.
– Artist Statement (1 page max)
– Residency Intent (1 page max)
– 10 Images on CD, Mac compatible (768 x 1024 dpi)
– Image list
Residency program fee is $350. All applications will be considered. Individual application feedback will not be provided. Please note that the residency program does not include accommodation, although the Program Coordinator can assist with information.
Please send all application materials to:
Residency Program Coordinator
School for Arts and Creative Innovation
University of Windsor
401 Sunset Ave
Windsor ON, N9B 3P4
For more information please contact: lucy@uwindsor.ca