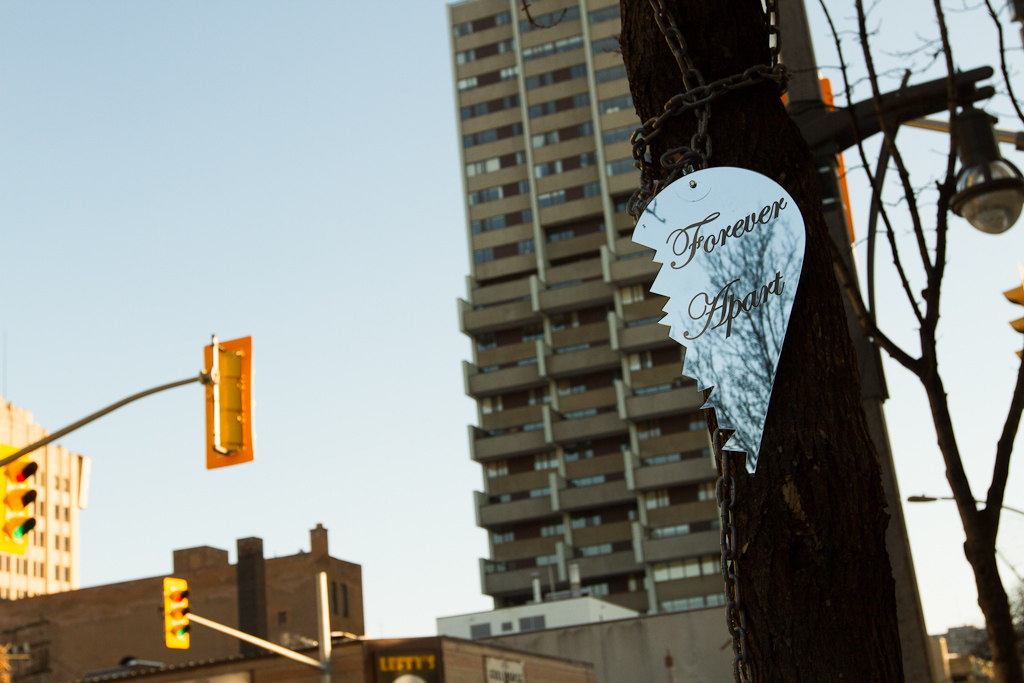 With artists Broken City Lab (Canada), Campus in Camps (Palestine), Iftikhar and Elizabeth Dadi (Pakistan/USA), Willie Doherty (Ireland), Marcos Ramirez Erre(Mexico/USA), Sanaz Mazinani (Canada), Christopher McNamara (Canada/USA), Dylan Miner (USA/Canada), Ed Pien (Canada), Leila Sujir/Maria Lantin (Canada)
Border Cultures is a three-part annual exhibition that brings together regional, national and international artists to examine the complex and shifting notions of national boundaries. It is an exhibition-in-progress, conceptualized as a research-based platform for artists and cultural producers to explore and examine the border through different lenses. Border Cultures: Part One (homes, land) will be followed by Part Two (work, labour) in 2014 and Part Three (security, surveillance) in 2015. In this exhibition artists reimagine the pattern of crisscrossing national boundaries as way to engage in dialogues and share knowledge. With a goal to mobilize and connect the ongoing critical dialogues on national boundaries in Windsor with diverse narratives and experiences of border contexts in different parts of the world.
The exhibition opens on Friday, January 25 at 7pm at the Art Gallery of Windsor.
Highlights of this exhibition include the Canadian premier of early black and white photographic works by Irish artist Willie Doherty shot in the contested city of Derry, Postcards from the Edge of the Tijuana and San Diego border by Marcos Ramirez Erre, an exchange of best-friend lockets between Detroit and Windsor and a mobile print lab by Métis artist Dylan Miner in collaboration with youth from the Turtle Island Education Centre, Windsor, and much more. The exhibition is curated by Srimoyee Mitra.
Also, our friends…
The Border Bookmobile Public Archive and Reading Room
Organized by Lee Rodney in collaboration with Mike Marcon
This project aims to reposition local history within the context of international borders, chronicling the shifting relationship between the two communities as post-9/11 border policies continue to drive a wedge between them. Over the past three years, the Border Bookmobile traveled throughout Windsor and Detroit as a mobile exhibition and discussion platform and cross-border community archive of books, artist projects, photographs, videos, maps and ephemera about the urban history of Windsor-Detroit and border regions in other parts of the world. At the AGW, the Border Bookmobile will host a series of discussions and workshops with the goal of collecting, organizing and synthesizing knowledge about this border region to contextualize globally, and chronicle, locally, the changing perceptions of the border.
And…
March 8-10, Diversions: Detroit-Windsor Conversations on Borders, Traffic and Circulation, An Experiential Symposium.
Organized by the Art Gallery of Windsor, IN/TERMINUS: Media, Art, and Urban Ecologies (University of Windsor), The Border Bookmobile (Windsor-Detroit) and the McGill Institute for the Study of Canada (McGill University).
Panellists include artists Marcos Ramirez Erre, Dylan Miner and Christopher McNamara as well as theorists Will Straw, (McGill University) and Janine Marchessault (York University). FREE admission
March 9, 12-1pm, Curator's tour of Border Cultures: Part One (homes, land)
FREE admission
March 15, 2-4pm: Connections and Disconnections in the Windsor-Detroit Area This is a one day workshop run by Broken City Lab and ArtsCorpsDetroit to arrange an exchange for people without passports in Windsor-Detroit area.
FREE admission