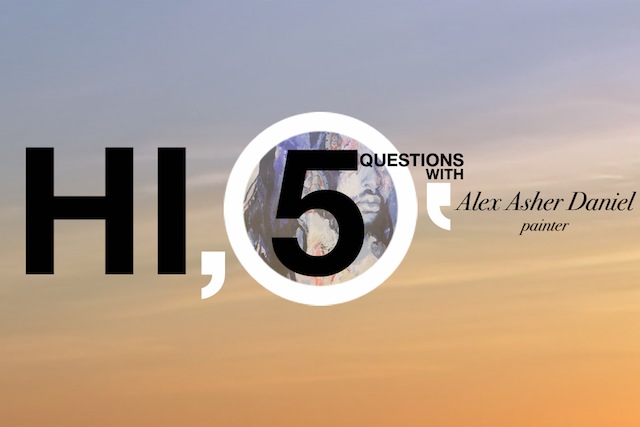 About the Hi, 5 Interview Series
Hi, 5 (5 Questions) is a web-only interview series which presents five questions to artists, activists, and creative thinkers alike. The project acts as an educational device which allows us to gain insight into the narratives that define successful individuals. We are interested in the motivations behind ambitious ideas and how change has been affected by those with the passion for progress in their practice.
About Alex Asher Daniel
Alex Asher Daniel is an American painter residing in New York City. Alex has a show of portraits coming up in March 2012 at the National Black Theatre in Harlem.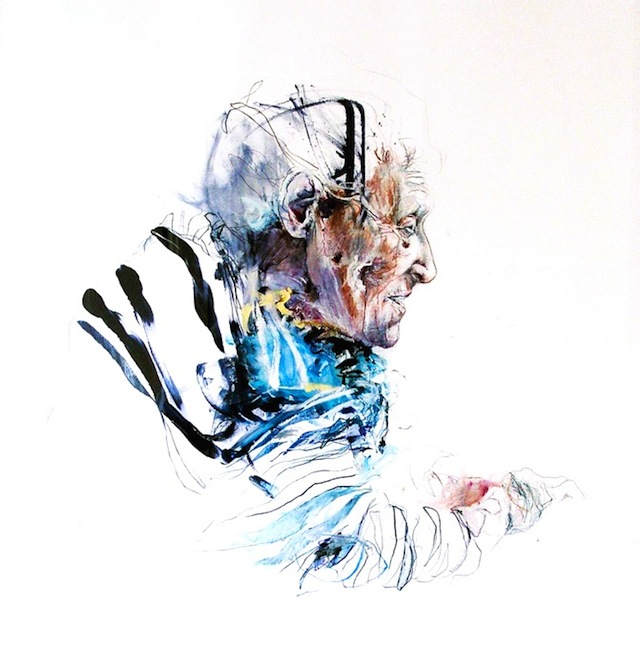 Alex Asher Daniel
February 1st/2012
If you had to describe your current self to a 16-year-old you, what would you say?
I still feel 16 at times, just with more battle scars. In many ways I am trying to reach back and find where I was as a child. There is a pure love of art and music when you are young, really letting it embrace you, an enchantment. I want the feeling again of loving a band and their music, before you actually met them and it ruined everything.
Could you describe an evolution in your work or way of thinking?
The work can not help but evolve if it is coming from a truthful place, because you yourself are ever changing. Even when I have made a point to work in a uniform series- each time I begin a new painting I feel as though I have never painted before. I have found myself consistently drawn to certain subject matter, but the approach to how I paint it is always changing. In my early work I was inspired by the figure, but I was intrigued by the shape of letters, numbers and blocks of colour. I incorporated that into my work, and it came across very graphic and two-dimensional. Today, I still explore the human body, but I am searching for meaning within the unseen space around my subject- it makes for a much more multidimensional experience.
Are there any people who have been instrumental in the development of your way of thinking and viewing the world?
That's a big question. Off the top of my head… Of course, a great influence early on were my parents and their sensitivity for the arts and music, and their awareness of the human dynamic. The places I grew up in my youth, and the communities that surrounded me, especially the bay area and it's social and spiritual consciousness.
The poet, Michael McClure, who was my English teacher in college, encouraged me to continue my studies in mysticism and the esoteric, both of which have been great influences on my work. There was a book I read when I was younger, an analysis of John Coltrane's music by Bill Cole, which was a great inspiration at the time. My friendship with Caetano Veloso, who has such a beautiful heart, inspired me to have a more delicate approach to being. Around the time I first arrived in New York City, I met the designer Bill Katz. Bill let me use his studio, which is where I did my first series of portraits, so that was an important time for me. He also introduced me to my favorite scotch. There are so many more… but I will spare you.
How do your political beliefs inform or fuel your work as an artist?
I grew up in an environment surrounded by activism, and I feel that when done intelligently, the arts are the most powerful means of expression and education. I, however, am drawn to more ethereal explorations, so at times I was concerned with whether I should speak out more in my work, but then I realized that our works' existence alone is revolutionary.
What do you feel a city should be or do for its inhabitants?
A city does nothing for its inhabitants but exist as a blank canvas for what you can manifest. Participate.