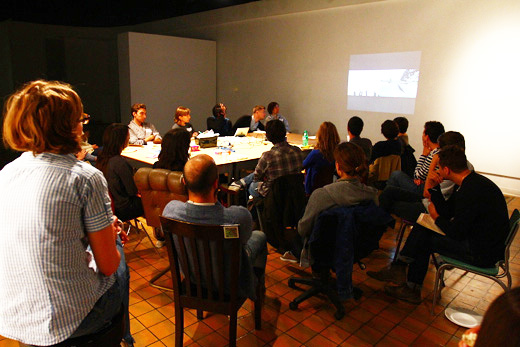 Any report on Day 1 of our Homework Residency needs to begin with a huge welcome to all of our Artists-in-Residence. Get acquainted with everyone here!
As a preface, it's important to note the difficulty in trying to document such an involved process with any meaningful artifacts and with such little time for reflection. Photos cannot do justice to the hours of exploratory conversations, tangents, and negotiations that took place. Nor can my attempts to record some of the overarching concerns that I picked up on appropriately document the frustrations, insights, and moments of meaningful critical engagement, do any part of the day justice.
But, to try to make this as useful as I can, there are large things that need to be framed — in particular, a way of approaching a residency that explicitly asked residents to be prepared to not tackle a pre-designed project, alongside a number of other artists. Throughout the day questions were raised around the possibilites and limits in collaboration within such a large group, the ways in which to facilitate collaboration over participation, and the terms of reference that we all bring, but need to forget about.
Today focused on tackling a set of possible directions and the ways in which 17 people might move there, together.
Continue reading "Homework Residency: Day 1, Terms of Reference"