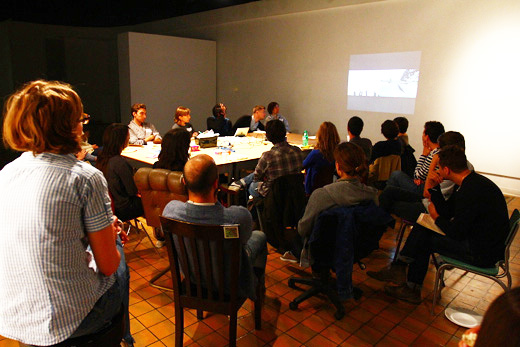 Any report on Day 1 of our Homework Residency needs to begin with a huge welcome to all of our Artists-in-Residence. Get acquainted with everyone here!
As a preface, it's important to note the difficulty in trying to document such an involved process with any meaningful artifacts and with such little time for reflection. Photos cannot do justice to the hours of exploratory conversations, tangents, and negotiations that took place. Nor can my attempts to record some of the overarching concerns that I picked up on appropriately document the frustrations, insights, and moments of meaningful critical engagement, do any part of the day justice.
But, to try to make this as useful as I can, there are large things that need to be framed — in particular, a way of approaching a residency that explicitly asked residents to be prepared to not tackle a pre-designed project, alongside a number of other artists. Throughout the day questions were raised around the possibilites and limits in collaboration within such a large group, the ways in which to facilitate collaboration over participation, and the terms of reference that we all bring, but need to forget about.
Today focused on tackling a set of possible directions and the ways in which 17 people might move there, together.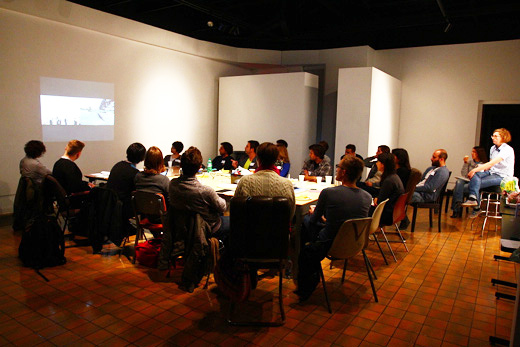 Around the big table that wasn't quite big enough, we had breakfast provided by The Boot (the second-year MFAs collaborative project), and gave brief introductions. Everyone had one image to present to provide some context to their practice, projects, and interests. Introductions are the easy part — getting to know everyone a bit better was excellent.
The context for the residency is informed by everyone around the table, so there's necessarily immediately a lot of negotiation of terms and ideas, even before any major discussion about projects begin.
That discussion is also complicated by the need to frame things around a project that can facilitate the exploration of the tactics and practices of collaboration that range widely around the table.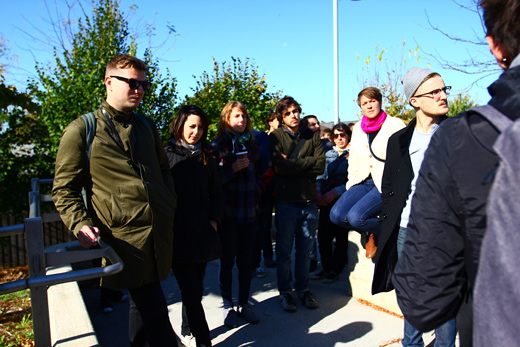 However, directions start somewhere, and we opted for a walk –a tour around west Windsor.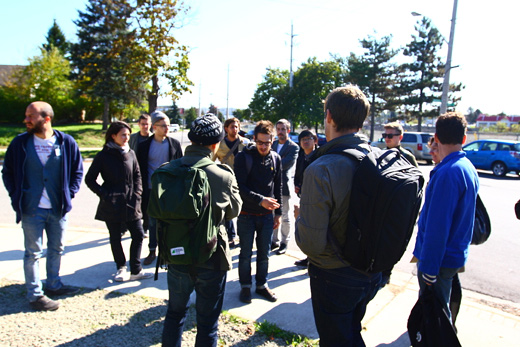 Not an exhaustive exploration of the area — but some context for what's been shaping the city over the last few years (in some ways).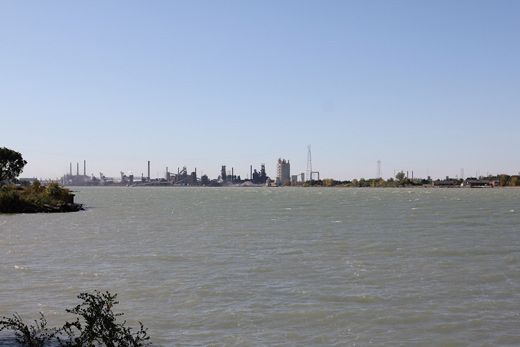 That context of the city seems to shift in importance throughout the day. Is the work to be done something that tackles the city itself, or is that just the default inclination for most people around the table? Above, we reach the edge of Canada — Windsor overlooking Zug Island.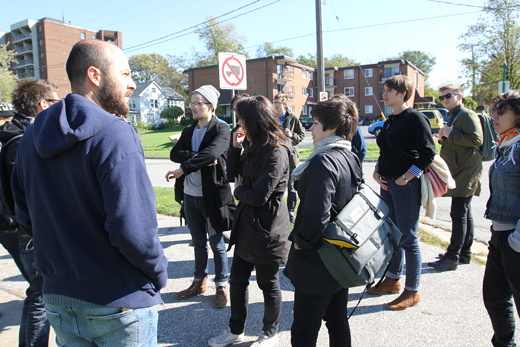 We walked until about 1pm, at which point we dispersed for lunch.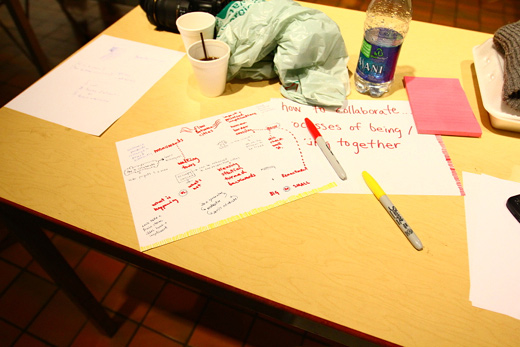 Once we arrive back, we start to talk about possible project directions for the group at large. Ideas and concerns are raised and recorded on paper, pinned up on the gallery walls. Concrete proposals meet conceptual trajectories, and those in turn meet concerns about the implications of collaboration in the widest sense.
So,  small groups are formed to try to generate some better understanding of the things that brought people to the residency and what they hope to take up in their time here.
Conversations, Day 1: Laura, Jack, Brendan, Chloe.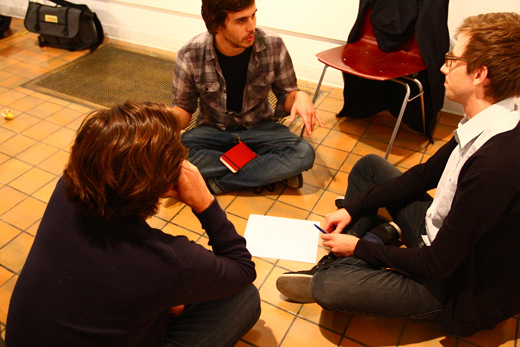 Conversations, Day 1: Charlie, Simon, and Brett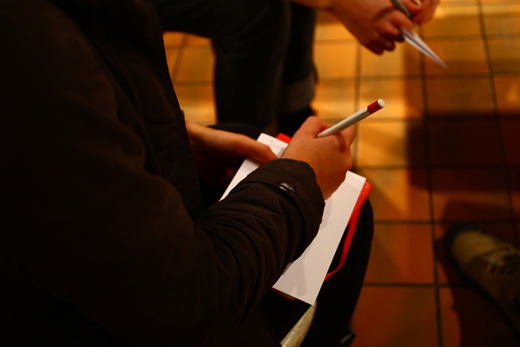 Conversations, Day 1: Chloe taking notes.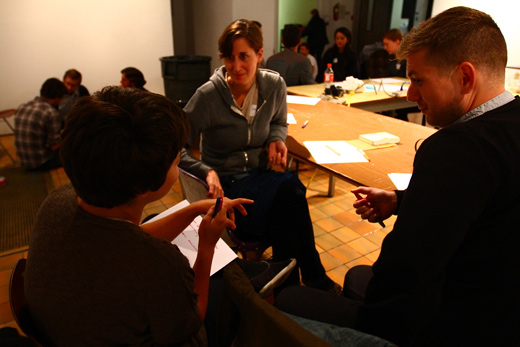 Conversations, Day 1: Megan, Lea, and Nicko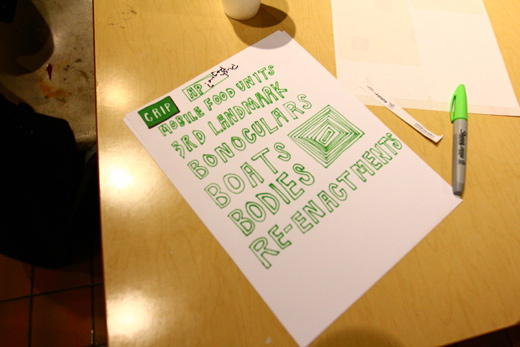 More notes, documenting a conversation.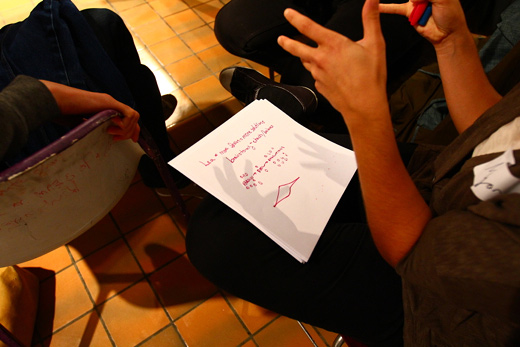 Megan's notes, while she explains.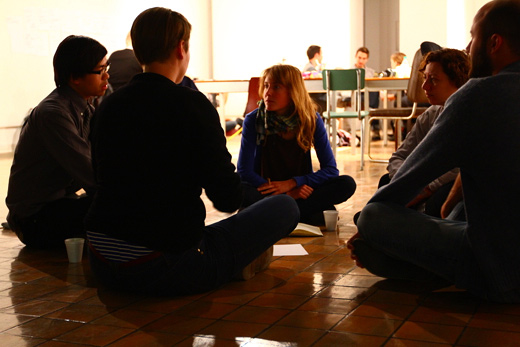 Conversations Day 1: Immony, Zoe, Kelly, Vesna, and Rodrigo.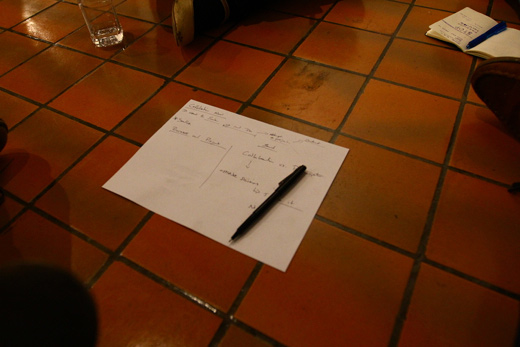 Notes on paper.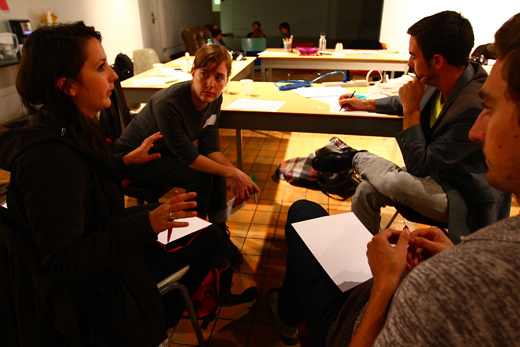 Conversations Day 1: Chloe, Laura, Jack, and Brendan. Discussing approaches for getting projects off the ground.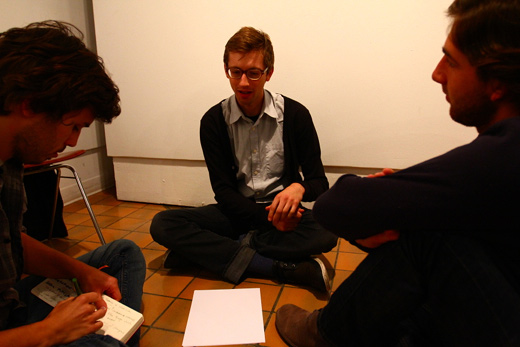 Conversations Day 1: Charlie, Simon, and Brett.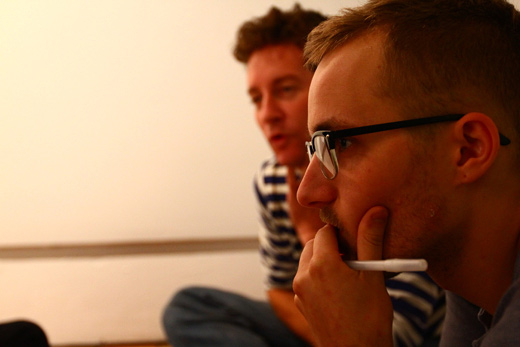 Conversations Day 1: Brennan and Nick listen intently.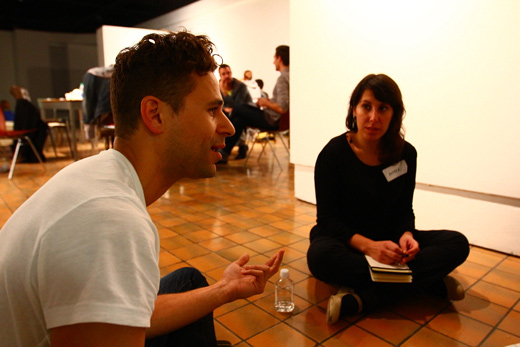 Conversations Day 1: Chris and Andrea. It's uncertain at this point if these photos will become the work of the residency, or if it was just working out mechanics, or both.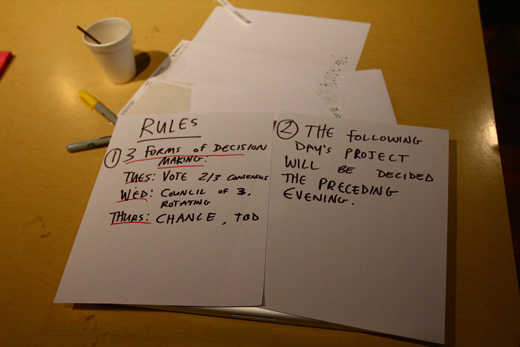 After a lot more discussion, two rules ar established to drive the next stages of the residency — specifically the ways in which the group will make decisions. Each day of the residency, they will take on a different decision making process (Tuesday will be voting, Wednesday will have a rotating council of decision makers, and Thursday will be left up to chance). These decision making strategies will act as filters for an idea that may change day to day, or not. The group will also try to decide on what idea to tackle the following day, the night before.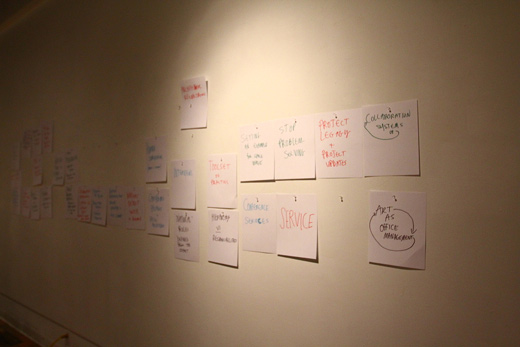 In deciding Tuesday's project direction, certain ideas are left behind, just for now.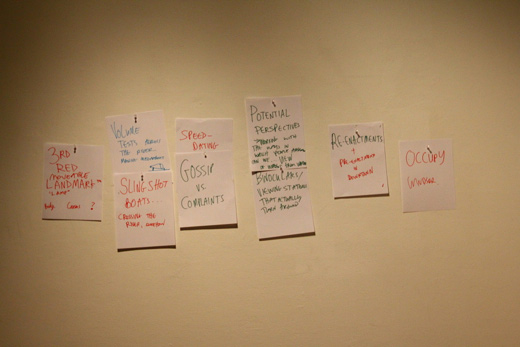 These are some of the ideas that had some interesting potential — but the one that will be taken up in downtown Windsor starting on Tuesday is "Pre-enactments." It's unclear about how this will be documented, it might seem appropriate to try to open up this space to a kind of open documentation from the residents, rather than my curating the bits and pieces I can capture or remember.
Tuesday picks up with breakfast at 9am at Lebel, before moving downtown, you're welcome to stop by.