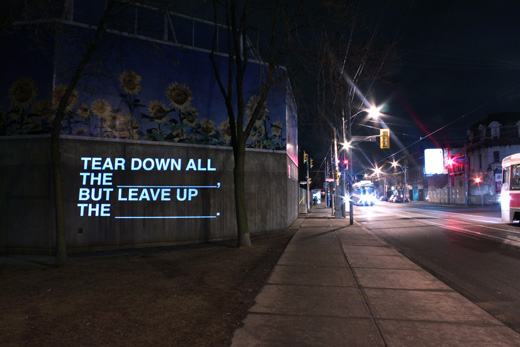 Thursday night Cristina and I were up in Toronto at Propeller Centre for the Visual Arts, participating in the Christopher Hume curated exhibition, Public Realm.
We did a series of projections with short texts / fill-in-the-blanks that dealt with issues of public and private space, which were generated from the answers to the questionnaires we created, responses on Twitter, and conversations amongst ourselves.
Public Realm is up until January 31st, and there's documentation of the projections up in the gallery along with a growing collection of our questionnaires with a ton of great answers. If you're in the neighbourhood, stop by, there's a lot of great work in the show!!!
After the jump, there's a photo from all 100 fill-in-the-blanks that we projected.
Continue reading "Talking to Walls: A Conversation About the Public Realm"