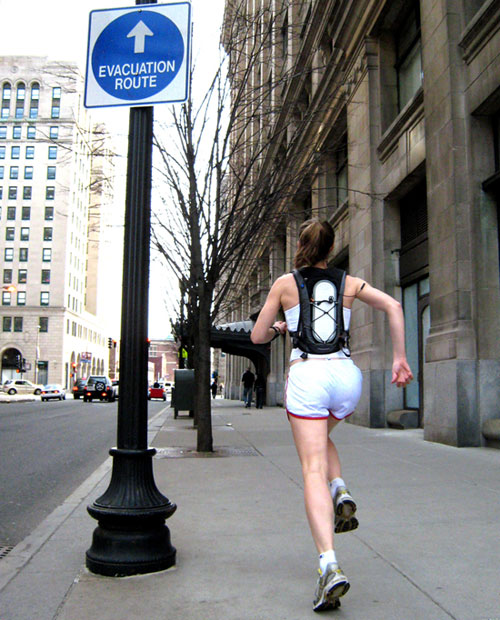 kanarinka is a new media artist whose research interests include the politics of digital information, feminist performance art, participatory culture and the emotional landscape of Homeland Insecurity. She is Co-Founder of the non-profit collective iKatun, a founding member of the Institute for Infinitely Small Things, and teaches at RISD's Digital+Media Graduate Program and the School of the Museum of Fine Arts in Boston.
In Spring 2007, kanarinka ran the entire evacuation route system in Boston and measured its distance in breaths. The project is an attempt to measure our post-9/11 collective fear in the individual breaths that it takes to traverse these new geographies of insecurity.
The $827,500 Boston emergency evacuation system was installed in 2006 to demonstrate the city's preparedness for evacuating people in snowstorms, hurricanes, infrastructure failures, fires and/or terrorist attacks.
It takes 154,000 breaths to evacuate Boston consists of a series of running performances in public space (2007), a web podcast of breaths (2007), and a gallery installation of the archive of breaths (2008). There's also an online collection of podcasts, with audio recordings made during each running performance.
The work is being shown as a part of Experimental Geography, an exhibition that explores the distinctions between geographical study and artistic experience of the earth. I picked up the book from this traveling exhibition a while ago and it's an interesting read. There's some inspiring work, but as is often the case with these kind of collection books, the introduction is far more enlightening than many of the preceding chapters.
What I like about this project is the physical translation of a kind of bureaucracy along with the gesture of exploration through so much of the city under the restrictions of urgency and evacuation. It makes me want to imagine ways for exploring bureaucracies of Windsor.