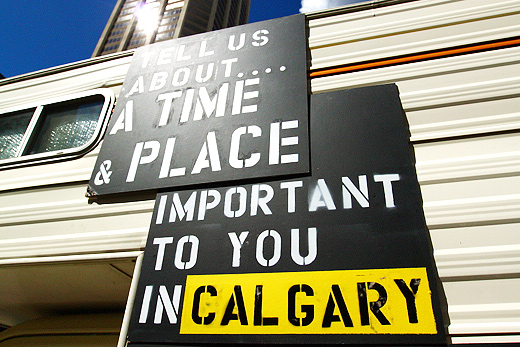 On Day 3 of our ATTC Calgary with Truck Gallery's CAMPER Urban Discovery project, it rained, and so we planned. We planned and discussed and reviewed some of the answers we had received from our activities on Day 2 — glimpses of the state of Calgary, from a ground-level perspective.
For Day 4, we had to condense our planned events into an single afternoon, collecting answers to a series of fill-in-the-blank statements and eventually creating a CAMPER-wide chalkboard to collect a timeline of Calgary.
Working to understand Calgary through these gestures provides insights to a city in between many things — a military fort and a sprawling urban centre, a longtime home and a temporary situation,the site of the first roadhouse and the place that Tim Hortons amalgamated with a small coffee shop, a celebrated Olympic site and the place of someone's first concert. All of these experiences, memories, and invented histories create a space for dialogue around the narratives that create the social shape of the city and not only how we interact with it, but how we interact with one another.
Continue reading "ATTC Calgary Day 3 & 4: the Tales & Timelines of a City"