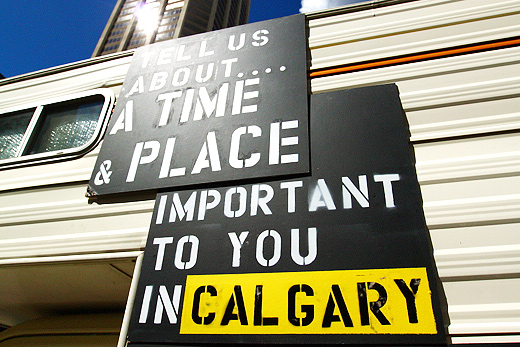 On Day 3 of our ATTC Calgary with Truck Gallery's CAMPER Urban Discovery project, it rained, and so we planned. We planned and discussed and reviewed some of the answers we had received from our activities on Day 2 — glimpses of the state of Calgary, from a ground-level perspective.
For Day 4, we had to condense our planned events into an single afternoon, collecting answers to a series of fill-in-the-blank statements and eventually creating a CAMPER-wide chalkboard to collect a timeline of Calgary.
Working to understand Calgary through these gestures provides insights to a city in between many things — a military fort and a sprawling urban centre, a longtime home and a temporary situation,the site of the first roadhouse and the place that Tim Hortons amalgamated with a small coffee shop, a celebrated Olympic site and the place of someone's first concert. All of these experiences, memories, and invented histories create a space for dialogue around the narratives that create the social shape of the city and not only how we interact with it, but how we interact with one another.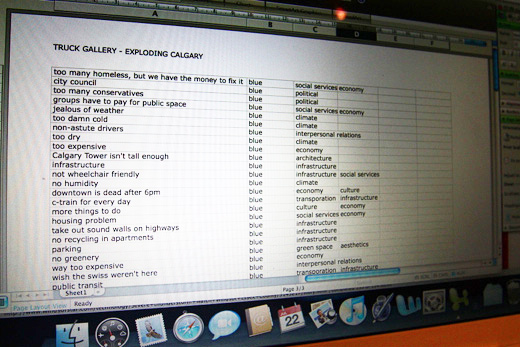 On Day 3, we started off what was supposed to be a rainy afternoon organizing the information we received from Day 2.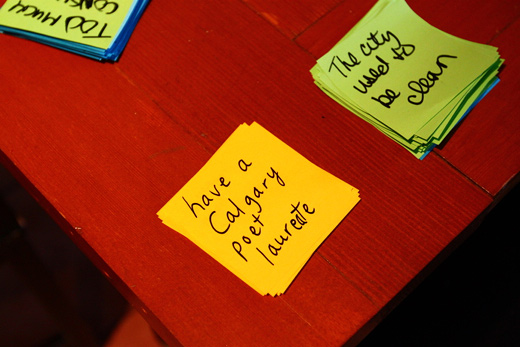 Josh enters all our stickies, from the good to the bad to the things worth hoping for in Calgary.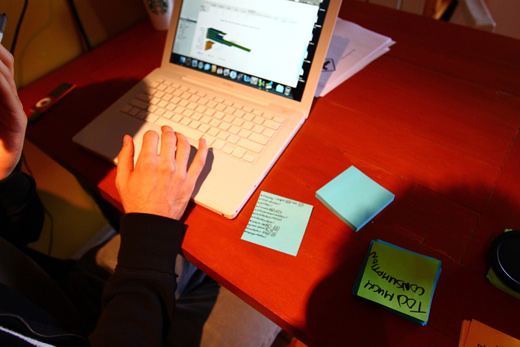 And begins to generate some charts in Numbers.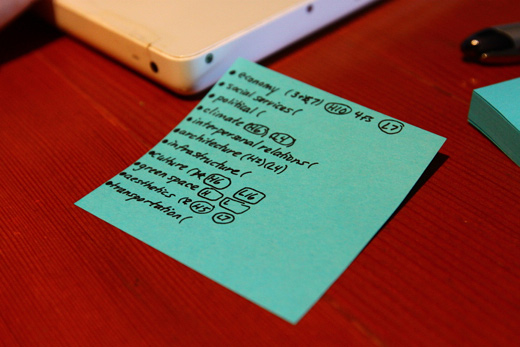 The data is highly unscientific, but we were curious to see it visualized to possibly give us some direction for our next set of activities.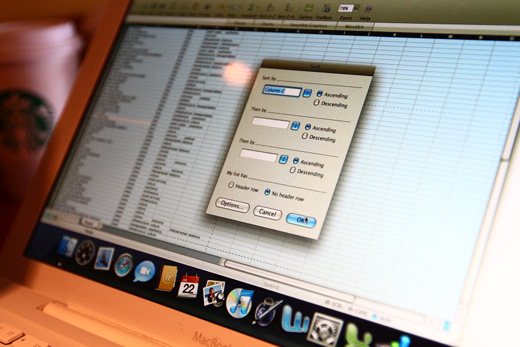 Josh sorting columns. He and Michelle had set up a series of tags or categories for the collected stickies.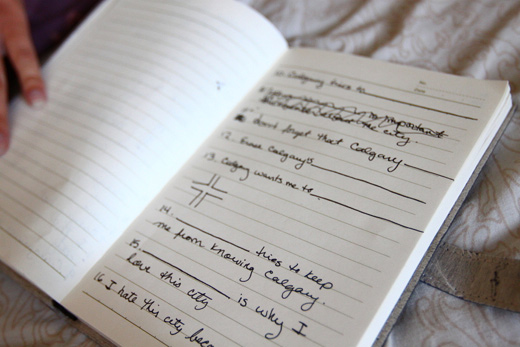 Meanwhile, Michelle worked on a series of fill-in-the-blank statements.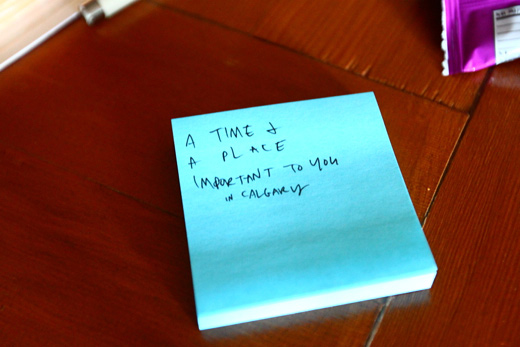 And I started to plan the chalkboard work we needed to do.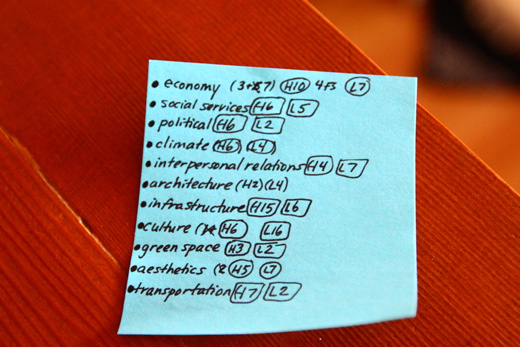 Josh and Michelle's categories.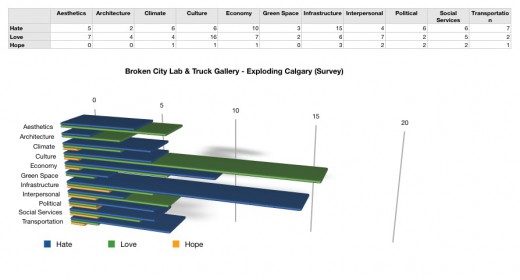 The resulting graph … we're still planning to work with this some more. It sits patiently on our dropbox.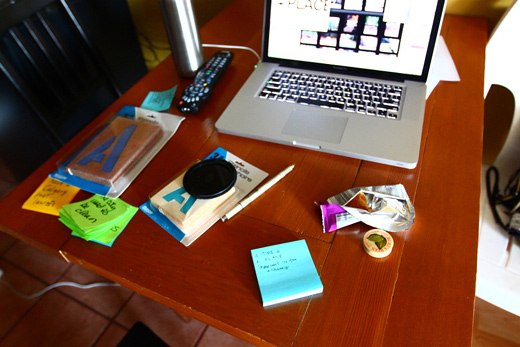 The next day, we're onto the next steps as we prepare to create a sign for our chalkboard. We let the paint dry overnight and we set off to work first thing in the morning on prepping the boards.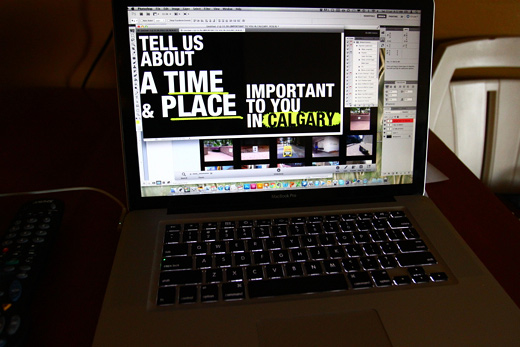 We have 24″x24″ masonite boards that we painted with chalkboard paint, and I created a basic outline for the sign for the side of the CAMPER.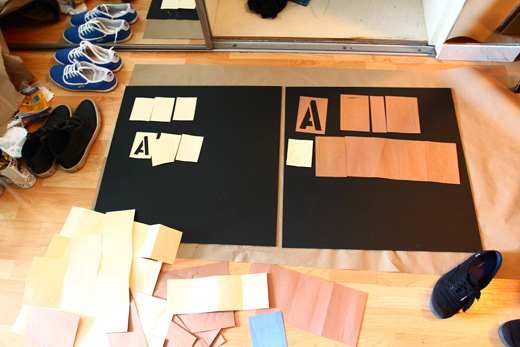 We start to setup the template, using stencils from Staples.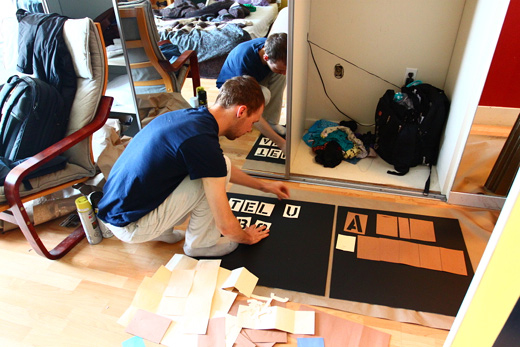 Josh quickly realizes we should have bought more than one package of each size.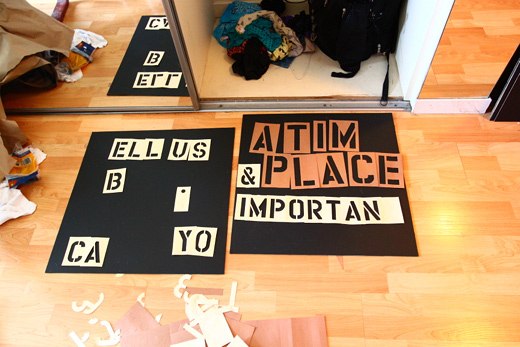 The number of each letter is very limited.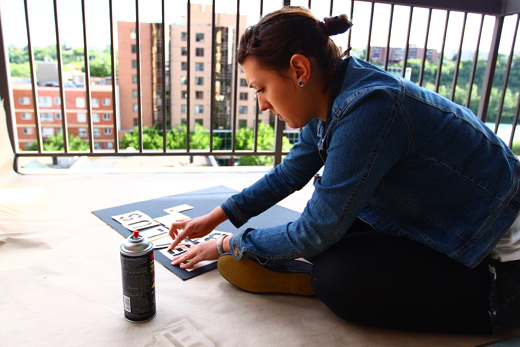 But, we figure out a work plan anyways. Michelle is an expert in spray adhesive, so she goes to work on the balcony.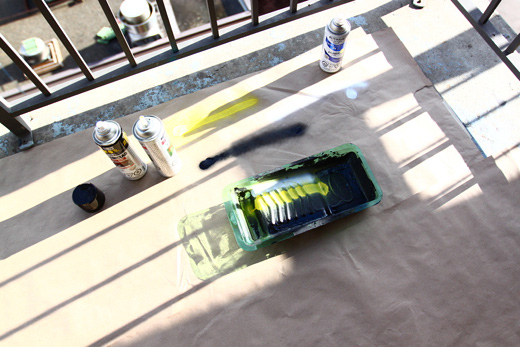 Test paint.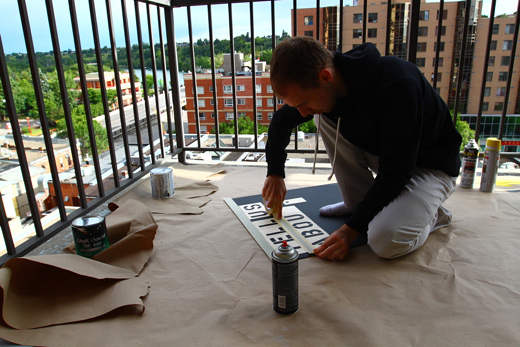 Josh tapes down the rows of letter.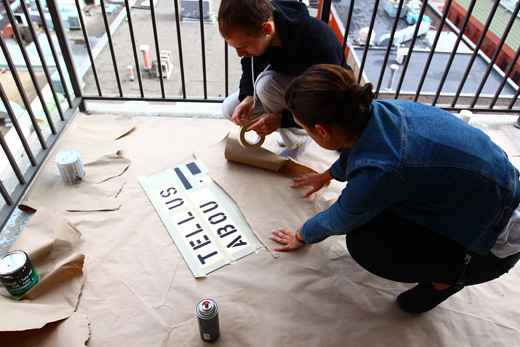 And they lay down some more paper to mask the bottom of the chalkboard sign.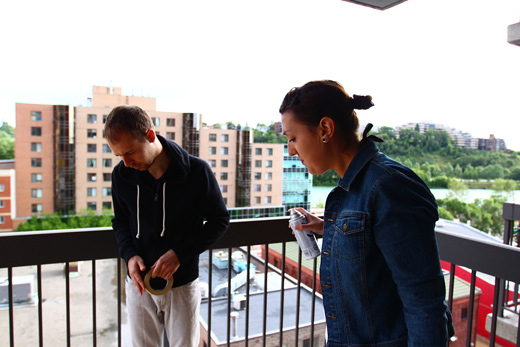 Discussing spraying technique.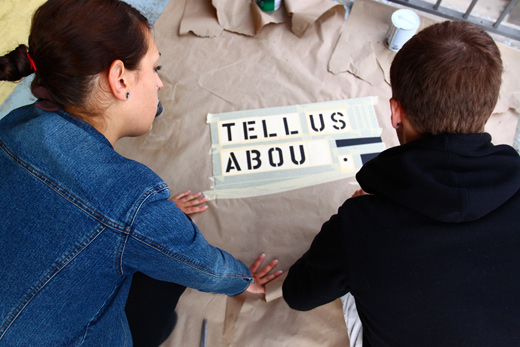 One t short.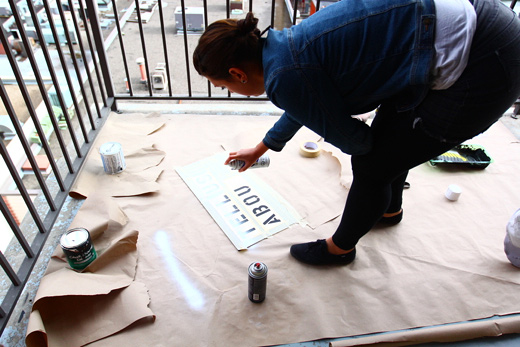 Michelle starts spraying.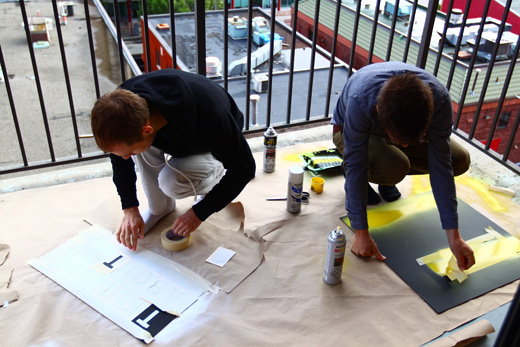 Later, I take on the next board while Josh continues with the white. We were trying to get this done in about an hour and a half, so things were rushed.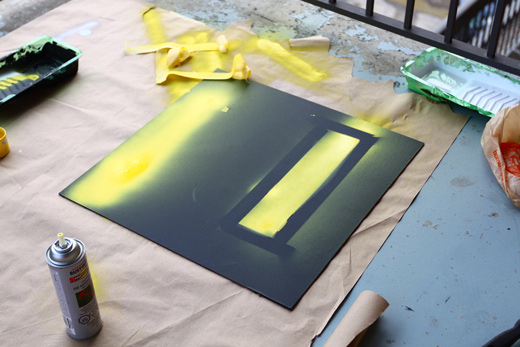 We sacrifice a board to test the yellow.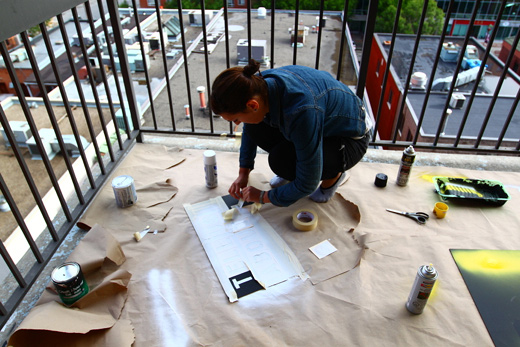 Michelle continues work with the next row.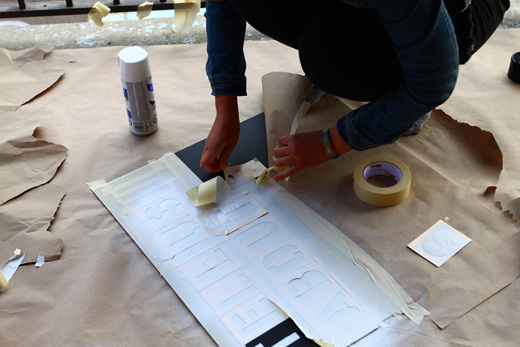 Peeling up the masks.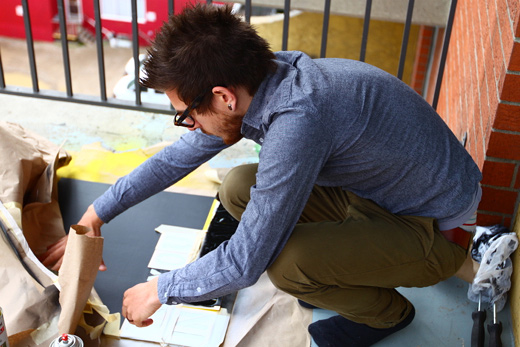 I start masking the next board…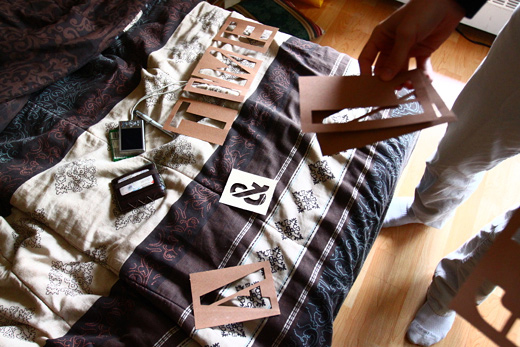 …while Josh preps the next stencils.
Michelle touches up the board inside — our ellipses stencil bled a lot.
Some of the aftermath.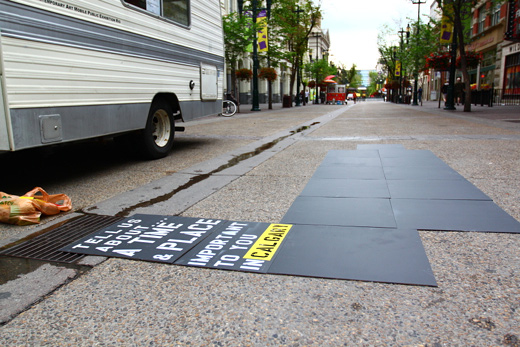 Once at CAMPER, we layout the modular chalkboard on the ground.
The finished sign, we were quite happy with it.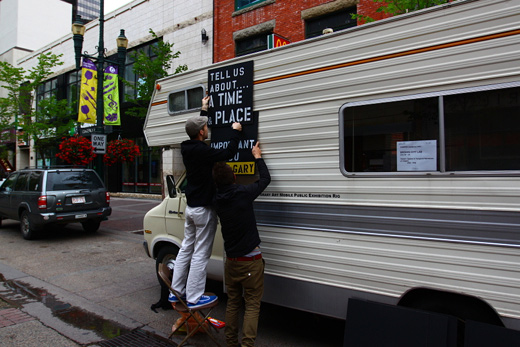 Josh and I start to try to line up the boards in anticipation of Todd's arrival to give us a hand with hanging.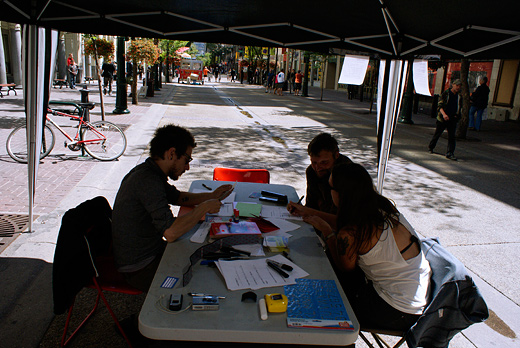 And meanwhile, Michelle starts getting some input into our fill-in-the-blanks.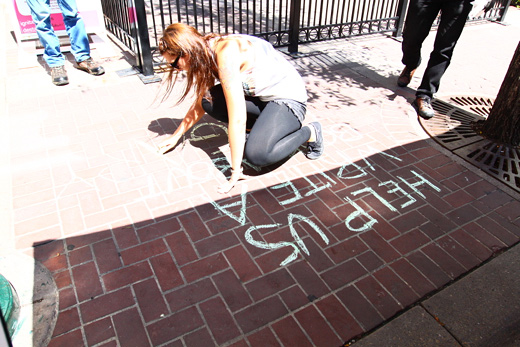 And then moves on to some sidewalk chalk.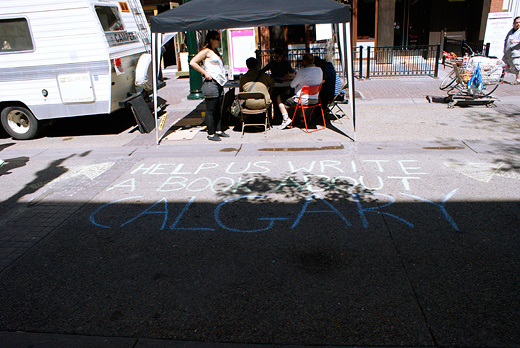 Some Calgarians filling in the blanks.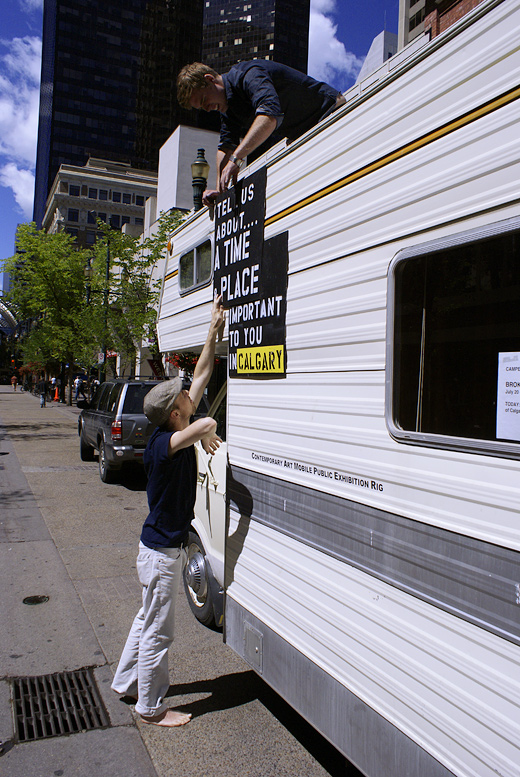 With Todd's arrival we start to plan out how to adhere the boards using some industrial strength velcro, but we quickly discover that the adhesive on the back of the velcro pads won't stick to the back of the masonite.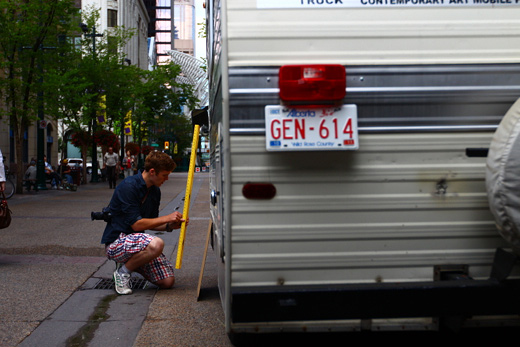 So, we decide to pick up some epoxy and go from there. This will make hanging a bit more difficult as we'll need to align the pads before placing them onto the side of the CAMPER and on the back of the boards themselves.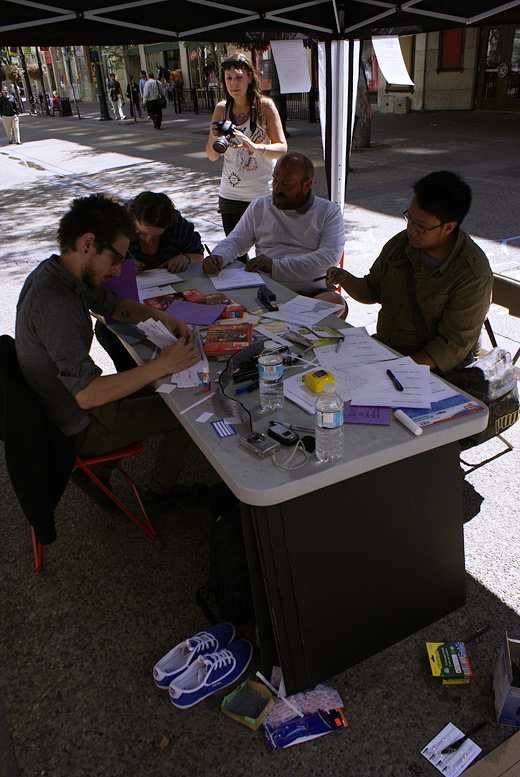 Todd and Josh do the math thing while I sort through completed fill-in-the-blanks alongside some folks participating in our questionnaire.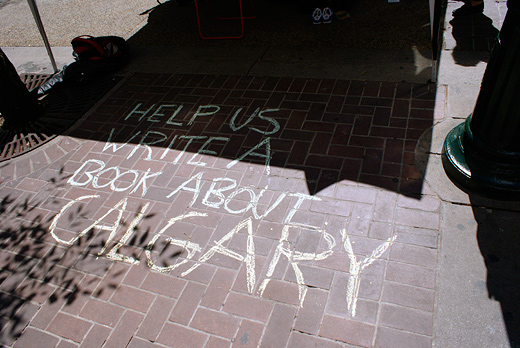 We used the fill-in-the-blanks as an impetus to create a small book on narratives about the city. Kind of like a DIY-version of our …and then the city book.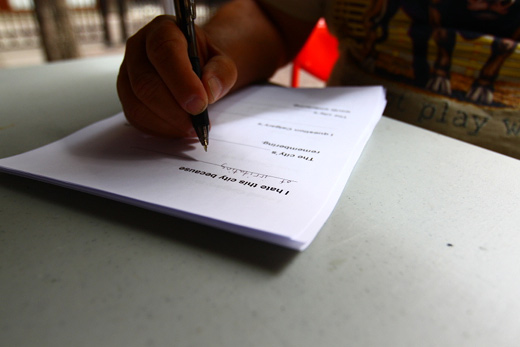 We enjoy using the fill-in-the-blanks as a prompt, as a kind of accessible tool to provide a lot of information about some more absurd understandings of the city — things based on emotional responses to the personification of the city itself alongside ideas around what needs to be erased, remembered, what's been lost, and what the city wants from you.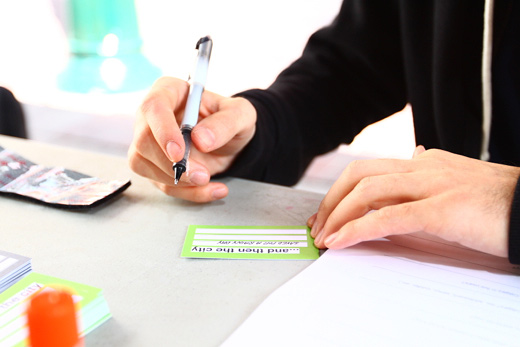 Josh writes some and then the city statements after talking to some folks passing by.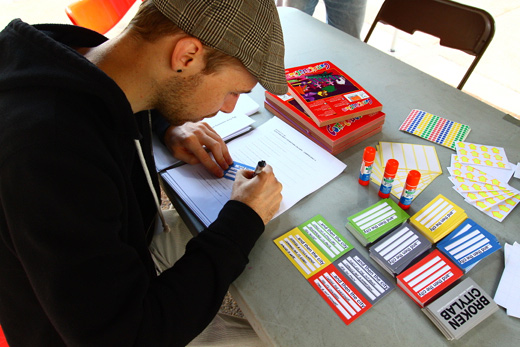 We're planning to use more of these at our next event to tease out other narratives.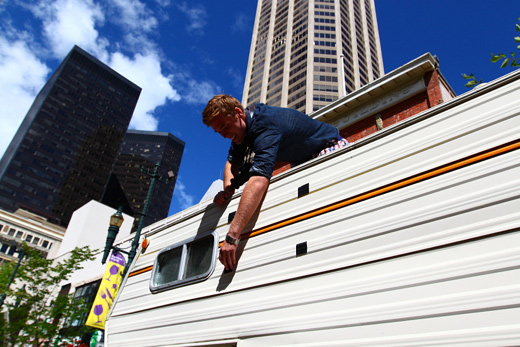 Todd working on the velcro solution.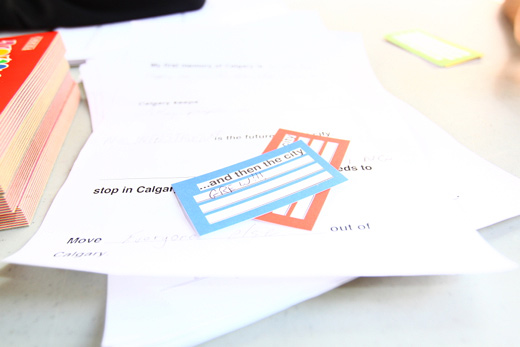 A card filled in by a passerby.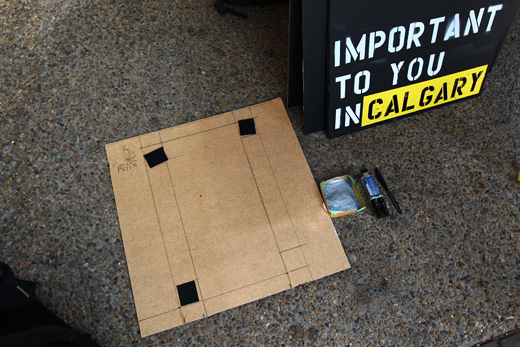 Todd's velcro repair shop.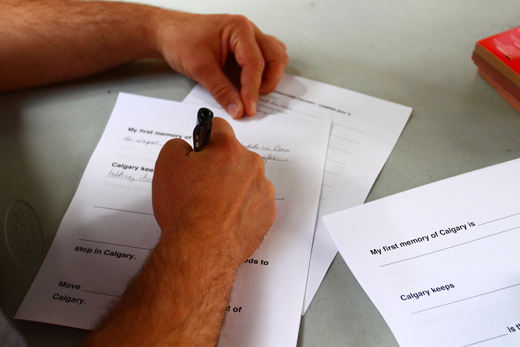 More fill-in-the-blanks.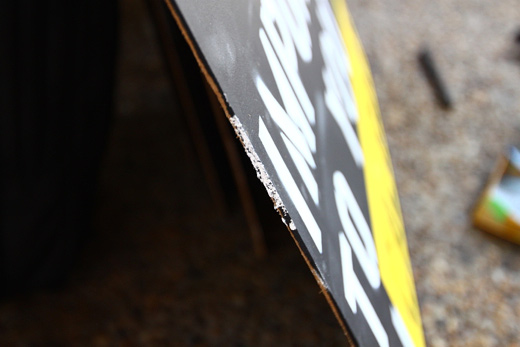 Chalk lines for lining up the boards, post-repair.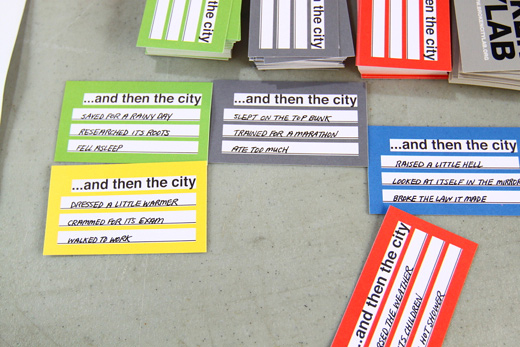 Josh's cards.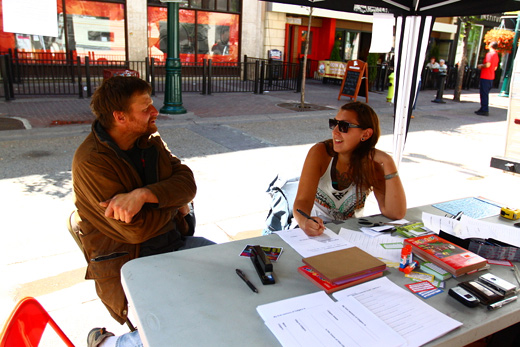 Under the tent, Michelle interviewing.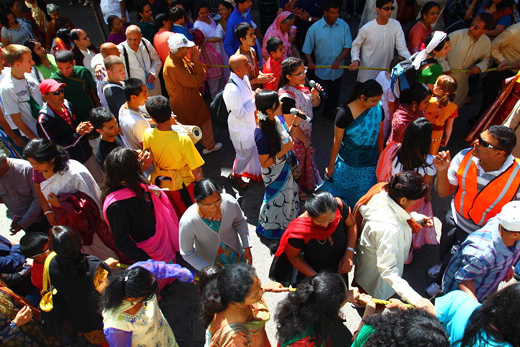 And then a Hare Krishna parade goes by.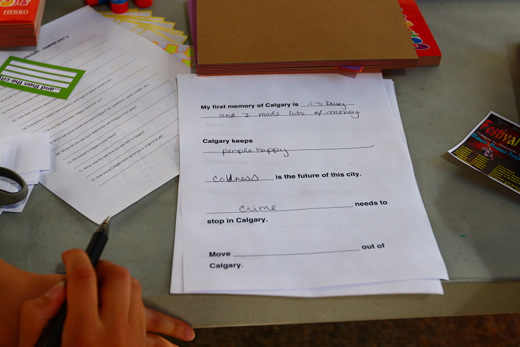 And then, some more blanks filled … "My first memory of Calgary is it's big and I made lots of money."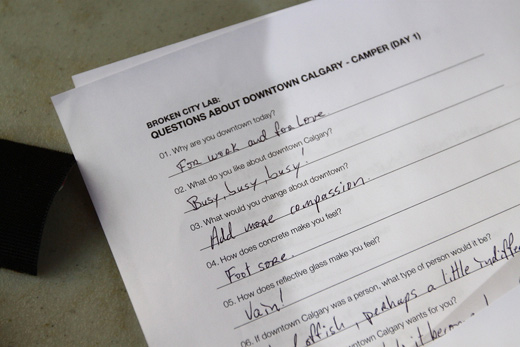 A sample of the questionnaires filled in, some questions more directly tied to the city than others, but all interested in looking at a wide range of narratives that people tell themselves about the city and their experience in it.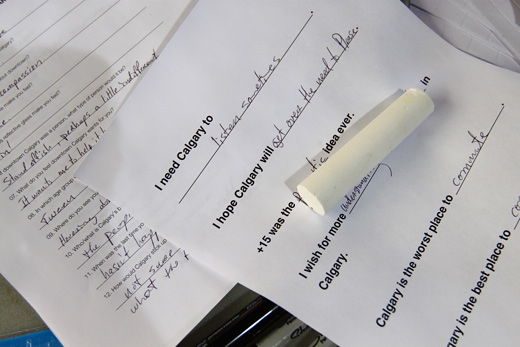 "I need Calgary to listen sometimes."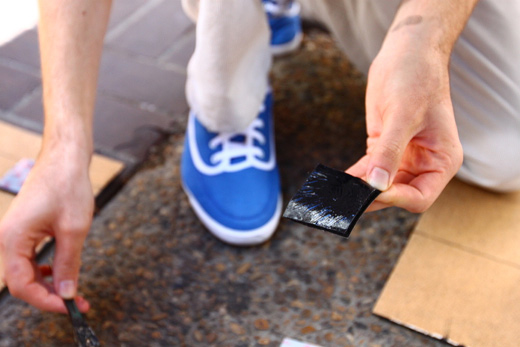 Josh works on the velcro with Todd.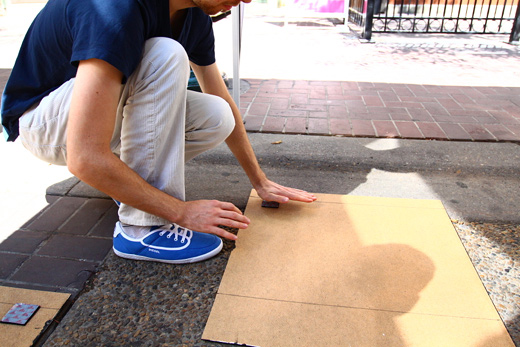 This admittedly took a lot longer than we anticipated, so we extended our day to make sure we had enough time to start collecting timelines.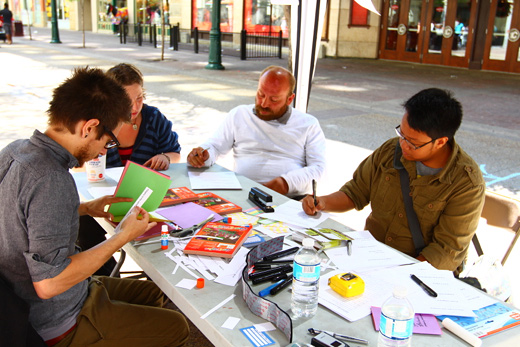 Around the table, sorting and answering.
We had a DIY book workshop of sorts that turned more into a collaboratively written book made of construction paper and fill-in-the-blanks. We colour coded most of the answers and these will in-turn become part of our forthcoming publication.
Progress on hanging our modular chalkboard.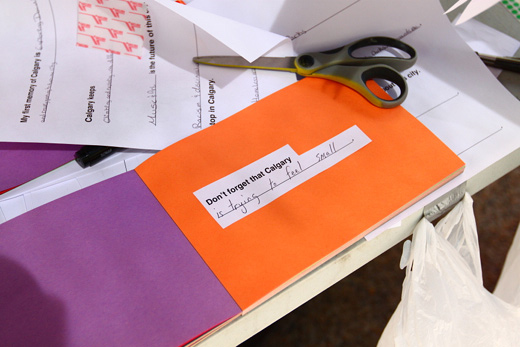 A page of our book … "Don't forget that Calgary is trying to feel small."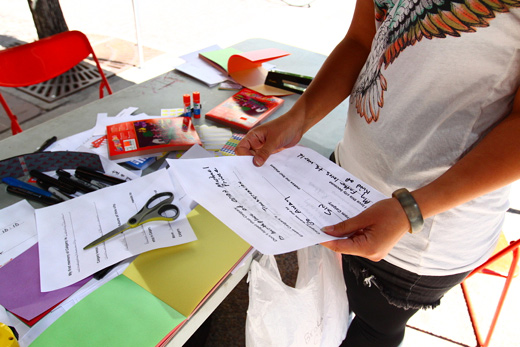 Michelle sorting through answers.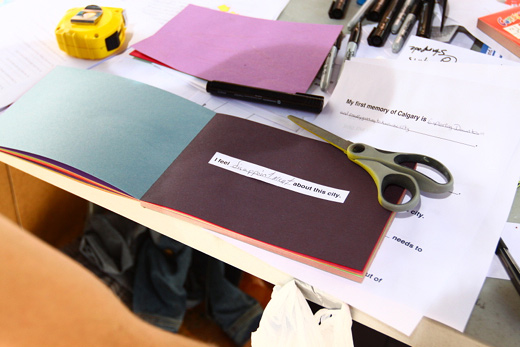 And pasting more into our book.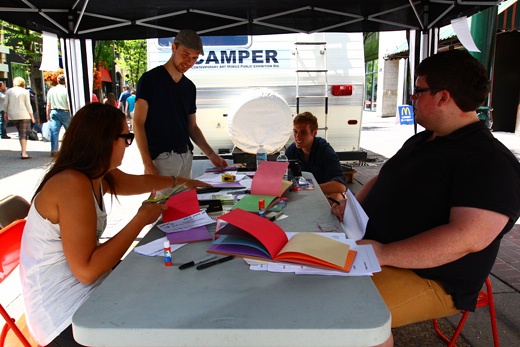 At work around the table.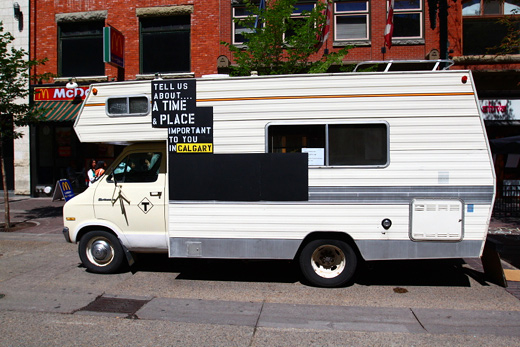 More modular chalkboard progress.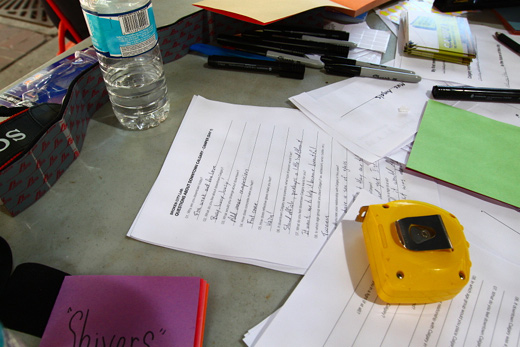 And some more of our table… "If downtown Calgary was a person, what type of person would it be? Stand-offish, perhaps a little indifferent."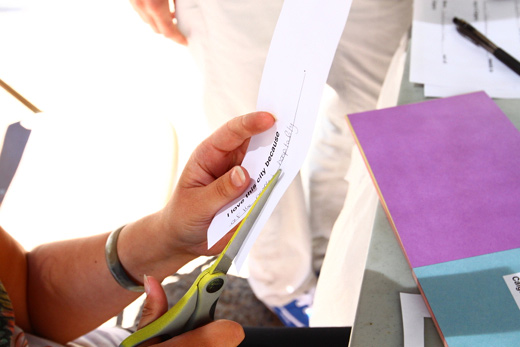 Michelle cutting fill-in-the-blanks for our book.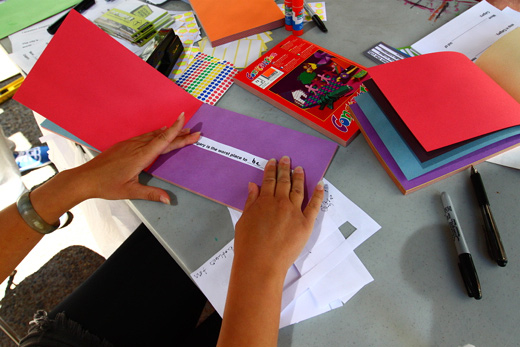 And pasting … "Calgary is the worst place to be homeless."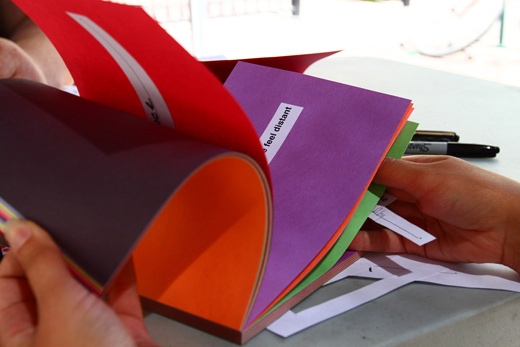 These 6×9 construction paper books are really great and pre-bound. Highly recommended for another project down the road.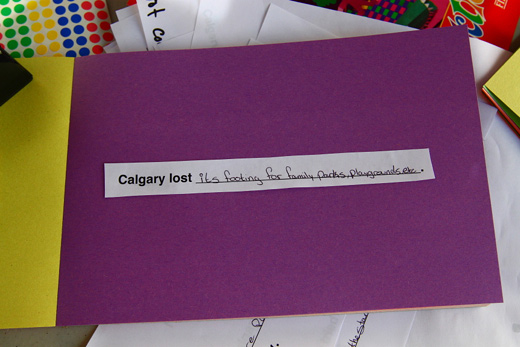 "Calgary lost its footing for family, parks, playgrounds, etc."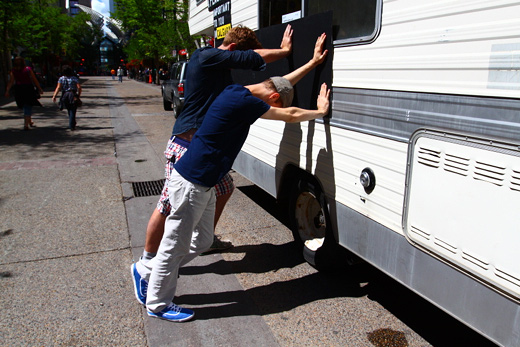 Effort.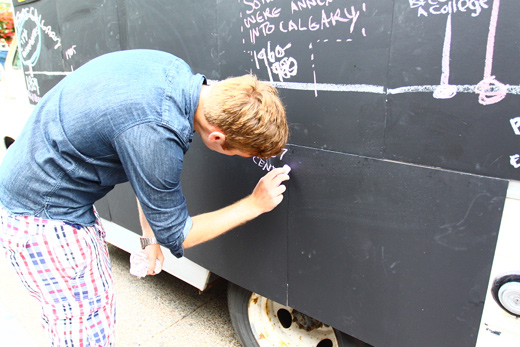 Eventually, the modular chalkboard is completely mounted and we start a timeline. Todd adds in his knowledge of the city.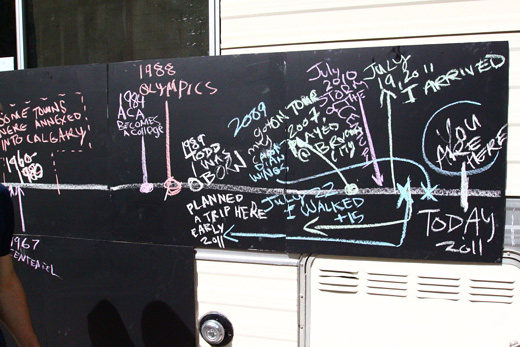 We add in some of our own understandings of this place and take notes from passersby.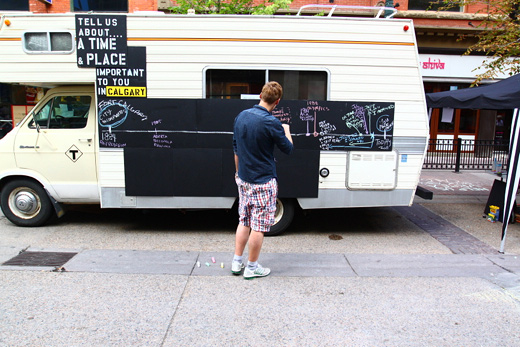 Todd takes a step back to look at the timeline thus far.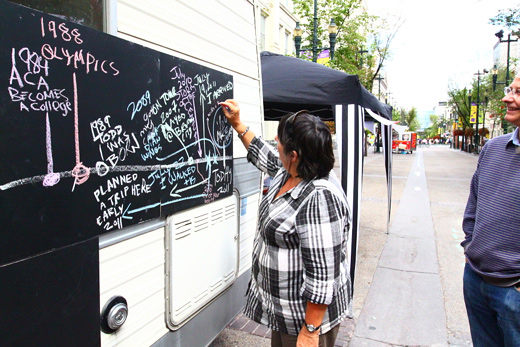 More notes, some visitors from London note Will and Kate's visit to Calgary.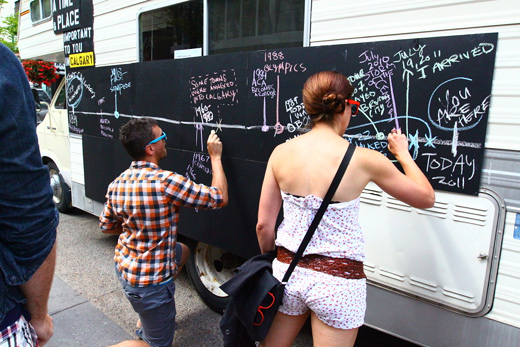 More notes on being born in Calgary.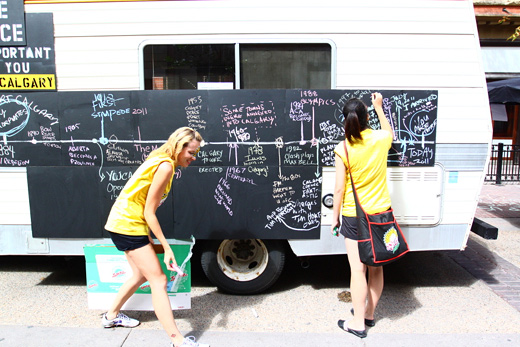 And other arrivals to this place.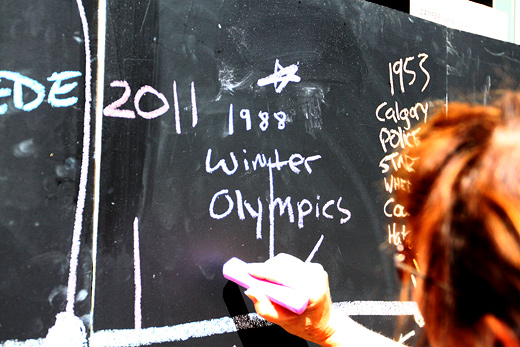 The Olympics, out of sequence.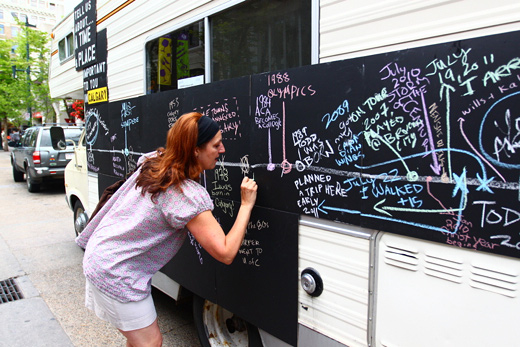 And then, narratives about things that could have happened anywhere, but importantly, happened here, like seeing the Clash for the first time ever.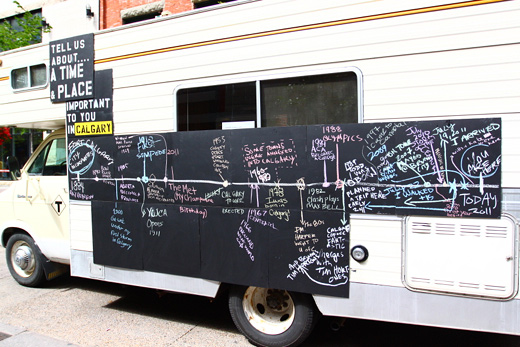 Mid-afternoon progress on our Timeline for Calgary.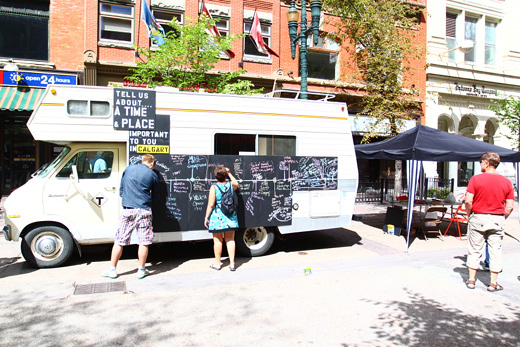 Timelines are interesting in that they create gaps that seem to draw others to fill in. These gaps and the aesthetic of a timeline in general start to generate a narrative structure, a linear understanding of a place that can adjust existing historical boundaries.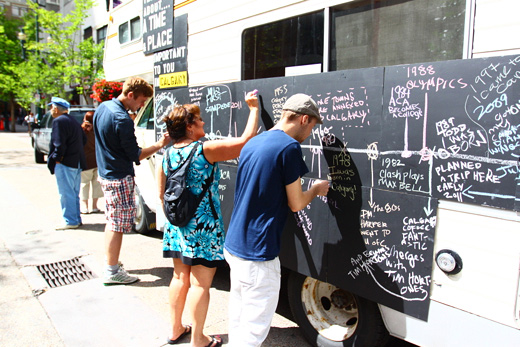 As a side note, the sun (and our rush) started to get the best of our epoxy, and Josh tries to convince the panels to stay in place.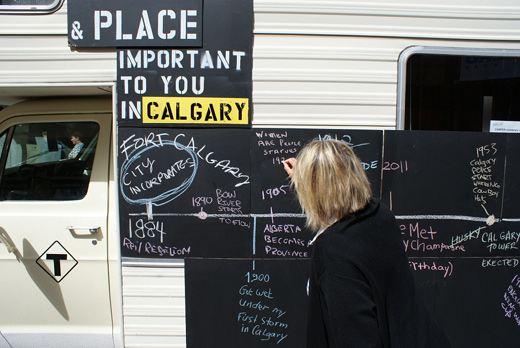 Some entries onto the timeline are based on personal notations, remembered markers in time, or things that are grounded in a larger narrative, but are felt at a local level.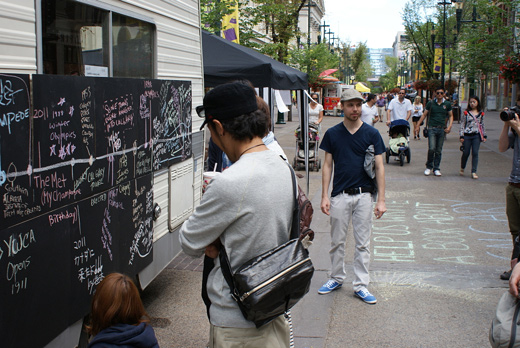 Travellers from far abroad also mark the board.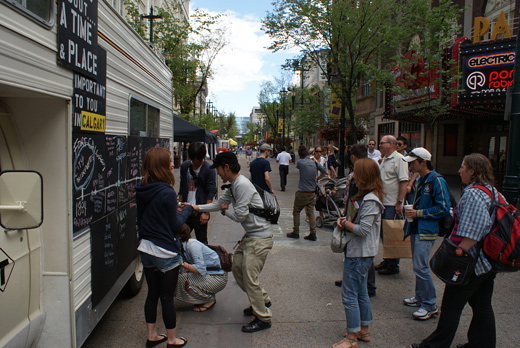 In Japanese, something to the effect of "we were here" is written and this adds to a timeline of the city that would have certainly otherwise not been recorded.
Of course, a city plays host to many people, but again, as we're interested in understanding alternative narratives, it becomes important to read the declaration of being somewhere alongside the site for Canada's first Olympics.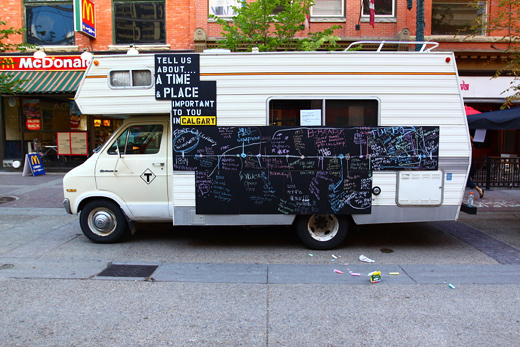 An overview of the CAMPER nearing the end of the afternoon.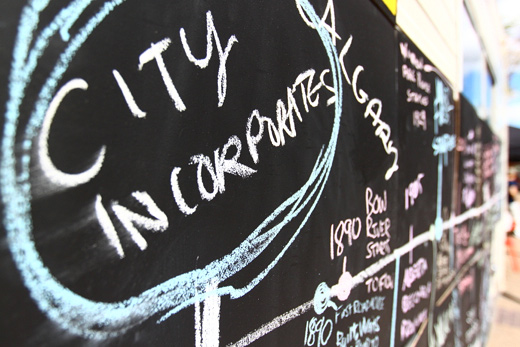 Details.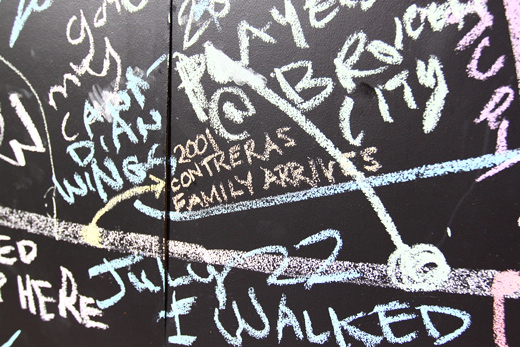 In 2001, the Contreras family arrives.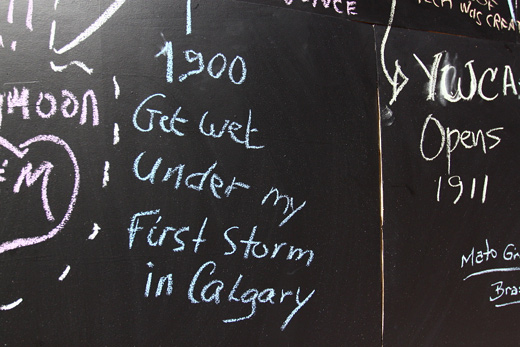 And in possibly in 1900, someone got wet under their first storm in Calgary.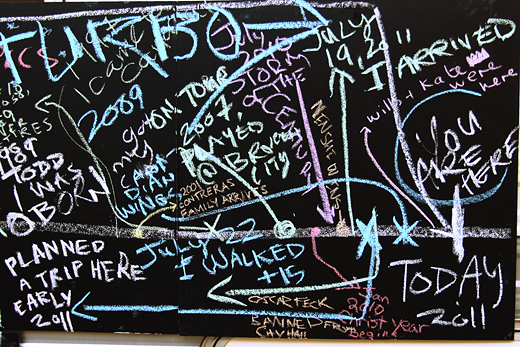 Layers of information, some more well-considered than others, but all part of a messy narrative.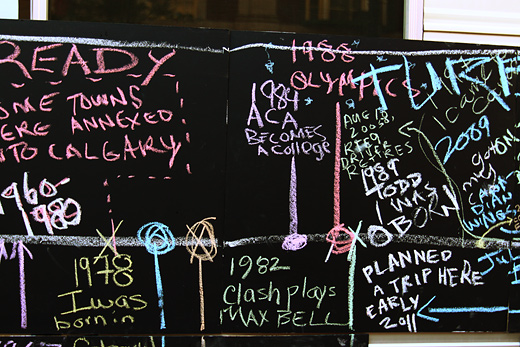 A span on 1960-1980 is established as a time of significant annexation.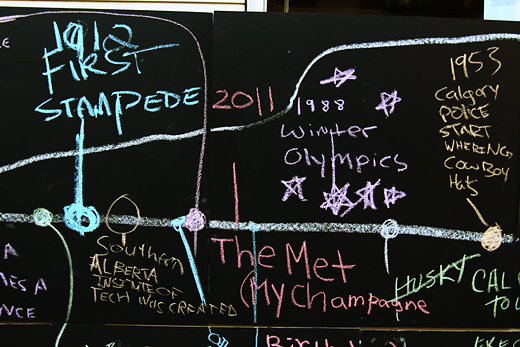 Maybe the first Stampede happened in 1912.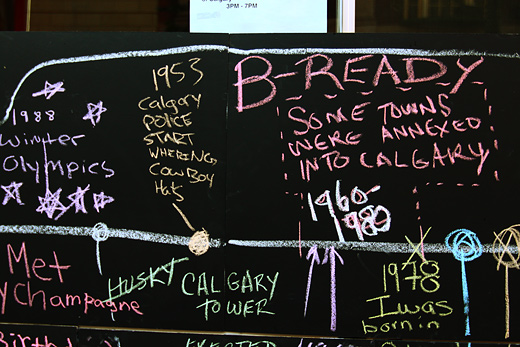 1953 marked the possibility of the police beginning to wear cowboy hats.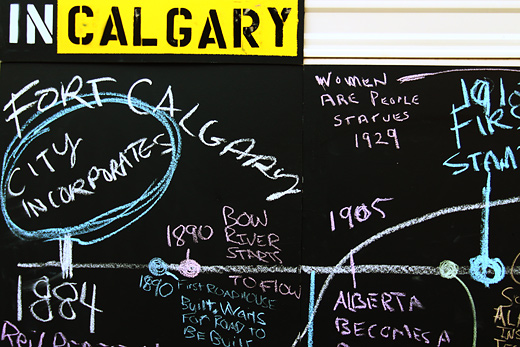 And maybe in 1890, the Bow River started to flow.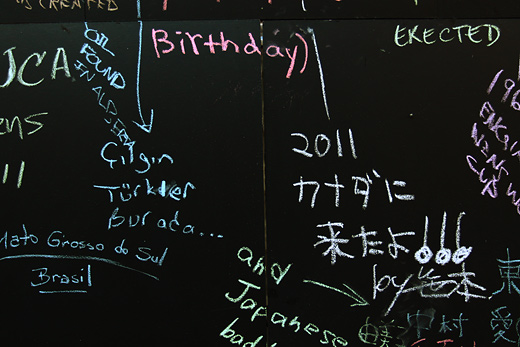 Lots of notes from visitors to Calgary, marking their temporal presence.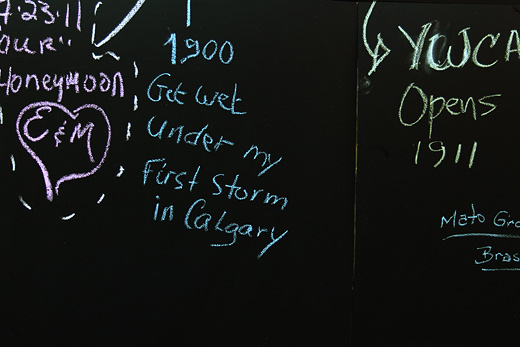 And then a note marking someone's honeymoon.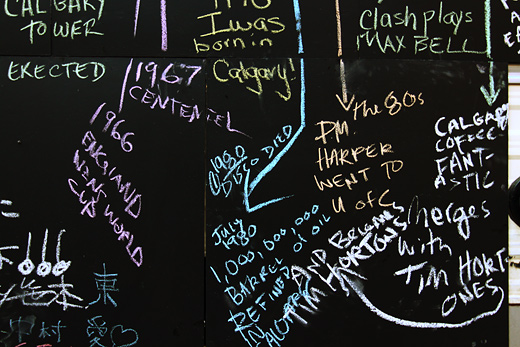 Tales of oil and prime ministers.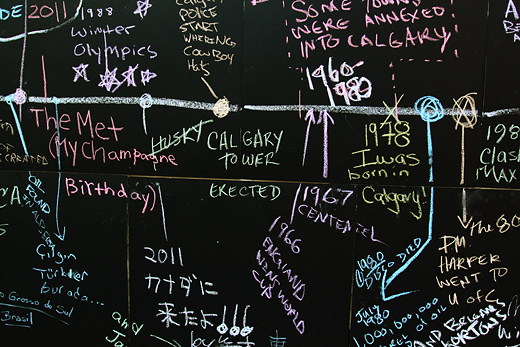 A span of time in which the Calgary (need Husky) Tower was erected.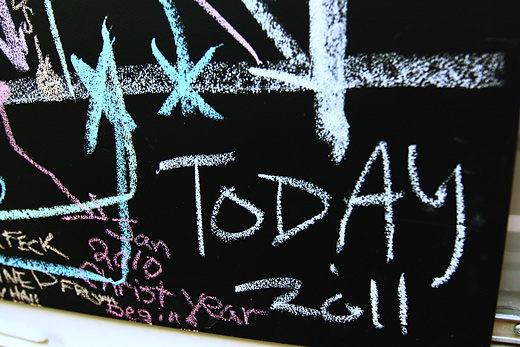 And, perhaps as important as any other day on the timeline, today.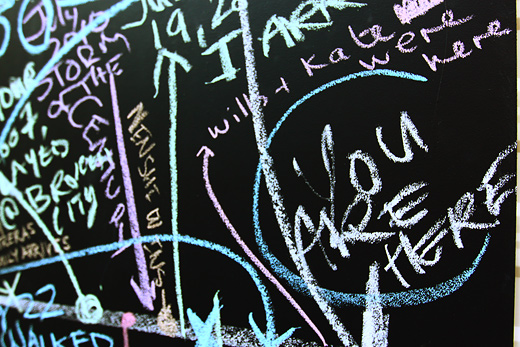 A note about Broken City, the venue, not the artist collective.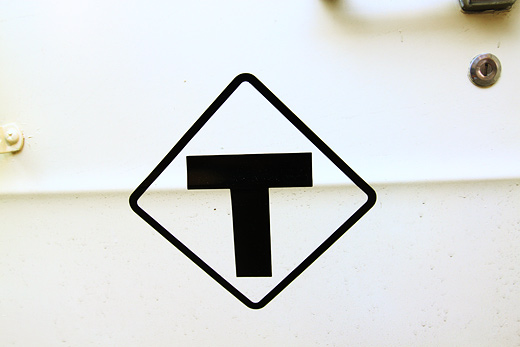 TRUCK.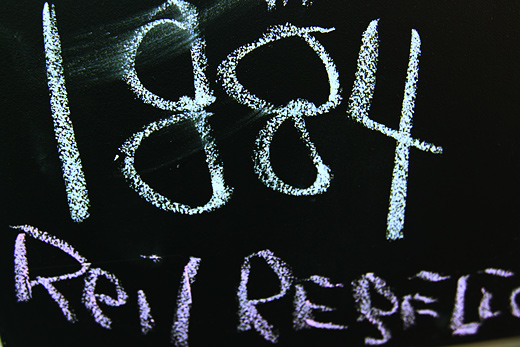 1884's rebellion?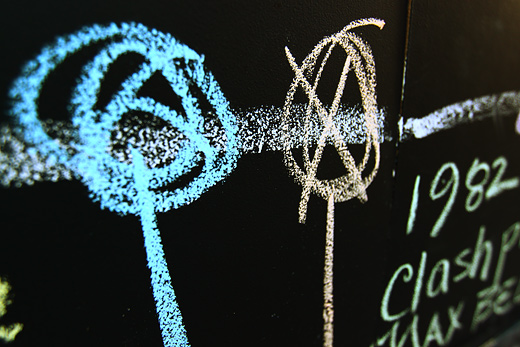 Points on a timeline.
Symbols for temporal intersection.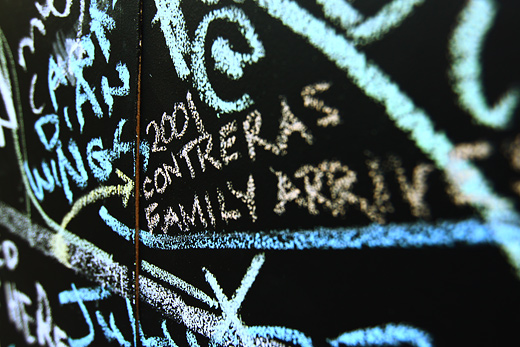 Someone got their "Canadian wings" around 2007.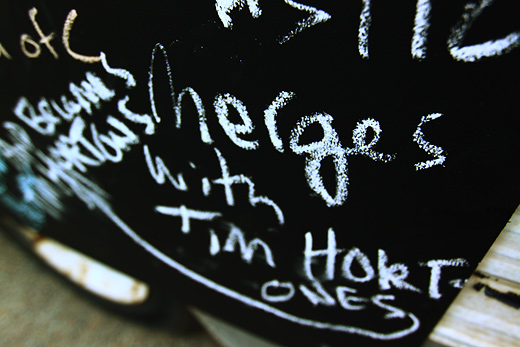 And tales about Tim Horton.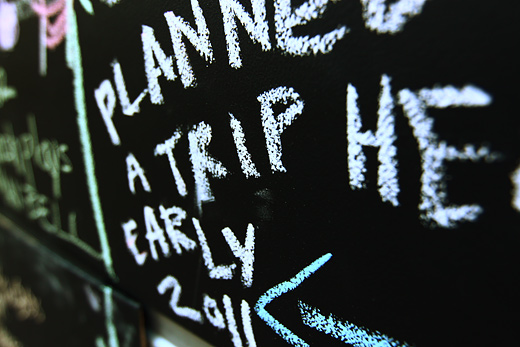 And a note from us, planning a trip to Calgary earlier this year.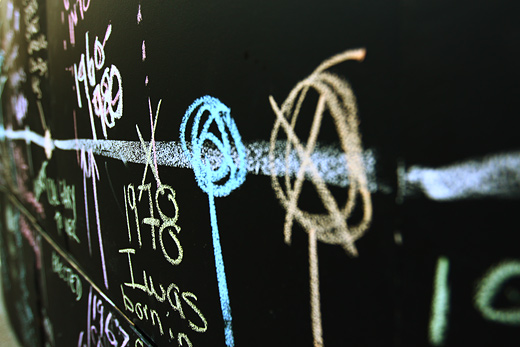 Someone being born in 1978.
Notes.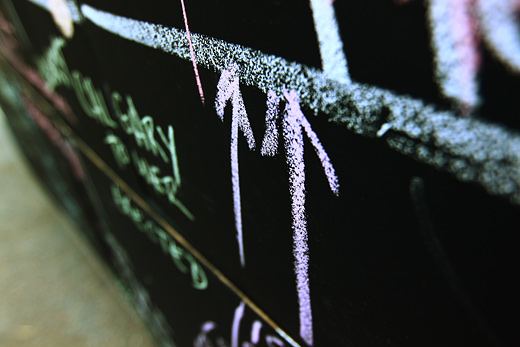 Arrows.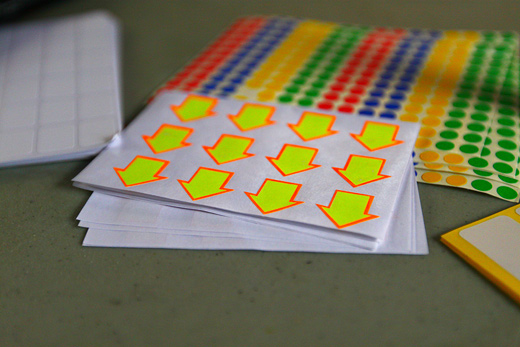 Other arrows we haven't used yet.
Documenting participation alongside our process helps to inform our next steps. It also aids in locating the work, our practice, the art, along the entire process. It's not about the book we're making or the billboards or the questionnaires, but rather, about a process of discovery, or perhaps a practice of curiosity.
Later this week, we'll be doing a set of projections and another event where we'll look for input from Calgarians and then finally launching a publication on Thursday night. In this publication, we're anticipating an articulation of a set of narratives around Calgary, but also a further discussion around short-cuts that we started earlier on. It seems unavoidable to imagine ways around the city that we encounter, that is, ways around the way it is, the stories that get told and the people that in turn enact those stories, all of which comes to actualize this place in all of its intricacies.
So, Josh suggests a +14 system. More soon.