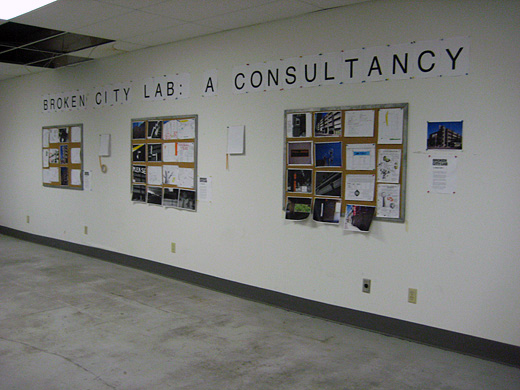 Last night was the opening for a couple of shows connected to the Parking Garage on the corner of Pelissier and Park, including our project, Broken City Lab: A Consultancy. Danielle, Steven, Leesa, and I spent the better part of the afternoon (attempting to dodge the rain) in the space setting up. Along with this wall, Steven set up a Floridian Embassy, and Leesa had a huge number of balloons pushed up against one of the windows and surrounding a small stage.
The work that went into this basically occurred over the last 48 hours. Danielle and I spent Wednesday night drawing, painting, printing, cutting, and gluing, and then Thursday in the space. Thanks to Steven's bulletin, we had a general idea of how to organize the space, but it was really amazing to spend such a concentrated amount of time working in this way alongside Danielle, Steven and Leesa.
Our projects generally get drawn out, just due to the sheer complexities, unknowns, or relationships that need to be developed to pull them off. In this case, we had the space, we had a rough idea, and we had the support to make it happen.
We'll plan to be in and out of the space as much as possible over the coming weeks, hopefully adding to the wall, going deeper into brainstorming on the potentials for the entire buildings, as well as just shifting to conduct our general research in the space.
I'll get some more photos in the daylight soon. In the meantime, you can read a quick one-page statement on the project.