Ailanthus altissima, a name that may not be in any way familiar, though there is a very good chance that a person who lives in the urban centers of Windsor or Detroit sees this "ancient" tree on a daily basis. This tree is known as "Tree of Heaven" or to some "Tree from Hell."
The tree of heaven is a native to northeast China and Taiwan, it thrives in temperate climates and is capable of reaching heights of 15 meters in 25 years, though it has a relatively short lifespan of 50 years. What might be the significance of this tree you may ask. Well, it's on the forefront of the cultural mythos of Detroit's current revitalization.
This is not the first time that the Tree of Heaven has been reclaimed as an icon for cultural growth in circumstances and environments of neglected or "broken" urban centers. In 1943, Betty Smith wrote A Tree Grows in Brooklyn, which features the Tree of Heaven as its main metaphor for "the ability to thrive in a difficult environment."
There's a tree that grows in Brooklyn. Some people call it the Tree of Heaven. No matter where its seed falls, it makes a tree which struggles to reach the sky. It grows in boarded up lots and out of neglected rubbish heaps. It grows up out of cellar gratings. It is the only tree that grows out of cement. It grows lushly…survives without sun, water, and seemingly earth. It would be considered beautiful except that there are too many of it.

–A Tree Grows in Brooklyn, Introduction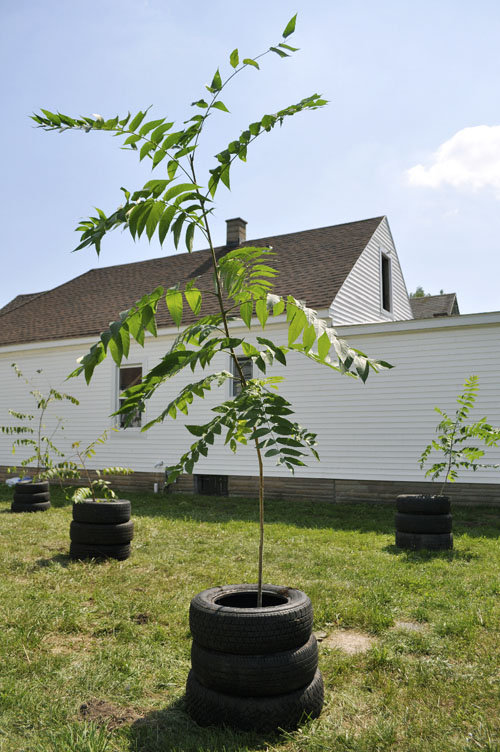 An interesting aspect of the Tree of Heaven's contemporary history is its role in the DETROIT TREE OF HEAVEN WOODSHOP, founded in 2005 by Mitchell Cope, Ingo Vetter and Annette Weisser as a Detroit-based network of artists and non-artists.
The Woodshop works exclusively with wood processed from the Tree of Heaven, a resource unfailing in Detroit. Also known as "ghetto palm", this plant (lat. Ailanthus altissima) populates abandoned lots and deserted factory sites all over Detroit…

Besides its popularity as an exotic addition to parks and gardens, it is highly appreciated in traditional Chinese medicine to cure a wide range of ailments from digestion problems, mental conditions, balding, to asthma and even cancer. But its true qualities show when left unattended: The anarchic invasiveness (that leaves little room for other species to grow in its vicinity) and the ability to thrive on even heavily polluted or dry soils makes the Tree of Heaven a significant plant of post-industrial landscapes.

-Detroit Tree of Heaven Woodshop
This group highlights the significance of this multi-layered metaphorical icon by participating in community based work to international gallery shows in: Hamburg, Stockholm, Eindhoven and Berlin. This group is an inspiring example for community activist and artist collectives to generate international attention to a region while maintaining a strong metaphorical resonance.
So, keep an eye out for this wonder-weed in your community, and maybe, instead of looking in disgust, think of it as a beacon of hope for the seemingly uninhabitable post-industrial wasteland and the resilience of it's citizens.
Below are a few photos recapping the recent activity of the DETROIT TREE OF HEAVEN WOODSHOP. I think these photos give a good glimpse into the diverse process of this group, beginning in the milling of the trees, to their construction into frames and furniture and their national and international gallery work.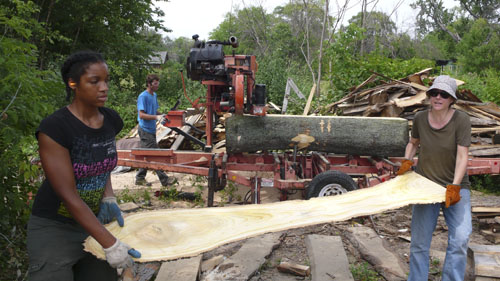 August 2010: Milling at Kevin's place.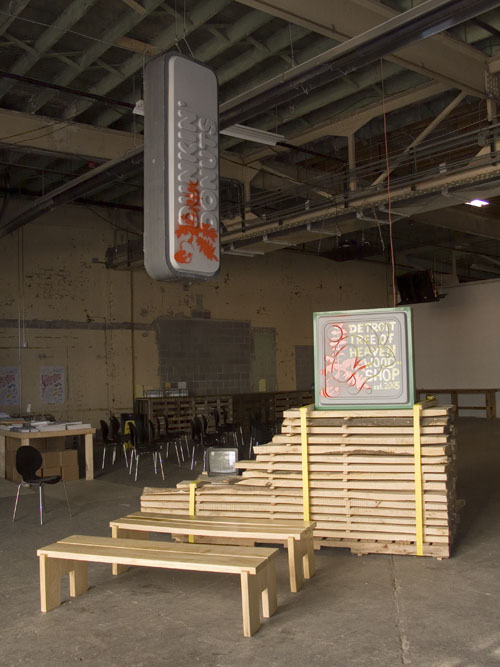 MOCAD Detroit 2007
Two prototypes of the museum bench series, stack of wood, video ("Treespotting in Detroit"), repainted.
Shrinking Cities is a research and exhibition project (2002-08) initiated by Berlin based architect Philipp Oswalt. Four cities have been chosen (besides Detroit, these are Liverpool, UK, Halle/Leipzig, Germany, and Iwanowo, Russia) to investigate the effects of negative growth on communities, ecosystems and city planning. Museum of Contemporary Art Detroit (MoCAD), MI, USA February 3 – April 2, 2007
mocadetroit.org www.shrinkingcities.com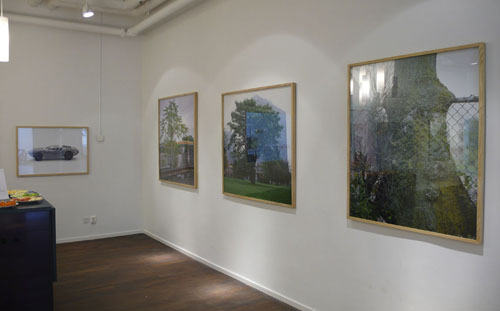 Ingo Vetter presents some photos from the coming "Motorshow" project in collaboration with the Detroit Tree of Heaven Woodshop. Iaspis, Stockholm, Sweden March 26 & 27, 2010.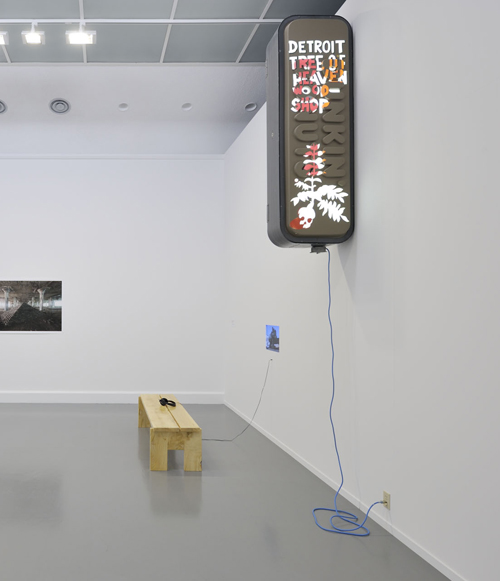 Heartland is an interdisciplinary project which reflects on the visual culture, art and music of the heart of the United States. The Detroit Tree of Heaven Woodshop contributed with an installation with six museum benches, a tree spotting video and an overpainted illuminated sign. Van Abbemuseum, Eindhoven, The Netherlands October 4, 2008 – January 25, 2009.
All photos were taken from the DETROIT TREE OF HEAVEN WOODSHOP website.