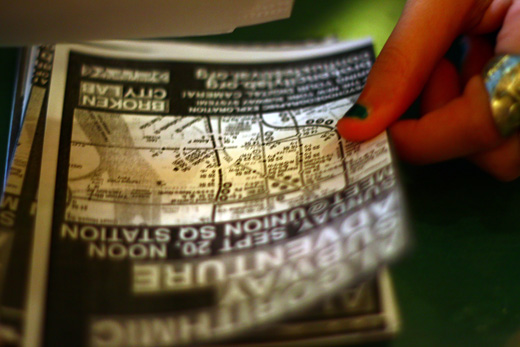 Day 2 of our trek to New York was filled with excellent adventures, some more great lectures, and lots of discussion. It was amazing to get to see some of the artists we've talked about before right here on the blog, and it continued to inform what we were continuing to try to define as our collective practice.
It's already been five days since these pictures were taken, so I hope you'll excuse my poor memory for some of what we saw.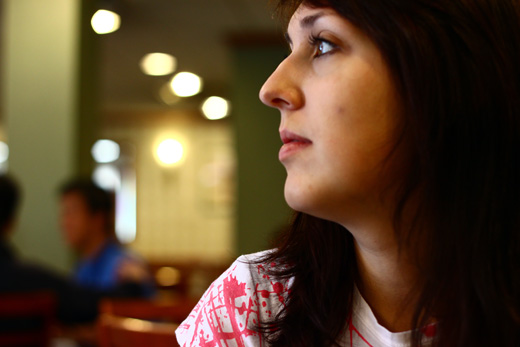 First things first, we needed some Saturday morning breakfast.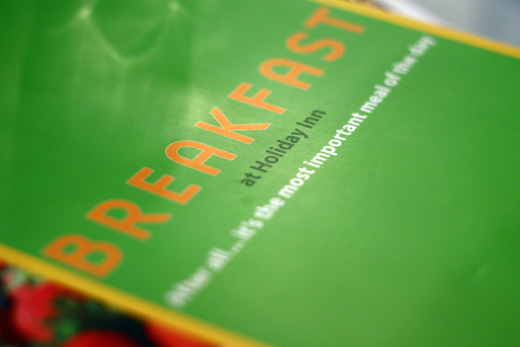 We slept in and so we got a bit lazy with our first meal, deciding on the hotel restaurant.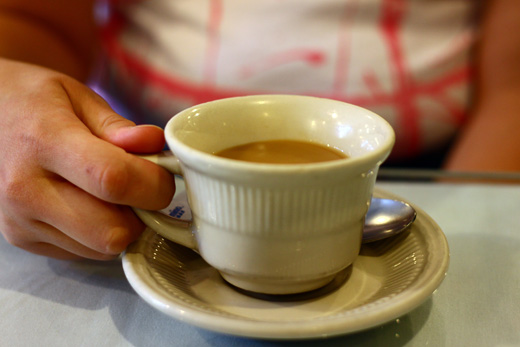 It was overpriced, but too easy to pass up. We spent a good amount of time reviewing some of the lectures we saw the day before and figuring out why we try to do what we do and trying to figure out where we place value in what we do.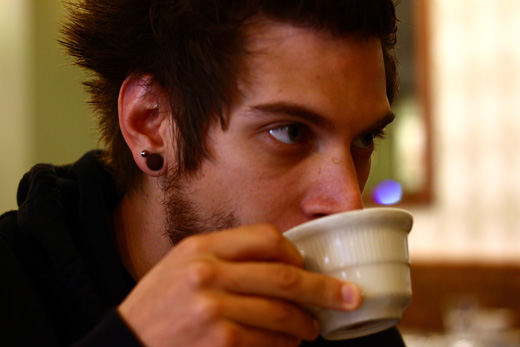 Oh, and our coffee had "30% Rainforest Alliance certified content" … we hadn't realized 30% was worth celebrating.
After breakfast, we headed to the subway.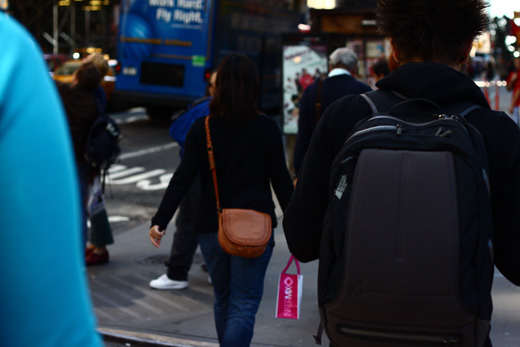 It was on the way to the subway that we passed a huge street market.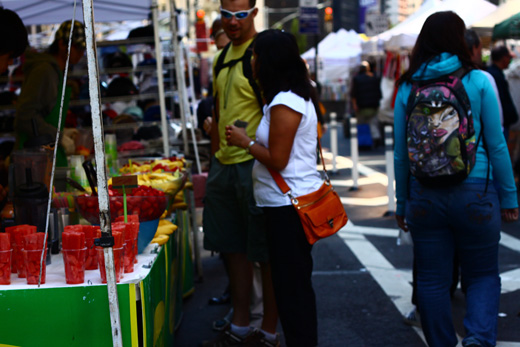 And we realized that that table with the fresh fruit on it would have to be our breakfast the next day.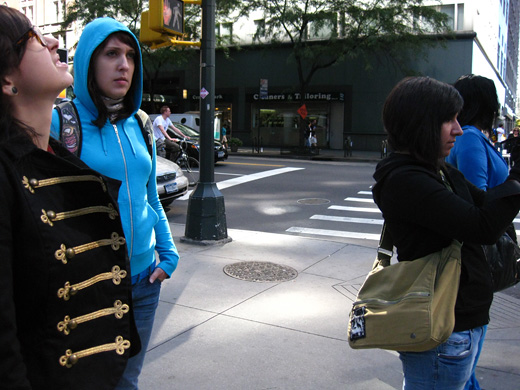 There were also $2 I ♥ NY shirts at that market, but they seemed sketchy. How can t-shirts cost $2?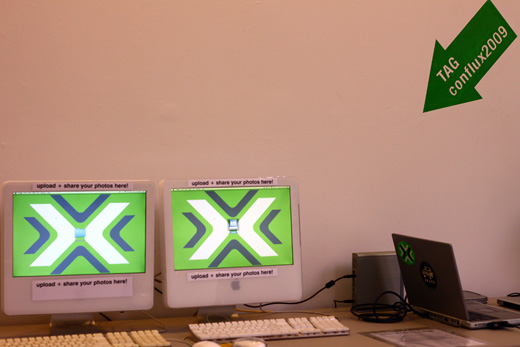 We headed to Conflux HQ to catch the first lectures of the day.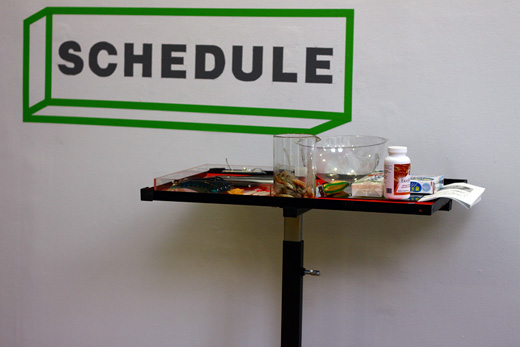 Below the schedule sign, Natalie Jeremijenko's table of science.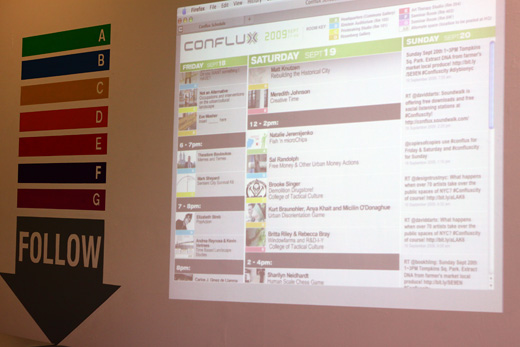 The gallery that housed Conflux HQ at NYU was setup as a hub basically filled with information and lines guiding everyone through the rest of the building.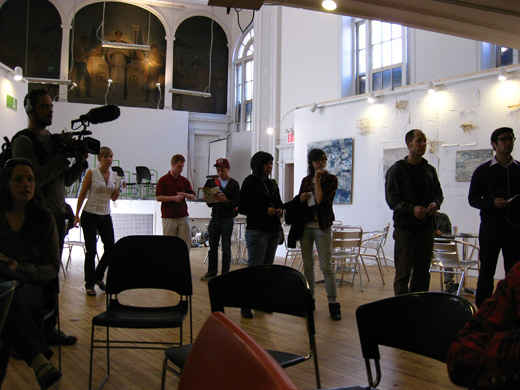 Cristina and Danielle wait for the Jeremijenko talk / workshop to begin.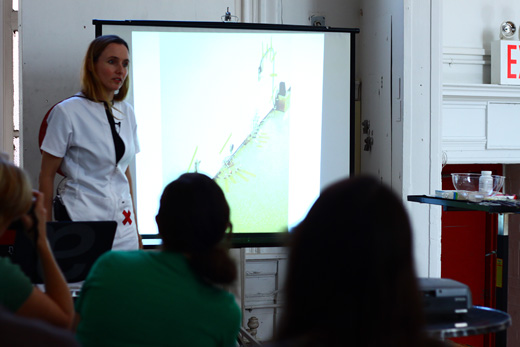 Jeremijenko presenting, unfortunately just on the other side of the gallery from another talk going on at the same time. Scheduling around the entire festival was a bit odd, but this one was really tough—both presentations had to politely fight for volume for their audiences.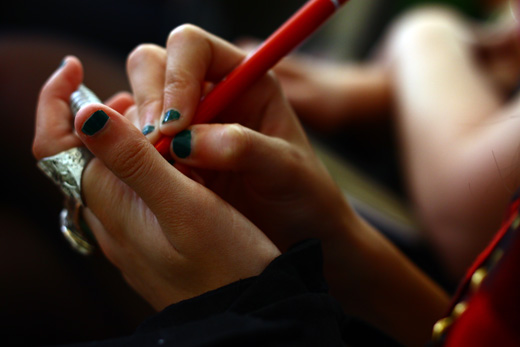 Danielle took lots of notes, we should scan them.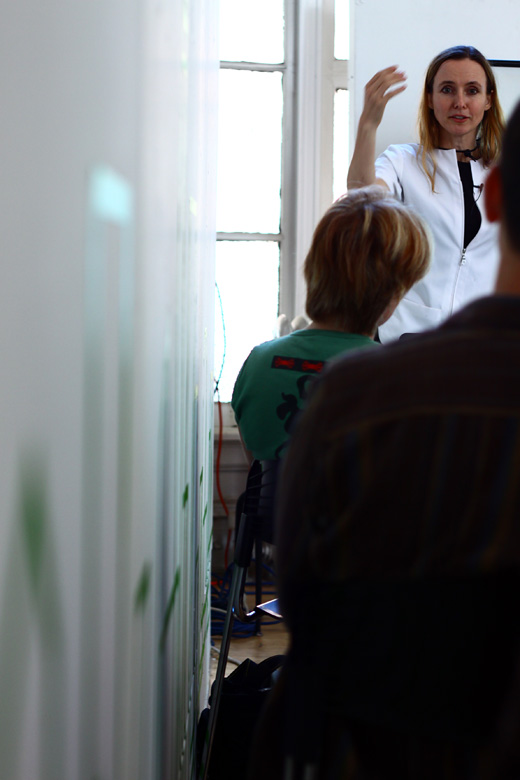 Jeremijenko talked about a project called, Fish 'n microChips, an environmental monitoring project that allows information sharing between fish-monitoring buoys and "homo-citizens."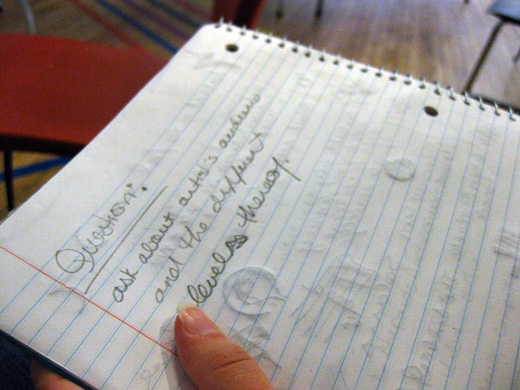 Meanwhile, Michelle looks over some notes from our breakfast conversation.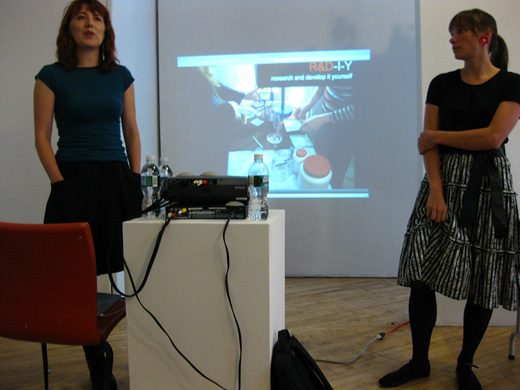 And because of the strange scheduling that I mentioned above, Michelle and I took in the talk from former Eyebeam-residents, Britta Riley and Rebecca Bray, on their project Windowfarms. It was great to see this presentation in person, given that I've read about their work in the past, but the content was similar (and therefore we were all interested in seeing both of these talks) and they were scheduled at the same time (in the same space) as Jeremijenko. We all took good notes to compare later though.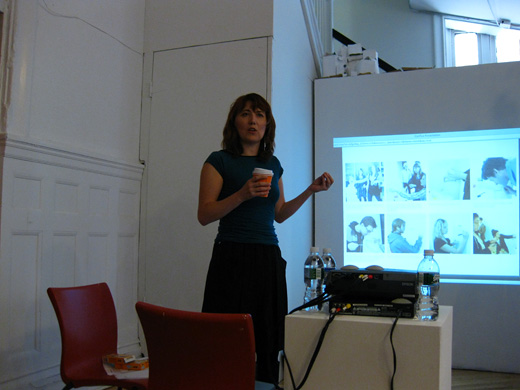 Riley and Bray talked about R&D.I.Y. processes (that is, Research and Develop It Yourself), which directly informed the Windowfarms project.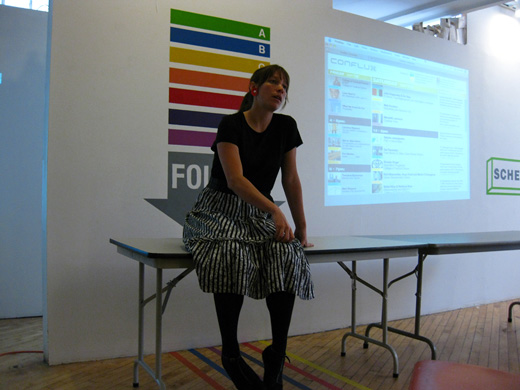 The methodology seemed similar to the way that we tackle projects, and the project itself is really interesting. Windowfarms uses a number of recycled / repurposed materials to grow vegetables hydroponically through vertically-oriented gardens.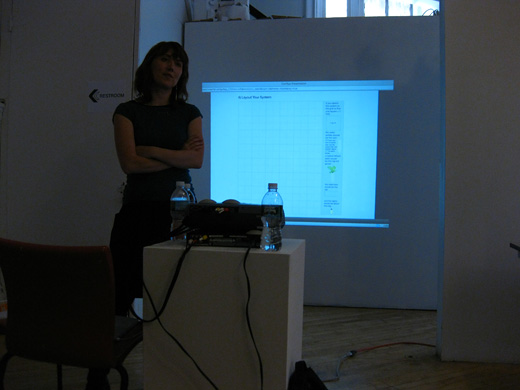 Much of the development of the project was through trial and error and done with the help of their website for the project. They're also working with a creative commons license, and so they've employed the (maybe too-) oft-used idea of crowdsourcing.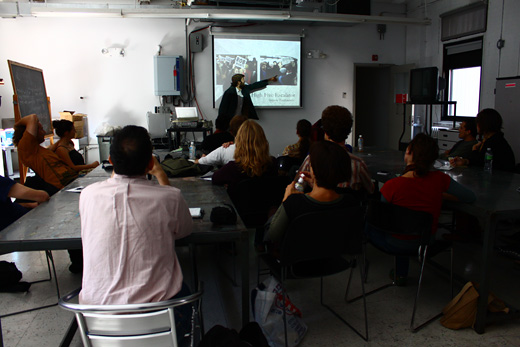 Later in the afternoon we attended what we figured would be an interesting talk called, Urban Alchemy by Jason Eppink. It turned out to be just a presentation on many of the projects we've blogged about on here before, and of course, alchemy was used metaphorically.
Outside and across from the art building—oh, so this is what a neighbourhood surrounding a visual arts school can look like.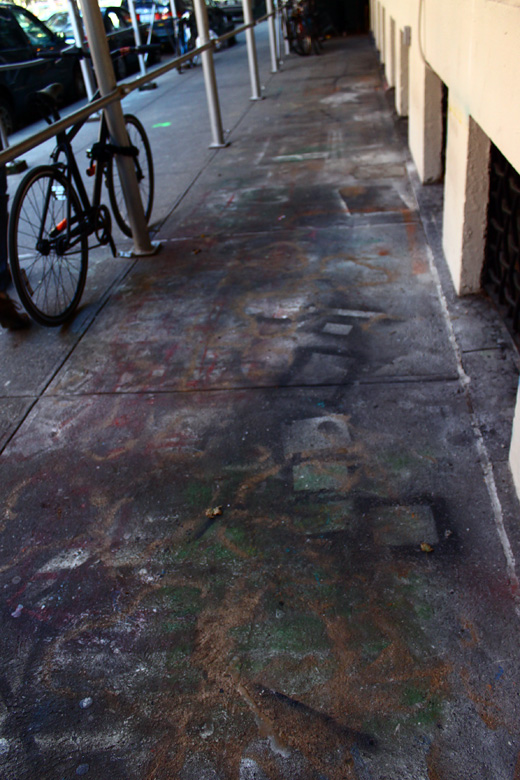 The sidewalk along the art building.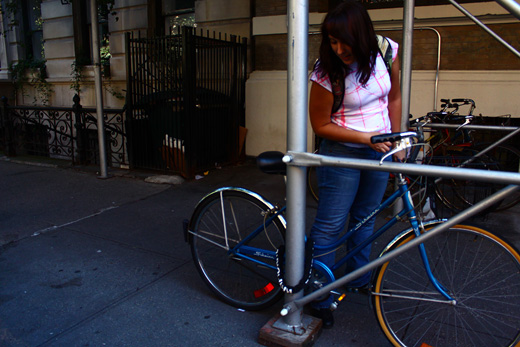 Michelle found her bike's doppelganger.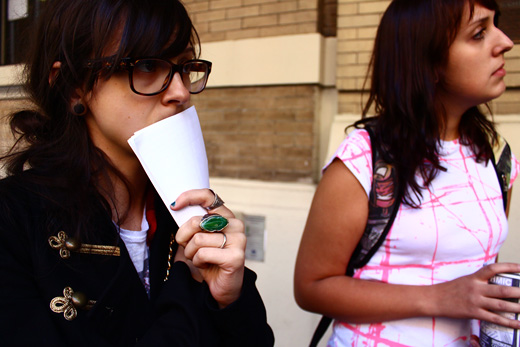 Danielle and Michelle waiting for folks to come out of the building to pass out some of our flyers.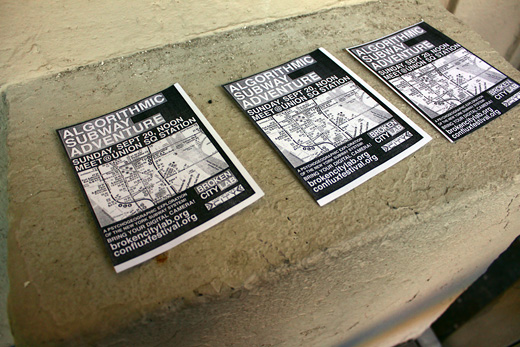 We also left some by the door.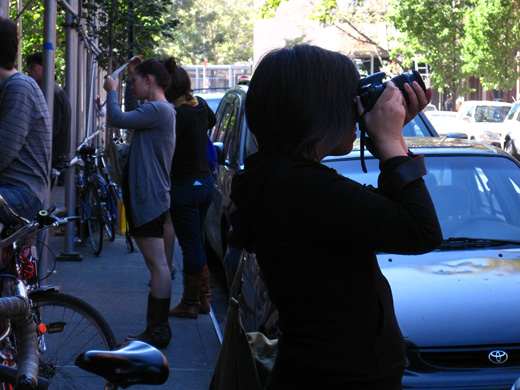 Cristina taking in the neighbourhood.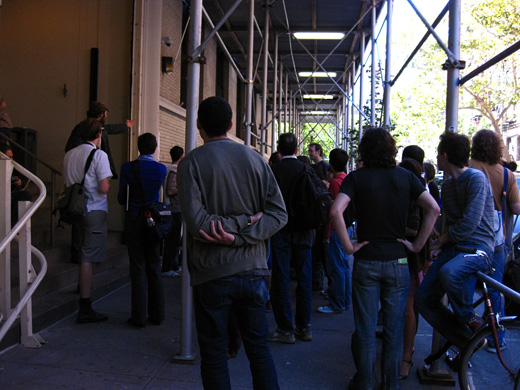 The Urban Alchemy talk continued outside where ideas were invented on the spot about how to mediate urban infrastructure with creative intervention…. ahhh, there's the alchemy part.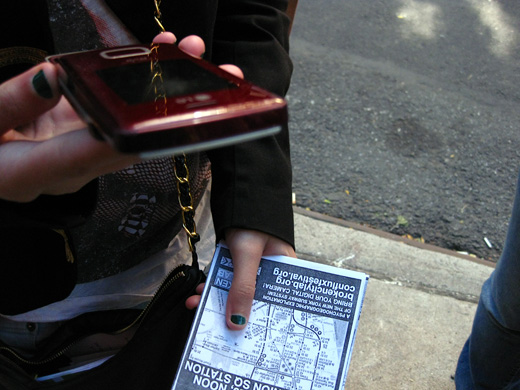 Danielle checking the time, not entirely convinced by the Urban Alchemists.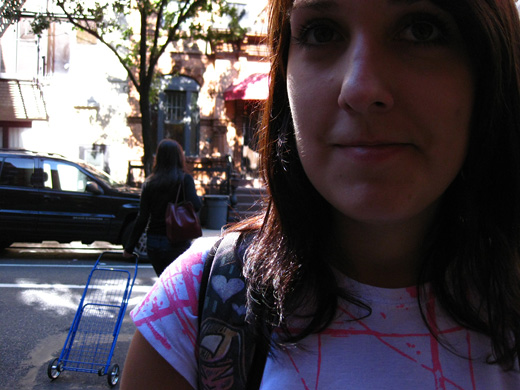 Michelle feeling much the same.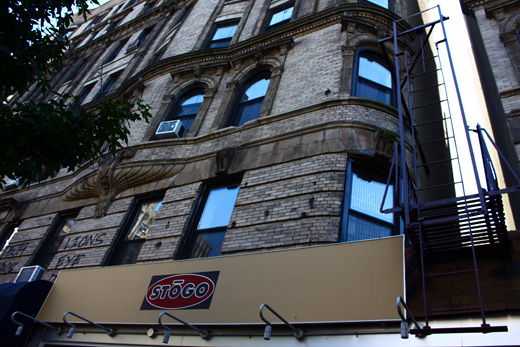 However, we continued on the walk for a while, more interested in the way that Eppink facilitated the exercise than what came out of it. Above, one of the examined infrastructures—a fire escape ladder.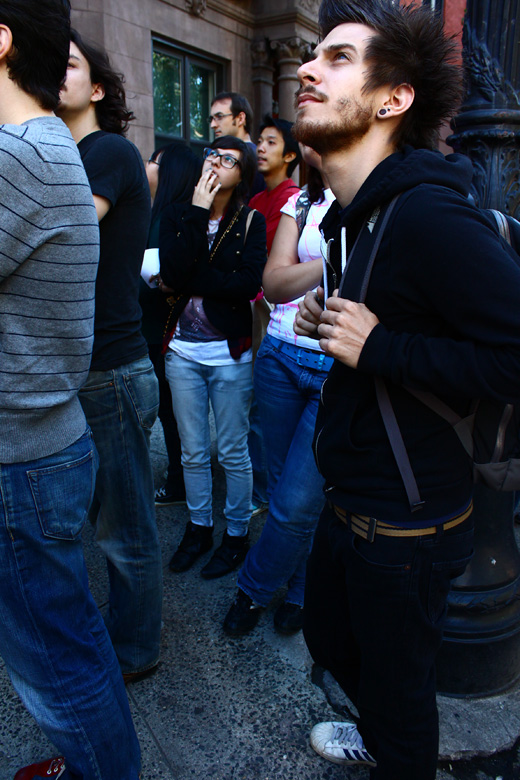 Looking up at the fire escape with some sense of wonder.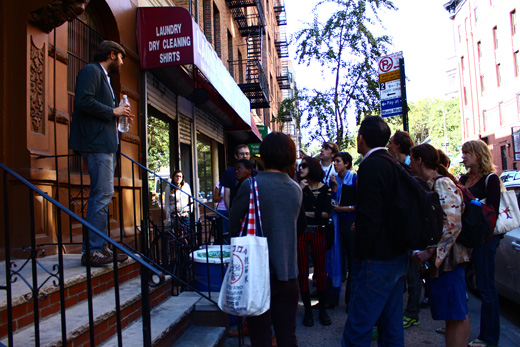 The walk continued to the front of an apartment building with suggestions of methods to intervene with apartment directories / buzzers.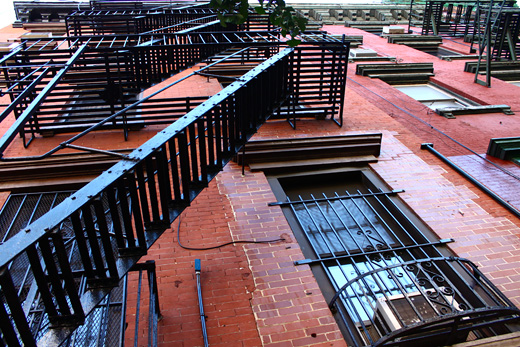 Fire-escapes and barred windows—further potential for creative intervention.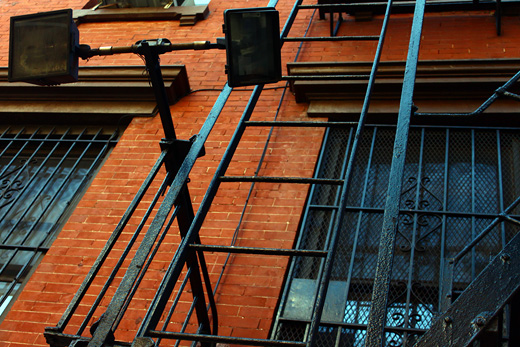 Suggestions of anthropomorphizing everyday objects… and at that point, we left for lunch.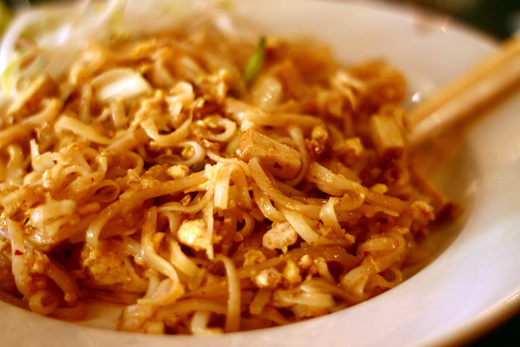 Pad thai in a place that sat about 10 people = amazing.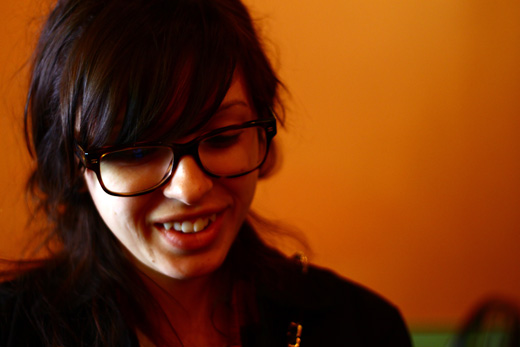 Danielle looking through her notes.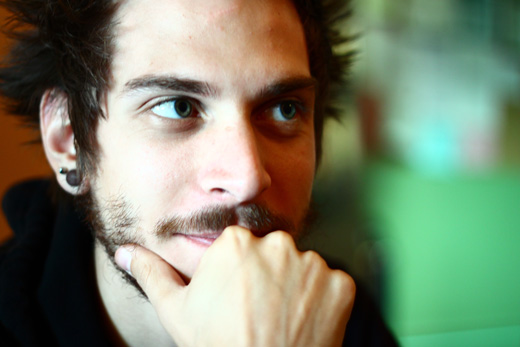 I was listening to Michelle, I think.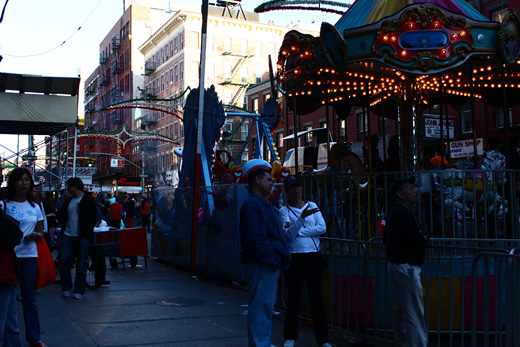 Later on in the day as we made our way further south, we saw a street carnival.
A ferris wheel on a street.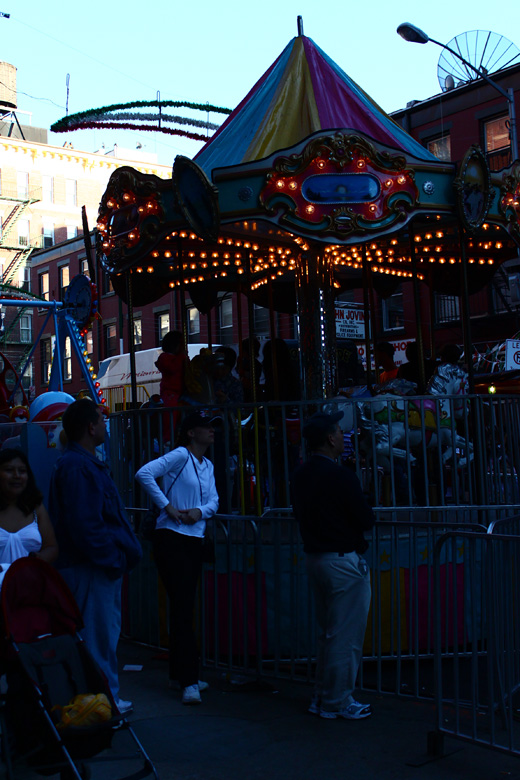 A carousel—I loved seeing streets jam packed with people and plastic horses taking the place of traffic.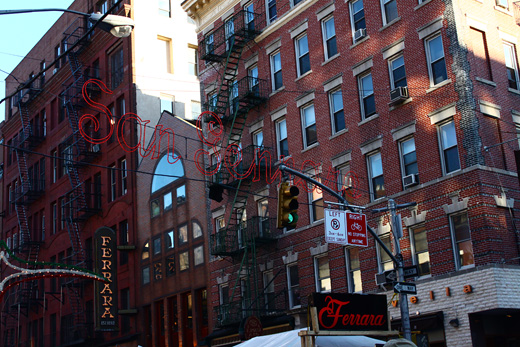 Some interesting presentation of text—across the somewhat ubiquitous and therefore unquestionably important wires stretched over the street itself.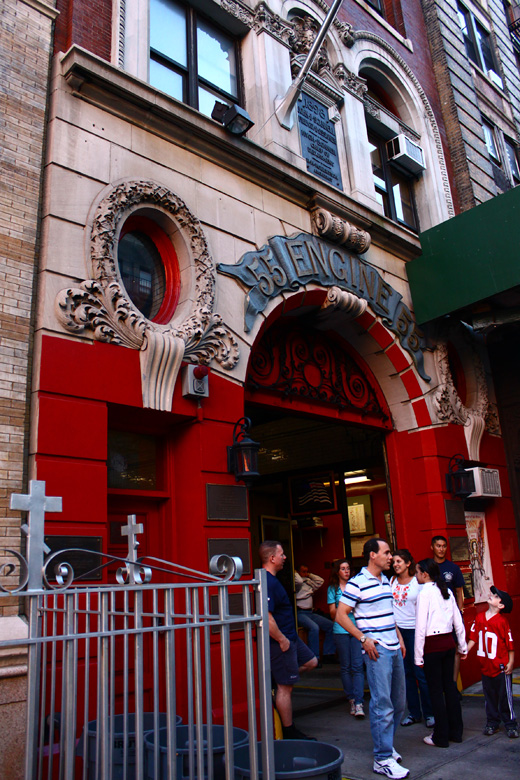 This was the coolest firehouse we saw.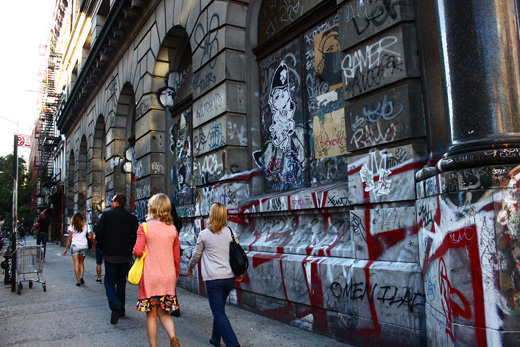 This was by far the most graffiti we saw. The amount of construction amazed me, and yet seeing this building, which would be hugely architecturally significant in Windsor nearly abandoned there was very curious to me.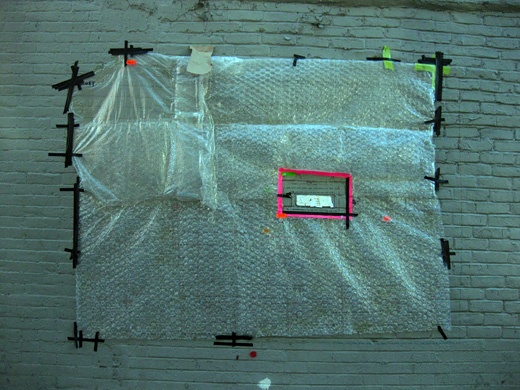 On another wall down another street I can't remember was this.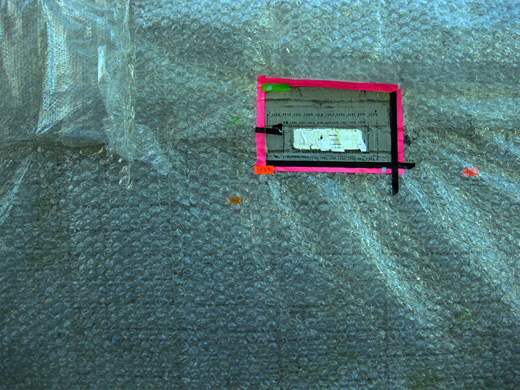 Bubble wrap, tape, and numbers.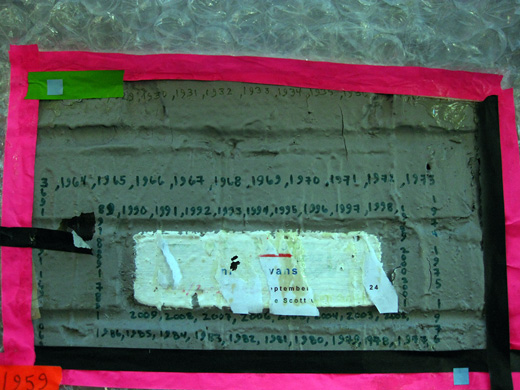 It was next to a gallery I think, which made me less curious about it.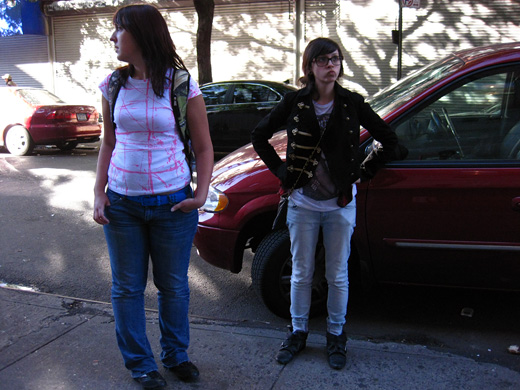 Michelle and Danielle deciding where we might go next.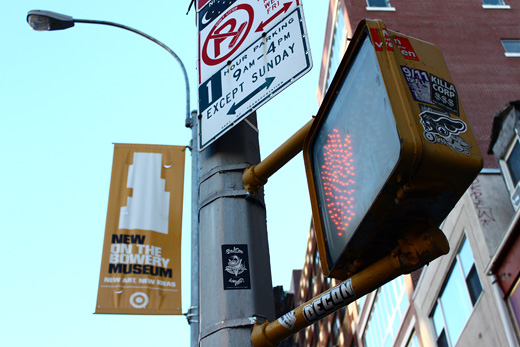 Near the New Museum.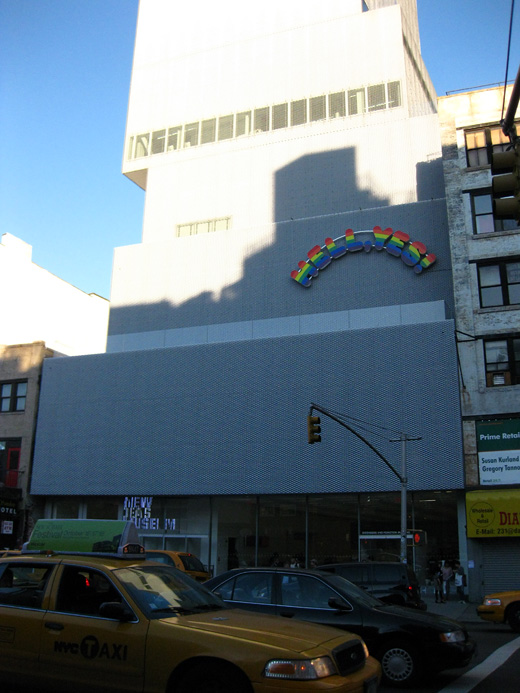 Ugo Rondinone – Hell, Yes!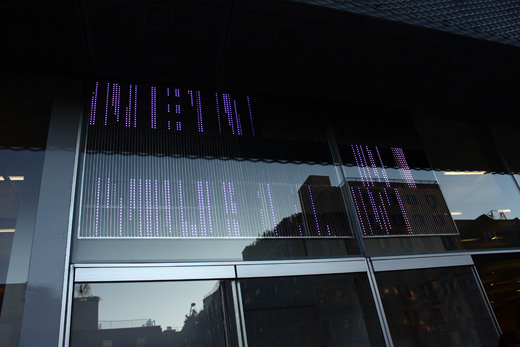 A sign that doesn't photograph so well, but in real-life is an interesting way to use LEDs to create moving text.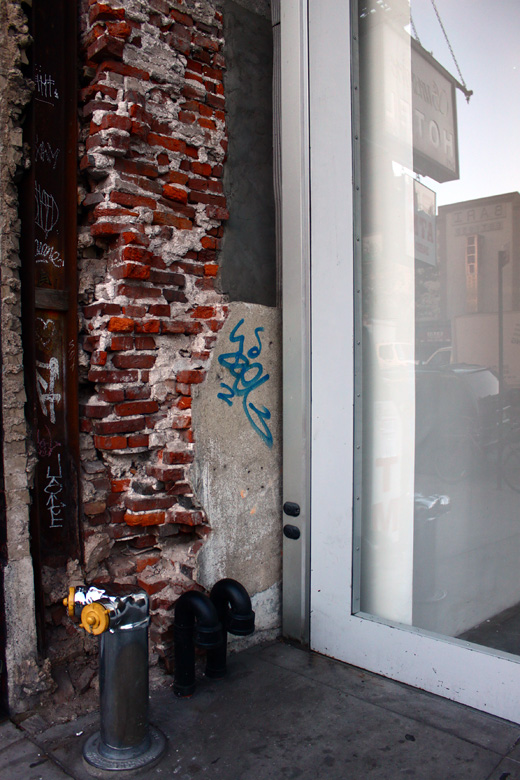 Right next to the New Museum—this wall.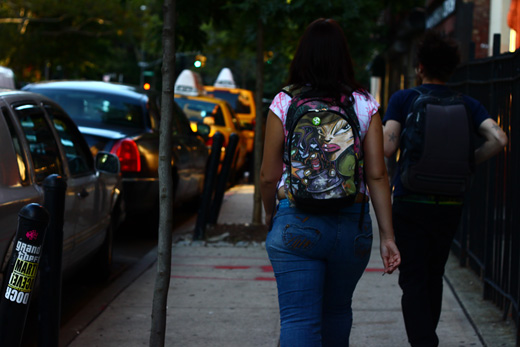 Nearing dusk, we continued our travels.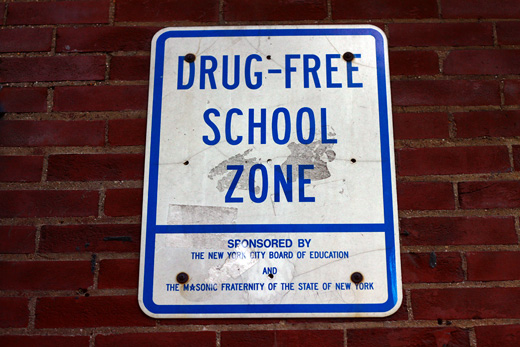 When do signs stop working?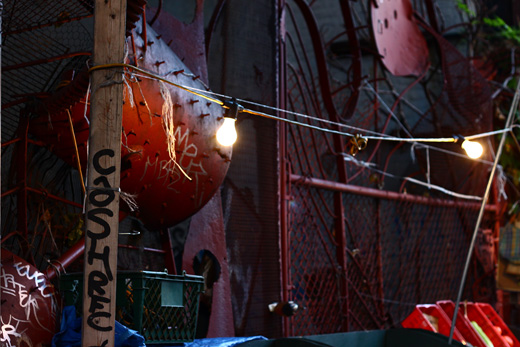 This fence sculpture stood between two buildings and between them was what looked to be an overgrown park.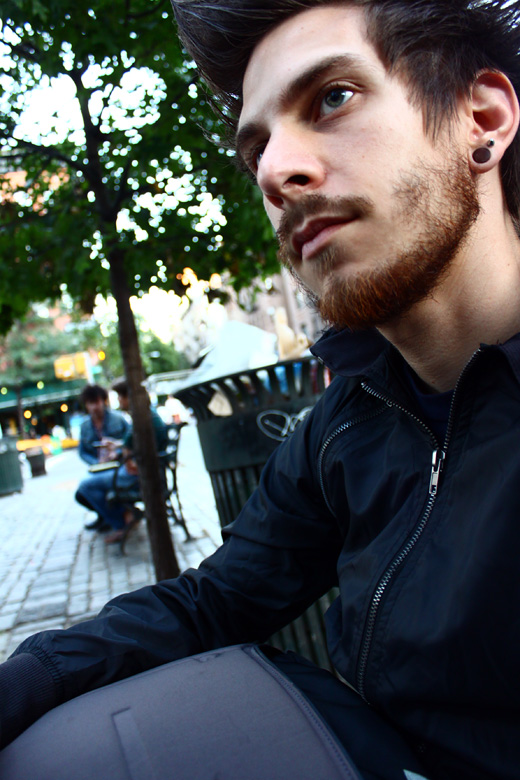 After lots of walking, a rest near Conflux HQ.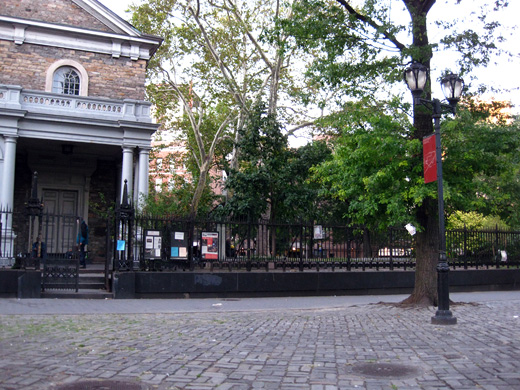 This sits on the corner of a busy street (I can't remember which one), but it's lovely.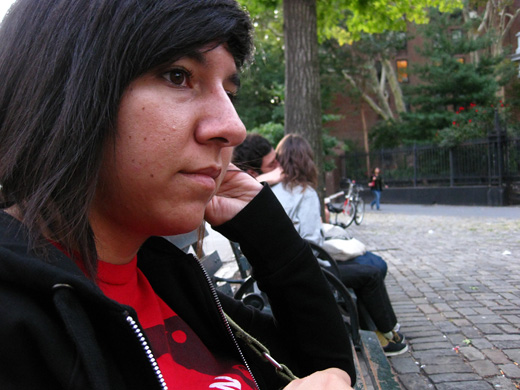 Cristina was probably a bit tired.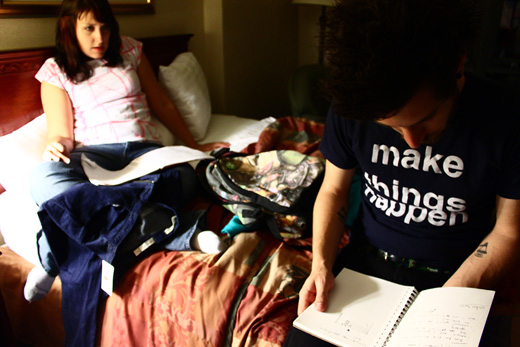 Back in our hotel, going over our plans for our algorithm, it was a long night preparing for our subway adventure the next day.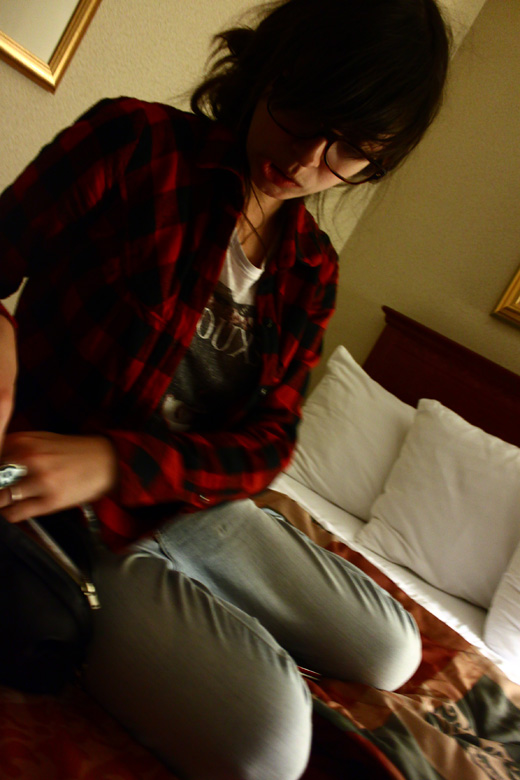 Danielle researching subway folklore.
Day 2 of our New York trek was exhausting and well worth it. The presentations were done for the weekend, and we wished we had caught more, or that the scheduling had allowed less overlap, but ultimately, it drove us into a number of really, really, really good discussions about our practice and our work so far and that alone would have made the trip worthwhile.
I have one more day of our trip to Conflux 2009 to post about, hopefully sometime over the weekend.