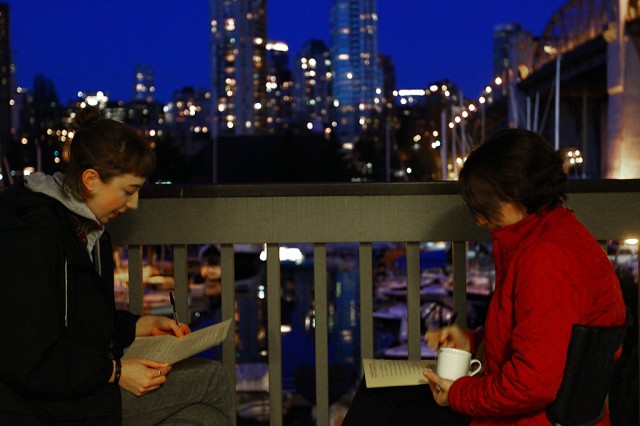 Above: Caitlin and Lois exchanging answers to a series of fill-in-the-blank questions
We're currently artists in residence at the Burrard Marina Field House, aka the Contemporary Art Gallery's Field House Studio and our work continues until the end of April.
Our four month project, Flagged for Review is based on imagining the symbolic and lived potential of a city. We're wondering what we might expect from a city that could establish its policies, identity and politics around a range of challenging (or inspiring) values. This line of inquiry will inform our production a series of flags that will be installed in and around the Field House and throughout the city in the coming month(s).
On Tuesday nights, we've been hosting an ongoing open house at the Field House Studio to run in parallel to the production aspect of the residency. We began on March 18th with interviews, followed by a night of intimate conversations on the values and challenges of collectivity, and then this week, a projection-workshop / performance.
We were incredibly happy to host such an incredibly generous group on Tuesday (huge thanks to Shaun, Caitlin, Jackie, Hiba, Kristen, Carmen, Camilla, Shaun, Heidi, Rebecca, Lois, and Caitlin)! We gathered to imagine what the future holds for the city and then create a series of short declarations to project onto the Burrard Bridge that animate our hopes, doubts and dreams for the short and long-term horizons of Vancouver.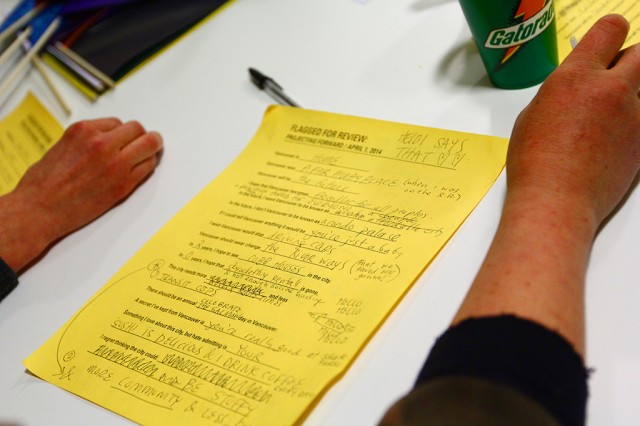 Around the table, we asked everyone to pair up and go through this sheet together.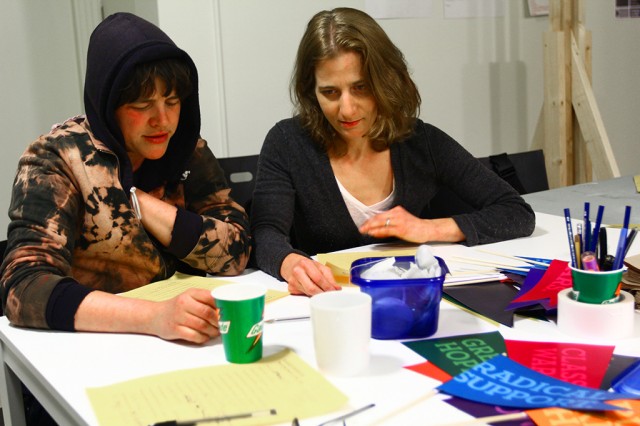 Heidi and Rebecca filling in the blanks we left.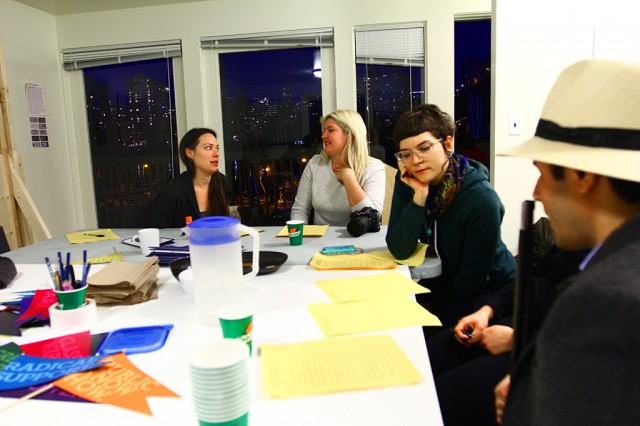 Kristen, Caitlin, Jackie, Hiba, and Carmen sharing around the mega table.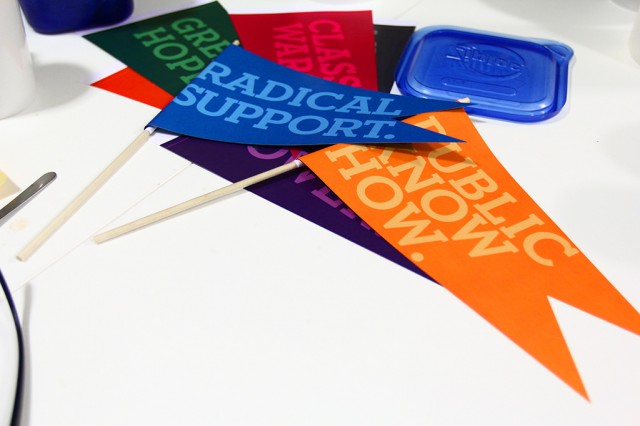 We've also started doing some tests of some mini-flags that we're completing for the Canadian Art Foundation Gallery Hop Vancouver.  These will be a limited-edition set of flags (mini versions of the much larger ones we'll print later on this month) that will be available at the Contemporary Art Gallery as well as participating Hop galleries.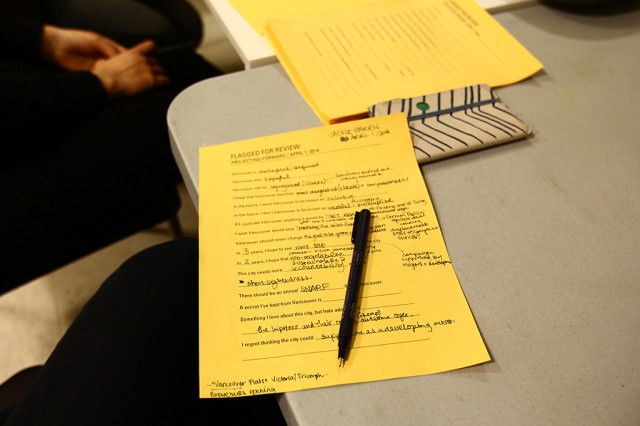 The sheets were mostly filled out as it started to get dark, which was great timing. We were going to translate these answers into short texts to project onto the Burrard Bridge. We went around the table and read the answers we had collected aloud.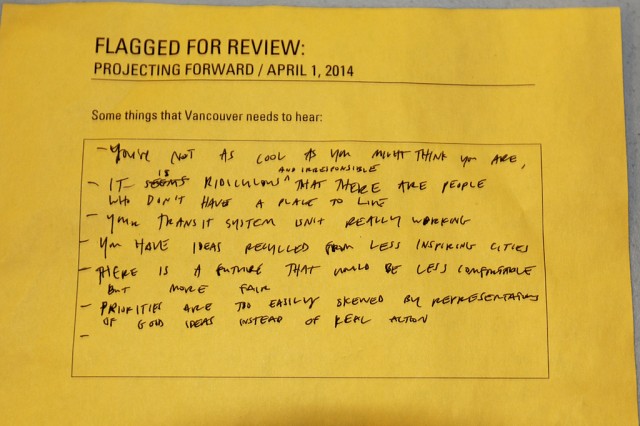 Some things that Vancouver needs to hear…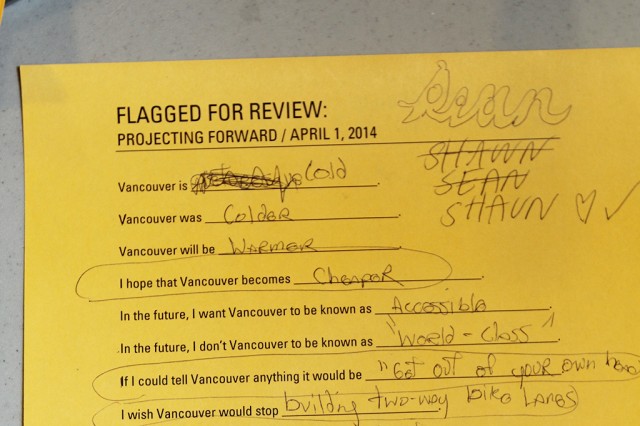 Vancouver is ________________.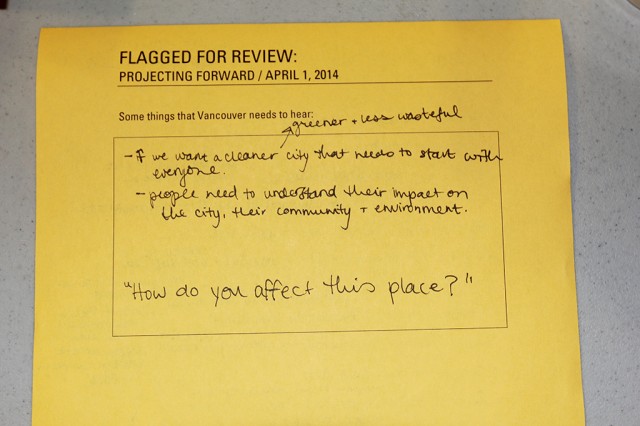 How do you affect this place?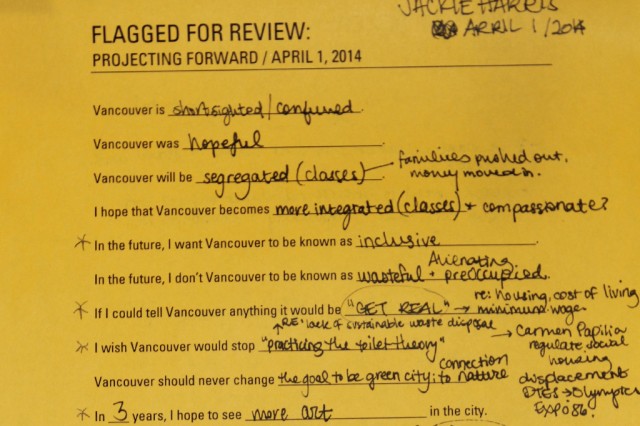 Vancouver was ____________________.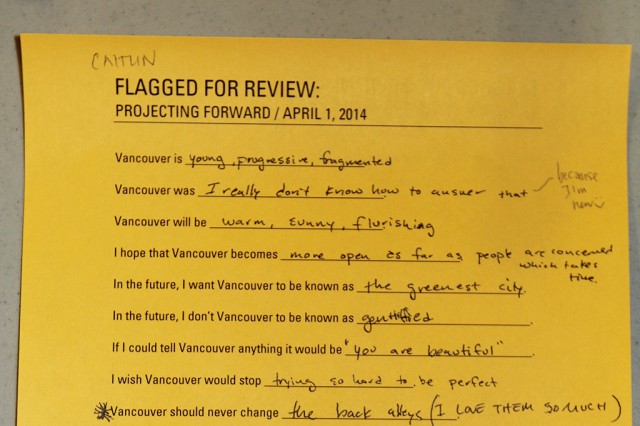 I wish Vancouver would stop ____________________.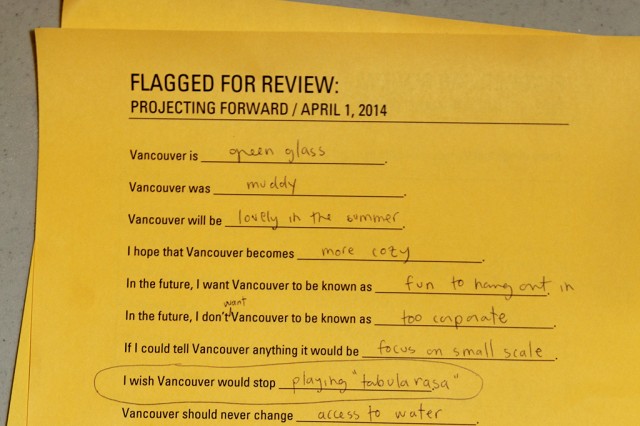 If I could tell Vancouver anything it would be ______________________.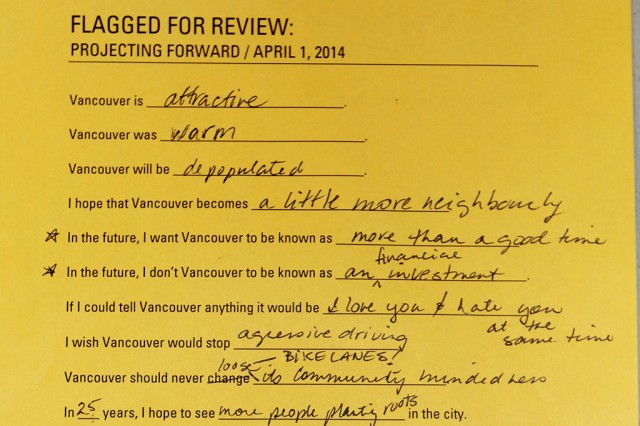 In the future, I don't want Vancouver to be known as ________________________.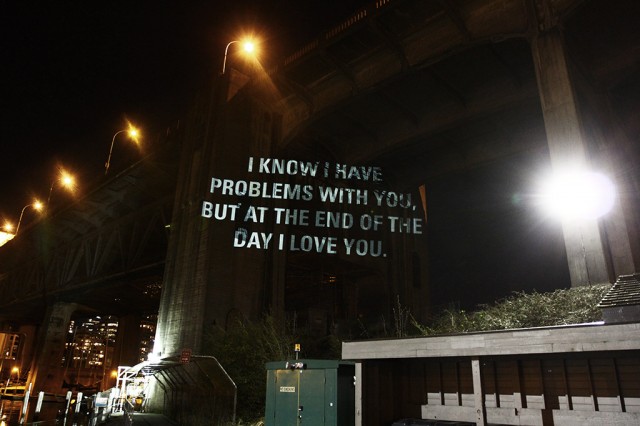 And then, we stared the projections. We used our trusty 5000 lumens Epson projector.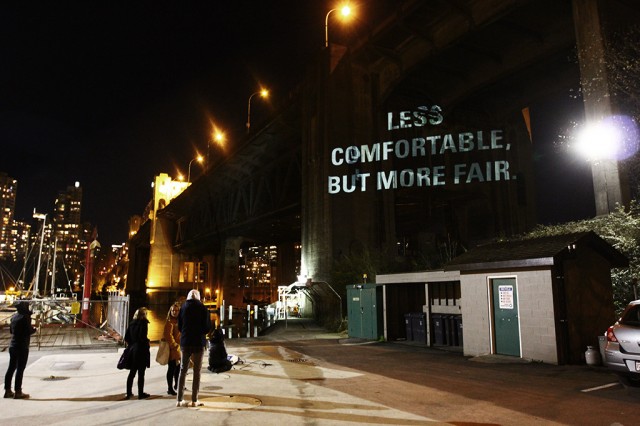 We didn't project every message or answer.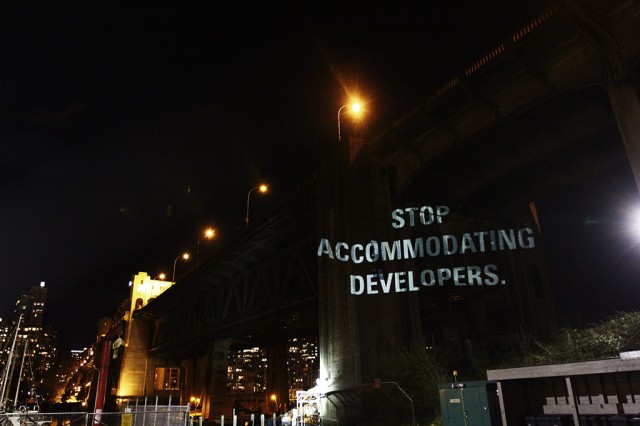 But we tried to capture the ones that seemed to be represent everyone's answers or sensibilities.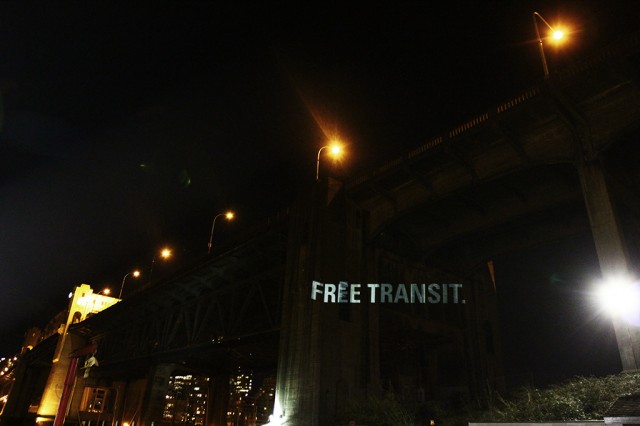 FREE TRANSIT.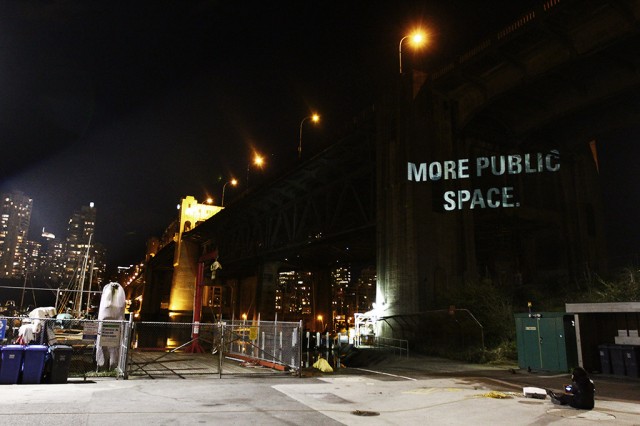 MORE PUBLIC SPACE.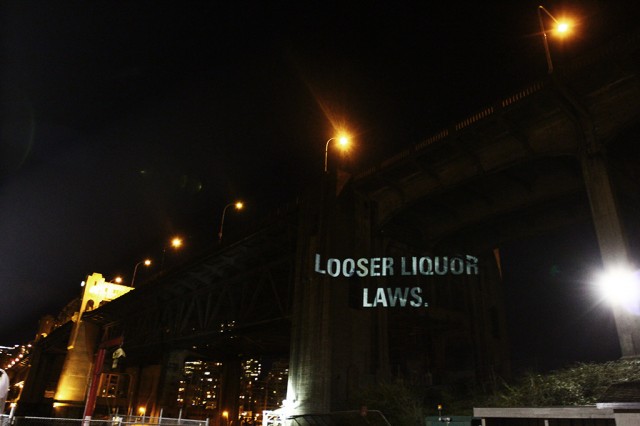 LOOSER LIQUOR LAWS.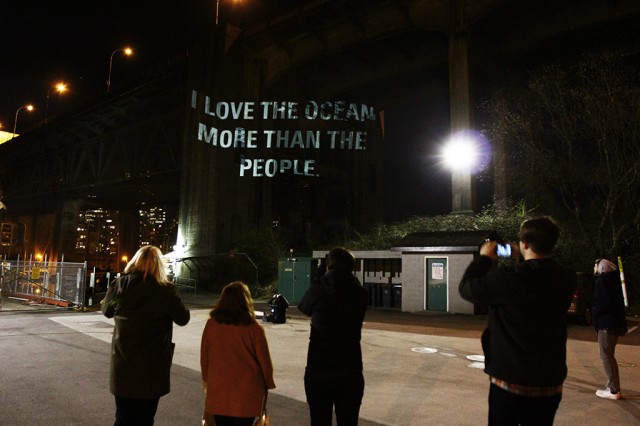 I LOVE THE OCEAN MORE THAN THE PEOPLE.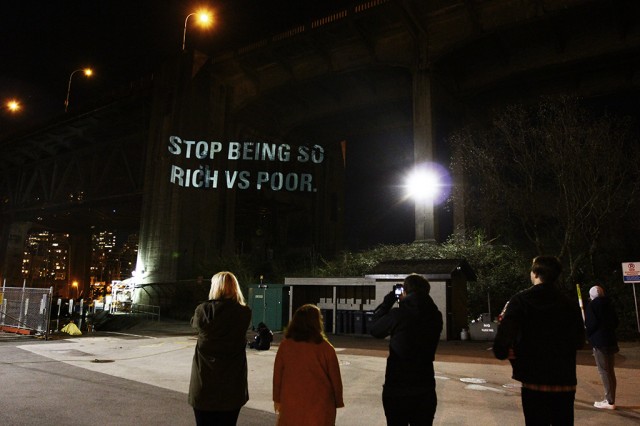 STOP BEING SO RICH VS POOR.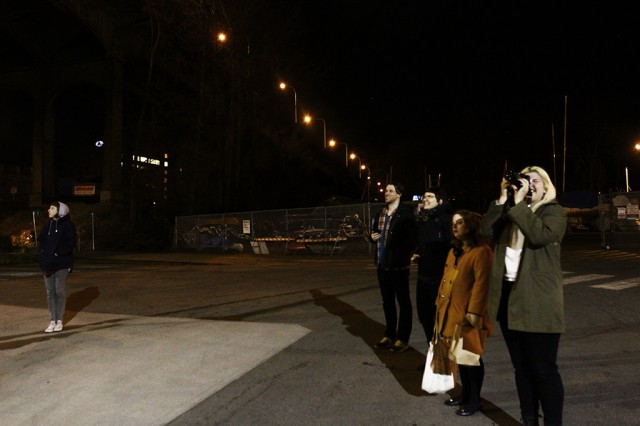 Some of the crew out documenting. The other half of the group was inside staying warm.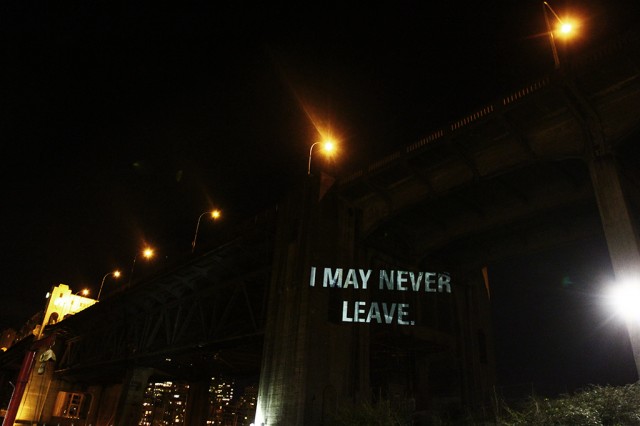 I MAY NEVER LEAVE.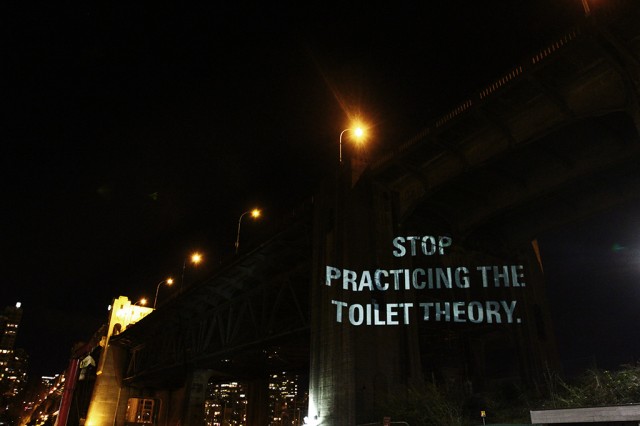 STOP PRACTICING THE TOILET THEORY.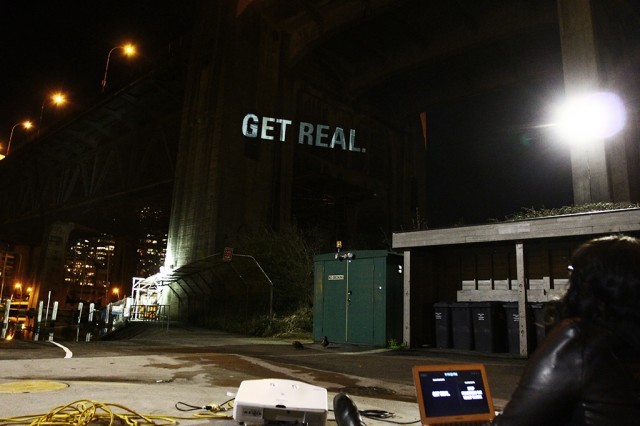 GET REAL.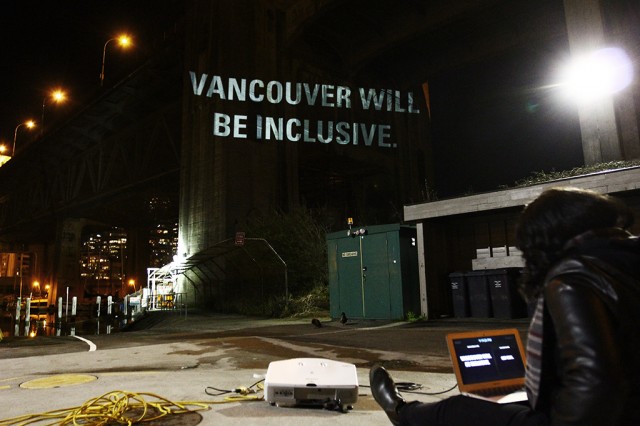 VANCOUVER WILL BE INCLUSIVE.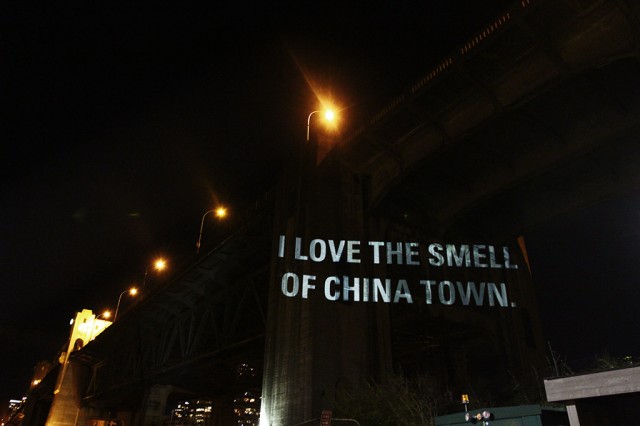 I LOVE THE SMELL OF CHINA TOWN.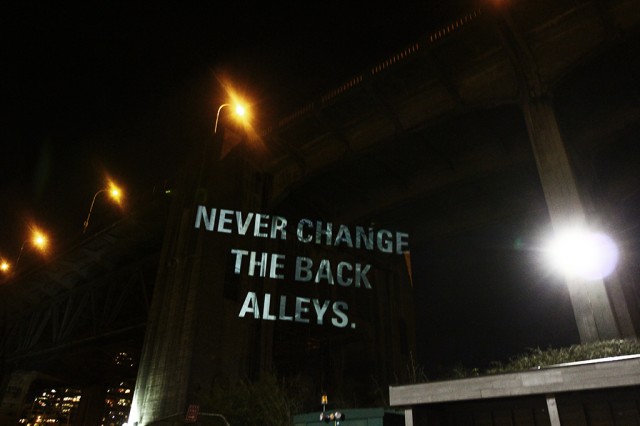 NEVER CHANGE THE BACK ALLEYS.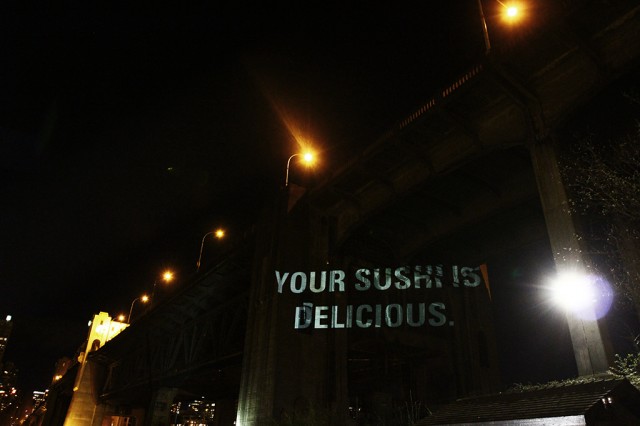 YOUR SUSHI IS DELICIOUS.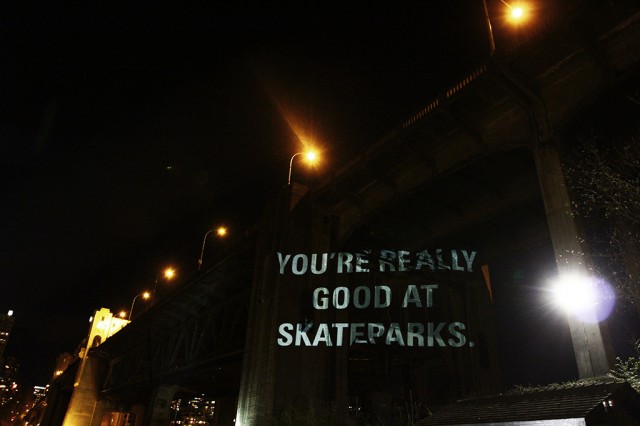 YOU'RE REALLY GOOD AT SKATEPARKS.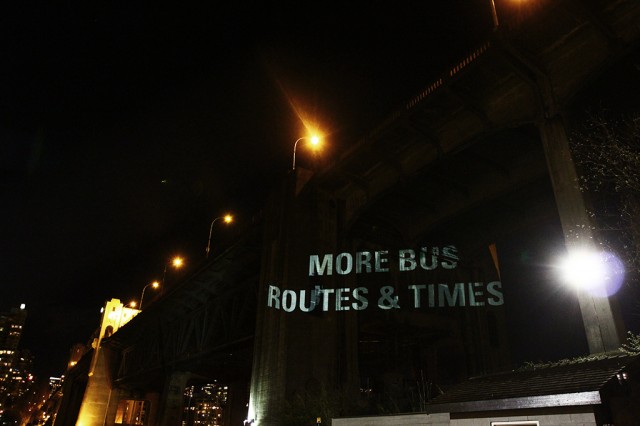 MORE BUS ROUTES & TIMES.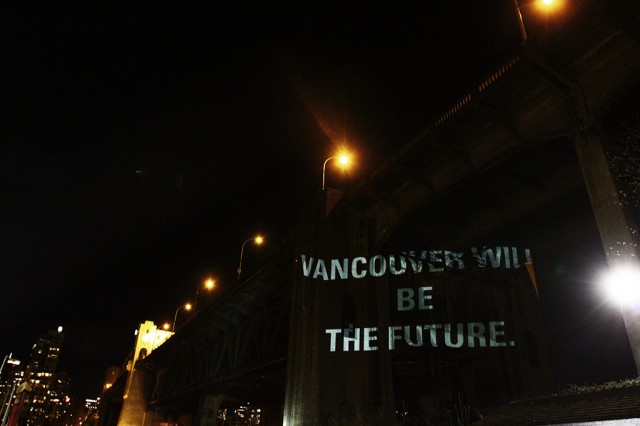 VANCOUVER WILL BE THE FUTURE.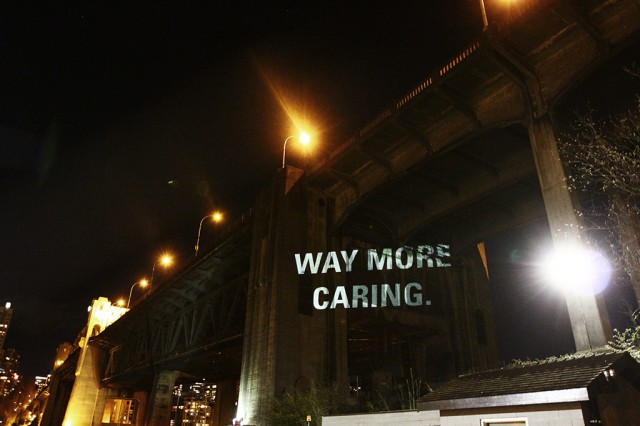 WAY MORE CARING.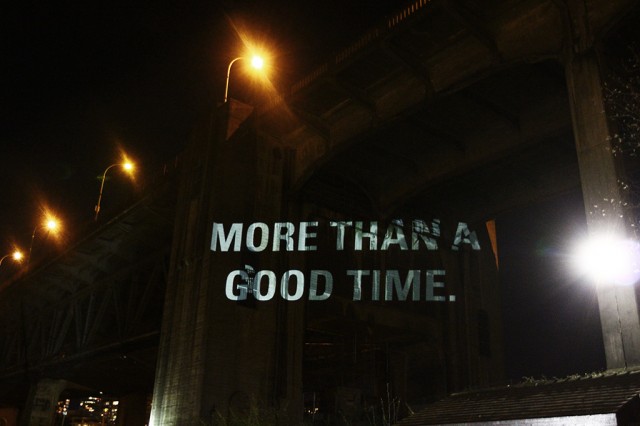 MORE THAN A GOOD TIME.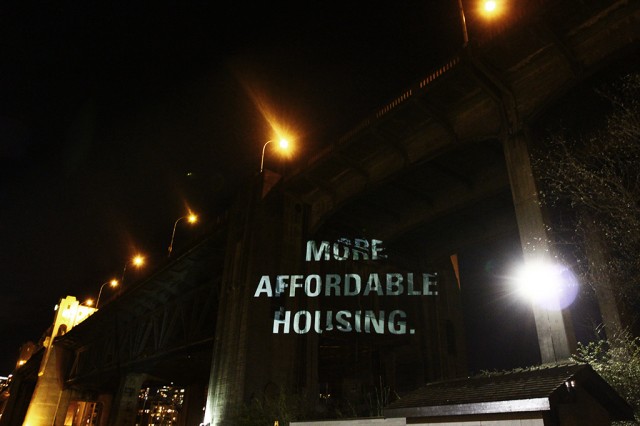 MORE AFFORDABLE HOUSING.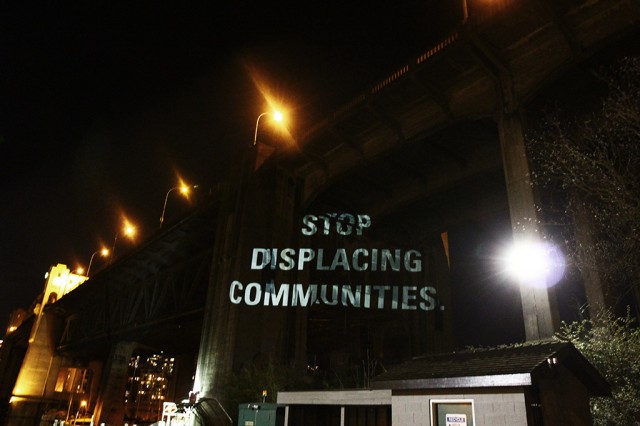 STOP DISPLACING COMMUNITIES.
FLEXIBLE FORGIVING.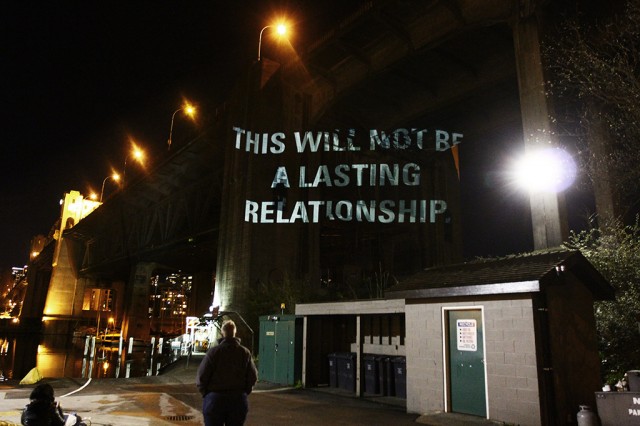 THIS WILL NOT BE A LASTING RELATIONSHIP.
MORE SUPPORT STRUCTURES.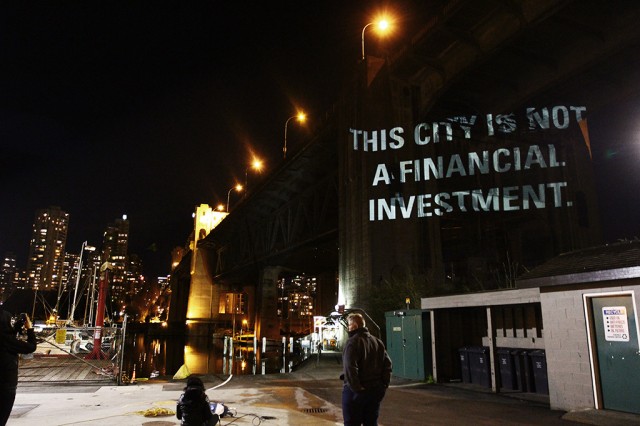 THE CITY IS NOT A FINANCIAL INVESTMENT.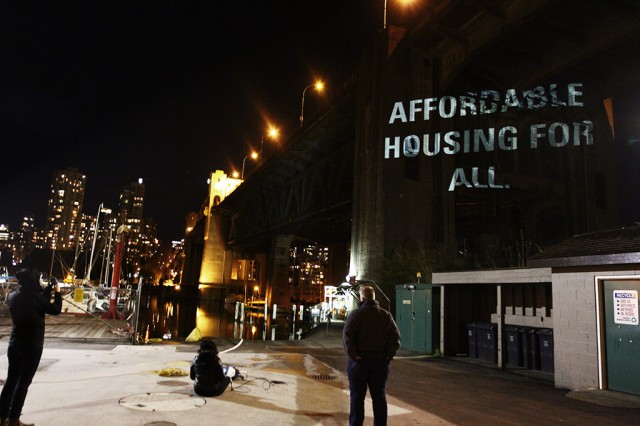 AFFORDABLE HOUSING FOR ALL.
HOME TO (THE) POOREST POSTAL CODE.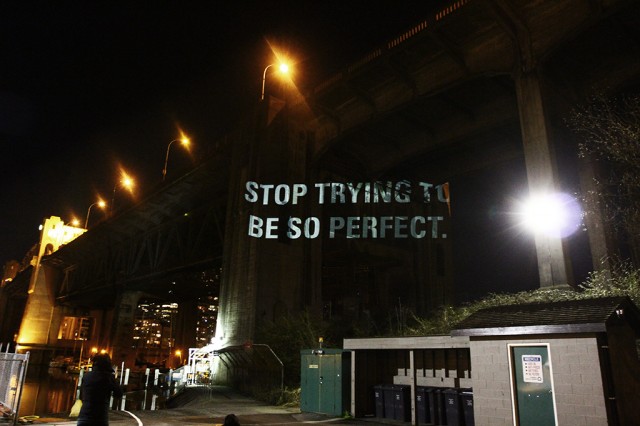 STOP TRYING TO BE SO PERFECT.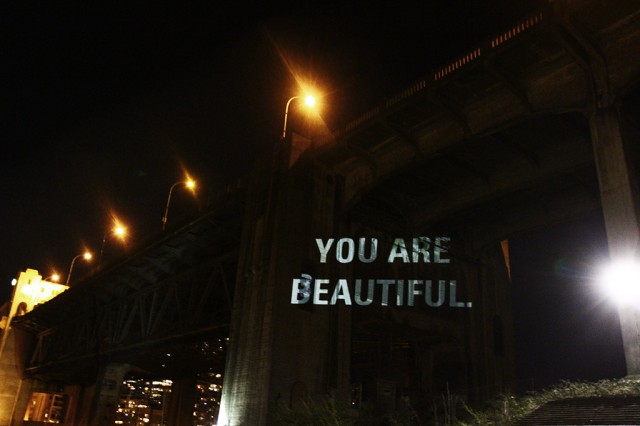 YOU ARE BEAUTIFUL.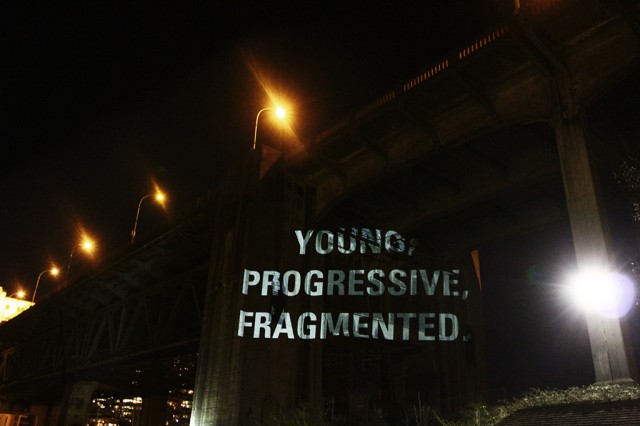 YOUNG, PROGRESSIVE, FRAGMENTED.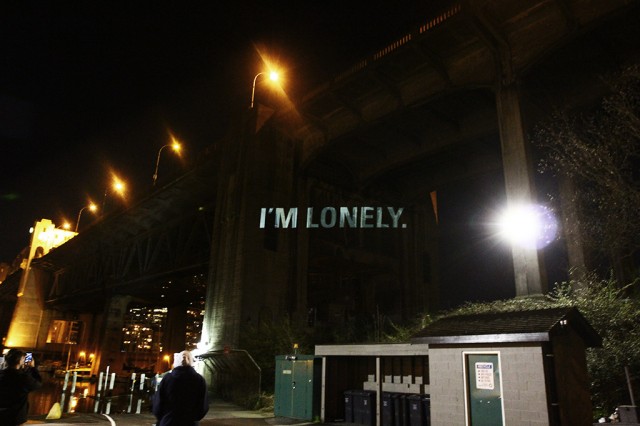 I'M LONELY.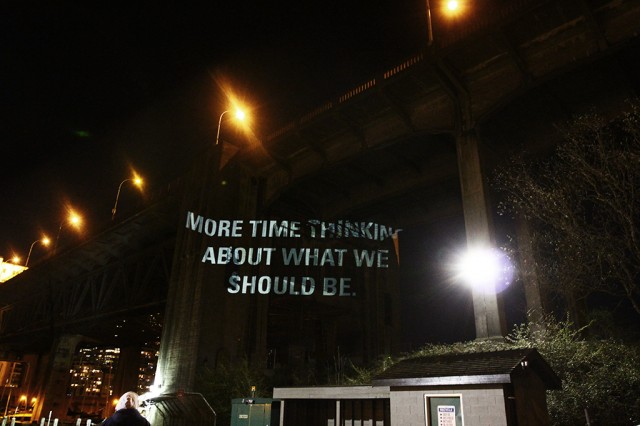 MORE TIME THINKING ABOUT WHAT WE SHOULD BE.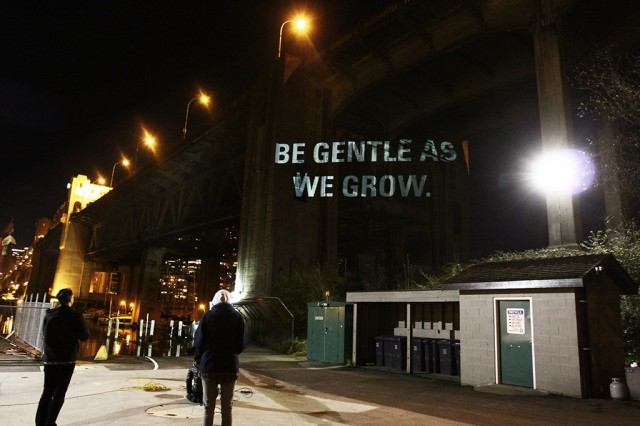 BE GENTLE AS WE GROW.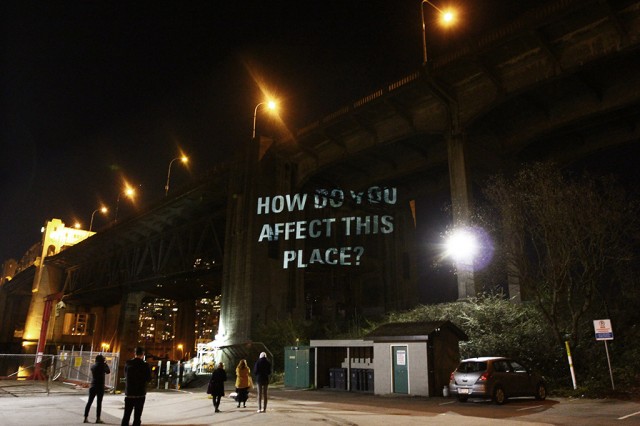 HOW DO YOU AFFECT THIS PLACE?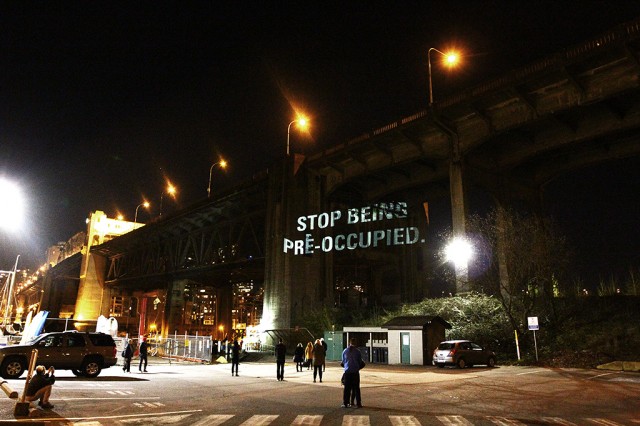 STOP BEING PRE-OCCUPIED.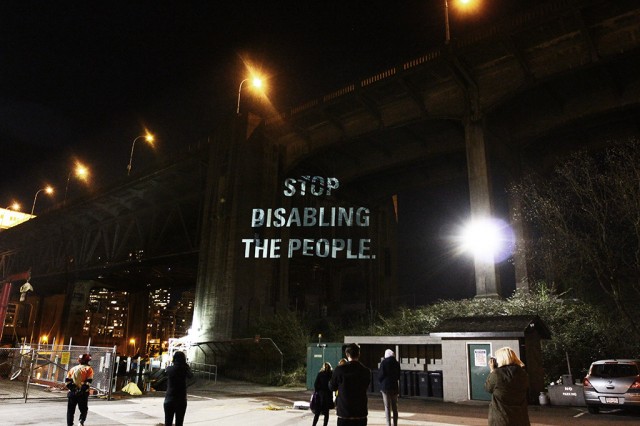 STOP DISABLING THE PEOPLE.
HUGE THANKS again to Shaun, Caitlin, Jackie, Hiba, Kristen, Carmen, Camilla, Shaun, Heidi, Rebecca, Lois, and Caitlin for coming out. Next week, the fun continues!
Tuesday, April 8: The Trouble is… 7-8:30pm (Burrard Marina Field House Studio, 1655 Whyte Avenue)
Bring your questions, suspicions, and inspirations for art in public spaces to an open conversation on art as troublemaking and troublemaking as art.
And for more info on the residency check here: www.brokencitylab.org/vancouver/