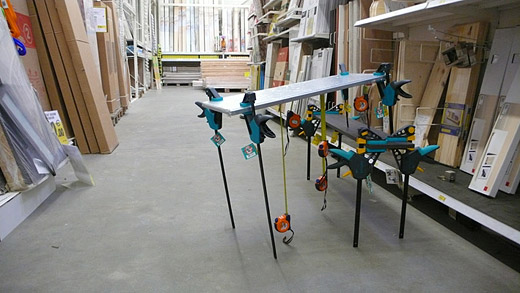 In Paris, there is a new (guerilla) residency program initiated by Paul Souviron and Antoine Lejolivet through the École Nationale Supérieure des Arts Décoratifs (ENSAD. The residencies consist of spending some time in a DIY megastore and creating temporary installations.
There's numerous ideas about artist residencies that don't necessarily take place in the traditional space of galleries or centres, but instead focus on the potential for artists having a role in more everyday places. Schools, landfills, and city halls have been the site for artist residencies, and I have to wonder about the possibilities of artist residencies here in Windsor; and I'm not even that interested in thinking about residencies at the Big 3, Caesars Windsor, or city hall.
What about residencies at the library, at the riverfront, at Walkerville Brewery, at the corner of Randolph and University, at the corner store, at Milk, at the parking garage, at the bridge, or at the bench on Wyandotte near Kildare? And why wait for someone to make one? Why don't we create a series of residencies? Why don't you offer your front porch for a week-long artist residency?
Steven's ideas from last week are looking more and more enticing (and possible).
[via we make money not art]