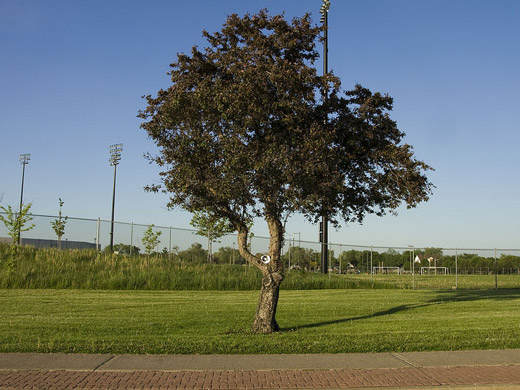 David Blatherwick's Talking Trees was recently installed as part of the Green Corridor's Open Corridor Festival. A small number of trees along Huron Church, south of College Ave are equipped with outdoor speakers that loop audio of children complaining. Josh played a big part in realizing this project, as he was one of the almost 60 students to take the Green Corridor class during intersession, so if I'm missing any details, I'm sure he'll fill in the blanks.
Blatherwick, a former member of the Visual Arts faculty at the University of Windsor (he's now at Waterloo), suggests that these trees have a lot to complain about, being alongside the road that still carries around 10,000 trucks daily to the Ambassador Bridge.
The speakers are loud enough that you can catch bits of it while driving by, but it's worth a walk-thru to experience not just Talking Trees, but the other works that are part of Open Corridor.
I'll be posting more on the other works in the coming days.