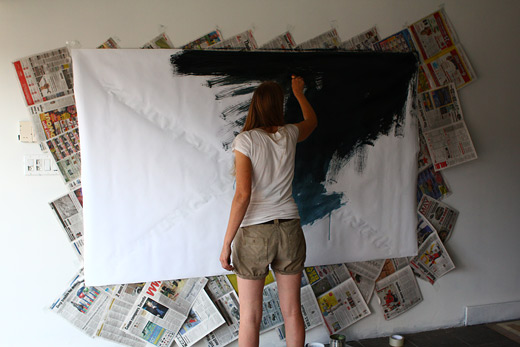 It was a bit of a quiet Sunday, but things were still happening down at SRSI. In particular, Julie and Jefferson were hard at work all day, preparing their project, "The Peoples Museum & Fabulations de Windsor." Above, and in between visits from some neighbours and friends, Julie preps a large piece of paper for a stencil.
First thing in the morning, Pelissier is very quiet.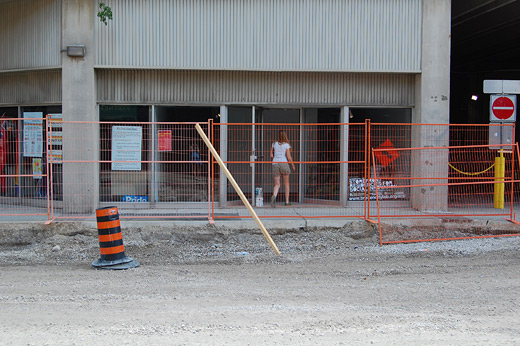 Michelle met Julie and Jefferson downtown and they immediately set to work.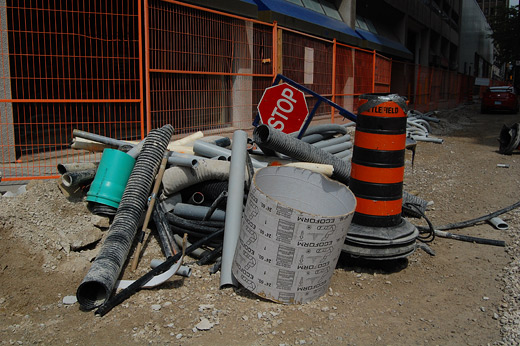 Michelle stayed out on Pelissier for a while to take the time to document the normally very busy Pelissier Street.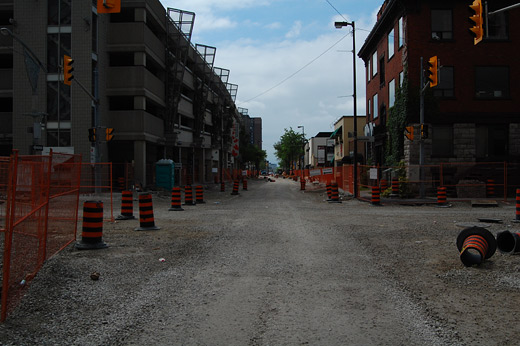 Looking south on Pelissier at the Park intersection. The storefronts for SRSI are below a parking garage and across the street from an apartment building with small shops below.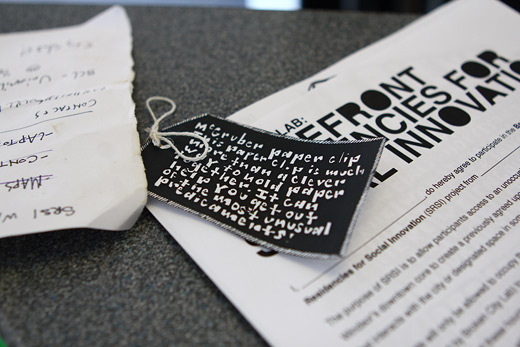 Inside, here's the welcome package that Danielle put together for SRSI participants…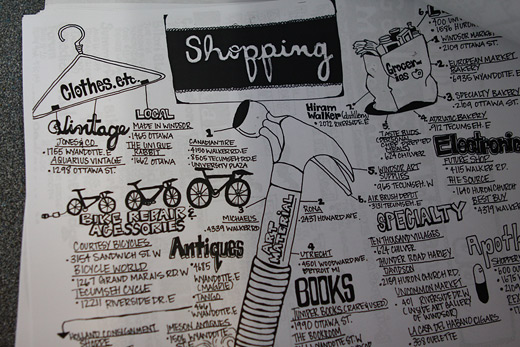 These are so amazing — we have to remember to keep a few copies.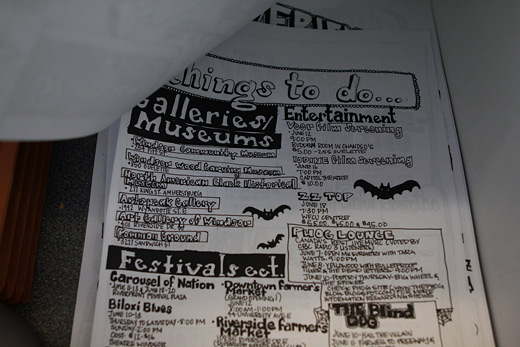 While not an exhaustive list, the welcome package tries to give a fun overview of some of the many things to check out while in Windsor.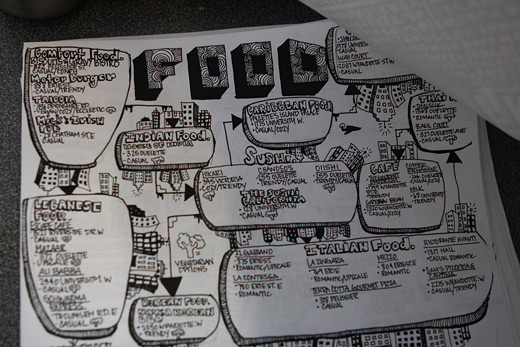 The food one must've been the most fun.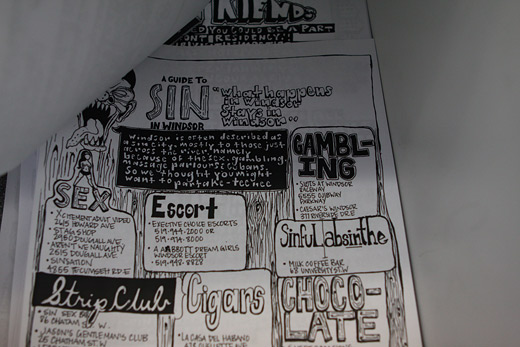 Well, next to this one, I think.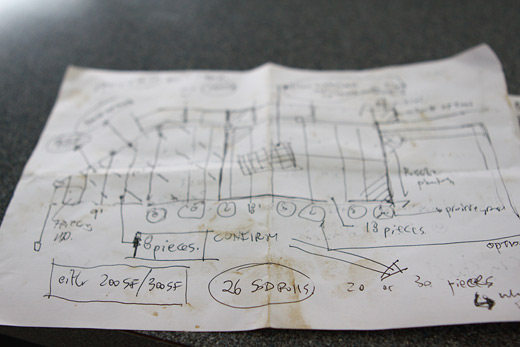 Some leftover diagrams from Eric's installation of the interior urban park.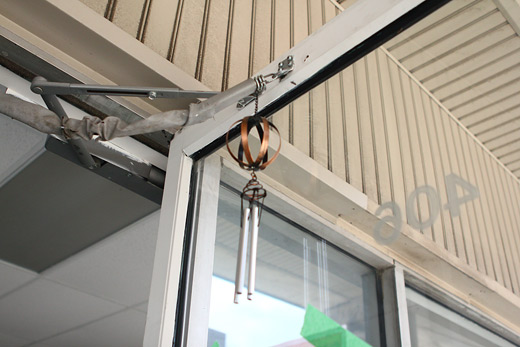 Over at 406…
What remains of Eric's outdoor portion of the interior urban park — we had to remove the larger rows after some folks from the city rightly pointed out we might regret having grass out there after Saturday night.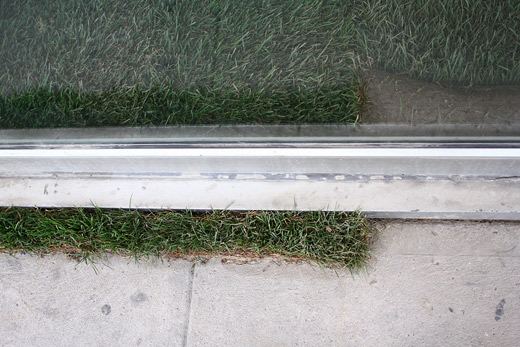 However, the extension of the sod from the interior to the exterior is very cool. It'd be great to see Eric do a bit more of this.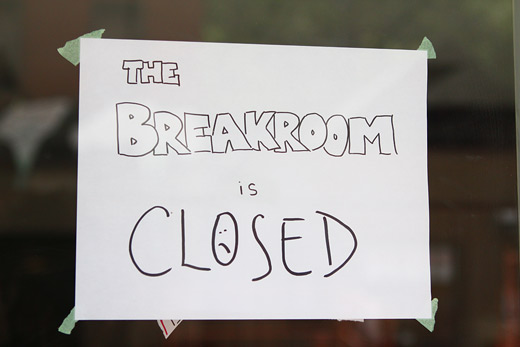 Jolie's The Breakroom is taking the day off.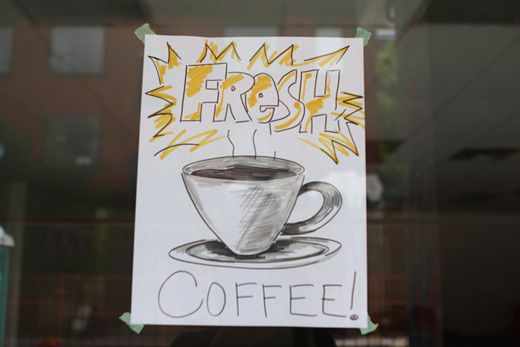 However, it's back on Monday through Friday this week.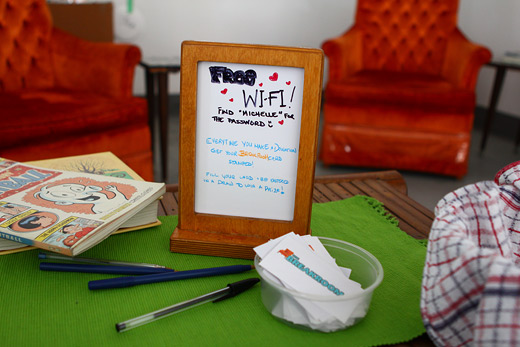 You should stop by.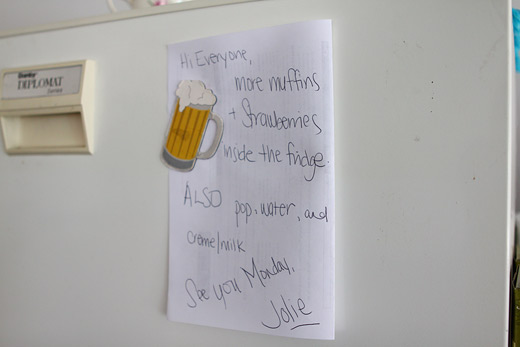 Jolie is a total sweetheart…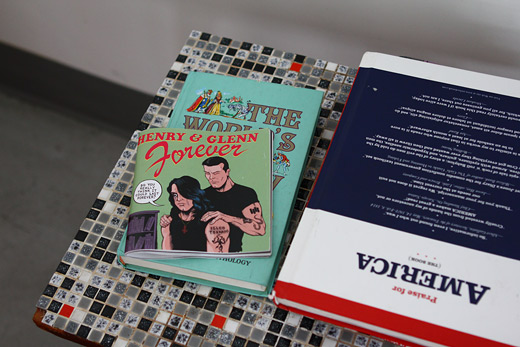 And there are lots of great things to read.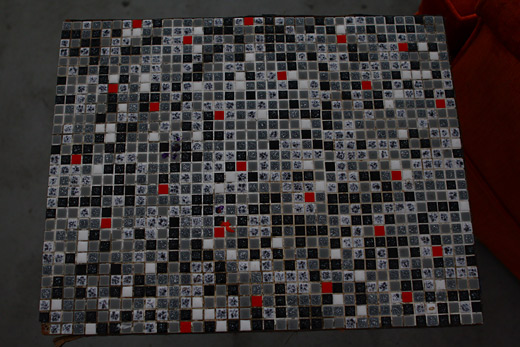 And fun mosaic tables.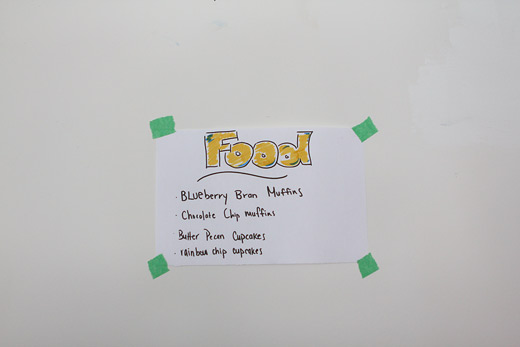 And a lovely selection of food.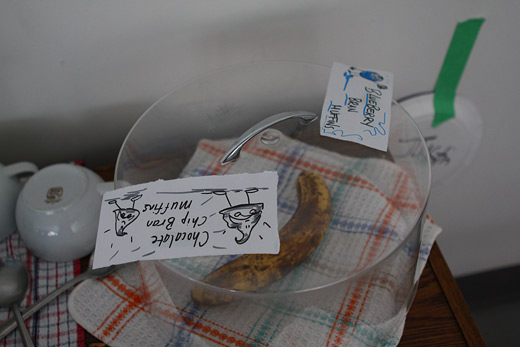 Including homemade muffins. Given that Jolie is only here this week, we need to figure out a way to draw more traffic down the street. We probably need to get some posters up on Ouellette and University.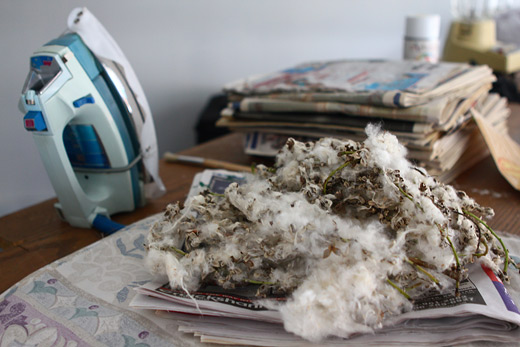 Over at 424: Julie's working table.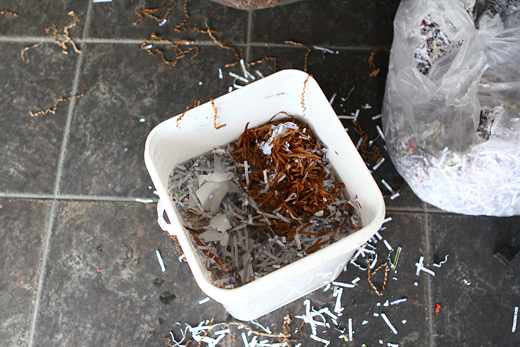 And this bucket with paper…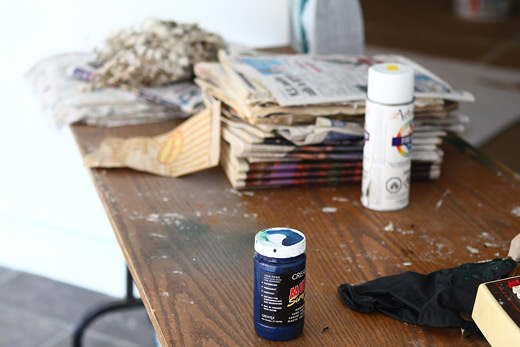 And paint…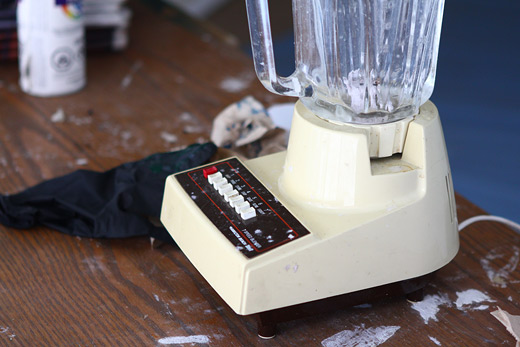 Oh, and this blender … it'll be interesting to see what Julie and Jefferson do with these tools (as we're very familiar with them).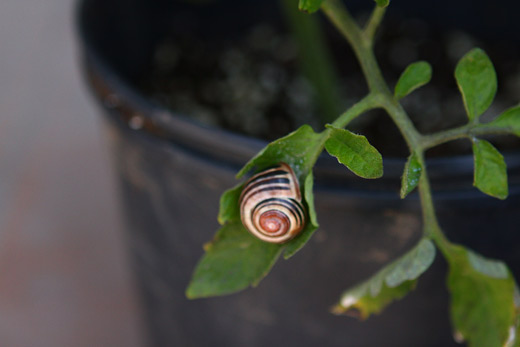 Outside on their tomato plant, a snail.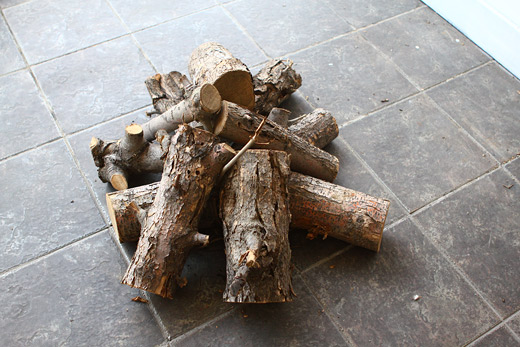 And inside, some firewood.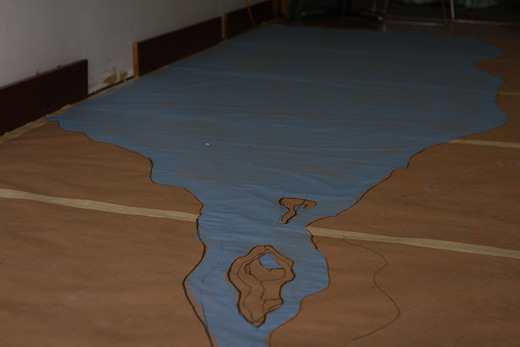 And a map that sprawls across nearly half of the storefront's floor.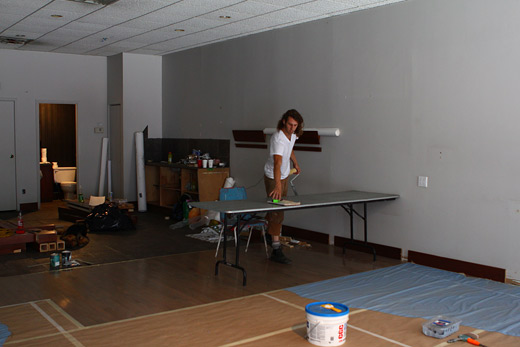 Jefferson sets up his table to start on his part of the project. Apparently, Jefferson and Julie haven't ever worked together on a project before.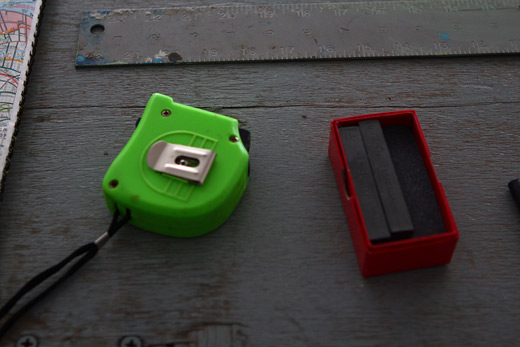 On a table, Jefferson's tools.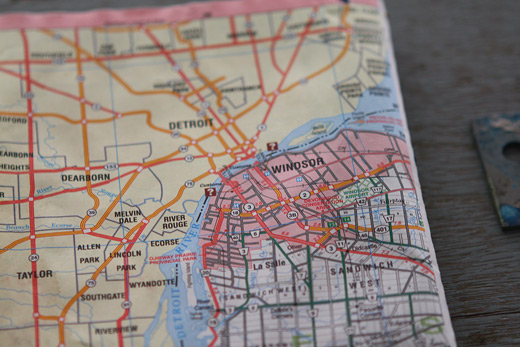 And maps.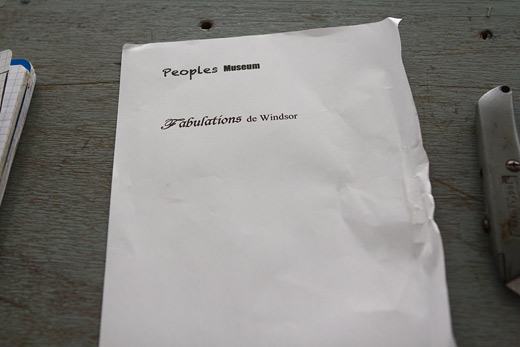 Jefferson is making some signage.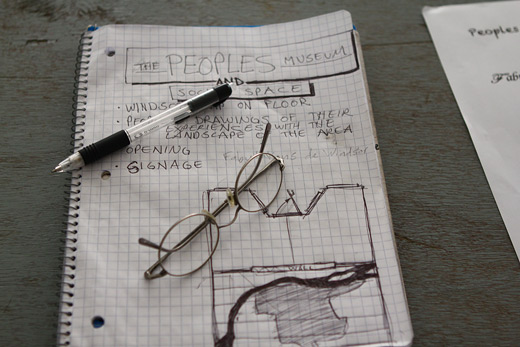 He says that he loves to make signage.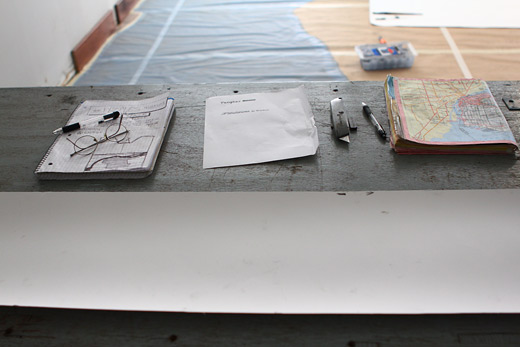 Ready to work.
And Maggie stays patiently at the back.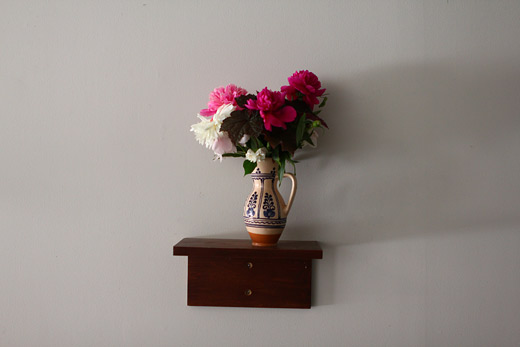 Some flowers taken from Jefferson's grandmother's garden — the original plants that these flowers came from were planted 80 years ago.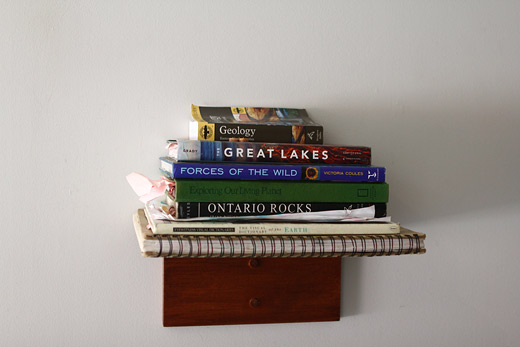 And some books … I love how everything that's set up in their storefront is somehow creating quite an interesting story already … I'm so anxious to see how everything connects as they move forward.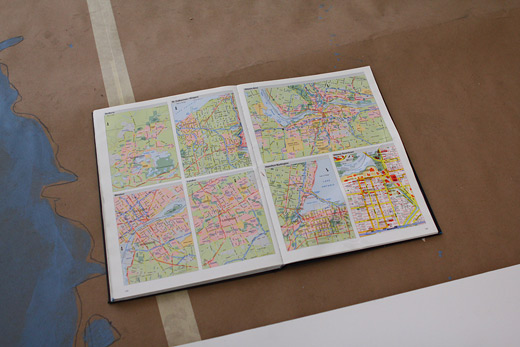 More maps, next to the huge floor map.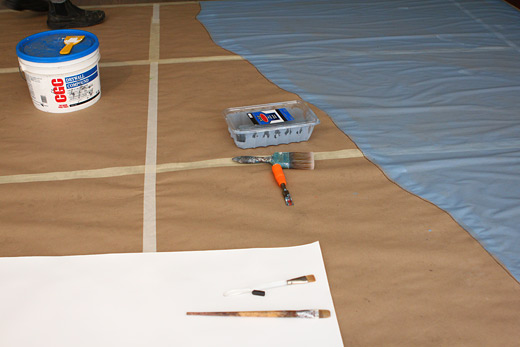 Some paint makes for some lakes.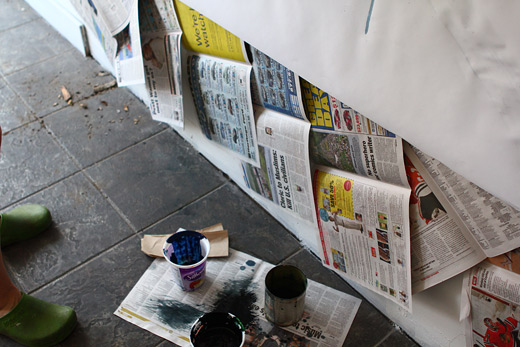 Newspapers from Toronto.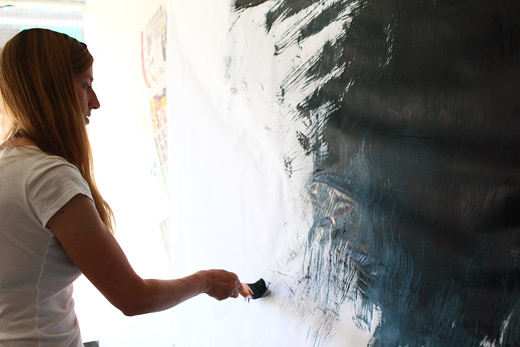 Julie working on her paper for the stencil, I'm excited to get to stop by to see what other progress they made.
Meanwhile, 410 got some more paint thanks to Michelle and Cristina, I taped up some more posters, met a few new folks from the neighbourhood, helped a bird, Daragh went out with Simon and Andrea as they collected some plants for Andrea's project, and tomorrow's another day, with the arrival of new SRSI projects!!!
This project is generously supported by the City of Windsor: Cultural Affairs Office, Arts Council Windsor & Region, Windsor Pride, and the Ontario Arts Council.