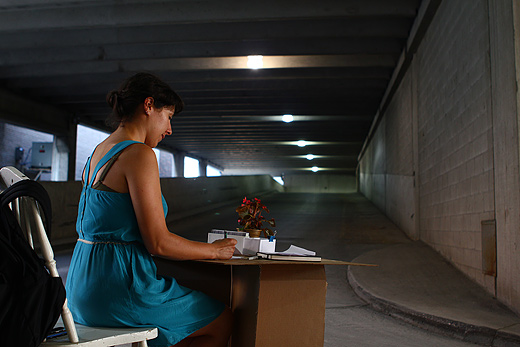 Yesterday was just lovely! Andrea Carvalho did a parking garage performance as part of her study of Non-Places, Kero set up his interactive installation, and a lot of familiar local friends rolled through The People's Museum to contribute to the giant map.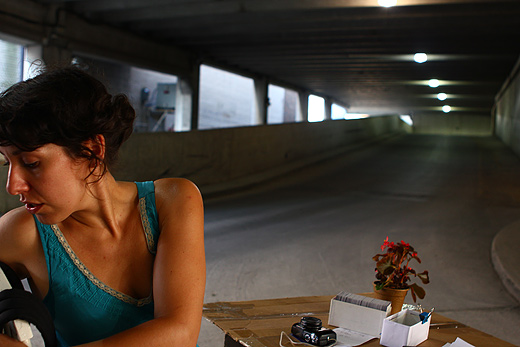 Andrea has been trying to perform in this space for a few days now, originally planning to host a game of badminton on the roof. She was able to gain access to the closed off ramp on Pelissier.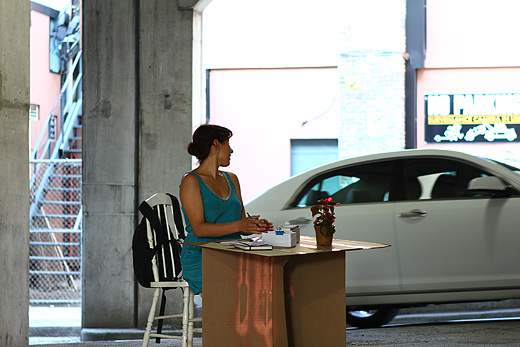 Andrea's performance challenged the experience of a parking garage, a Non-Place.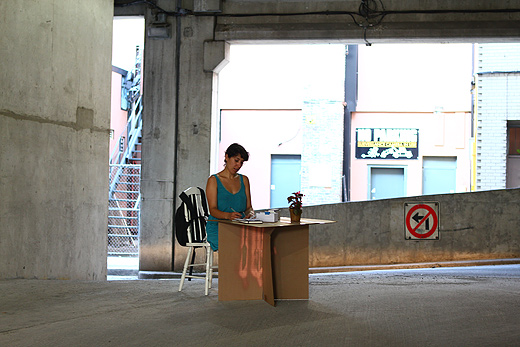 This was a very beautiful moment, one that will resonate to all involved for long after SRSI is done.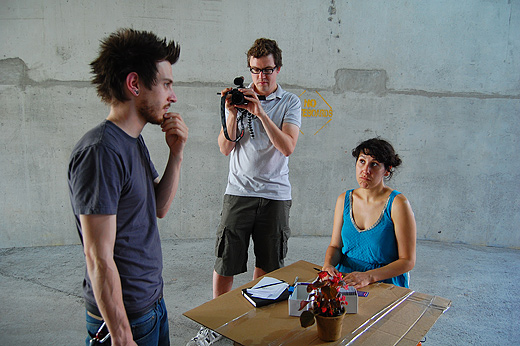 Justin was able to catch the performance and, in true BCL tradition, attempted to motivate Andrea to stay in Windsor to keep working on her artistic practice.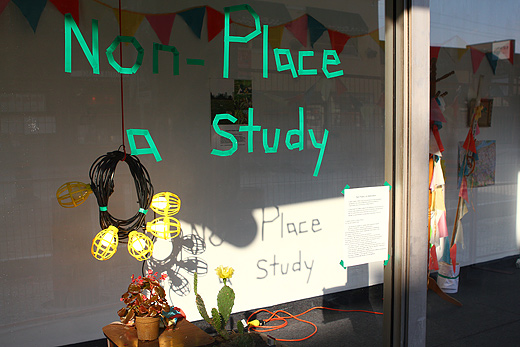 Andrea's study of Non-Places is ongoing until Monday when she will be returning to Montreal. Connections established and marks made in Windsor during her residency will be forever cherished.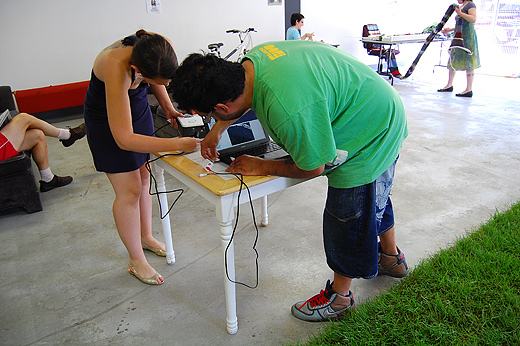 KERO set up his installation in 406. The live camera feed is projected onto the wall. Black and white Pixelated outlines show movement in front of the camera, which can be pointed either out on the street or inside of 406.
Here's a somewhat crappy view of the patch he wrote using Max MSP.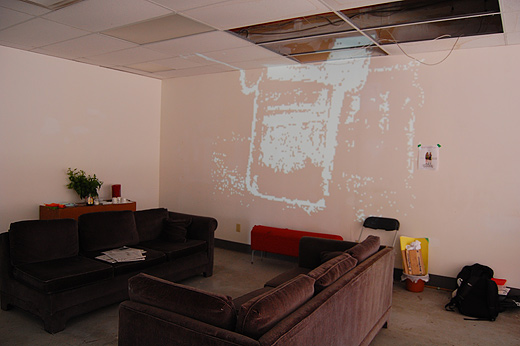 Here's a cell phone held up in front of the camera. About 10 seconds after movement stops, the image disappears, then reappears as something else moves.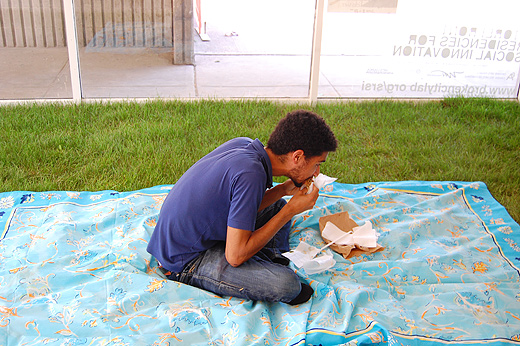 Stephen Surlin came by to hang out with KERO as he set up. He enjoyed his falafel on Eric Cheung's interor sod.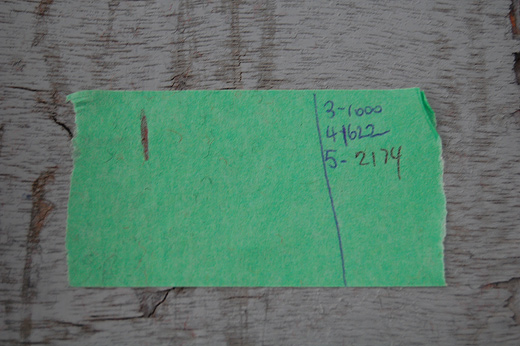 Over at The Sweater Factory, I found a little note where Jodi keeps her daily count of knitted lines. As of yesterday, she is at 2174 lines.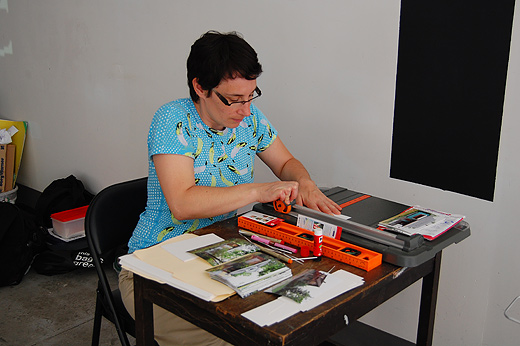 Leesa was prepping her postcards of Indian Road houses. She will be writing messages on them and addressing them to each individual house.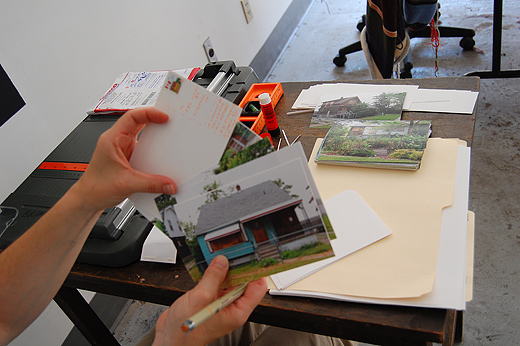 We are expecting that the postcards will be sent back to the return address and none will make it to the actual houses as they no longer have mailing addresses.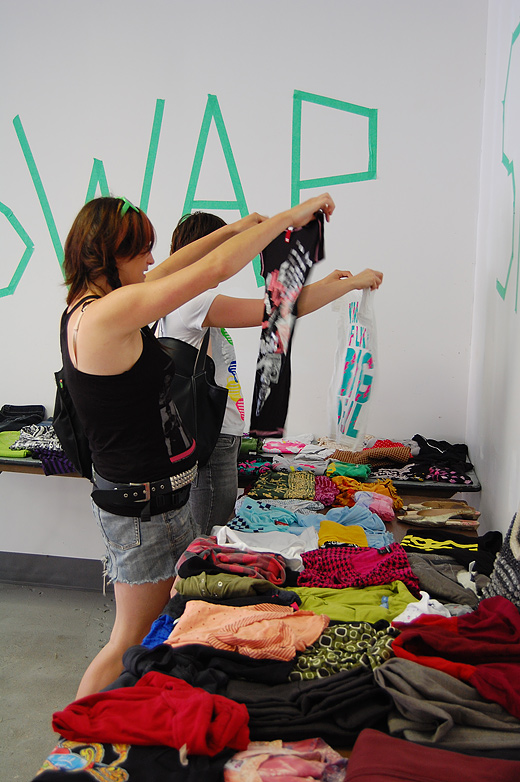 Some friends stopped by to add/subtract from The Swap Shop. As we are coming to an end of this project, it's interesting to see how much turnover there has been in the selection on the tables. It's also very nice to see a lot of my old shirts getting worn and loved by other people, in particular Leesa Bringas and Julie Rene de Cotret.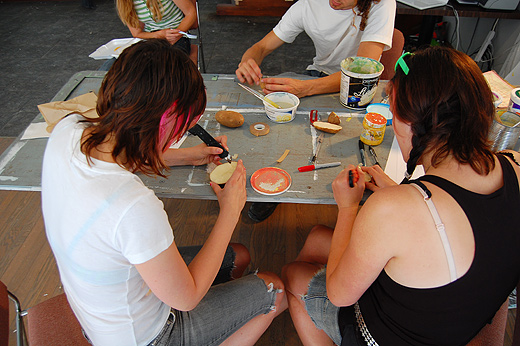 Carly and Coley spent some time in The People's museum, making stamps and signs.Their personal touches were a great contribution to Jefferson's map.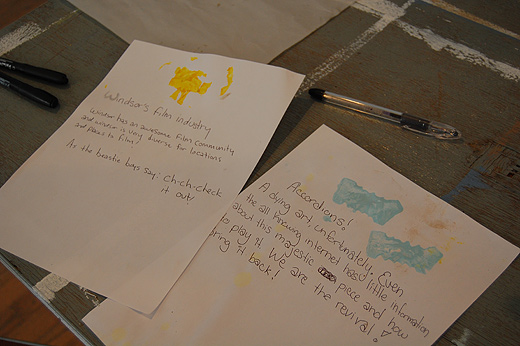 They made a camera and an accordian stamp, then integrated both into informational posters for the walls of the museum.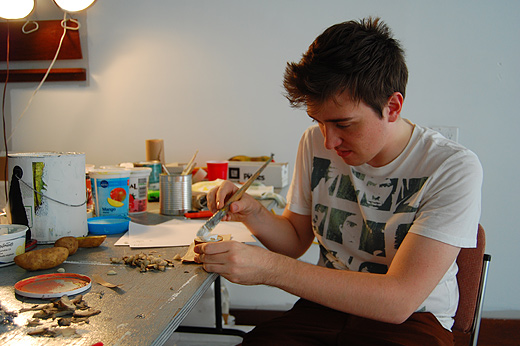 Walter Petrichyn stopped by to check out the spaces and alot had some fun interacting in The People's Museum.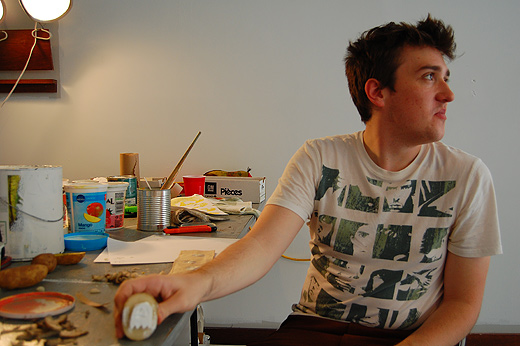 Walter made a ghost stamp and then we went around on the map and marked haunted spots on the map, including Texas Road and Mackenzie Hall. This list is nowhere near complete. Anyone know of any other haunted locations to add?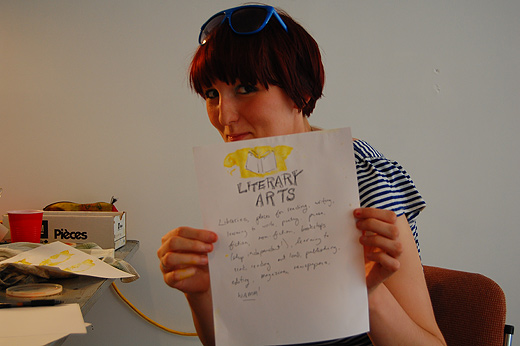 Kate Hargreaves stopped by and wrote up some useful information on the literary arts in Windsor-Essex county. We had a lovely chat with Julie and Jefferson as well.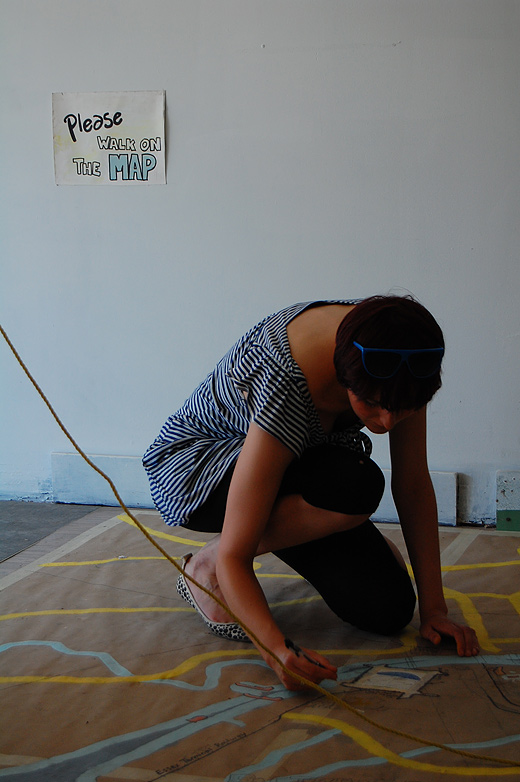 Kate stamped the book stamp she made to mark the locations of libraries on the map.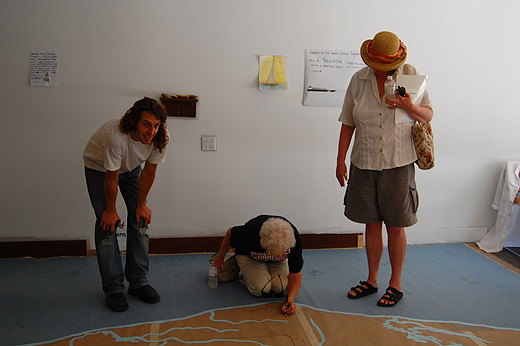 These two lovely ladies came through all three spaces and had some great chats with the artists. They were extremely open and friendly and we are hoping they return again to check out different projects that move in!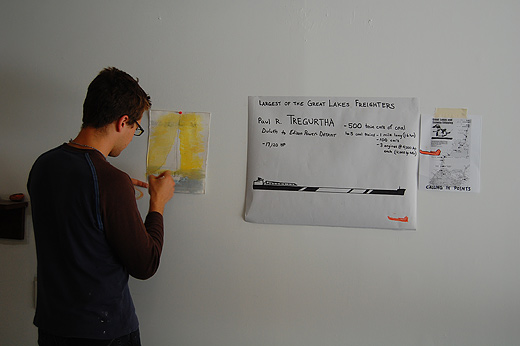 Vincent Franzoi has been kicking around since the start of the residency. Working from his studio across the street in the Chelsea Hotel, Vince is happy to have more fellow artists working on Pelissier.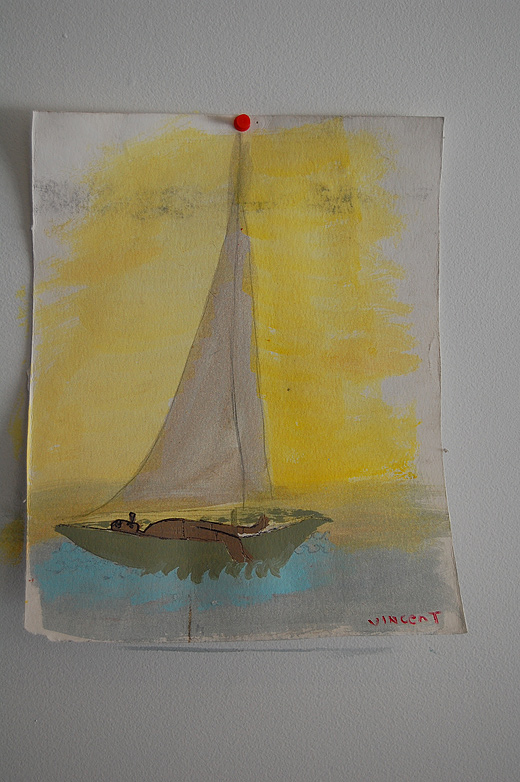 He painted a very peaceful painting in contrast to the noisy messy construction happening outside the space.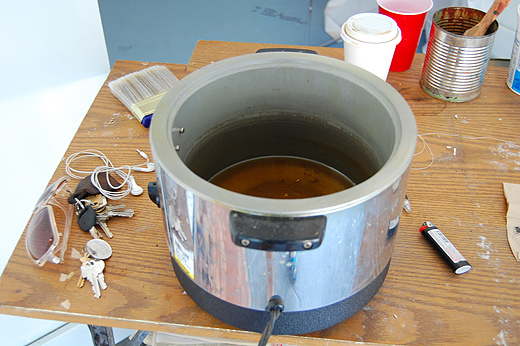 Julie was melting beeswax to coat gunpowder on some drawings she is working on. The smell was so delightful and found its way all the way over to 406 even with the doors closed. I love just thinking about it! We will add a short video of her process to the blog as soon as it's uploaded.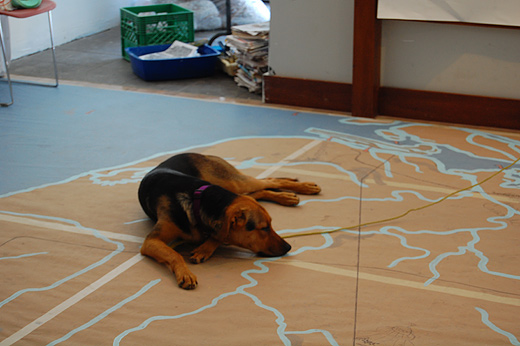 Maggie was tired by the end of the day from all the open house visitors coming through. Thea Jones is in town and ready to set up within the next few days, Garth Rennie and co. will be moving in on Sunday, and Eric Cheung interior's sod will be cleaned out today.


This project is generously supported by the City of Windsor: Cultural Affairs Office, Arts Council Windsor & Region, Windsor Pride, and the Ontario Arts Council.