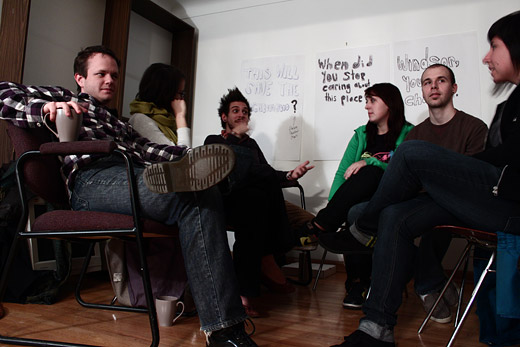 Monday night we met with some new friends from Detroit and had an amazingly good conversation about some of the very specific differences between our two cities. Maybe unsurprisingly, much of what we perceive about each other's cities isn't entirely correct, and it is exactly those strange assumptions about these two border cities that continue to make us interested in working on cross-border projects.
So, the idea is still fresh, but we're imagining a route of travel based on the existing public transit infrastructure that can make it much less daunting to move between these two cities and experience what both of them have to offer on a more regular basis. We're going to start charting these potential routes based on exact schedules of the bus systems in both Windsor and Detroit, to simplify the process of making the cross-border trek.
We're also imagining greeting committees on both sides of the border and we anticipate eventually making these routes an open kind of thing, wherein if you wanted to head to Detroit from Windsor on a Saturday you would know the exact bus lines and their arrival / departure times at a number of destinations (good restaurants, cafés, interesting architecture), and maybe you might even catch up with other folks on the same adventure.
It's about looking at this area under different terms. We've often talked about just how local Detroit is to Windsor, given its proximity, and yet crossing the border can still seem to be a daunting task for a variety of reasons. So, instead of talking about that locality, what if we thought about the many other places we might travel on a regular basis. Often, when traveling, you have someone to meet you on the other side of the car ride or plane trip and it's that relationship that can often making traveling a lot easier. So, if you had someone to meet you on the other side of the Detroit River, maybe it might make that bit of travel easier as well.