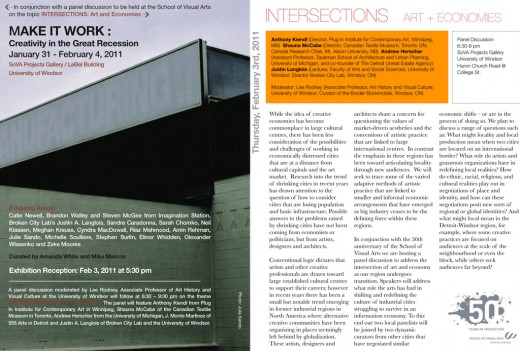 I'm excited to note that in addition to the current exhibition, Make It Work, on at SoVA Projects Gallery (nee LeBel Gallery) featuring work by Michelle, a new poster installation that I did, and a ton of other incredible local Windsor-Detroit artists, there's a panel discussion featuring guests from across the country.
If you're remotely interested in some of the things we talk about here on the blog, you should really make a point of attending the reception and panel discussion on Thursday, February 3rd, starting at 5:30pm.
From the description of the panel discussion:
While the idea of creative economies has become commonplace in large cultural centres, there has been less consideration of the possibilities and challenges of working in economically distressed cities that are at a distance from cultural capitals and the art market.

Research into the trend of shrinking cities in recent years has drawn attention to the question of how to consider cities that are losing population and basic infrastructure. Possible answers to the problems raised by shrinking cities have not been coming from economists or politicians, but from artists, designers and architects.

Discussions will arise around questions such as:

What might locality and local production mean when two cities are located on an international border? What role do artists and grassroots organizations have in redefining local realities? How do ethnic, racial, religious, and cultural realities play out in negotiations of place and identity, and how can these negotiations posit new sorts of regional or global identities? And what might local mean in the Detroit-Windsor region, for example, where some creative practices are focused on audiences at the scale of the neighbourhood or even the block, while others seek audiences far beyond?
The Panel Discussion runs 6:30-9 pm SoVA Projects Gallery University of Windsor Huron Church Road @ College Avenue and features Anthony Kiendl (Director, Plug In Institute for Contemporary Art, Winnipeg, MB) Shauna McCabe (Director, Canadian Textile Museum, Toronto ON; Canada Research Chair, Mt. Alison University, NB) Andrew Herscher (Assistant Professor, Taubman School of Architecture and Urban Planning, University of Michigan, and co-founder of The Detroit Unreal Estate Agency) J. Monte Martinez (Creative Director, 555 Arts, Detroit, MI) Justin Langlois (Lecturer, Faculty of Arts and Social Sciences, University of Windsor; Director Broken City Lab, Windsor, ON)
Moderator:
Lee Rodney
(Associate Professor, Art History and Visual Culture, University of Windsor; Curator of the Border Bookmobile, Windsor, ON)