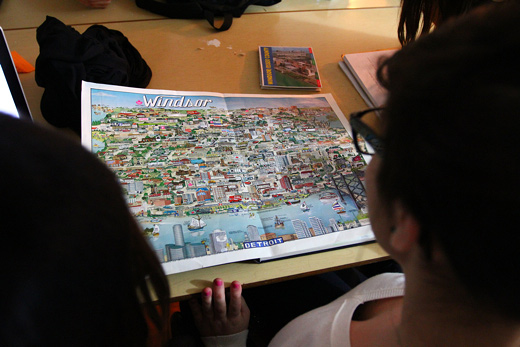 A Friday with everyone around the table usually translates into a lot of excellent new ideas, and yesterday was no exception!
We spent the evening reviewing the progress we've made on some initial research and may have  sparked an entirely new direction for the project. All of the excitement is after the jump!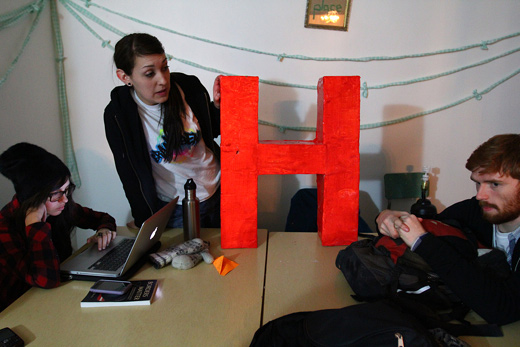 Michelle has been working with a couple of volunteer interns in tidying up our physical archive and repairing some of the cardboard letters from Make This Better.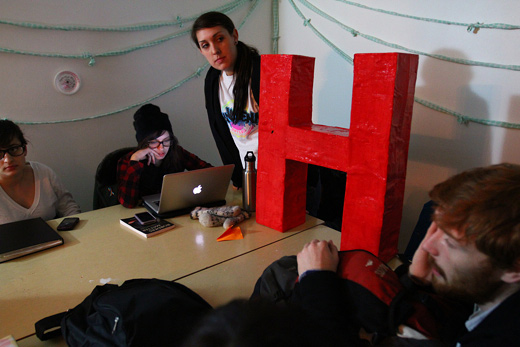 The letters had fallen over at one point during our last installation and while the faces were fine for the most part, the letter H sustained some damage.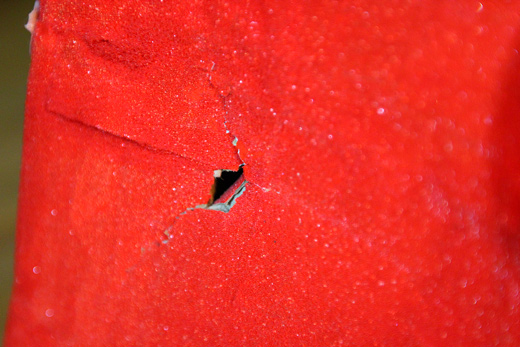 It hit a rock at the perfect angle and punctured a hole in the face of the letter.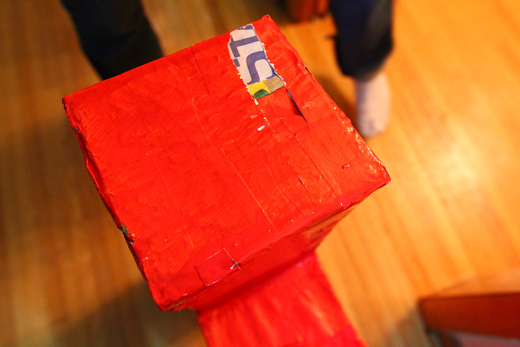 Josh was up to the challenge of repair though. We had briefly considered refinishing the face, but it didn't seem worth that much work, given the size of the hole.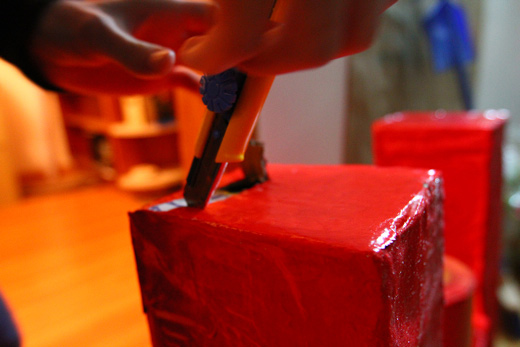 Josh cut out the top of the letter.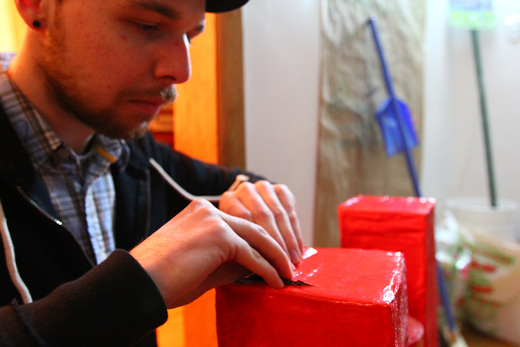 He then carefully opened up a flap so that he could access the interior of the letter.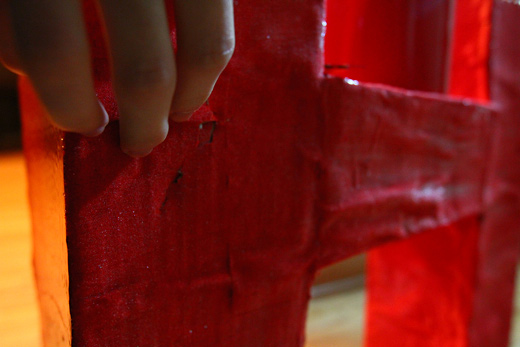 And pushed out the part of the face that had basically been pushed back into the letter.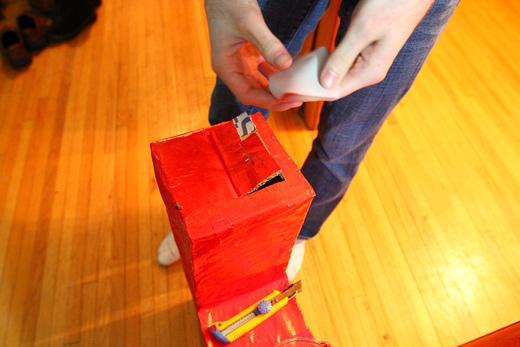 He took some of Michelle's super duct tape…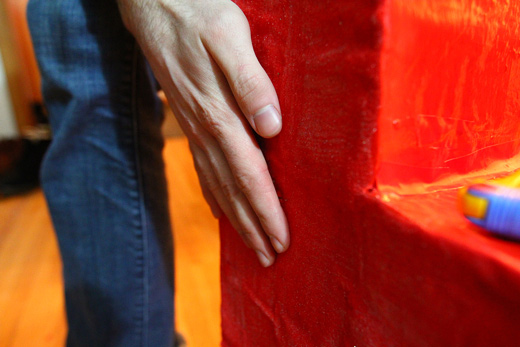 …and made the patch.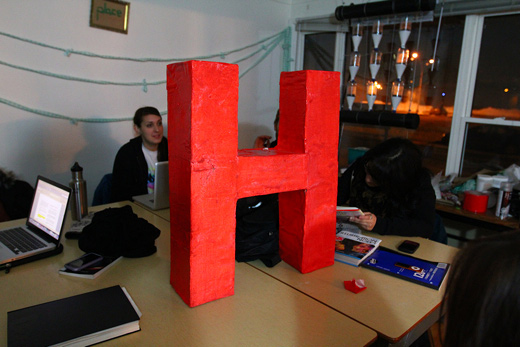 After the repair, the letter looks great — especially considering the distance we'll be shooting them from for the next installation. We'll be making some time later this month to do the next iteration of Make This Better.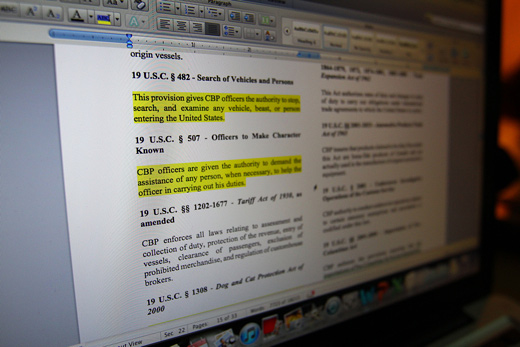 Then we started our research updates. Danielle was first and she went over some of the stranger custom laws she found looking into US customs.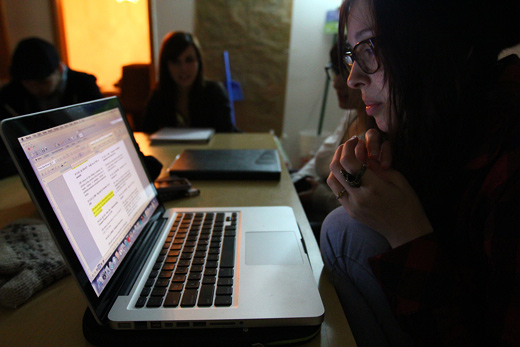 She downloaded US laws pertaining to border crossing and began to highlight and categorize a number of sections that might provide some particularly interesting starting points for next phases of research or create some foundational text for our book.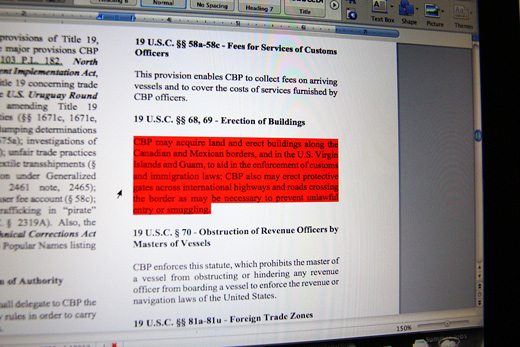 Some of the laws were particularly strange to read — understanding just how much leeway the US has over sovereign nations to protect their border immediately began to set off some ideas for conceptual renderings of new walls, gates, and roads designed to exclusively protect US interests along the border.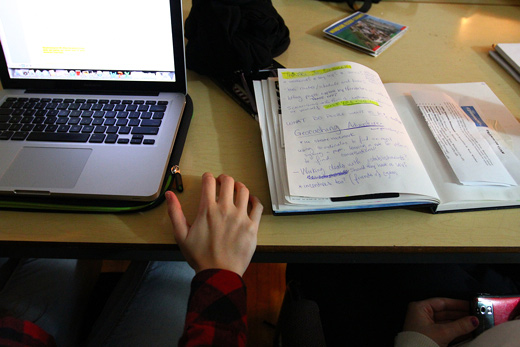 Next, Rosina reveals some of her initial ideas in creating a Windsor/Detroit hyper-local tourism plan. Based on some earlier conversations with Erin MacDonald, Rosina has started to sketch out some ways to activate cross-border movement outside of commercial endeavours.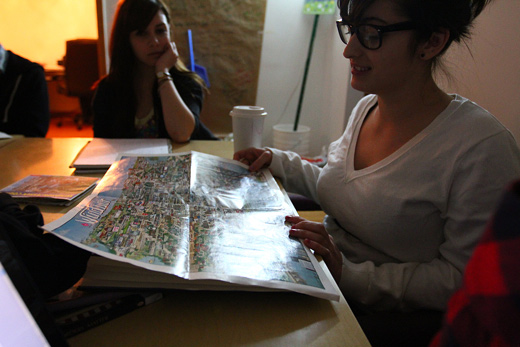 She also revealed this incredible map of Windsor and Detroit from 1987 (she'll be scanning soon)!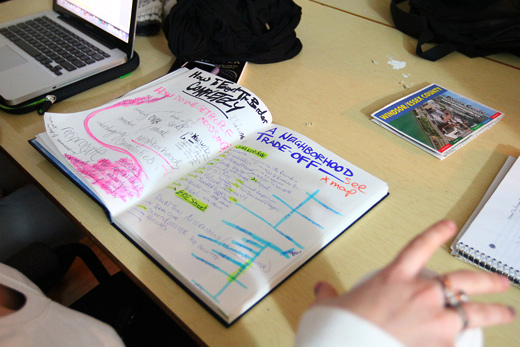 Her notebook is awesome to say the least.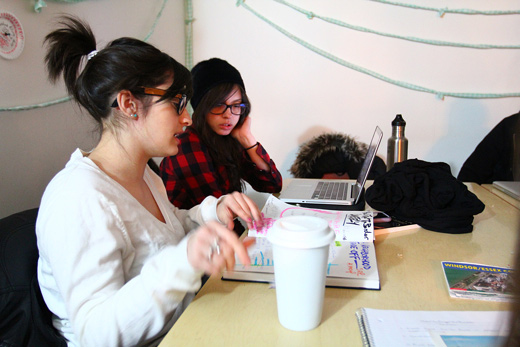 Rosina discussed some groundwork imagining how to connect neighbourhoods, which led to some incredible discussions around imaginary portals between Windsor and Detroit.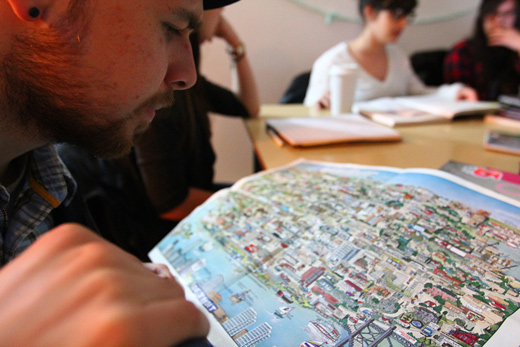 Josh examines the map.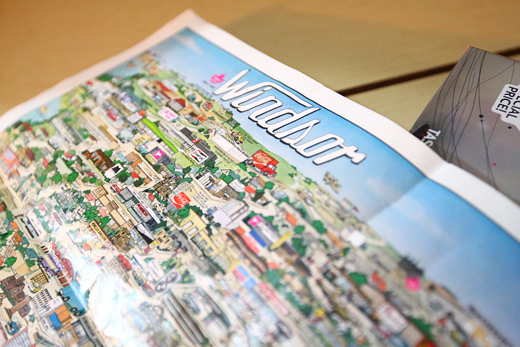 I think the map was some kind of cross-border tourist thing — maybe sponsored by Coca Cola?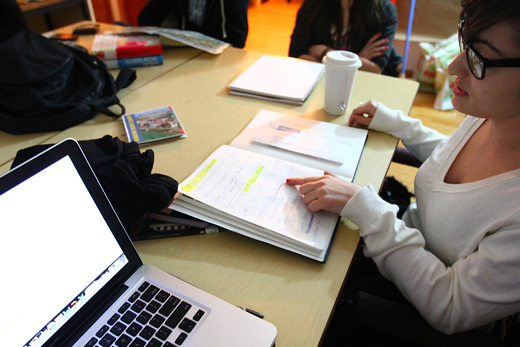 Rosina also brought up the idea of geocaching…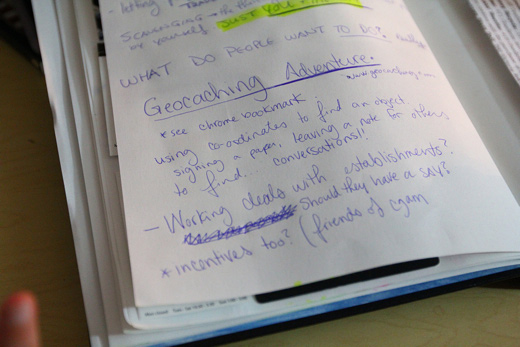 …I think Kevin might have some experience with this, but I really like the idea of essentially hiding things in Windsor and Detroit that connect to one another.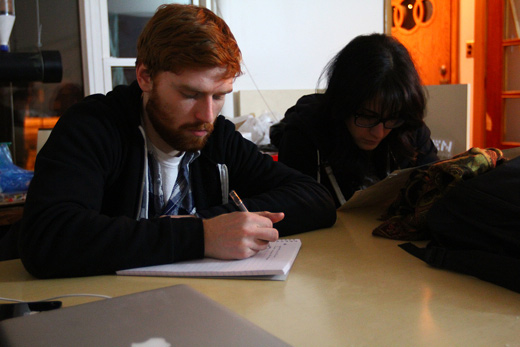 Conversations ensued around border(ed) areas accessible only by helicopter, which would allow/highlight areas well into Windsor or Detroit for Canadian or US citizens without crossing the border itself. Kevin took notes.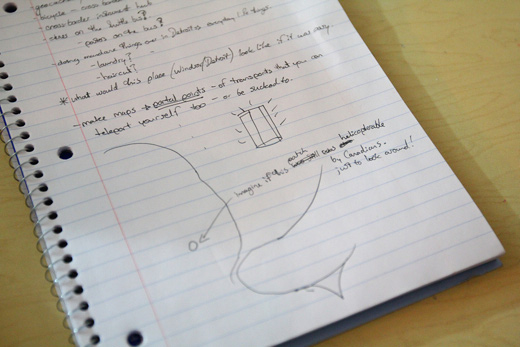 We also went into some further detail around the border portals — we imagined them as large-size suction tubes (perhaps not unlike devices visible during the Futurama theme song). We also imagined how we might create a small micro-grant program for border-crossing tokens or a border etiquette academy for those whom are uninitiated.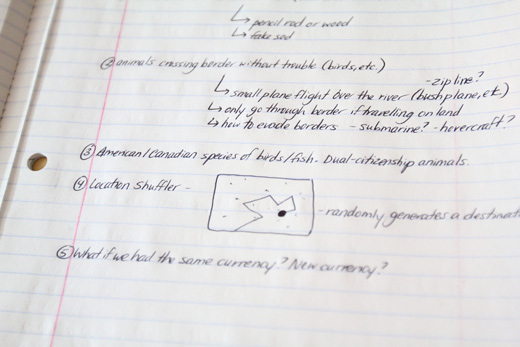 Josh wonders about how animals freely cross borders and how we might be able to take on similar tactics. Or something similar to our algorithmic walks and some of the research I've been doing with iPhone apps — getting randomly assigned locations to visit on either side of the border, based on your daily routine (eg. haircuts in Detroit, coffee in Windsor, grocery shopping in Detroit, and yoga in Windsor). Josh also asked an exceptionally good question — something to the effect of asking if by forgetting the border, are we suggesting forgetting the idea of two separate countries, or are we proposing that Windsor/Detroit become part of one large US or Canadian region, or is it something else entirely…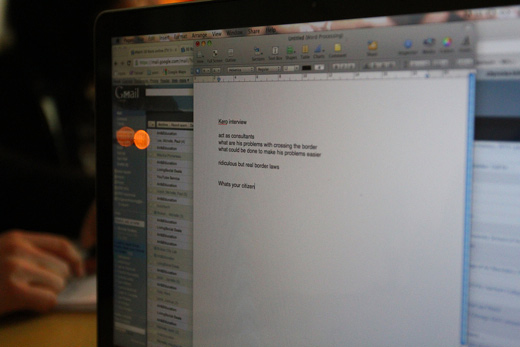 And we ended with some preliminary discussions about the interviews Michelle would be starting soon, first up is Kero.
It was an incredibly fun and productive night. Really looking forward to Thursday already. I think we started to find some better groundwork to build this project on, leaving ourselves enough room to get beyond the complications we have with the border already, to move past the realities that make the border such an uneasy place, and to begin to imagine a border situation that may be entirely impossible and yet might provide a better place for discussion.
How to Forget the Border Completely is generously supported by the Ontario Arts Council.