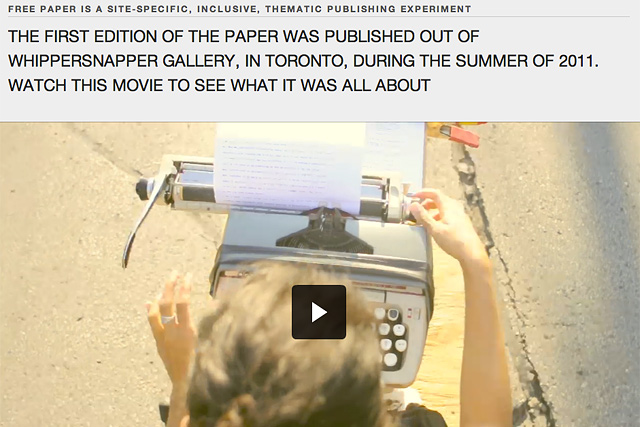 I received an email from JP King a couple weeks ago about a project he did at the fantastic, Whippersnapper Gallery in Toronto. You can read the details about the project at http://www.freepaper.ca/
Here's an overview of the Free Paper project, as it unfolded last summer:
The paper, developed over the past three weeks has been a labour of love as King has opened the doors to the gallery (though more appropriately thought of as an office) to the public and asked for their collaboration in the creation of a community newspaper.

With a specific interest in our relationship to the objects we purchase, consume, own, love, dispose of, waste and want, King developed a thematic basis to the exhibition that focused on the means by which we value these relationships. How do our relationships with our disposable or hoard-worthy objects compliment our understanding of work, labour and even our connections to the people that surround us. As one of his questions posted on the front window of Whippersnapper Gallery suggestively asks, "Do you get along better with people or objects?". Similarly, King provided a survey that posed similar questions to potential takers; "What do you purchase that makes you feel guilty?" or "What is the best thing your parents taught you?".

Complimented by reading groups of selected texts, public discussions and poetry & fiction writing workshops, the paper has accepted 45 submissions of writing & art. Free Paper is an insight into the creative energies of those around us while asking participants to examine the way in which we mediate our lives – either through money, objects, people and work – and most often all four of these themes.

The FREE CITY PAPER POP-UP OFFICE is a research-center-cum-newspaper-office, with a nomadic residency as a reporting tool of the project. Participants are invited to come by Whippersnapper gallery to engage in open conversation, assist in research, partake in the residency, collaborate on visual materials, and read from the library.

There is a survey to be taken in the office, poster-questions on the windows and throughout the neighborhood, a series of scheduled events, like reading groups, writing workshops, and public conversations!
In thinking about publications, a project space, and pop-up activities, it seemed like a good reference point. Also, the idea of pushing around a person actively typing on a typewriter is hilarious.