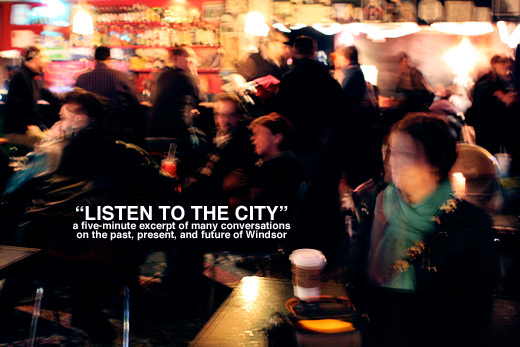 Back in January, we asked nearly 40 people two questions: Why did you first come to Windsor? and Why are you still here? We asked those questions at an event called, Listen to the City, which was the first part of the five-month long project, Save the City. It was an incredible night.
The answers we got over the hour and a half we spent together at Phog Lounge in downtown Windsor presented not just answers to those two questions, but sprawling conversations about what it means to live in Windsor, how we've shaped this city, and how it's shaped us.
The five-minute edit you can listen to below is just a slice of everything that was talked about that night. Initially, we thought we might be able to cut a lengthier audio documentary together, but there were pragmatic implications that kept us from doing that. Hours of audio with conversations that covered more ground than we could have ever imagined meant that it was a lot more difficult to piece something much larger together.
There were many voices that we unfortunately couldn't include in the edit below, but only because of the amazing conversations those folks had, which in turn didn't offer the kind of brief samples similar to those that we cut together. We added some music and tried to capture a general direction of conversation that we gathered from gradually listening to all of the conversations (Danielle took on the considerable task of doing just that and creating the assembly edit of this excerpt– hours and hours and hours of work, but we're so excited to finally be able to share this).
So, while this excerpt in no way does justice to the range of conversations that we had that night, we hope it might be a good introduction, or a good marker in time, of what a group of 40 Windsorites thought about this city at the start of 2010.
Listen to the five-minute excerpt: (updated – thanks to Stephen Surlin for finessing our mix)
[audio:http://www.brokencitylab.org/audio/ListenToTheCity-20100826-SurlinMix.mp3]
Or you can also download the MP3 of Listen to the City.
For good measure, we can also provide the original recordings in their entirety in a zip file if you're interested. We make no promises about the audibility/legibility of every minute of these recordings, but if you have the time, they're worth listening to as a whole. However, the zip file is over 700mb and so not easily uploaded to our servers. However, as promised, we will be officially handing over a copy of the five-minute excerpt and the raw audio files to the Windsor Archives soon.
We need to sincerely thank everyone who came out that night and shared with us.
Broken City Lab: Save the City was generously supported by the Ontario Arts Council.