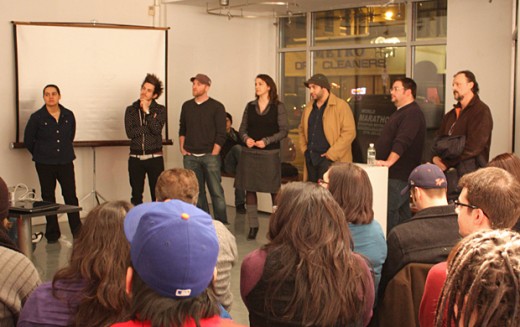 "Talk20 is not a lecture but a gathering, an open forum for the dissemination of ideas in art, architecture and design.  Produced in cities around the world talk20 has emerged as a live catalogue of contemporary creative production that seeks to instigate a conversation within and without the design community."
Last night's Talk 20, put on by Jodi Green was absolutely fantastic.  I don't think I've ever left an event feeling so inspired, motivated and informed.  There was an overwhelming turnout.  Artcite was so jam packed that people had to grab some chairs from Phog Lounge and carry them through the cold, down University.  But even with the added seating, there they still didn't have enough chairs for everyone.  People were lined up against the wall, standing around the back, crouched down at the front, all trying to squeeze into a little room to hear the presenters give their 7 minute presentation.
More photos, some details on the presentations, and the video of the Broken City Lab presentation after the jump.