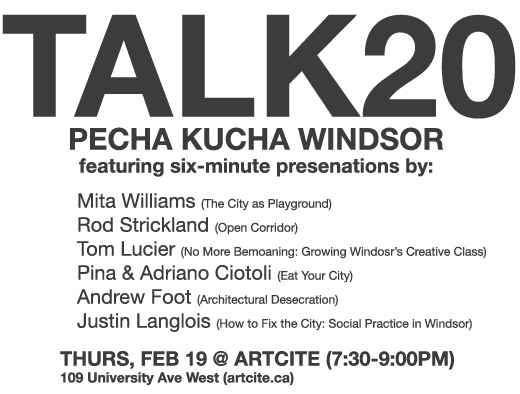 Organized by local artist Jodi Green, the Windsor iteration of Talk20 happens on Thursday, February 19th, and will feature six-minute presentations by Mita Williams, Rod Strickland, Tom Lucier, Pina and Adriano Ciotoli, Andrew Foot, and Justin Langlois.
"Talk20 is not a lecture but a gathering, an open forum for the dissemination of ideas in art, architecture and design.  Produced in cities around the world talk20 has emerged as a live catalogue of contemporary creative production that seeks to instigate a conversation within and without the design community."
The presentations start at 7:30pm at Artcite. See you there!