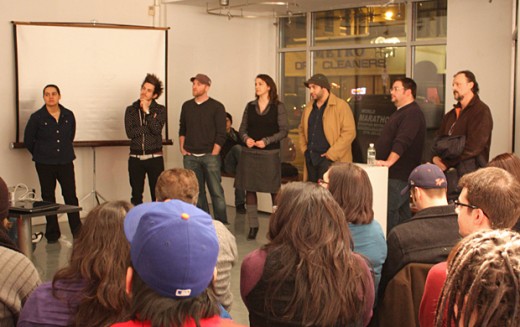 "Talk20 is not a lecture but a gathering, an open forum for the dissemination of ideas in art, architecture and design.  Produced in cities around the world talk20 has emerged as a live catalogue of contemporary creative production that seeks to instigate a conversation within and without the design community."
Last night's Talk 20, put on by Jodi Green was absolutely fantastic.  I don't think I've ever left an event feeling so inspired, motivated and informed.  There was an overwhelming turnout.  Artcite was so jam packed that people had to grab some chairs from Phog Lounge and carry them through the cold, down University.  But even with the added seating, there they still didn't have enough chairs for everyone.  People were lined up against the wall, standing around the back, crouched down at the front, all trying to squeeze into a little room to hear the presenters give their 7 minute presentation.
More photos, some details on the presentations, and the video of the Broken City Lab presentation after the jump.
First up was University of Windsor librarian, Mita Williams.  Her presentation , "The City as a Play Ground," looked at Windsor as a place of exploration and how we can use games as a new form of discovering geography.  We all interpret the geography or our city and look at our environment differently and she highlights this in her blog 4-0-Wonderland.
Up next was University of Windsor professor in Visual Arts, Rod Strickland. He discussed his project, The Green Corridor through his presentation entitled, "Open Corridor."  He has a lot of great projects under his sleeve that are trying to reimagine the gateway of Windsor.  One of the coolest projects, "The Drive-Through Symphony" takes a group of local musicians and places them on Huron Church to play for the trucks.
Tom Lucier of Phog Lounge's presentation "No More Bemoaning: Growing Windsor's Creative Class" looks at the many different ways techonology can be used in order to expand our creativity and get the word out to inspire other city members.  He also talked about what he's done wrong and what he's done right concerning the promotion of his bar.  It essentially was the entire "Teaching Tech to the Creative Class" night, summed up into 7 minutes.
Windsor Eats' Pina and Adriano Ciotoli discussed their endevors with their blog, and also highlighted how great and diverse Windsor dining can be.  They stated that you don't have to leave the city to travel the world of food.  They also mentioned many different food events they've been putting on, or frequenting.
Well known Windsor blogger, Andrew Foot of International Metropolis took a look at bad renovation jobs around the city through his presentation, "Architectural Desecration."  He showed all the hopeful attempts of renovation around our city to clench onto our historical culture, but in turn ended up as a bad, fake stucco job.
Up last, is a familiar face! Justin Langlois talked to the audience about how Broken City Lab started out, the purpose of the group, and the several projects we're working on.
Tom Lucier videotaped the entire event.  If you're interested in watching the presentations, you can check out his blog, Here Be Dragons. And thanks for the photos, Darren!