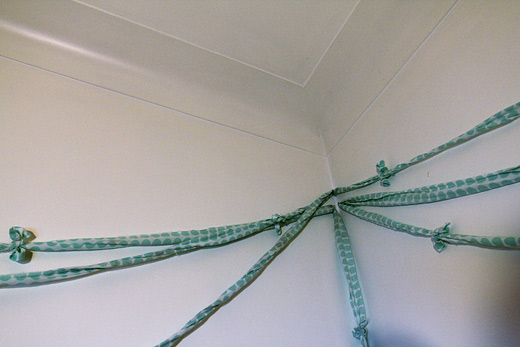 It might seem a bit quiet around here as of late, but rest assured we're keeping busy. We're in the thick of paperwork — grant reports, project proposals, etc. However, we're also quickly approaching the start of a new project that you'll see unfold here likely over the next month or two.
Danielle is working away on the audio documentary from Listen to the City, and Michelle and Rosina cleaned up our workspace at the Ecohouse and decorated (as you can see above) by putting up some of the remaining parts of Lea Bucknell's installation as part of SRSI (which if I remember correctly was put together by Thea Jones).
In the meantime, you can check out the interview Michelle and I did with Amy Miller on the Craig Fahle Show on Detroit's NPR affiliate, WDET 101.9fm on Thursday. If you're in Windsor/Detroit and not listening to this show on a regular basis, you're really missing out. Below is an edited version of the show with just our interview, but here's the link to check out the entire episode.
[audio:CFS_7-22-BCL-edit.mp3]