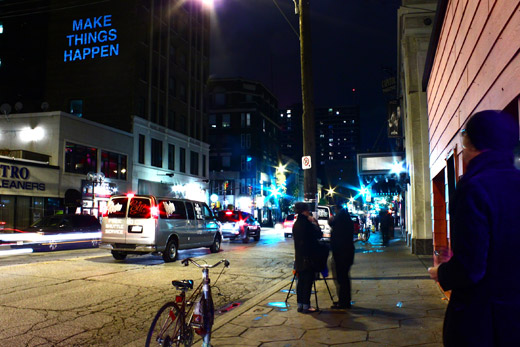 As part of FAM Fest 09, we did a projection performance on the roof of Metro Cleaners accessed from Empire Lounge in downtown Windsor.
For about an hour and a half, we presented our 100 Ways to Save the City and then asked for ideas from the folks on the ground, at Phog, and on the Twitterverse.
After the jump, there's 160-something photos from all the ideas that were projected on Saturday night.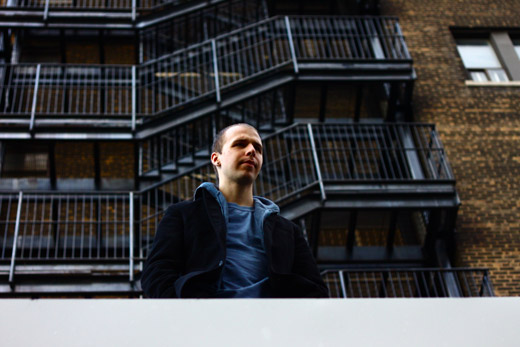 To start off the afternoon, we got onto the roof of Empire Lounge.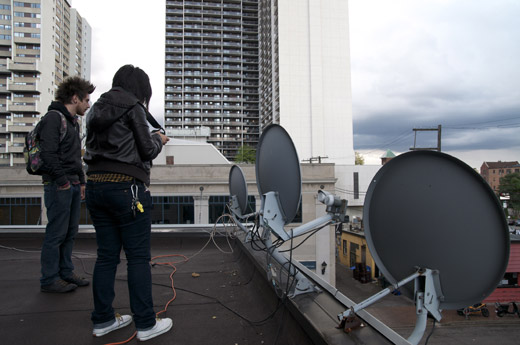 As we hadn't had the chance to get up there before that day, we had assumed that the size of the roof would allow for a large projection.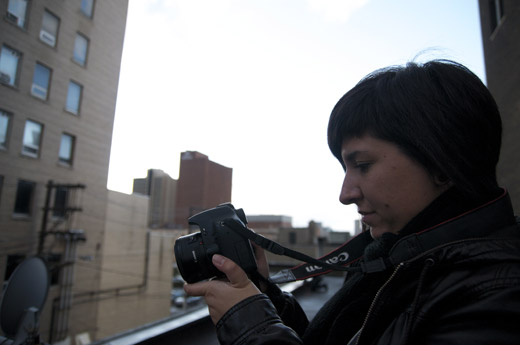 Cristina took some photos from this incredible view.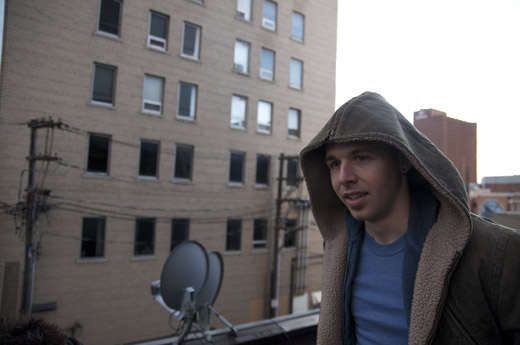 Josh got up as well to help get the projector set up.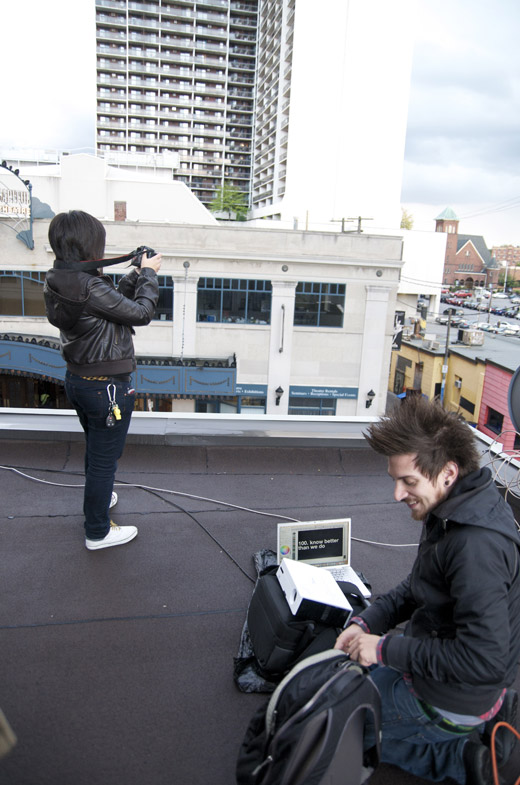 This was just a quick test that we were trying to get done before it started raining again.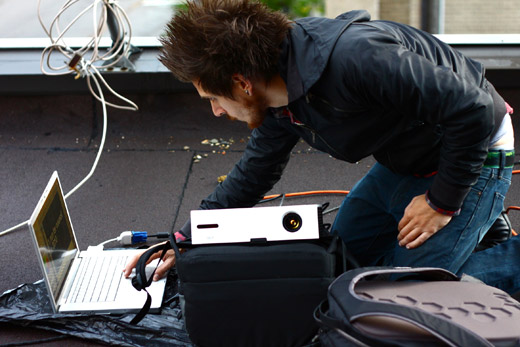 We tested a slide with a black background, but it was no match for the daylight.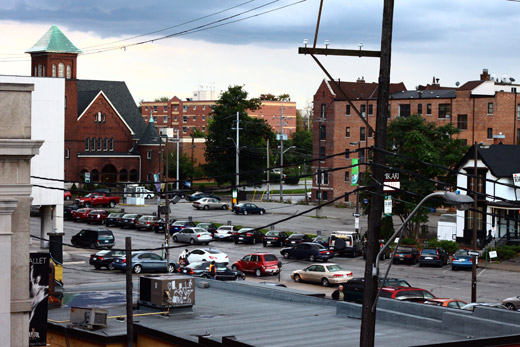 The view from the roof facing southwest.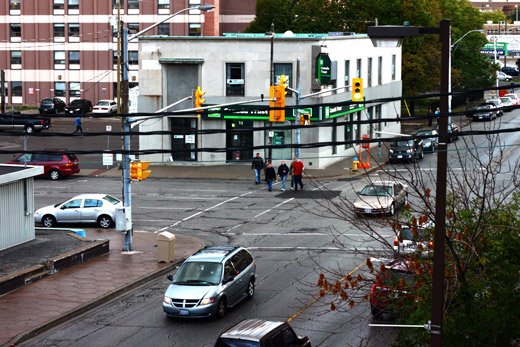 The view from the roof facing west.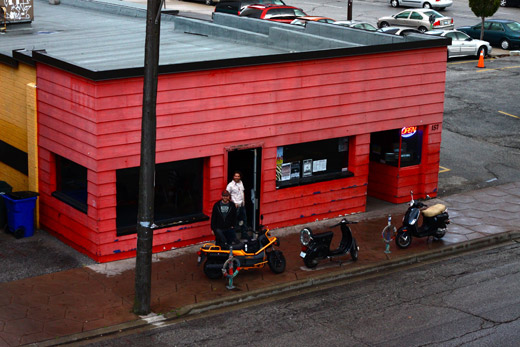 The view of Phog from the roof.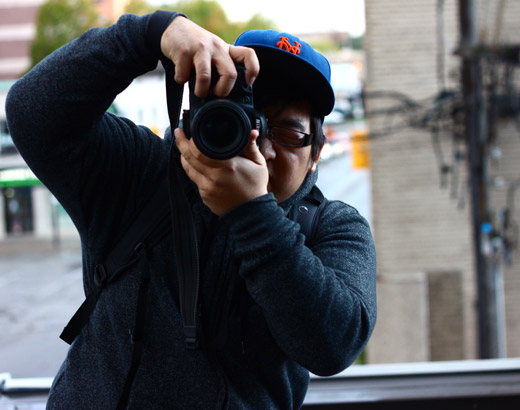 Mike taking a picture of Cristina taking a picture (insert loop here).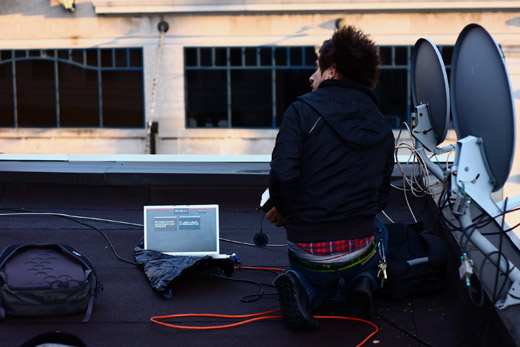 Trying to see how big the projection might be from the roof of Empire Lounge. We saw enough though to determine that the image wouldn't be as large as we had hoped, so we looked to a different roof space.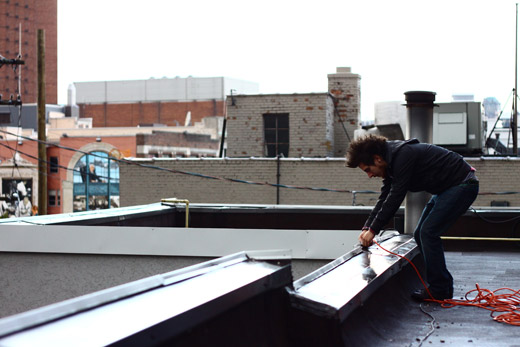 Brining the extension cord back down to try the alternate location test.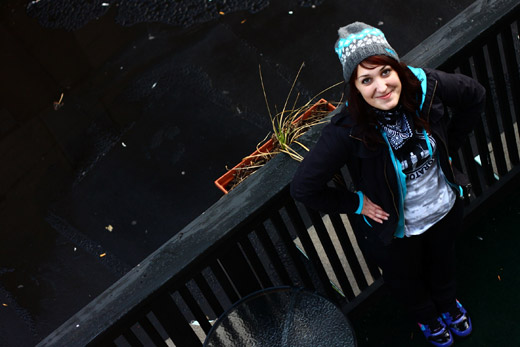 Michelle was on the roof below holding the ladder for safety.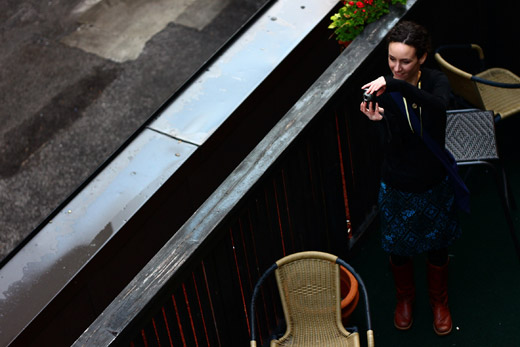 Emily, our fantastic liaison from FAM Fest made this whole thing happen.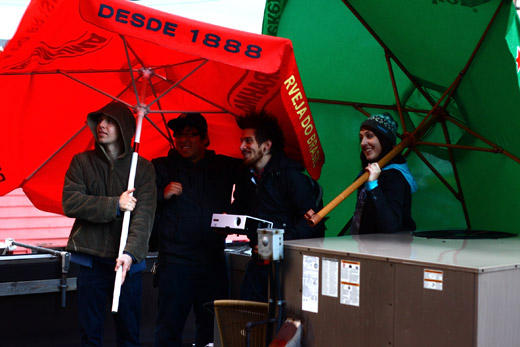 From the roof of Metro Cleaners, under some huge umbrellas, we found the ideal location.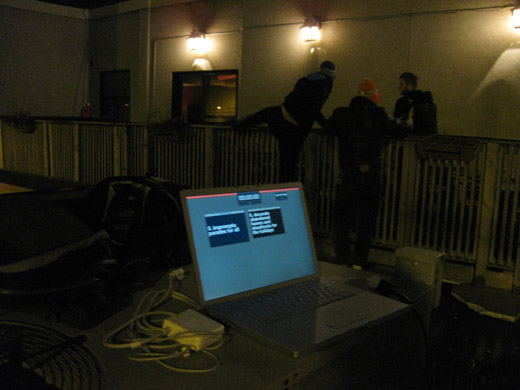 The computer running our slides in Keynote.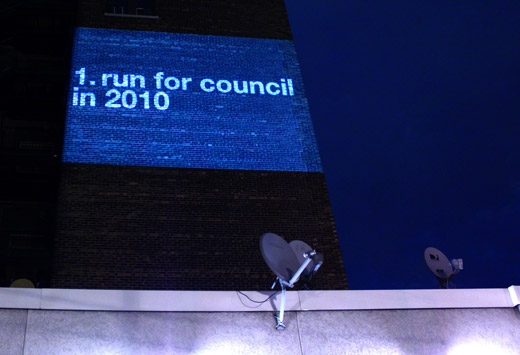 A few hours after the test, we started our series of projections. 100 Ways to Save the City.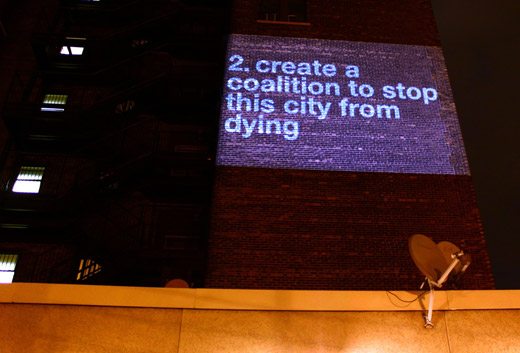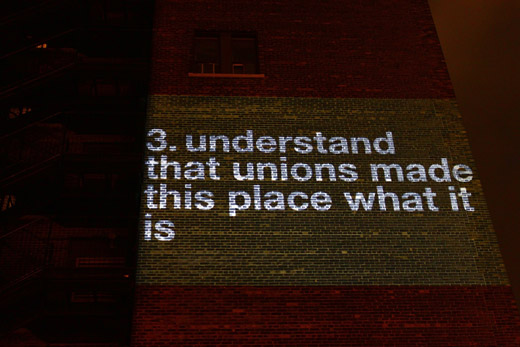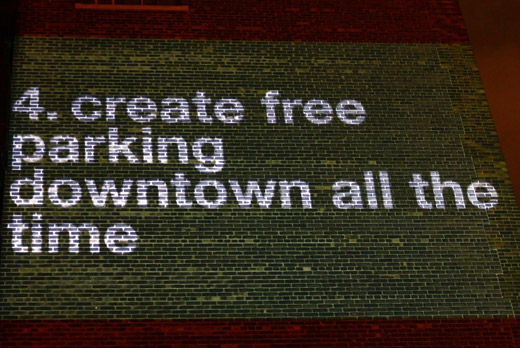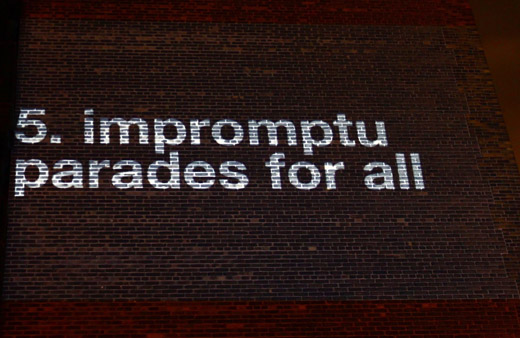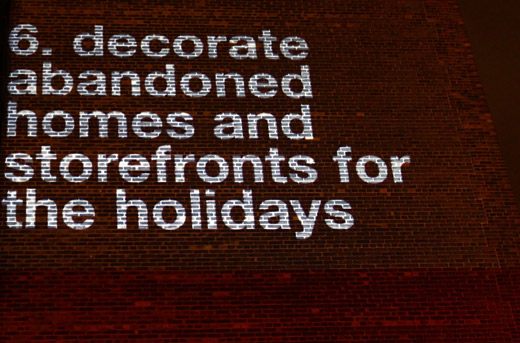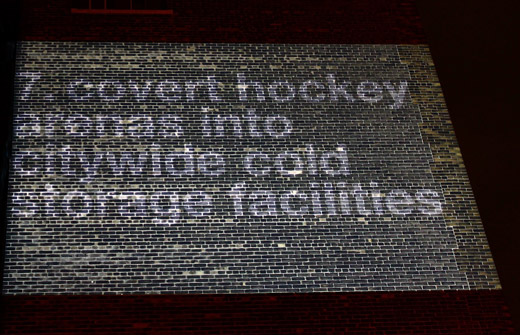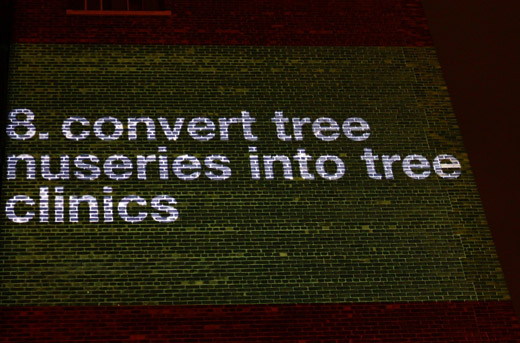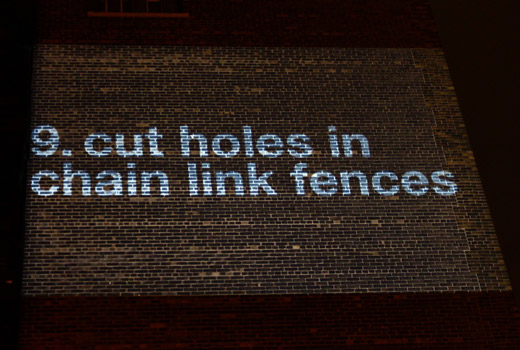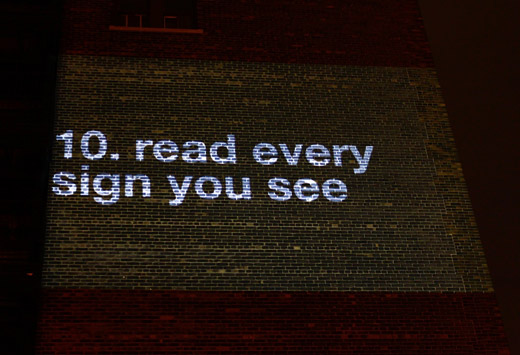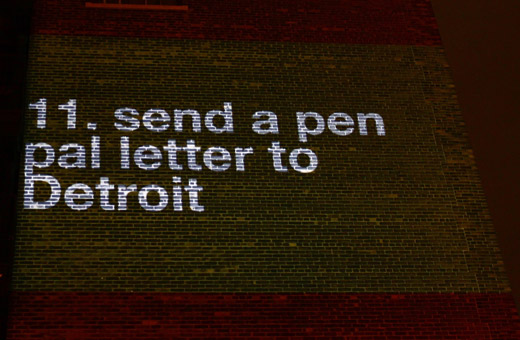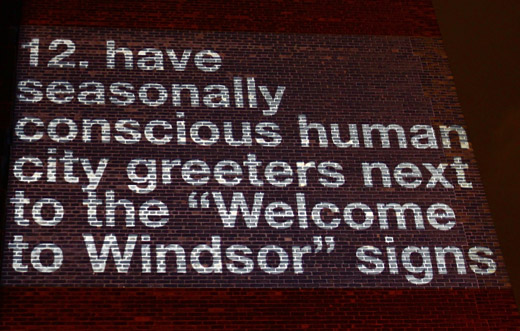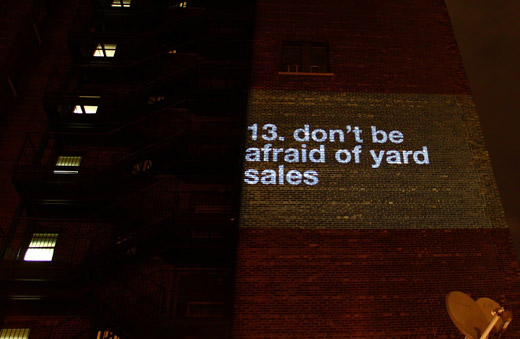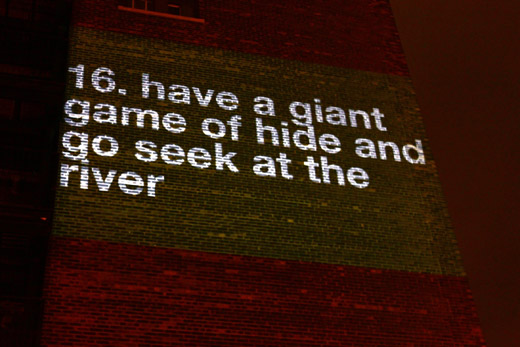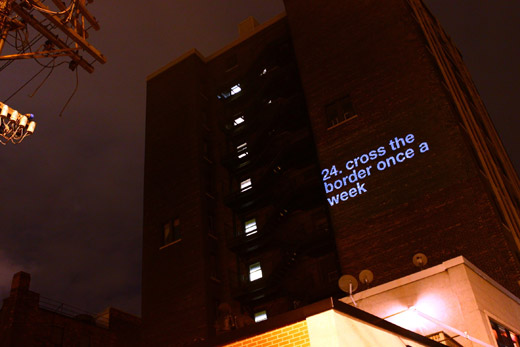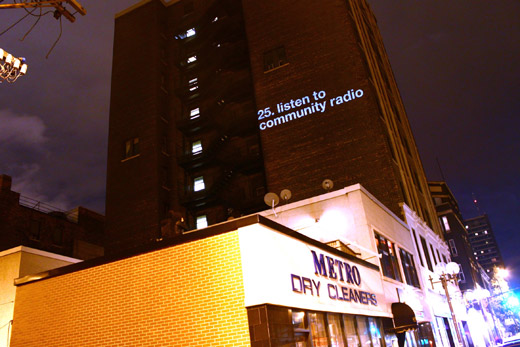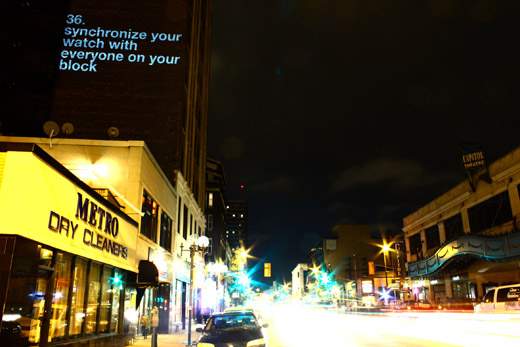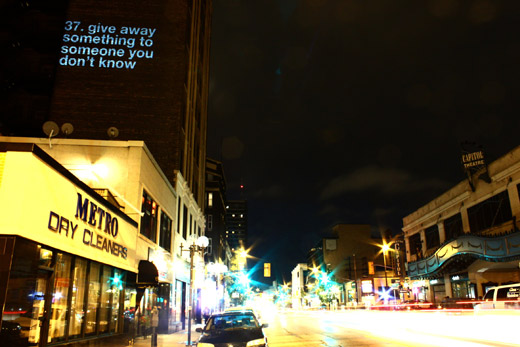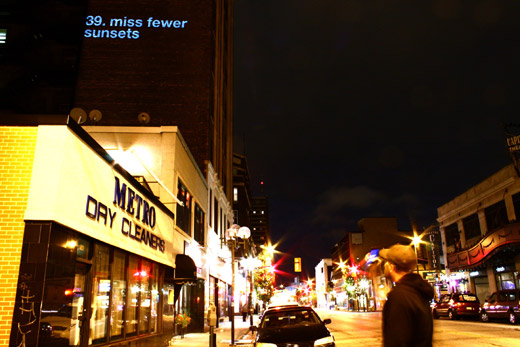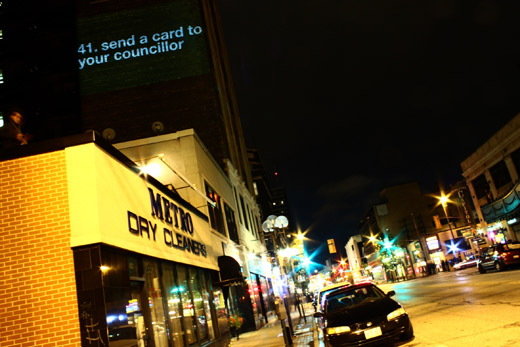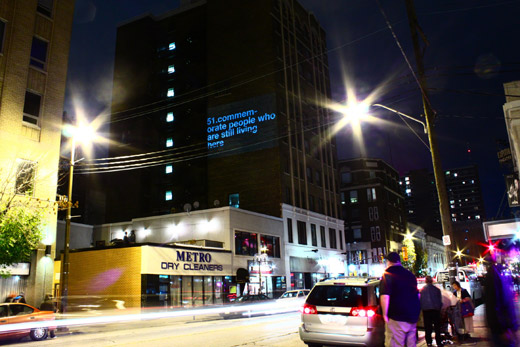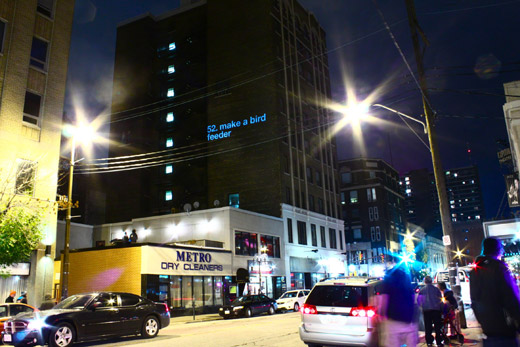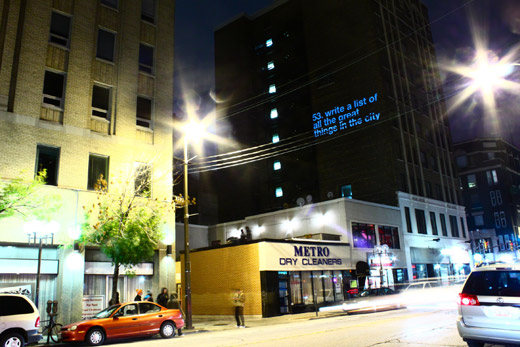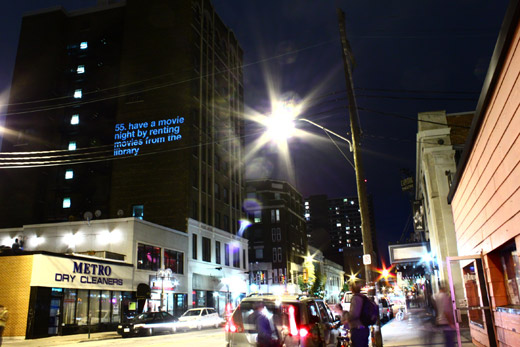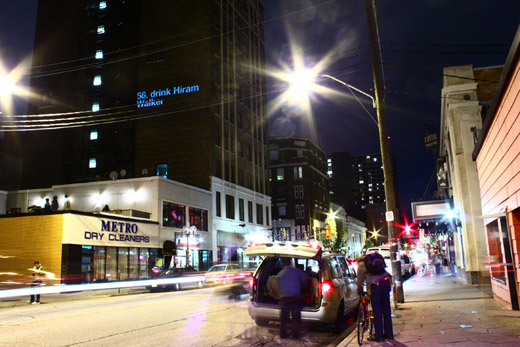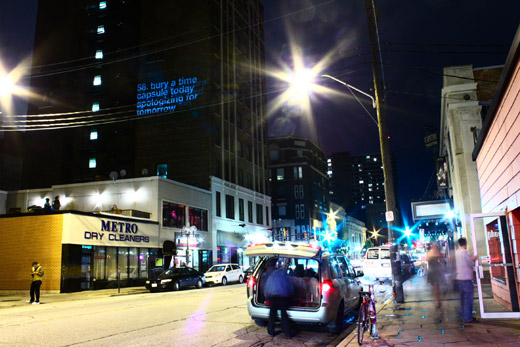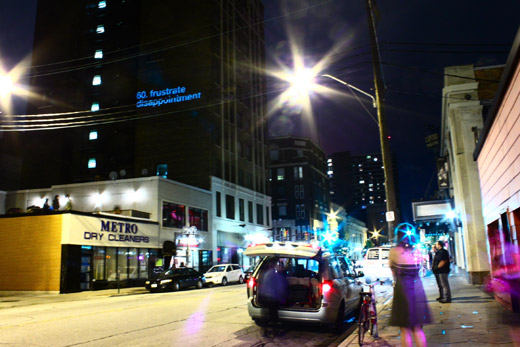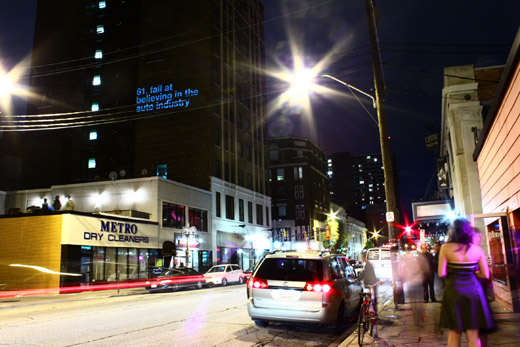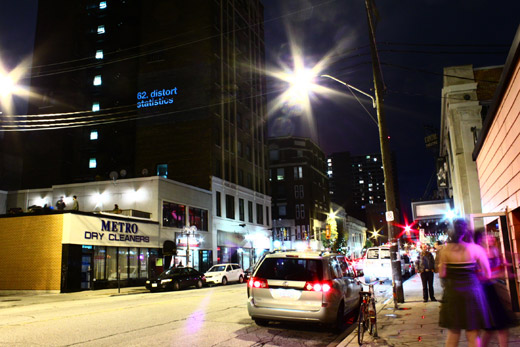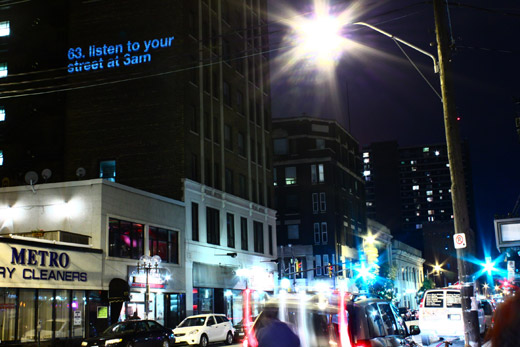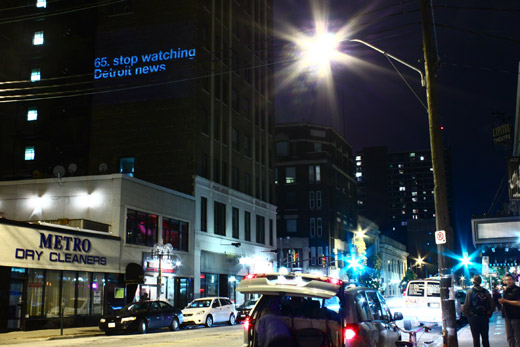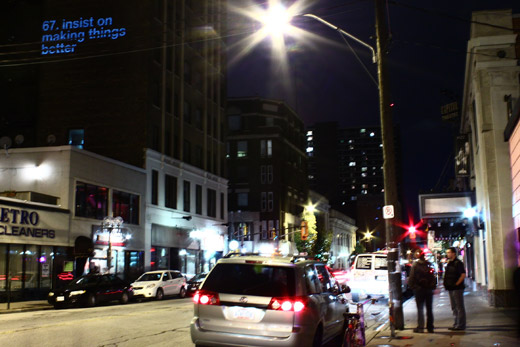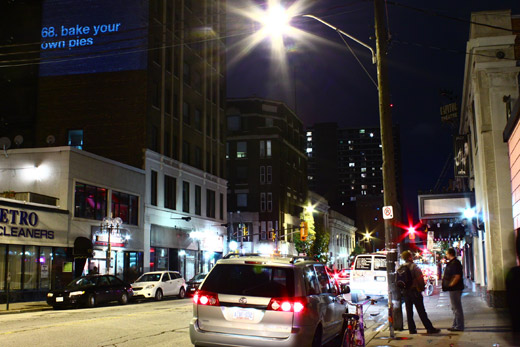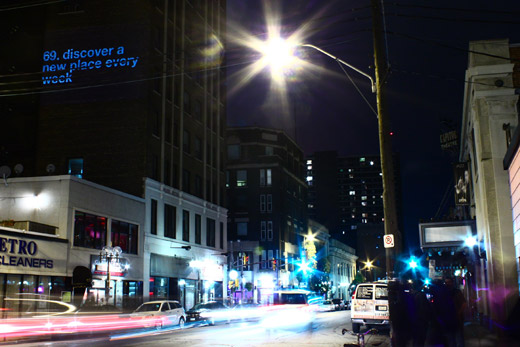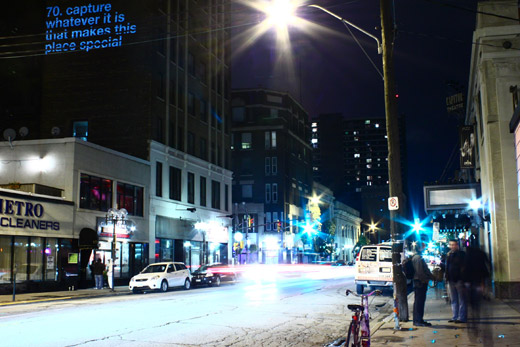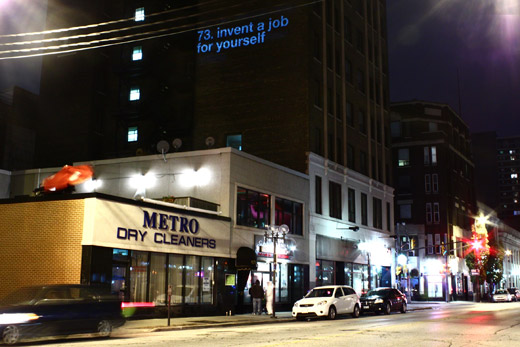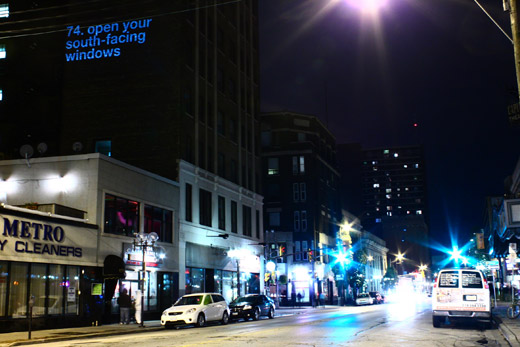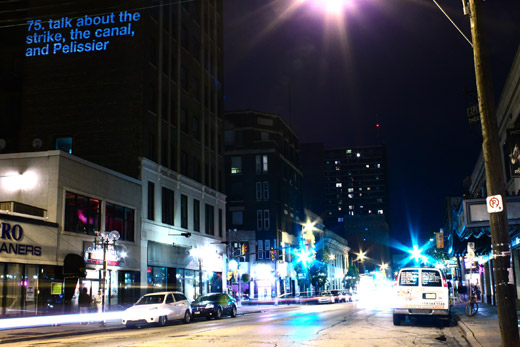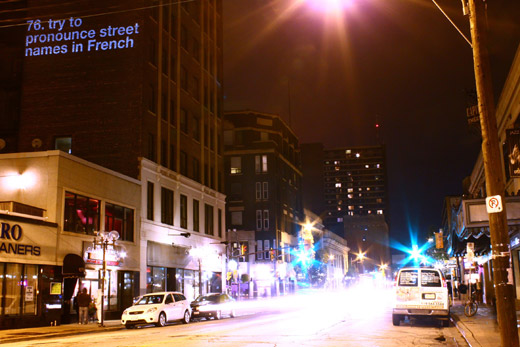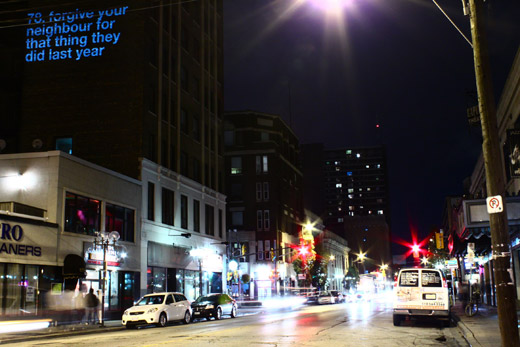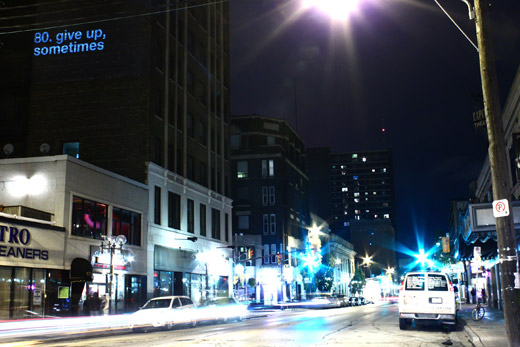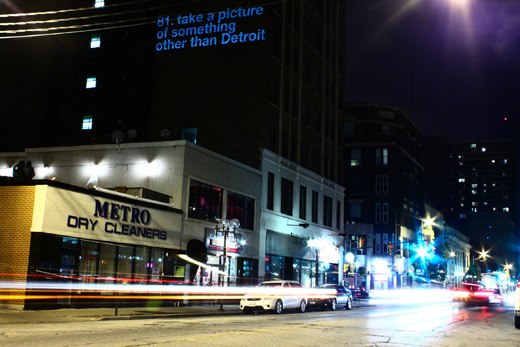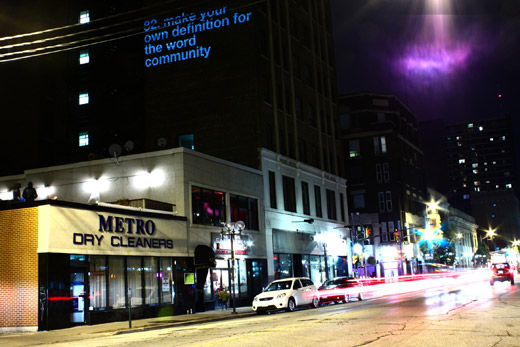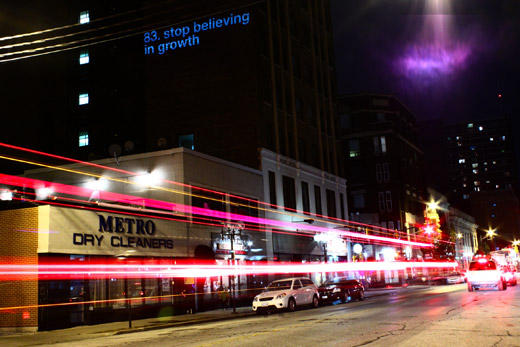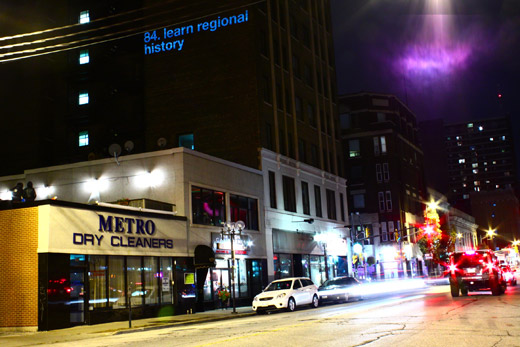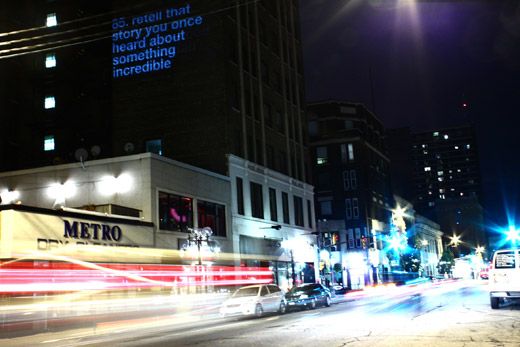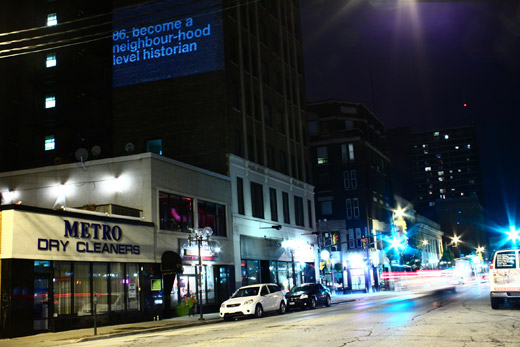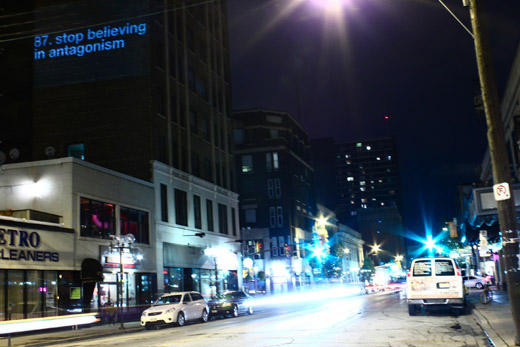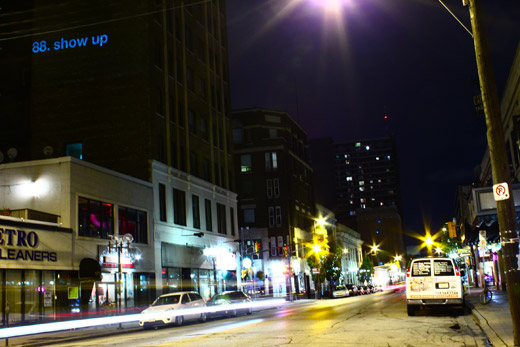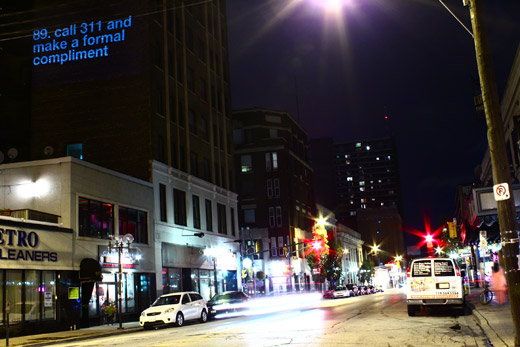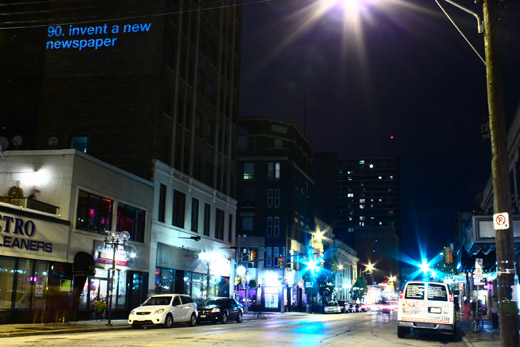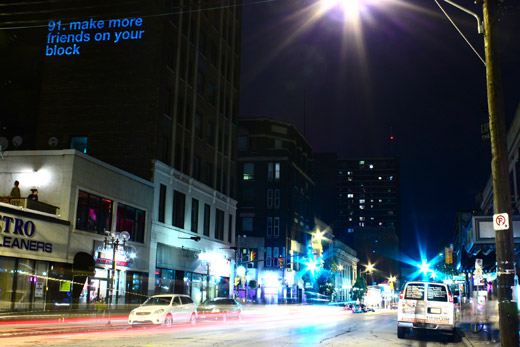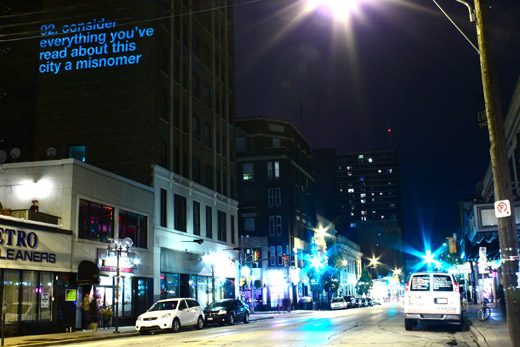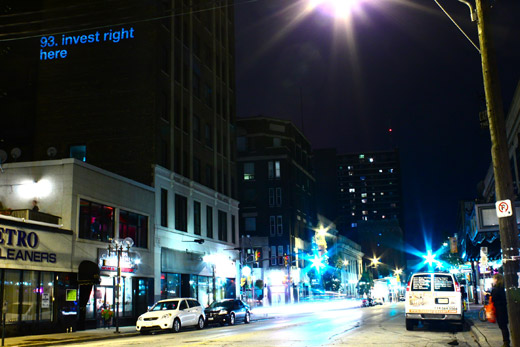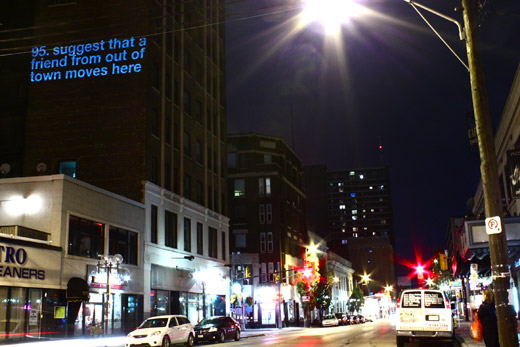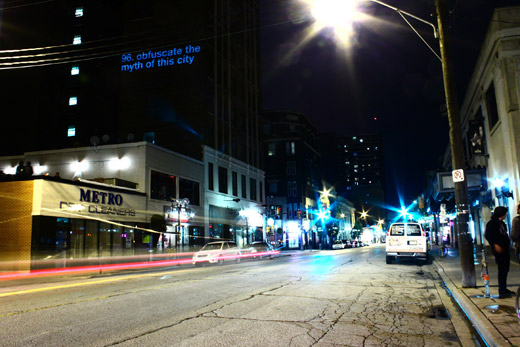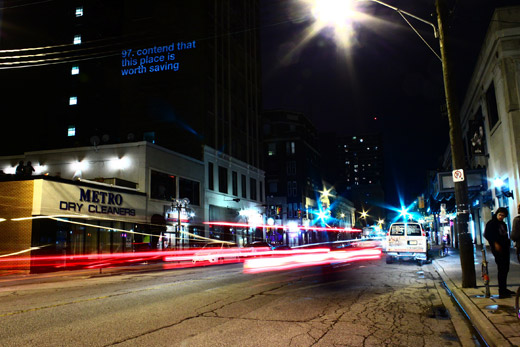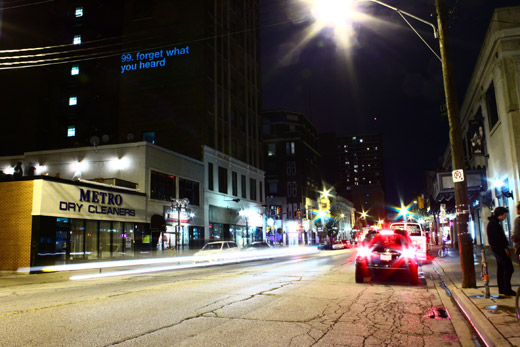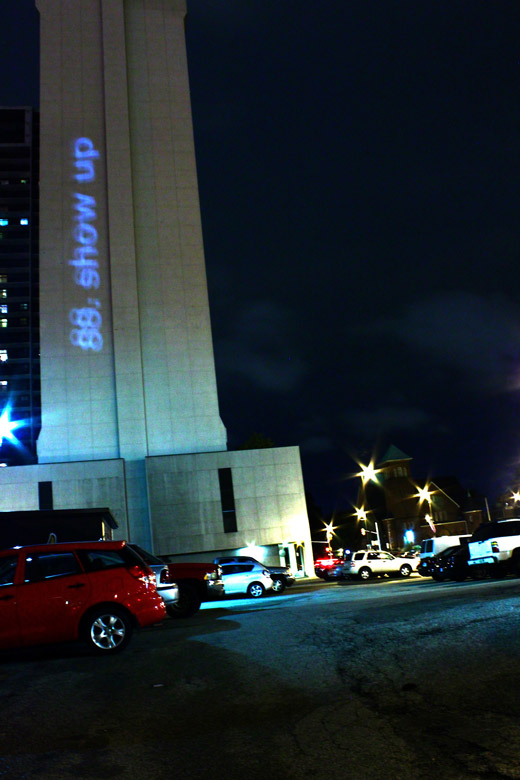 A brief moment attempting to point the projector at a further distance.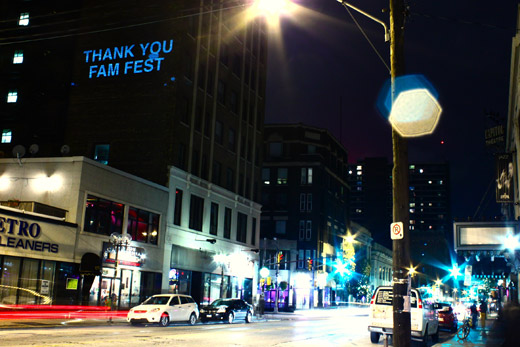 We then started projecting messages that we received over Twitter, text message, and just from people yelling from the street.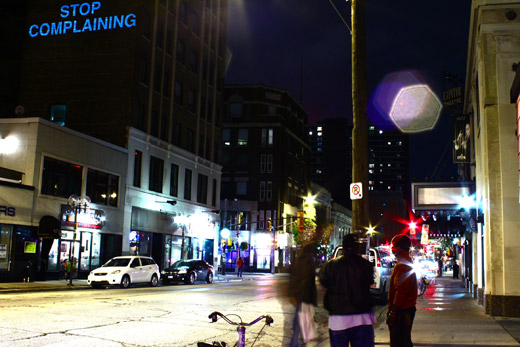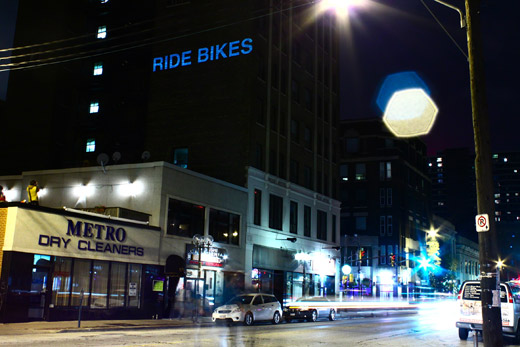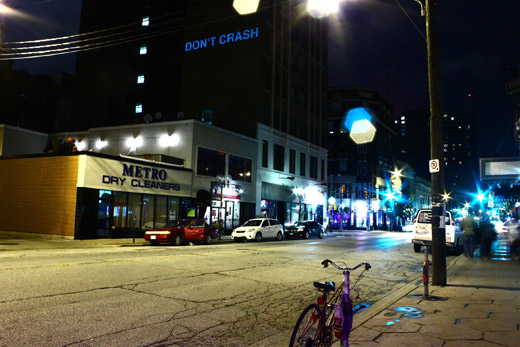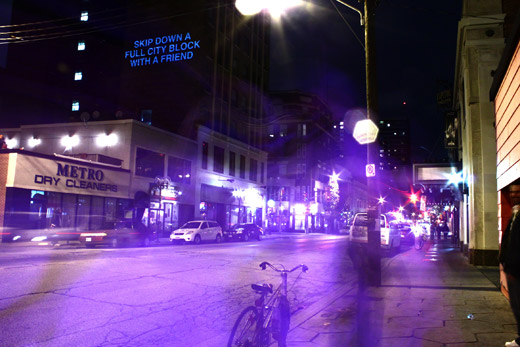 From our new friends Lucy and Daragh.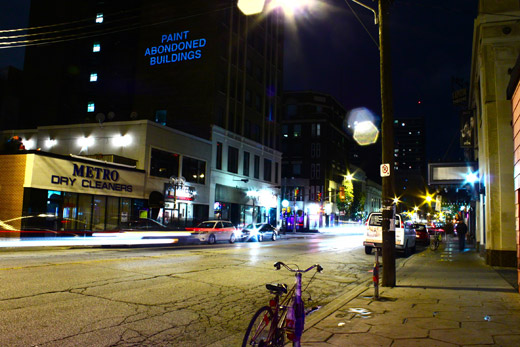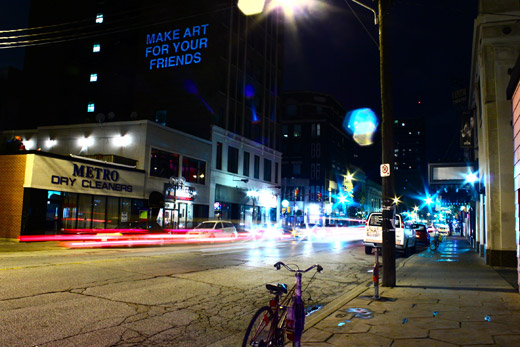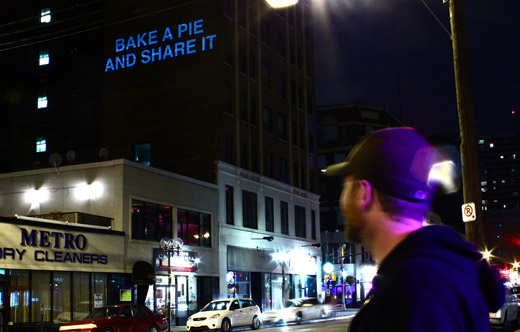 Tom taking a quick break from bar-tending / collecting submissions to Tweet to us at Phog.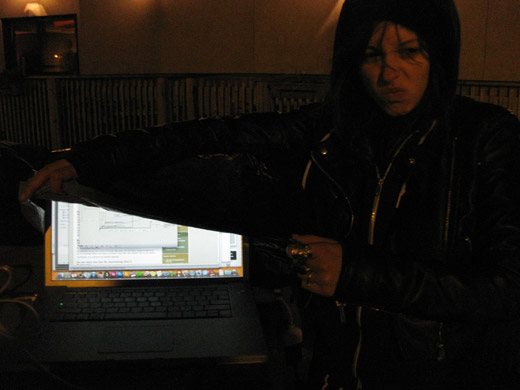 Danielle braving the rain and guarding the computer with a garbage bag. You can kind of see it, were were using a Max patch to enter the text live on one screen and project it on the second screen (projector).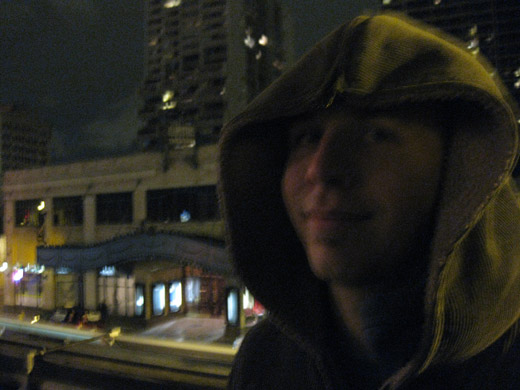 Josh shielding the projector in the rain.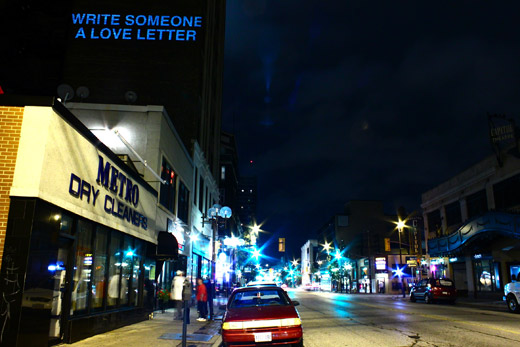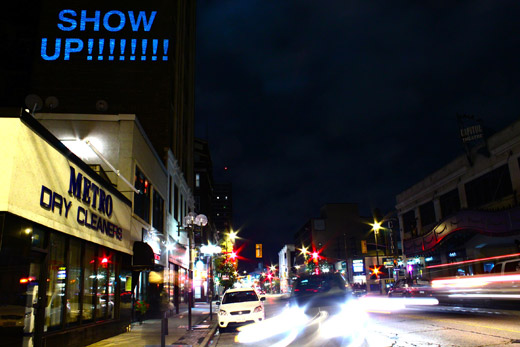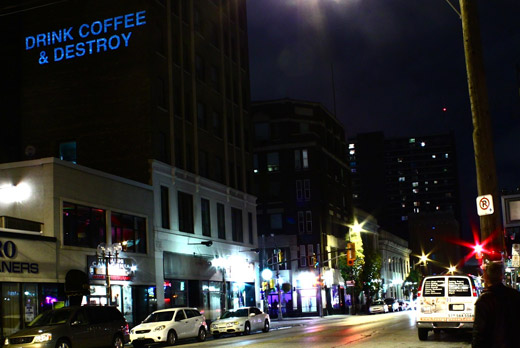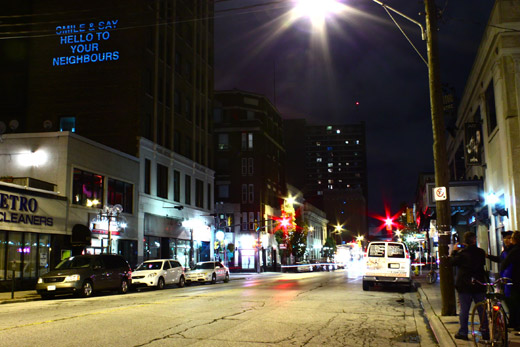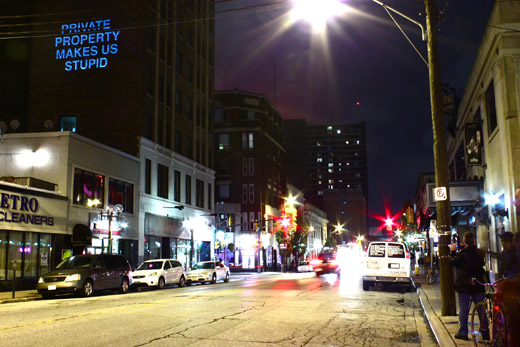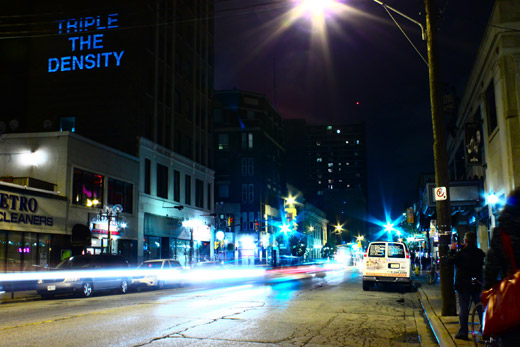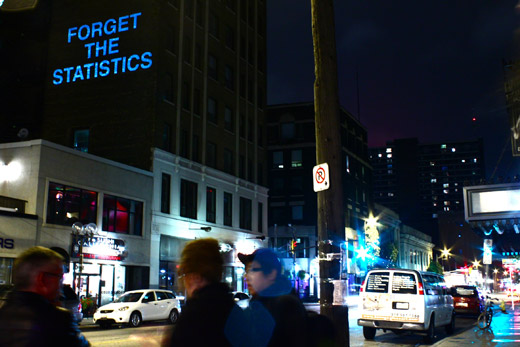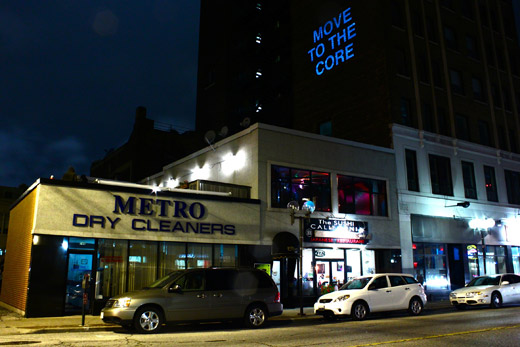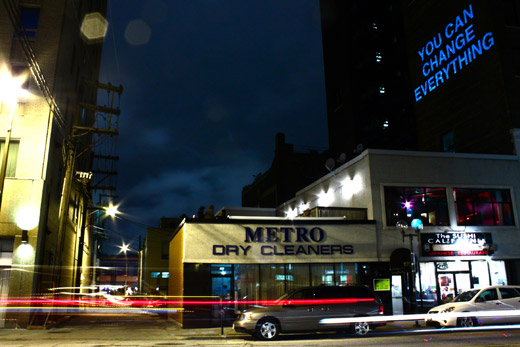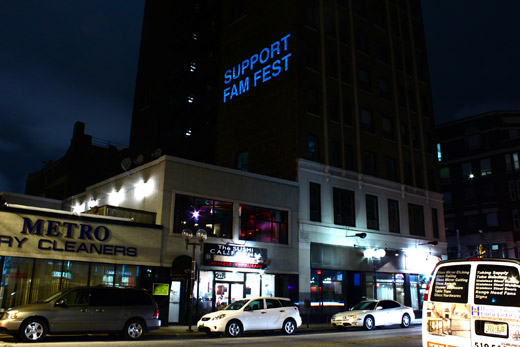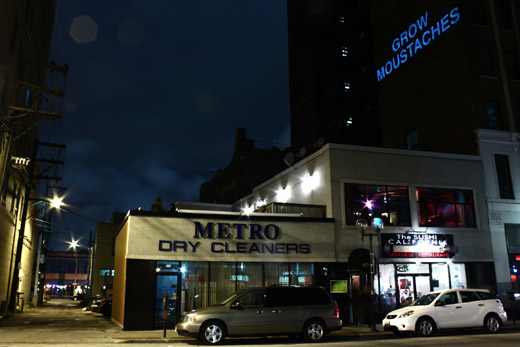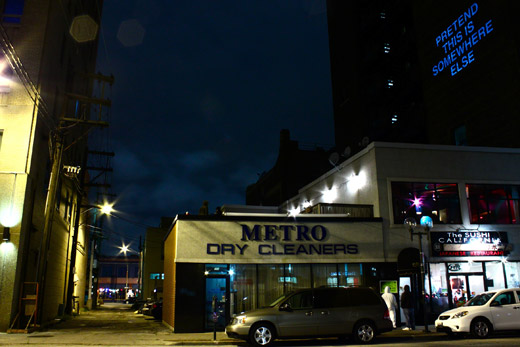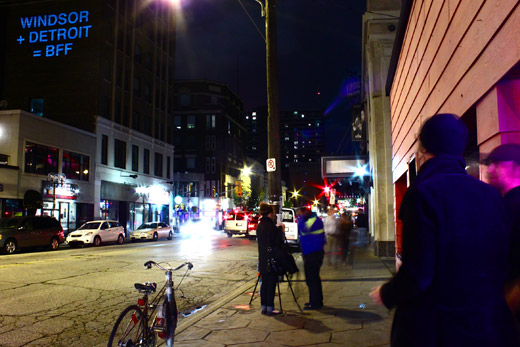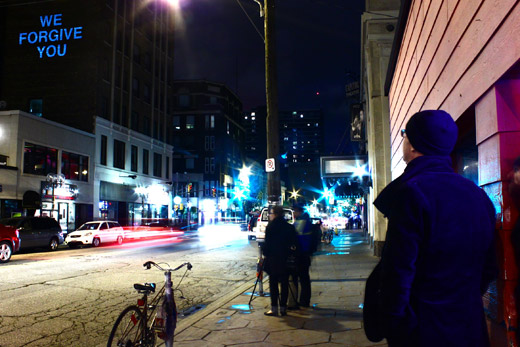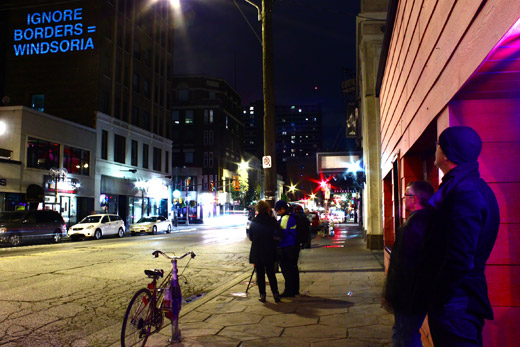 A message from Dr. Pender.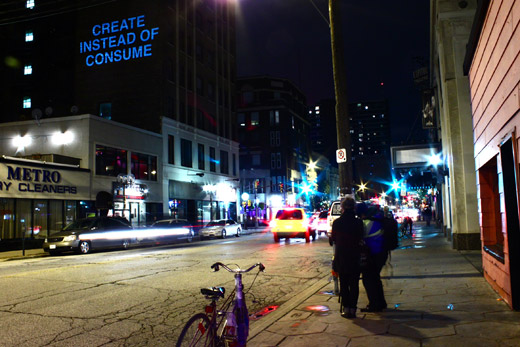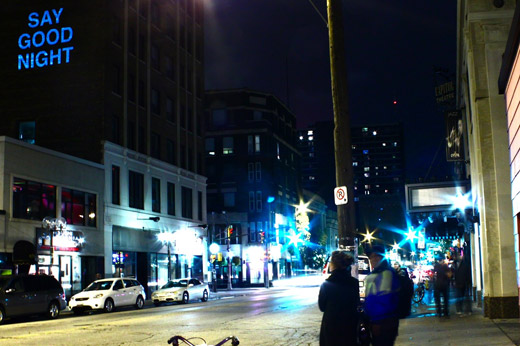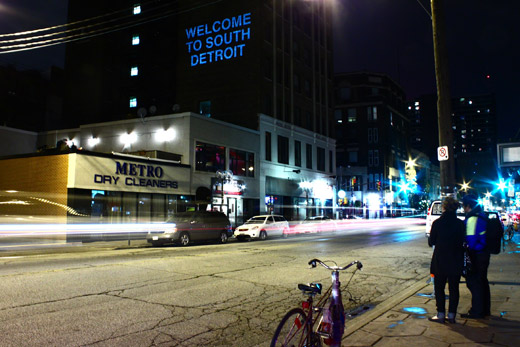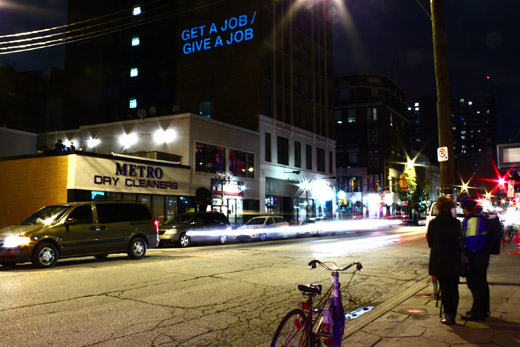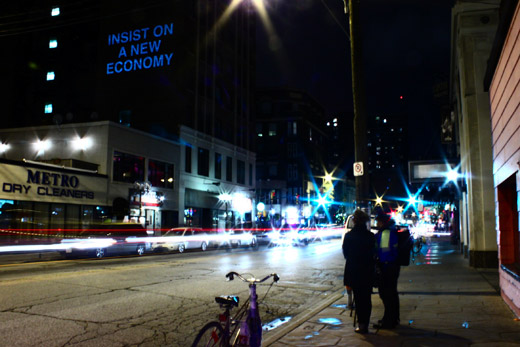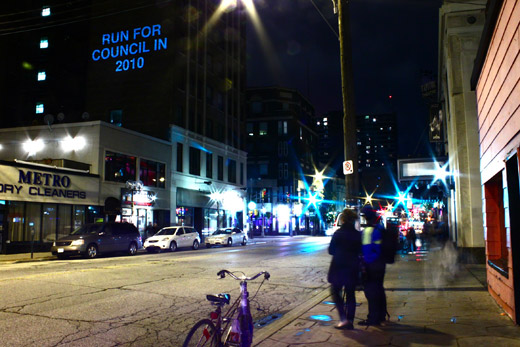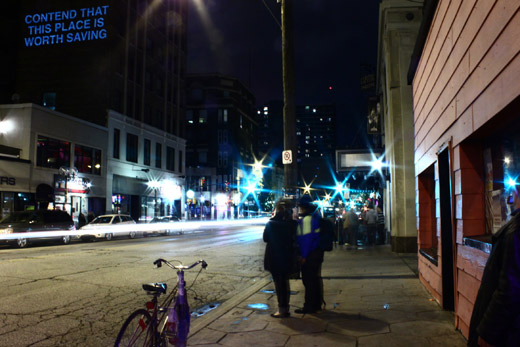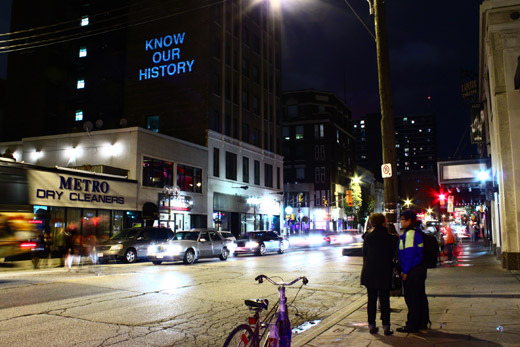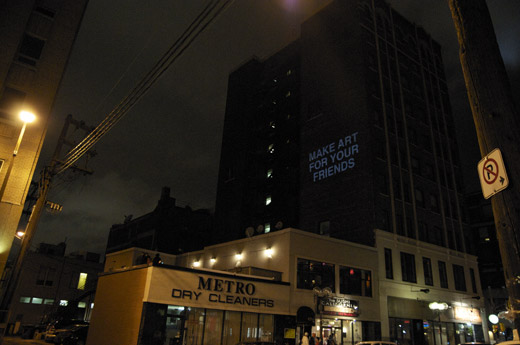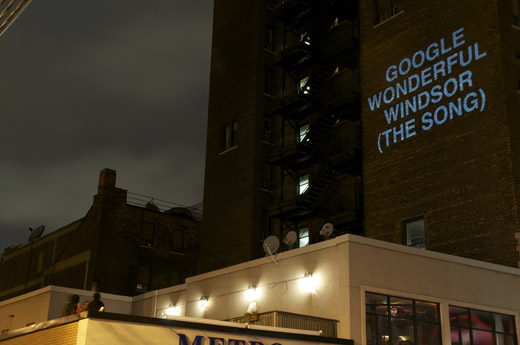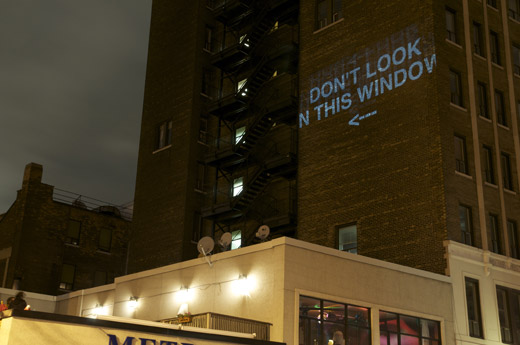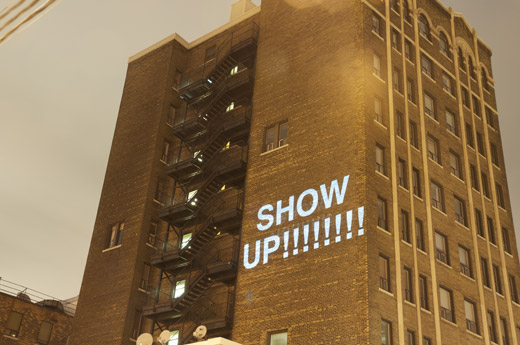 For Tom.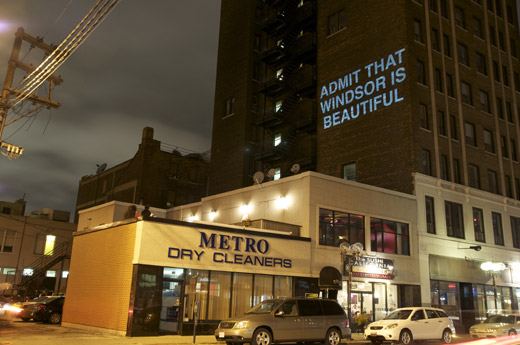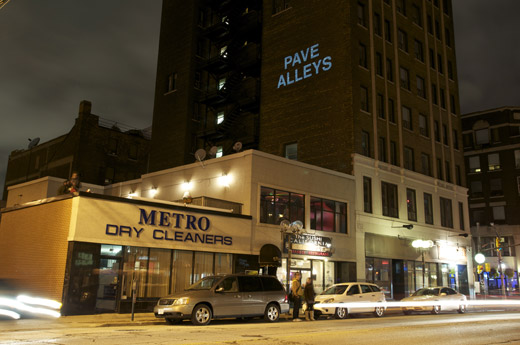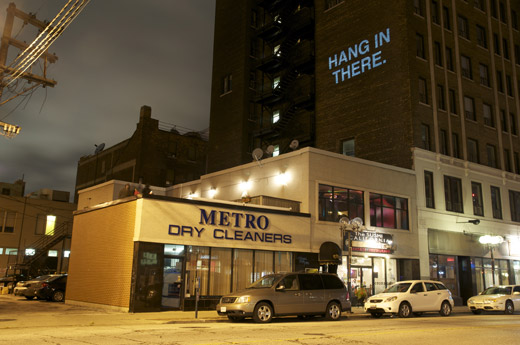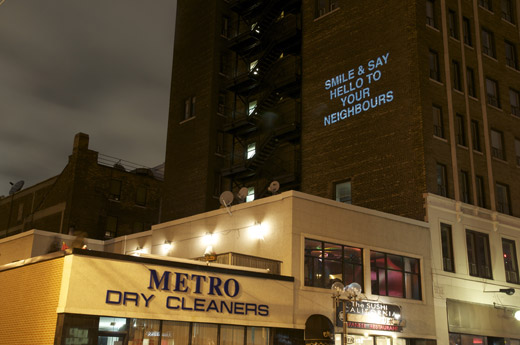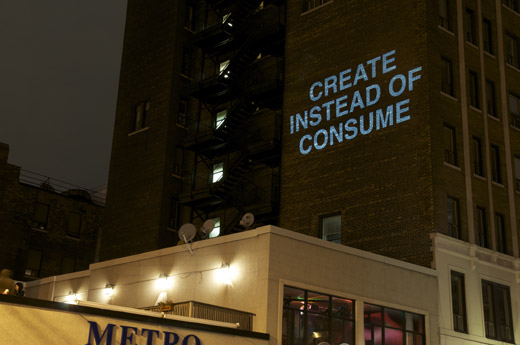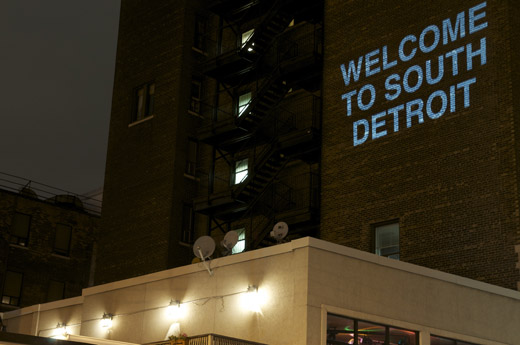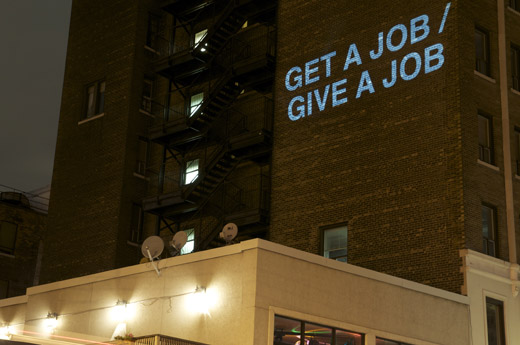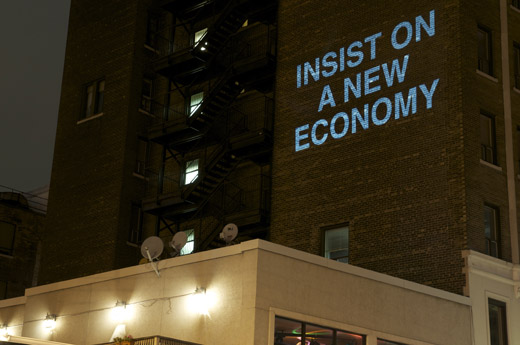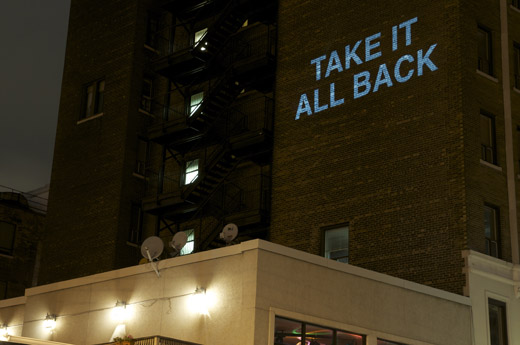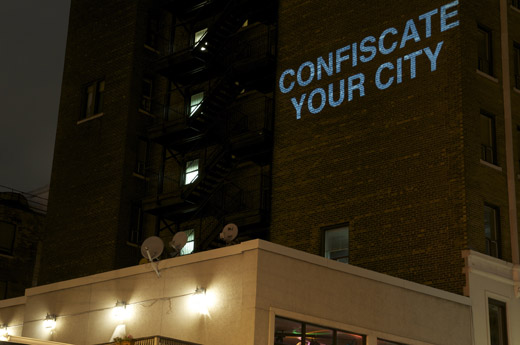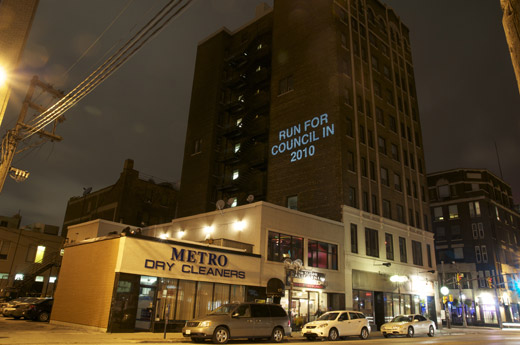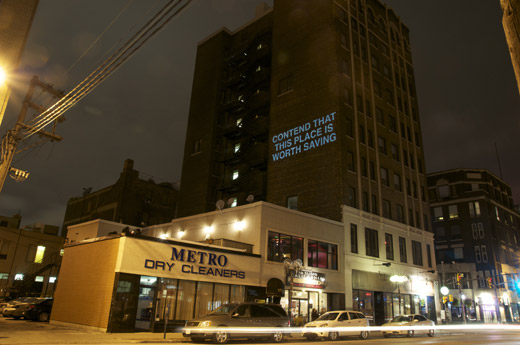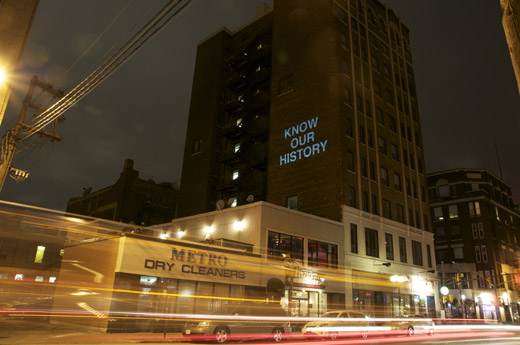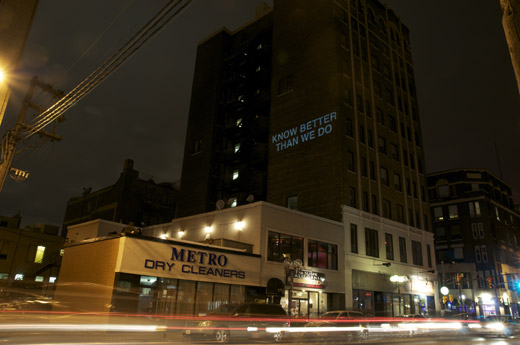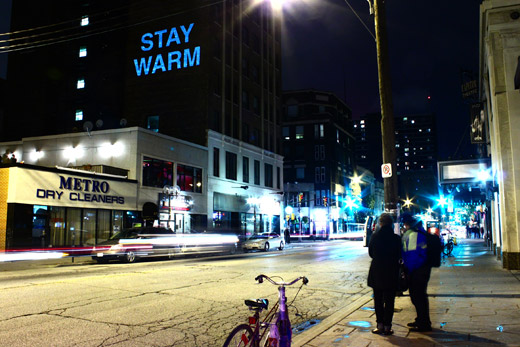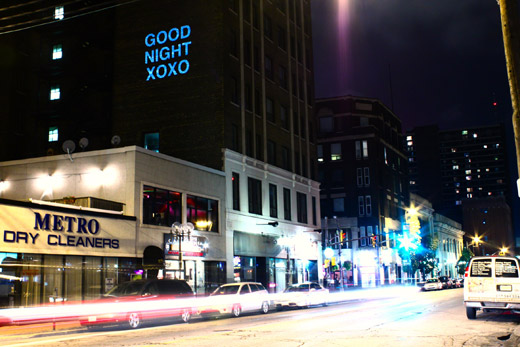 This was hugely successful as far as we were concerned. Thanks again to FAM Fest, Empire Lounge, Tom, and everyone who submitted!!! These projections really confirmed that this projector might do okay in some tests for Cross-Border Communication.